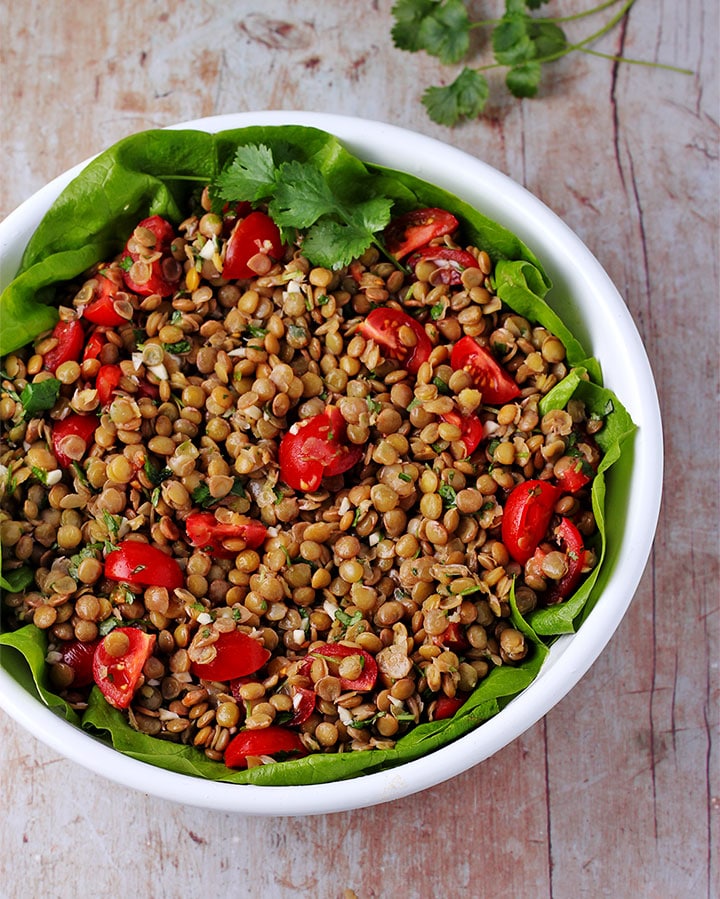 Looking for a super easy salad that makes the perfect lunch, side or wrap? Enter this simple green lentil salad with zesty, oil-free cranberry dressing. Just 6 ingredients and something special to explore – cranberry balsamic (no worries, I'll teach you how to make your own in a jiff).
Cooking green lentils
I wrote a bit about different kinds of lentils in my post for amazing lentils with homemade vegan pasta (and I stand by that recipe name – it's an amazing recipe). I specifically choose green lentils for this salad because I love the earthy, peppery flavor. Green lentils will take a bit longer than brown to get tender, but they will hold their shape a bit better.
Lentil options
I decided to use 'standard' green lentils for this recipe because they are a bit bigger and they have a great salad flavor. When it comes to lentils though, there are options and a few caveats. The most logical solution for this particular recipe is using French or Puy lentils which you may find packaged as just 'green lentils'.
Keeping them firm
In truth, any type of green lentils works great for this salad. If you use brown lentils, just be aware that they will take less time to cook and will break down more quickly, so keep an eye on them. I'd avoid red lentils in this case because, although they are the best for making creamy dals, they can get mushy.
None the less, be careful not to overcook them, otherwise, they will start to break down and get mushy. Fine for a curry, not fine for a salad. You don't want them hard as that doesn't make our digestive system so happy, but a bit on the el dante (firm to the tooth) spectrum. One trick that will help keep your green or brown lentils holding their shape is to add a lot of water. We'll be draining any excess from the lentils, so more water is better as it naturally creates space between them as they simmer.
Cranberry balsamic
I've gotten completely attached to the cranberry balsamic vinegar that I get by the bottle at our local 'Oil & Vinegar' shop. I used it more frequently that I am prepared to admit for my favorite go-to salad cream that I routinely slather on salads and sandwiches. But hey, that's not always convenient and I'm not one to give up on an ingredient that isn't accessible when you can make your own.
Equal parts – that's it
I used 2 tablespoons of cranberry balsamic along with lemon and garlic to make my zesty dressing, but there are a few easy substitutes for the cranberry part because we aren't complicating a simple salad by making the oil-free salad dressing complicated or unobtainable.
Probably the easiest substitute for cranberry balsamic is 1 tablespoon of regular balsamic vinegar with 1 tablespoon of cranberry juice and preferably, if you can get it, cranberry juice concentrate. Be mindful here, you want only cranberries – nothing added, so watch the labels. The other option is pure pomegranate juice which will give you the same zing.
In a real pinch, use 1 ½ Tbsp. Balsamic and ½ tablespoon of lime. The idea is to balance the sweetness of the balsamic with a bit of sour.
A more luxurious option is using pomegranate molasses. I'll be honest, I've only found this in one place here in The Hague and it is way over my budget, so it one I rarely imbibe in. If you can find it and don't have to trade off the mortgage to get it, it's also wonderful for things like Fattoush salad among other things.
Garlic alert
What makes this cranberry dressing, along with the lemon is healthy dose of garlic. I find lemon and garlic a great compliment for the pepperiness of the green lentils. I mined 2 cloves, which made the dressing appear to be loaded up (it accumulates to the top when you pour it). You can also press the garlic for more of a dispersed flavor. And of course, if you aren't a big garlic fan, start with one clove, give it a taste and add another.
Remember that you will be adding this dressing to a whole load of lentils plus tomatoes and cilantro. All those ingredients will significantly lessen the impact of the garlic bite-for-bite. Once you put the salad together and taste it, add more lemon and cranberry. One thing to note – the salad will absorb the dressing over time and make the flavor brighter. Also, you'll want to give the salad a quick stir when you serve it up as any moisture from the lentils and tomatoes will push that dressing to the bottom of the bowl.
Serving ideas
I usually serve green lentil salad as a side to accompany something like bulgur pilaf or even cauliflower curry, but I've discovered a few simple ideas besides just eating it out of the container in the fridge.
If you want a quick lunch or healthy appetizer, it's wonderful served on crisp lettuce leaves. Any leftovers also make a wonderful filling for wraps. Just add some shredded lettuce or try it with quick pickled onions and of course, stuff a hefty portion of green lentil salad directly into pita bread and bite.
Final thoughts
I understand the lure of ready-made food. There's a sense of security and resolution of food-stress when there's something ready in the fridge. No wonder the shop nearest us is loaded with containers of all kinds of food. But picking up something made up doesn't work for me anymore, so I try to always keep something simple at hand. Something that is tasty and fits my food goals and that I can reach for anytime that has my own 'guilt-free' label. Peace.
Print
Simple green lentil salad with zesty cranberry dressing
Simple green lentil salad with zesty, oil-free cranberry dressing. 6 ingredients - lentils, tomatoes, cilantro, lemon juice, garlic, cranberry balsamic.  
Author: Denise
Prep Time:

15 minutes

Cook Time:

25 minutes (inactive)

Total Time:

40 minutes

Yield:

6

servings

1

x
Category:

On the Side

Cuisine:

Middle Eastern
1 ½ cups

(300 gm.) green or brown lentils, rinsed

2

cups

sliced cherry tomatoes (you can also dice bigger tomatoes)

⅓

cup

fresh cilantro (coriander), chopped

½

cup

lemon juice

2

cloves garlic, minced

2 Tbsp

. cranberry balsamic
Instructions
Add the lentils to a medium pot and add about 4 cups of water. Bring the pot to a boil and then turn down the heat and allow the lentils to simmer, uncovered until they are tender, but still firm to the bite (about 25 minutes for green lentils).

While the lentils cook, slice the tomatoes and chop the cilantro and add them to a medium salad bowl.
In a small bowl mix the lemon juice, minced garlic and cranberry balsamic for the dressing.
Once the lentils are tender, immediately take them off the heat and drain them. Rinse them with cold water to stop the cooking process and help them to cool down.
Once the lentils are drained, add them to the tomatoes and cilantro and mix everything together.
Mix in the dressing. You can serve immediately or keep it in the fridge. Stir it before serving so the dressing stays mixed in.
Notes
Use a taller pot to cook the lentils and use a lot of water and cook them uncovered so they don't steam.

 

This will help the lentils from breaking down too much.
See my post for information on cranberry balsamic substitutes.
Keywords: Simple green lentil salad with zesty cranberry dressing