Welcome to the last vegan French lentil soup recipe you'll ever need. Ten ingredients, 1 pot, easy preparation, flavors that shine with healthy food that satisfies.
Jump to:
⭐ Recipe Highlights
Although there are an endless number of lentil soup recipes out there (I've got a few myself), if you're going to have just one, this is the ONE.
This is an easy one-pot soup that comes together quickly. Once you simmer the lentils, there's little left to do but add chopped kale and touch up the seasonings.
📋 Key Ingredients & Notes
French (Puy) lentils. French lentils are small but durable. They'll hold their shape and not fall apart. They are the perfect lentil for salads and soup, like this one where you don't want the lentils to turn mushy. French lentils also have a slightly different flavor from other lentils - a bit nutty, peppery, and earthy. Your best bet as a substitute is black (Beluga) lentils. The flavor won't be as distinctive, but they will hold their shape.
Thyme. This earthy, mildly minty herb is a feature of many soups, stews, and everyday eats. It brings out the slightly peppery flavor of French or other green lentils.
Tarragon. If someone asks you to describe French cuisine, if you know nothing else, talk about tarragon. The leafy, weed-like herb has subtle anise (licorice) flavor that won't overpower a dish but creates a unique flavor profile. It can be your 'secret' ingredient when people say, "Ummm. What's that flavor?' You can tell them or give them one of those 'that's my secret' smiles. I get the same reaction when I make tempeh stew, which also has tarragon and French lentils.
Paprika. Use smoked or sweet paprika. It's your choice. Paprika is what it sounds and looks like, dried and ground red peppers. There are various kinds of paprika with different combinations of smoky, sweet, or hot flavors. My preference is nearly always for hot smoked paprika. It has a more complex flavor than the others. Be sure you buy good quality paprika if you can. It's worth the investment as it can be used in everything from chili to hummus.
Tomatoes. Use 2 large or 3 medium red, ripe tomatoes. Remove the core end and then dice them small. If you want to substitute with canned tomatoes, use 1 small can of tomatoes packed in juice. The tomato flavor will be a little more intense if you use canned.
Vegetable broth. Ten cups of broth is a lot, I know. But you want to use vegetable broth rather than water. One option (and the one I use) is to use vegetable stock cubes. There are vegan varieties (even gluten-free) available in many grocery stores. Most vegetable broths have added salt, so wait until the lentils are tender before adding extra salt.
🔪 Pro tips & notes
This recipe begins with sauteeing onions and carrots, so I'll start with a reminder about no-oil sauteeing. First, heat your soup pot to medium heat. Then add the veggies. Onions can melt into a cold pan. Heating helps keep them from sticking. Keep the onions moving as they cook. And, if all else fails and they start sticking, add water a tablespoon at a time.
Before adding fresh chopped tomatoes, you only need to stir in the garlic, thyme, tarragon, and paprika. The role of the tomatoes is to provide depth and sweetness without dominating the traditional flavors.
Let the tomatoes simmer for about 10 minutes. This builds flavors and reduces the tomatoes for a sweeter taste. After that, it's time for the namesake ingredient – French lentils.
When it comes to cooking lentils, French lentils are where it's at. These little green gems are so forgiving that you won't risk overcooking them. They do come at a price – time. You'll need to plan for about 45 minutes of simmering to get them tender. This is a good thing as all the flavor you've added to the pot has time to build.
After the lentils get tender, there's just one small step left. Add chopped kale. The heartiness of kale makes it the perfect green for lentil soup. After an additional 10 minutes in the pot, it will soften. Chop it small if the chewiness of kale isn't something you like.  
💭 Common Questions
Can you use fresh thyme instead of dried?
Fresh thyme will have a milder flavor than the dried flakes that most of us have in our cupboards. For this reason, you want to use a bit more of the fresh herb. A general rule is 1 tablespoon of fresh for 1 teaspoon of dried.
What is a substitute for tarragon?
If you do find yourself in need of a substitute for dried tarragon, there are a few options. It won't yield the same flavor as tarragon, but let's not stop you from making a big pot of soup. For 2 teaspoons of dried tarragon, use 3 teaspoons of dried chervil or ¼ teaspoon of fennel.
Are French lentils the same as green lentils?
French lentils are a kind of green lentils. What distinguishes them is their dark green color. They are also about the third the size of regular green lentils. Puy lentils are French lentils that come from the Puy region. They are often more grayer than 'regular' French lentils and more expensive.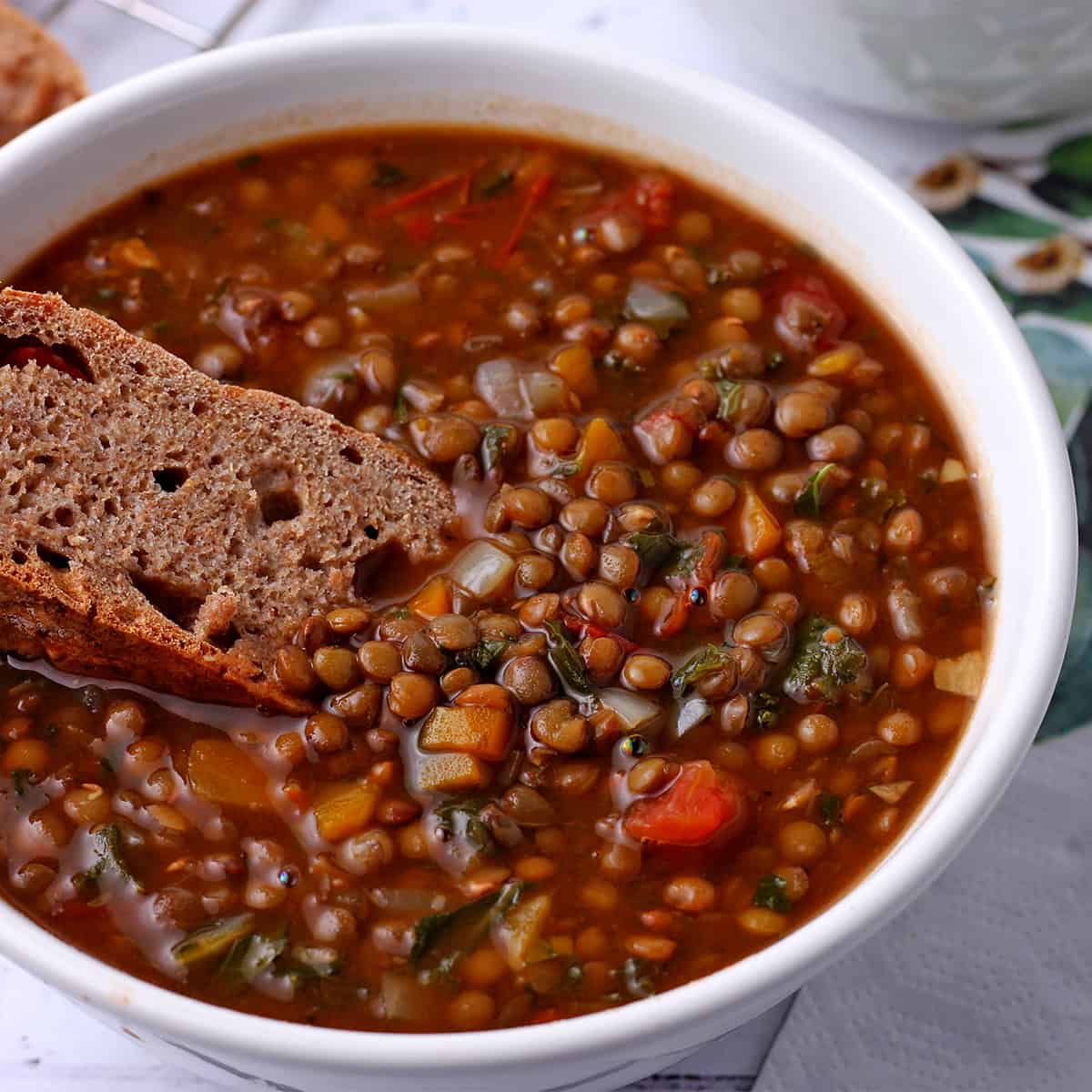 🥣 Serving Suggestions
Big bowls of soup with flavor galore packed with all the power of good food. I don't know if it gets better. I made a loaf of my favorite plant-based bread for dipping, and you're talking about the kind of meal you could easily make for a crowd.
Although this soup has plenty of veggies, a flavorful veggie side salad is a good option.
🌡️ Storage & Freezing
Store leftover soup in an airtight container in the refrigerator. It keeps for 5 days. This is an excellent soup for taking to work in an individual container too. You can reheat it either on the stovetop or in the microwave.
To freeze the soup, allow it to cool to room temperature. Then place it in one large or individual serving freezer containers. Ideally, don't freeze it for longer than 3 months, but it can go longer if necessary.
🍞 Our favorite sides for lentil soup
Print
Recipe
vegan French lentil soup
Vegan French lentil soup with tarragon and kale is the last lentil soup recipe you'll ever need – flavor that shines, food that satisfies.
Author: Denise
Prep Time:

15 minutes

Cook Time:

75 minutes

Total Time:

1 hour 30 minutes

Yield:

8

1

x
Category:

Soup

Method:

Stovetop

Cuisine:

French

Diet:

Vegan
1

medium onion, diced (about

1 ½ cup

3

medium carrots, diced (about

2 cups

)

4

cloves garlic, minced or pressed

2 teaspoons

tarragon

2 teaspoons

dried thyme

1 teaspoon

paprika (smoked paprika is recommended)

2

cups

fresh tomatoes, diced

2

cups

French lentils (Puy lentils)

10

cups

vegetable broth

3

cups

chopped kale
Instructions
Grab your soup pot and heat it up to medium heat. Add the onions and carrots and sauté until the onions are soft (about 5 minutes). Add water a tablespoon at-a-time if they start to stick.

Add the garlic, tarragon, thyme, and paprika, sauté for about 30 seconds.
Mix in the tomatoes, cover the pot and simmer them for 10 minutes.
Add the vegetable broth and lentils. Cover the pot and simmer for 40-45 minutes or until the lentils are soft.
Stir in the kale and allow it to soften for about 5-10 minutes.
Notes
If you substitute canned tomatoes for the fresh, use 1, 15-ounce (400 gram) can.

No tarragon? Try substituting 3 teaspoons of dried chervil or ¼ teaspoon of fennel. The flavor won't be the same, so try to get your hands on a jar of tarragon if possible. Fresh can also be substituted at 2 tablespoons for the 2 teaspoons called on in this recipe.
French (Puy) lentils are the preference for this recipe. If you do decide to substitute, black or Beluga lentils hold their shape better than green. If you use green, be sure not to overcook them. 

Vegan French lentil soup will keep in the fridge for 5 days and it freezes well. Set it out in the morning and reheat on the stove or nuke it. 

 
Keywords: vegan French lentil soup