One-pot rice and beans are deliciously uncomplicated and ingredient friendly. It's no mystery why we routinely turn to this traditional, quick recipe. It's still a bit of a mystery to me how 5 ingredients and 30 minutes is so satisfying and flavorful. Maybe I'll ponder that mystery as I serve up another helping.
In the name of flavor – tricks to making the best one-pot rice and beans
It sounds too simple – rice, beans, one-pot, but don't be lulled into thinking the flavor of this dish is anything but routine. When you take that extra minute to toast just 1 tsp. of cumin seeds and use vegetable broth rather than water, you end up with a wonderfully robust flavor with minimal cooking fanfare.
Healthy rice
We eat a lot of rice around here, but gone are my days of eating minute rice (remember that?). I realize that all rice is not created equal. When I first started exploring a whole-food, plant-based diet, I learned about eating brown rather than white rice. I made the assumption (correctly) that white rice was more highly processed than brown, which is true, but there's a bit more to it than that.
There are three distinct parts to just one grain of rice – the bran (the fibrous part), the germ (the nutritious part), and the endosperm (the carb-energy part). Brown rice contains all three parts while its counterpart, white rice, is processed to leave only the endosperm. The good part of the rice stripped way and you are left with only the endosperm. Without the fiber of the bran (what makes brown rice brown), the carbs in the white rice rush your bloodstream. This results in an immediate carb/sugar burst from highly processed white rice. That's a poor nutritional tradeoff per calorie. White rice can also leave you with the munchies as soon as the sugar high wears off. It's food for thought.
My current favorite rice is definitely brown basmati. It cooks up a bit quicker than a few other varieties of brown rice. And for whatever reason, I have better luck with it not sticking together. That said, this is a straightforward rice and beans recipe, so use what you have. It will taste delicious no matter what.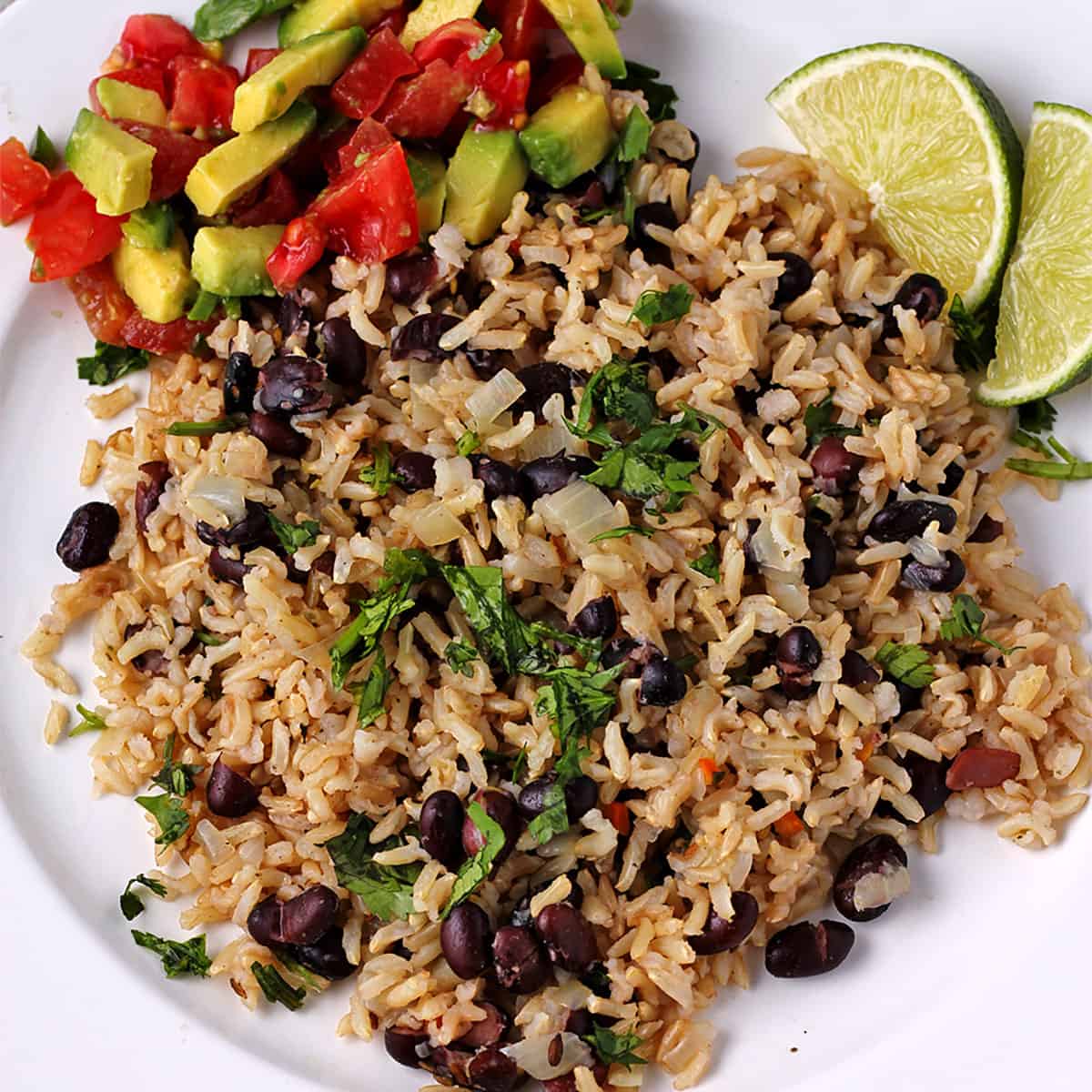 Rice cooking basics
As much as I might covet them, my small kitchen doesn't have the bandwidth for even one more kitchen gadget. For that reason, I don't own an instant pot or rice cooker. That means I cook up rice on the stovetop. Although you should always reference the instructions on your rice package, your general rule for cooking rice is a 1:2 rice to liquid ratio.
Just like dried beans, lentils, and quinoa, you always want to start out by thoroughly rinsing rice. This washes away any extra dust or residue that can make rice taste a bit stale and it helps it cook quicker. Add the rice and liquid, bring it to a boil, turn down to simmer, and cover. Your rice is done when the liquid is absorbed. It's also a good idea to let your rice sit for 10-20 minutes after it's done. That helps it cool more slowly so it (in theory) gets fluffier.
How to reheat rice
There are some safety issues around rice worth pointing out. First, you want to be sure that you store cooked rice in the fridge or freezer in a tightly sealed container. Don't leave warm rice on the counter for hours before popping it into the fridge. You also want to be sure it reheats at a safely high temperature. I swear reheating rice is what a steamer basket was invented for, so if you have one, use it for this purpose. Just the cheap metal kind will work. Be sure the water is boiling, then slip in the basket with the rice and go for it. No sticking on the bottom of the pan, and as it steams, the leftover rice will separate nicely.
How to make one-pot rice and beans
This is the recipe to make if you think you can't cook (you can) or you don't fancy the idea of a lot of prep. This is even easier than its recipe cousin red beans and quinoa because you only need 5 ingredients. That means you want to be sure before you start cooking that you have everything ready (mise en place people). First, get your pot hot and toast the cumin seeds. You'll want to immediately add the diced onion to sauté for about 3 minutes followed by the rice, beans, and vegetable broth. With the pot hot, it won't take but a few swishes with a spoon to bring the broth to boiling, then just turn the heat to medium-low and cover it.
It took my brown basmati 20 minutes to get tender and for the liquid to absorb. Keep in eye on the pan to ensure that you have it simmering, that there is still enough liquid so you aren't facing a burned rice sticking to the bottom-of-the pan situation. You also want to be mindful that the heat isn't so high that the pot boils over. That's no fun to clean up either.
What to serve with rice and beans
Rice and beans are simply wonderful right out of the one cooking pot you need to make it, but it amazingly versatile. Try dolling it up with a bit of chopped cilantro or a dollop of jarred salsa. I made a simple avocado salsa with a diced avocado, chopped tomatoes, jalapeno, red onion, and lime juice. That I served on the side. After making fresh corn tortillas, I just the leftovers to make tacos. Now, my mouth watering, I'm thinking about burritos or perhaps a taco salad centered around rice and beans (and maybe a few tortilla chips). Mas, por favor!
Final thoughts
When life gets complicated and it looks like more than the pot of rice and beans might boil over, I look for ways to adjust the heat. It could be a simple as taking a deep breath or taking a moment to list what I'm thankful for or uncomplicating dinner with an easy one-pot recipe. A few small things you have the power to change, including good food, one meal at-a-time, can have powerful exponential impacts. Peace.
Print
one-pot rice and beans
One-pot rice and beans, with just 5 ingredients are so simply delicious, it's no mystery why this uncomplicated recipe is a family favorite. Grab a pan and our secret ingredient, cumin seeds, and get ready to eat in 30.
Author: Denise
Prep Time:

5 minutes

Cook Time:

25 minutes

Total Time:

30 minutes

Yield:

6

servings

1

x
Category:

Main Course

Cuisine:

American

Diet:

Vegan
1 tsp

. cumin seeds

1

medium yellow onion, chopped

1

cup

of rice (I used brown basmati)

1 ½

cups

cooked black or pinto beans, rinsed and drained (1-15 oz. or 400 gm. can)

2

cups

of vegetable broth (or 2 cups water and 1 veggie stock cube)
Instructions
Note: Be sure to use a large skillet or saucepan that you can cover tightly.
Heat your pan to medium and then add the cumin seeds. Toast the seeds for 1 minute until they start to get fragrant.

Add the diced onion and allow it to sauté for about 3 minutes so it softens and releases its natural sugars.
Add the rinsed rice and toss it a moment to mix in the onions and spices. Then add the broth and stir. Add the beans.
Cover the pot and be sure to adjust the heat so that the rice simmers and doesn't boil over. Cook until the liquid is absorbed (about 20 minutes).
Season with salt and pepper and serve with lime juice, chopped cilantro, or salsa.
Notes
Cooking time is based on brown basmati rice. Depending on the type you use, the time could vary.

We found rice and beans easiest to heat in a basket steamer or in the microwave.
Keywords: one-pot rice and beans