This just might be the last lentil tomato soup recipe you'll ever need and I propose it is the best. After believing there was simply nothing better than my favorite French lentil soup recipe, I've made room for a new competitor. And it's been worth the wait, ingredient fussing and taste testing – ok, the tasting part wasn't so taxing.
How easy is lentil tomato soup?
Seriously easy. We'll be inviting a supporting soup cast of onions, celery, carrots, garlic; with sweet tomato flavor brought to you by tomato paste and a big can of tomatoes; special guest appearances from cumin, smoked paprika, and cinnamon; production assistance from bay leaves and fresh thyme sprigs; and starring of course, lentils. The result of this project is a big pot of wonderfully filling, super healthy and soul healing soup.
Sequence and blocking
Like any good production, cooking is all about sequence and blocking. Sequence is order by which you'll be introducing ingredients and blocking is all about the timing and details. You might be thinking that this is just a pot of soup, toss everything and 'get on with it'. I used to cook like that too, but as I've become more interested in
Method behind the madness
It's not just madness, but why is it that we always start a recipe by sautéing the onions first? Turns out, there's a reason for that. That detail, sautéing onions at the beginning, releases the natural sugars in the onions. This bit of timing is the beginning of building flavor. It's important in all recipes and I'd contend that it's particularly important when you are cooking without oil.
Layering is the foundation for building flavor and that begins with allowing onions to start the show and giving them just a few minutes to release their flavor. Although the same idea is utilized for garlic, but because garlic is usually pressed or minced and contains less moisture than onions, it can scorch and burn easily so you need only a minute or less to allow it to intensify it's flavor. And trust me, if you've not experienced it before, scorched garlic takes on a bitter taste and it can easily ruin the best of cooking intentions.
Watch the heat
Although I'm a stickler about being sure you pre-heat your skillet or pot before you add onions and then garlic to saute, you want to be mindful of the heat. You will avoid the onions expanding and basically melting into the bottom of you pot if you start out with a cold pan; however, you don't want to over brown and certainly not with the garlic. Once you add the celery and carrots (our next layer), be sure you mix everything well. The moisture from the celery will help to pick up some of those nice onion bits from the bottom of the pan. It's at this point though, you'll want to back the heat down a tad, so it is at medium – not the medium high you used for the onions.
Adding spices
Before adding the tomato paste, tomatoes, bay leaves and thyme, I took a minute to add the cumin, smoked paprika and cinnamon. Because these spices are ground, I wanted to ensure that they were completely mixed in rather than clumping up. This is a distributive flavor move (block if you will). A simple step like this takes less than a minute, but it's always good practice to take a moment to honor and attend to each ingredient, if even for a moment.
Adding tomatoes and paste
You know those little cans or convenient tubes hanging around? Tomato paste looks like semi-solid tomato putty or something, but it's no paste. The good paste comes from tomatoes that are cooked down to the max, then the seeds and seeds are strained out and it's cooked even more. This results in super concentrate, super intense tomato – paste.
I say tomato, you say…
Tomato paste, as it's known in the US, is not a universal term as I discovered when I moved across the pond and beyond. Tomato paste is tomato puree is tomato concentrate. Trust me, if you end up in an unfamiliar land, looking for a familiar ingredient, likely, it's right there, it just has another name.
Just tomatoes, please
It's the same old story with tomato paste as it is for canned tomatoes, as it is for any ingredient you buy. Get the purest you can. Look for tomato paste that contains a minimal of added ingredients. As always, it's a good idea to check out the labels if you aren't familiar with the brands. Some will contain added sugar, fructose, oil and sometimes things you can't pronounce. If you have the opportunity, avoid as much as you can.
About bay leaves
After getting the tomatoes going, I added 3 bay leaves and fresh thyme. If allowed to simmer in the pot, bay leaves have a flavor-building side hustle that is a bit oregano and a bit thyme. This happens with just 2 bay leaves and it's kind of amazing considering that if you smell them dried, there is not much to go by and if you taste them (don't do it, just hear me out), they taste sharp, bitter and not pleasant at all. Just get them cooking and let them work their flavor magic.
Time for thyme
Fresh thyme was my last layer before lentils and liquid and I'm going to let you in on a tiny secret that I learned. If you add sprigs of thyme, that's the small stem with all the thyme leaves on it, as your lentil tomato soup simmers, the thyme the stem and leaves release their flavor and the stems, well, they release their leaves. This means that after you soup is finished, you may run into a few leafless stems, but the work is done, just fish them out along with the bay leaves and ladle away.
Adding lentils
After a few minutes, the star makes an appearance. The beauty of this lentil soup is that you can use any kind of green or brown lentil you choose. I choose a French variety of smaller green lentils because they cook up a bit firmer than a few of the other kinds (and let's face it, that's what I had 2 bags of). You can use just about any kind of lentil you can find for this wonderful soup.
My only advice regarding lentils is to avoid red or split varieties as they tend to get mushy and creamy as they cook up. Great for a lentil Dahl they are, but I wanted to bring out more of a clear, but thick, consistency, so I opted for more shapely lentils.
Simmer time
After taking a bit of time, say an extra 10 minutes to build the flavors, once you get you lentils in along with a substantial amount of veggie stock, the real production magic happens as you go off and take a well-deserved cooking break as you anxiously await the first action.
When I'm simmering soup, I always check on the pot every 15 minutes or so. This allows you check the heat to ensure you have a rolling simmer, not a full boil that's mercilessly beating your ingredients, give a stir, adjust the liquid if needed and conduct that all important taste test.
You want to allow for about an hour of cooking time, but like so many slow cooking soups and stovetop stews, it gets better the more it cooks. And if you end up adding more liquid that your like and want a thicker consistency, keep cooking.
Final thoughts
Any stellar production requires planning for both the sequencing and the blocking. Once your lentil tomato soup is ready, you may want to attend to a few of those blocking details to make the experience even better. For us, it was garnishing each bowl with chopped parsley, red chili flakes and lemon wedges. You may decide that no further blocking is necessary other than ladling lentil tomato soup in the biggest bowl I can find, that's all good. Blocking doesn't always means adding, it's just considering how the event will go and at our house, it can be as simple as determining if we have enough clean bowls.
Sequencing (order) and blocking (timing and details) is one approach to cooking in general and even bigger nutritional or life-changing aspirations that I keep in my tool belt. I've learned that if I break undertakings into sequential pieces and then consider the when of each piece and those niggling details that might hinder my goals, I can visualize how I might realize my outcome. We've all had the experience of cooking or and getting an outcome that wasn't quite what we expected – that doesn't mean it wasn't good and maybe it was even better than I could have imagined. And if you want the result to be different, you can always rethink you deliberate sequence and blocking. This strategy might not work for everyone, but I suggest it's worth considering. Peace.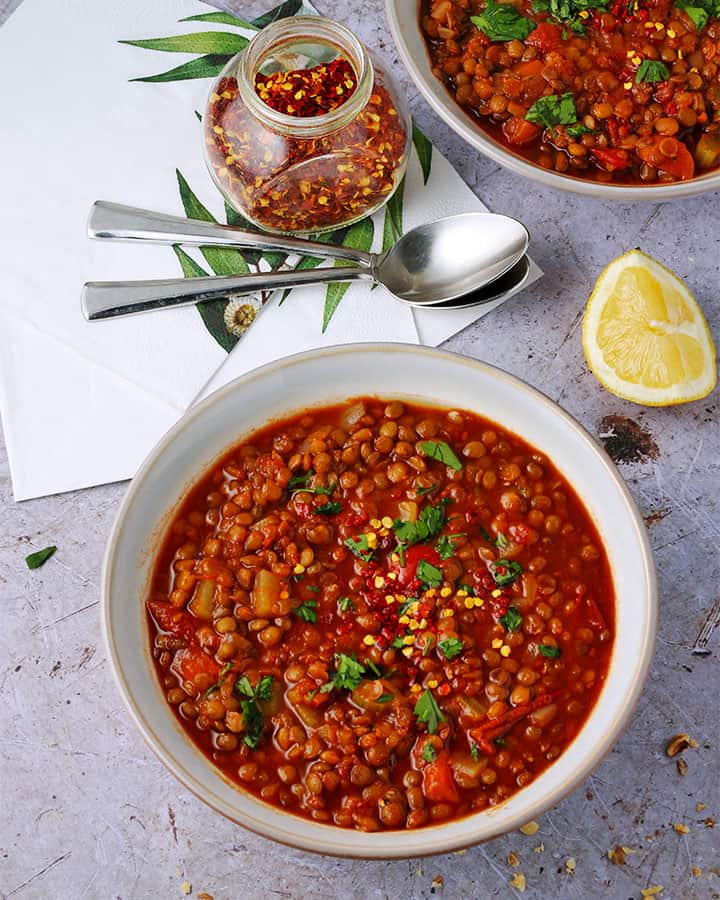 Print
The best lentil tomato soup
Easy for beginners and a taste for experts, our best plant-based lentil tomato soup is deliciously layered for flavor with easy ingredients and spices.   
Author: Denise
Prep Time:

15 minutes

Cook Time:

75 minutes

Total Time:

1 hour 30 minutes

Yield:

12

big bowls

1

x
Category:

Soups & Stews

Cuisine:

Middle Eastern
2

onions, diced

4

cloves garlic, minced

4

stalks celery, diced

4

medium carrots, diced

1 tsp

. ground cumin

1 tsp

. smoked paprika

½ tsp

. ground cinnamon

1

- 5.5 oz. (140 gm.) c

an tomato paste

1

-

28

oz. (

800

gm.) can diced or cherry tomatoes

3

bay leaves

3

to

5

sprigs fresh thyme

3

cups

green or brown lentils, rinsed and drained

8

to

10

cups

vegetable stock
Salt and pepper to taste
Fresh lemon wedges, red chili flakes or chopped parsley for garnish (optional)
Instructions
Heat a large soup pot to medium high and add the onions. Saute the onions for about 5 minutes, stirring frequently. Adjust the heat so they don't burn.

Add the garlic and stir for another 30 seconds and then add the celery and carrots. Mix them for a few minutes to start them cooking.
Add 1 tsp. ground cumin, smoked paprika and ½ tsp. cinnamon. Mix to coat the vegetables.
Add the tomato paste, canned tomatoes, bay leaves and fresh thyme. Mix well and simmer the tomatoes for about 5 minutes to start building the flavor.
Add the lentils and 8 cups of vegetable broth. Bring the soup to a boil and then reduce it to simmer, cover the pot and cook for about an hour until the lentils are tender and the liquid has reduced. Check the soup periodically and add more broth depending on the consistency you want.
Serve the soup hot in bowls and garnish with lemon wedges, crush red chili flakes or chopped parsley if desired.
Notes
The cooking time is dependent on the type of lentils you use and how old they are.

The amount of stock you use will depend on what you want the final consistency to be. If you want a thicker, stew-like dish, then use only 8 cups and if you want it thinner and more of a broth-based soup, add 10 cups or even more.

You'll be making a lot of soup, but it freezes like a dream. You can keep it in the fridge for at least 5 days and in the freezer for 3 months.
Nutrition
Serving Size:

1 bowl

Calories:

220

Sugar:

7.3 g

Sodium:

447.8 mg

Fat:

0.9 g

Carbohydrates:

42.1 g

Protein:

13.5 g

Cholesterol:

0 mg
Keywords: Lentil tomato soup