You'll shout out loud when you taste these baked sweet potatoes mashed with lemon-tahini dressing and loaded with seasoned baked chickpeas.
I might love to cook, and goodness knows, I love to eat. I do both a lot. And when something special comes along, well, I just want to shout from the rooftop about it.
This is me, shouting (with a side of happy dance). While I fill my mouth with the most delicious sweet potatoes ever.
I honestly can't say enough good things about this recipe. Absolutely delicious and flavorful, interesting and dare I say, surprising?
Sweetie celebration
There's a lot to shout about when it comes to sweet potatoes. I mean, how could you not love something tastes so good and is so darned versatile. If you simmer them up, they add flavor and creaminess to everything from Thai curry to Chilean stew to our favorite dahl. And oh goodness, just add flour and you have an amazing pizza crust or flatbread.
Because I am usually adding sweet potatoes to a pot of something or turning them into a bready creation, the thought of whole baked sweet potatoes usually slips by me. Besides, am I the only person who has baked them only to discover that one of them is not a 'good' one? It's also really easy to let them go too far in the oven after which you end up with this shriveled skin with sweet potato syrup oozing out of them.
Cut your time (and the potato) in half
One way to create a little oven harmony when baking sweet potatoes is to simply cut them in half before you bake them. I know, it defies all our potato-baking lessons from the wonder years when we diligently washed our potatoes, pierced them with a fork, wrapped them in foil and waited. That's still a great method for Russets and other white potatoes (although I'll take chips any day).
If you want to bake great sweet potatoes, dispense with all that fanfare, wash them, yes, and then cut them in half. That takes the potential for a bad one off the baking tray. So, no more cooking an extra one 'just in case'.
The one thing I will caution of you, highly advise you do, beg you from the bottom of your baking tray is to use parchment paper for this. To get your sweet potatoes to bake properly, which requires releasing some of that sugar-moisture, you need to place them cut-side down. It's going to get messy people!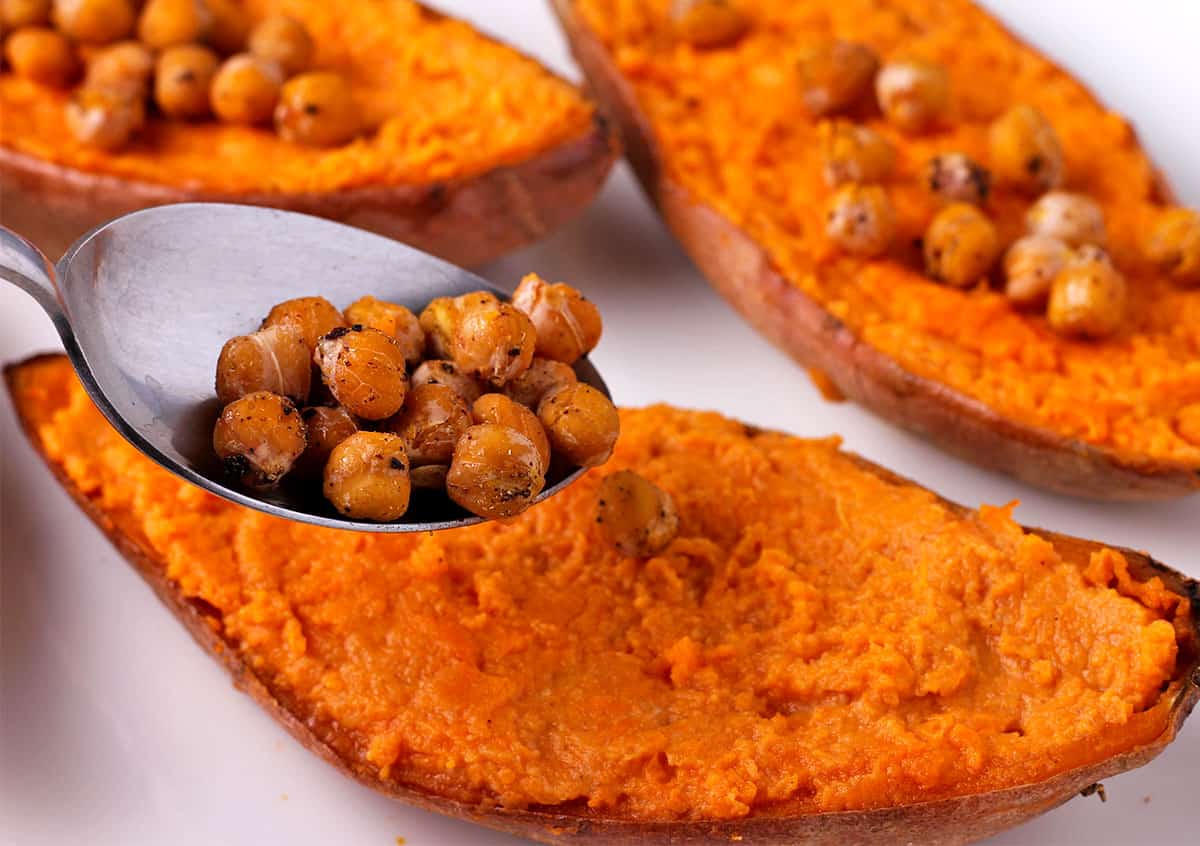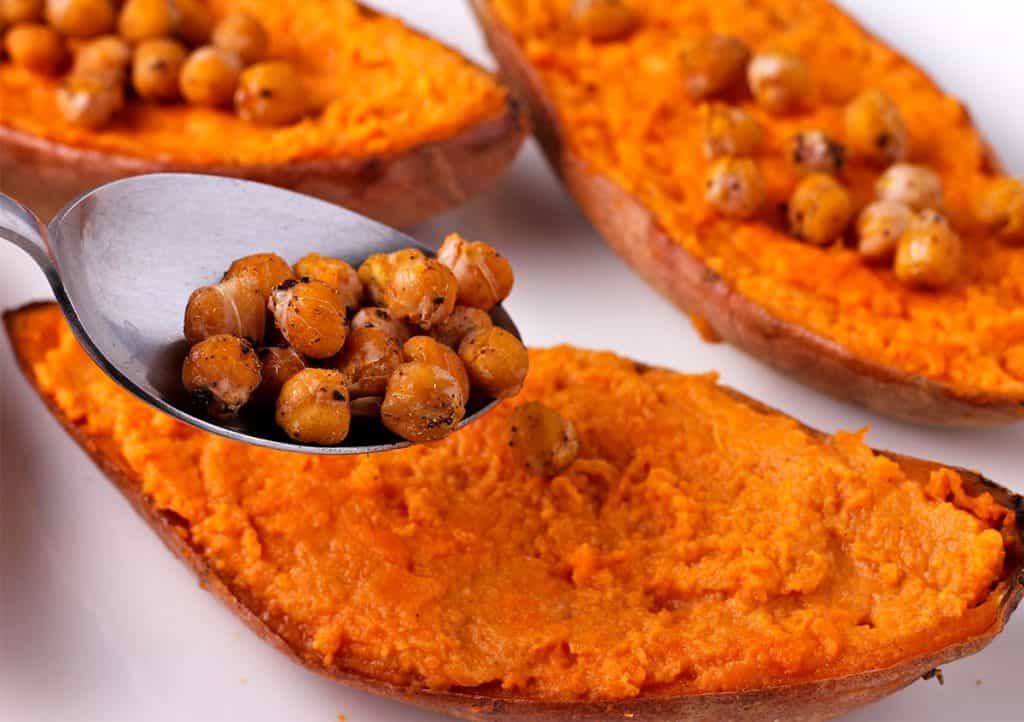 A yam by another name?
When I think of yams, I get transported to my mom's famous candied yams. We had them every Thanksgiving. Let's not tell her the truth – Judy, those were most likely candied sweet potatoes. The truth is that there are so many varieties of sweet potatoes available that what most of us call yams, are probably not. It's so confusing that the U.S. Department of Agriculture requires labels with the term yam to be accompanied by the term sweet potato.
There's a bit of history at the source of the confusion. Firm sweet potatoes secured their place in the US early on and when softer varieties became widely available, they resembled the yams in Africa, and thus, the name was adopted. So sweet potato and yam may well be firm versus soft of the exact same food.
Sweet potatoes have a wide variety of colors and shapes. You'll find them rosy with orange flesh, copper or red with white flesh, or even purple with purple flesh. All those are sweet potatoes. And all of them will bake up and beg for some friendly chickpeas to accompany them.
Chickpea no-rinse baking
When you bake chickpeas, expect them to firm up. How much depends on time and temperature and what you bake them with. A simple seasoning of ground cumin, sumac, and ground black pepper is a perfect tie-in for the sweetness of the potatoes and the tartness of the lemon-tahini dressing.
Baking tip
If you use canned chickpeas, just drain them, but don't bother to rinse them. The aquafaba provides a nice coating for the spices to cling to. It also works as an oil-like shield – without all the unhealthiness of oil. Cool beans (or peas, whatever).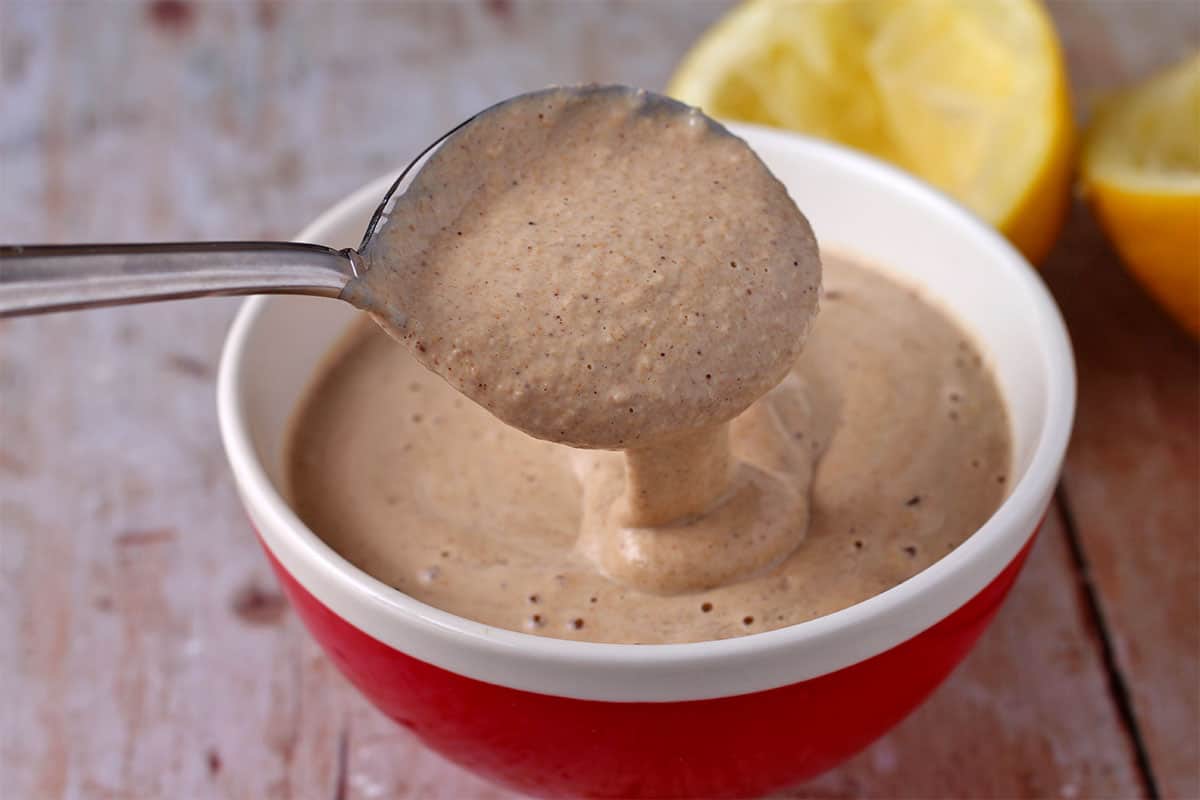 Lemon-tahini dressing on everything!
There is absolutely nothing fancy about lemon-tahini dressing. I've been making it in quarts since I discovered how to make oil-free tahini. it's just too deliciously easy. Add lemon, garlic, and tahini. Maybe add some water to get it to the consistency you want. Done and done.
And just add about half of your dressing as you mash up the sweet potato you've scooped from the baked skins and there's just one challenge left. That would be the part where you stop diverting the spoon from filling your mouth rather than the potato skin.
Bake once or twice
After you finish mashing and reloading your sweet potatoes, you may want to reheat them to warm them up. We haven't found this necessary when we've had them; however, if you make them ahead of time, you can use this option. They will also reheat in the microwave. You can also reheat with or without the chickpeas on top.
Topping ideas
We just loaded our baked sweet potatoes with the seasoned chickpeas, a bit of chopped mint, and of course, more dressing. If you want to do more chickpea loading, here are a few ideas:
Dried cranberries
Pomegranate seeds
Denise's favorite seed blend
Serve them on a beg of rocket (arugula)
Chopped parsley
Final Thoughts
But we shouldn't let traditions get in the way of our new realities. And it's not about what's in the name. It's all about what's on our plate. We don't need the candied 'yams' if that means eating a load of butter and sugar. We can create our own traditions that fit our nutritional goals. Call it a yam, call it a sweet potato or just call it more, please. As long as it serves our bodies and souls. We can still keep the security of tradition – just load it in a new (and tasty) way. Peace.
Print
Loaded baked sweet potatoes with lemon-tahini dressing
You'll shout out loud when you taste these healthy, plant-based baked sweet potatoes with lemon-tahini dressing and loaded with crispy, seasoned chickpeas.
Author: Denise
Prep Time:

10 minutes

Cook Time:

25 minutes

Total Time:

35 minutes

Yield:

4

loaded halves

1

x
Category:

On the Side

Cuisine:

American

Diet:

Vegan
2

large sweet potatoes, rinsed, scrubbed and cut in half lengthwise

1

-

15

oz. (

400

gm.) can chickpeas, drained, but not rinsed

1 tsp

. ground cumin

1 tsp

. sumac

½ tsp

. ground black pepper

¼

cup

tahini

⅓

cup

lemon juice (the juice of 1 lemon)

1

clove garlic, pressed or finely minced

2

-

4

Tbsp. water as needed (to thin the dressing)

2 Tbsp

. chopped fresh mint
Instructions
Preheat the oven to 400 F (200 C) and line a baking tray with parchment paper.
Carefully, cut the sweet potatoes in half lengthwise and place them on the tray, cut-side down.
Add the chickpeas to a small bowl and sprinkle the cumin, sumac and black pepper over them. Toss them until the chickpeas are coated. Add them to the baking tray.
Bake the sweet potatoes for 15 minutes, then check them and toss the chickpeas around. Bake another 5 – 15 minutes until the potatoes are soft (the time depends on the size and kind of sweet potatoes, so check them).
While the sweet potatoes are baking, make the dressing by whisking together the tahini, lemon juice, and garlic. Add water if necessary, to thin it to the consistency of a creamy dressing.
When the potatoes are done, allow them to cool so you can handle them then spoon the flesh into a medium bowl and add half the dressing. Mash the sweet potatoes using a fork or hand masher. Spoon the mash back into the sweet potato skins, load them with the seasoned chickpeas and add the chopped mint.
Serve with the remaining dress and enjoy!
Notes
Substitute 1 tsp. lemon zest for the sumac.
If you can find smaller sweet potatoes, these make an awesome appetizer and can be served warm or cool.
Learn to make your own oil-free tahini right here.
Keywords: Loaded baked sweet potatoes with lemon-tahini dressing