Easy stuffed baked sweet potatoes with chickpeas plus creamy lemon tahini sauce make an irresistible vegan meal of sweet potato decadence.
Jump to:
⭐ Why this recipe works
This sweet potato recipe is near the top of my list whenever I struggle for an easy recipe or healthy dinner idea that doesn't require much time (or thinking). The sweet flavor of sweet potatoes is tempered with seasoned chickpeas and a zippy lemon-tahini dressing. If you love an excellent twice-baked potato, the kind dolloped with vegan sour cream, get ready.
The difference between a potato side dish and a fully-fledged sweet potato main is the satisfaction of high-protein chickpeas and layers of textures and flavors wrapped up in an easy meal. Engaged taste buds and healthy recipes with gusto.
📋 Key ingredients, notes & substitutions
Sweet potatoes – Aim for 2 sweet potatoes that are relatively the same size. This ensures even baking. You'll be scooping out the sweet potato flesh, so try to get larger ones if you can. Yams are always a stand-in for sweet potatoes, but you could also use purple sweet potatoes.
Chickpeas – 1 can of chickpeas is enough to season and top 4 sweet potato halves. That's 1 ½ cups cooked if you make them yourself. Drain, but don't rinse the chickpeas. This eliminates the necessity of coating them in olive oil.
Tahini – Tahini (sesame seed paste) is one of our favorite ingredients for making quick, creamy dressings. And lemon-tahini with a twist of garlic is one of our favorite ways to enjoy it. Although you might be tempted to add a little maple syrup or another sweetener to balance the lemon, try to resist. Half of the dressing will get mixed into the baked sweet potato flesh.
Lemon juice – Fresh lemon is always the best way forward, but the bottled kind works here too. If you only have lime juice, it will make the dressing less tangy and slightly sweeter, but don't give up. Use less and taste as you go. Add a pinch of sumac since you've already got it. That will liven it up.
Mint – Freshly chopped mint leaves give this great recipe a final, crispy flavor explosion and make a beautiful color contrast (if you're into the presentation). I've not tried this with chopped parsley, but that's my recommendation if you want a little chopped herb to sprinkle over the top of each potato.
Sumac – If you're unfamiliar, sumac is a sour, lemony, earthy spice prevalent in many Middle Eastern dishes. The spice blends Za'atar (possible substitute). Lemon pepper is a good alternative if you can't find sumac in your local grocery stores. Just leave out the black pepper that's recommended. Lemon zest is also possible if you're using fresh lemon juice for the dressing.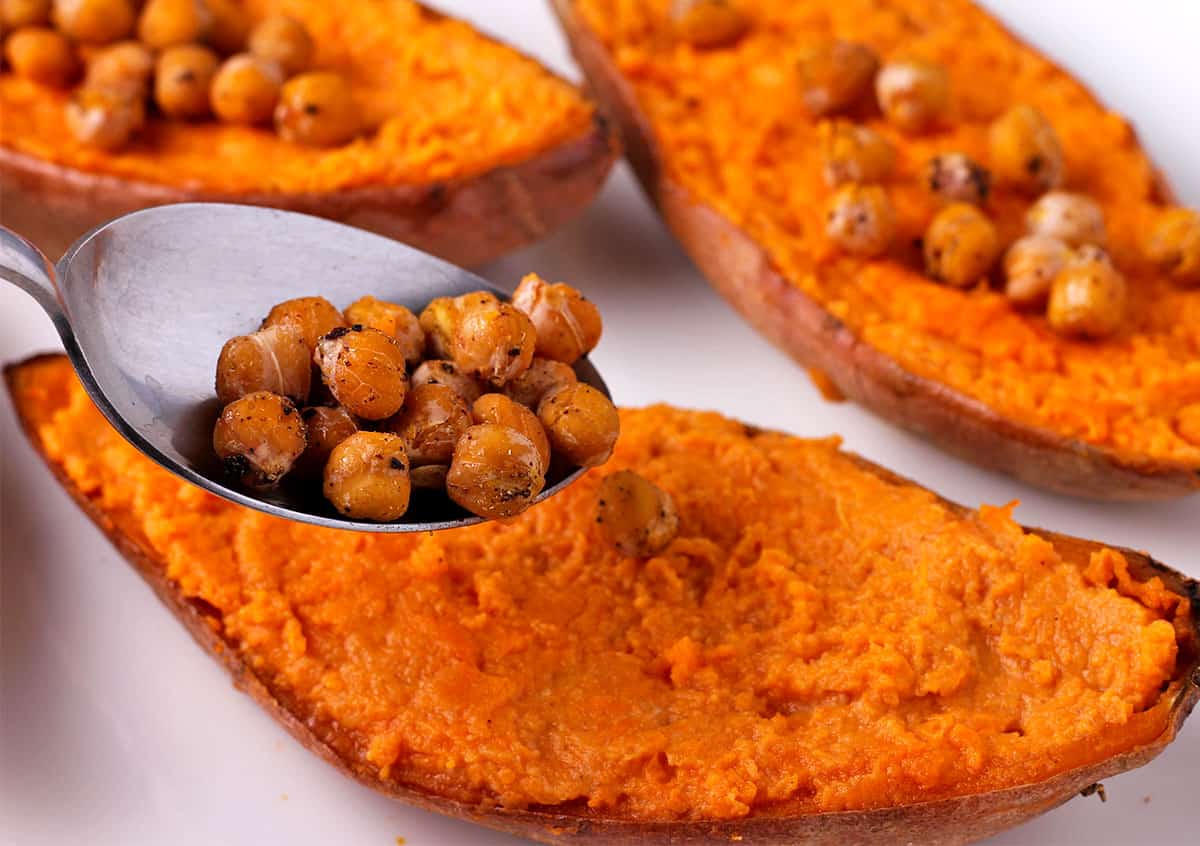 🔪 Step-by-step instructions
The prep is so quick for this recipe that the first thing you'll want to do is set the oven to 400 degrees. It will take about 10 minutes to accomplish the primary meal prep.
Once you drain the chickpeas, toss them in a bowl or an airtight container with a lid. Then add the cumin, sumac, and black pepper. Toss (or shake) the chickpeas, so they are covered in spices.
The best part (or one) about this recipe is baking the sweet potatoes and chickpeas on the same baking sheet. So simple!
But there's a little secret for doing this: Cut the sweet potatoes in half, lengthwise. Place them cut-side-down on the baking sheet. This cuts the time in half. You don't need to poke holes in the sweet potato skins or wrap them in tin foil.
However, you want to line the baking sheet with parchment paper or a baking mat. Sweet potatoes are messy and will destroy a baking sheet.
Once you position the sweet potato halves, add the seasoned chickpeas, and pop the tray into the oven. Toss the chickpeas after the first 15 minutes so they brown evenly. Depending on the size of the potato, it will take about 20-25 minutes for them to bake.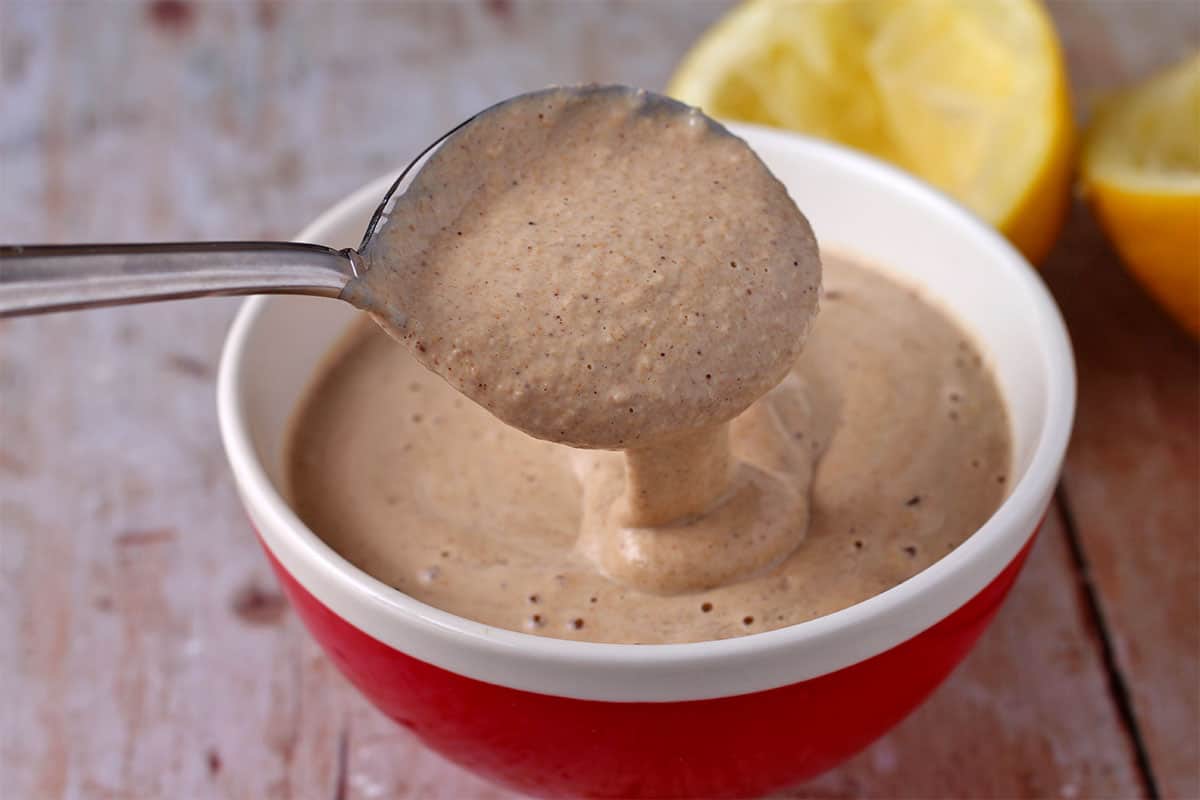 What to do with all that time? Use 10 minutes, mince or press a clove of garlic, and mix it with ¼ a cup of tahini and ⅓ a cup of lemon juice. No need to drag out the blender. Use a small whisk or spoon and blend it by hand. The sauce will be thick initially, so add water until you have a pourable consistency.
Now, chop some mint and set the table if you want.
Once the potatoes are soft, remove the baking tray from the oven. Grab a medium bowl and your oven mitts. Gently scoop out the flesh. Leaving a little around the edges of the sweet potato shells.
Then add half the tahini-lemon dressing and use a potato masher or spoon to make an irresistible sweet potato filling. It might remind you of my favorite sweet potato dip. Nearly done!
Refill each potato skin with the sweet potato mixture. Create a slight dip in the middle because we haven't forgotten about the chickpeas. Add them over each potato, then top with the remainder of the dressing. Chopped mint is the final touch.
💭 Common Questions
What is a good substitute for tahini?
If you want to be nut-free, ground sunflower seeds or sunflower seed butter has a nutty flavor that tastes a little like the ground sesame seeds of tahini. The consistency and neutral flavor of almond or cashew butter are closest to tahini. If you want a lower-fat option, consider aquafaba (the juice from a can of chickpeas) to replace all or part of the required tahini.
What are other toppings good for sweet potatoes?
In addition to fresh herbs (mint or parsley), you can add a bit of arugula (rocket), small-diced red onion, or sliced green onion. If you want spicier, add a pinch of cayenne pepper, chili powder, or paprika. If you're going for a zestier flavor, sprinkle sumac, lemon zest, or pomegranate seeds over the top.
🥗 What to serve with baked sweet potatoes
With chickpeas and trimmings, these baked sweet potatoes only need a side to make a complete meal for 4. Since you are covered for protein and starch, you just need a side salad or another easy veggie side dish.
🍴 Recommended sides
🌡️ Storage / Freezing / Reheating
This is a great recipe for serving half the next day. Stuff the sweet potatoes and save half the dressing and half the remaining dressing separately. You can warp the sweet potatoes and reheat them in the microwave or oven. Heat the chickpeas for a few minutes in the oven to crisp them.
I don't recommend freezing baked sweet potatoes because they will be so soft after baking they won't retain any of their shapes. You can freeze the seasoned chickpeas, but let's face it – you'd rather much on them as a snack. Make more next time you crave this sweet potato recipe.
Print
Recipe
Easy Stuffed Baked Sweet Potatoes with Chickpeas
Easy stuffed baked sweet potatoes with chickpeas plus creamy, lemony tahini sauce make a delicious vegan meal of sweet potato decadence. 
Author: Denise
Prep Time:

10 minutes

Cook Time:

25 minutes

Total Time:

35 minutes

Yield:

4

1

x
Category:

dinner

Method:

baked

Cuisine:

American

Diet:

Vegan
2

large sweet potatoes, rinsed, scrubbed, and cut in half lengthwise

1

-

15

ounce (

400 gram

) can of chickpeas, drained but not rinsed

1 teaspoon

ground cumin

1 teaspoon

sumac

½ teaspoon

ground black pepper

¼

cup

tahini

⅓

cup

lemon juice (the juice of 1 lemon)

1

clove garlic, pressed or finely minced

2

-

4

tablespoons water as needed

2 tablespoons

chopped fresh mint
Instructions
Scrub the potatoes, then cut them in half lengthwise. Place them on the baking tray.
Add the chickpeas to a bowl or container with a lid. Then sprinkle the cumin, sumac, and ground pepper over the chickpeas. Toss or shake the chickpeas to cover them. Add them to the baking tray with the sweet potatoes.
Place the potatoes in the oven. After 15 minutes, check the potatoes and toss the chickpeas. Bake another 10-15 minutes until the potatoes are soft.
While the potatoes bake, make the dressing. Add the tahini, lemon juice, and garlic to a bowl and whisk the ingredients. Add 2-4 tablespoons as needed until you have the consistency of a pourable dressing.
Use oven mitts to hold a potato half and a spoon to scoop the flesh into a bowl. Place the potato skins on a plate. When the potatoes are soft, remove the tray from the oven.
Add half the dressing to the cooked sweet potatoes and mash or mix until blended and creamy. Then fill each potato skin with the potato mixture, leaving a slight dip in the middle.
Divide the chickpeas equally over the top of each potato, then top with the remainder of the dressing and chopped mint.
Serve immediately. 
Notes
If you can't find sumac, use lemon pepper, and eliminate the black pepper. You can also use lemon zest or Za'atar.
The age and size of the sweet potato determine how long it takes for them to get soft. Use a guide of 25 minutes but check them after 15. 
Keywords: stuffed baked sweeet potatoes with chickpeas, tahini-lemon sauce