This is taco salad supreme, and it's loaded with chorizo tofu, beans, corn, our special cilantro lime dressing, and any of your favorite toppings.
Supreme salad made easy
The secret to great taco salads is loading them up with all your favorite ingredients. It can get a bit overwhelming if you are trying to chop, cook, layer, bake chips, and get the timing right.
Let's make release that stress and sequence our dance steps a bit.
1. Homemade tortilla chips
A desire to avoid added oil can prove quite a challenge when it comes to chips and other crunchy things. I've never been successful in locating oil-free tortilla chips, but perhaps you will have more luck on that end.
If not, it's easy to make your own. And if you don't have access to oil-free corn tortillas it's a double lucky day, because making corn tortillas is easy. I always make my own and seriously, even if I could find corn tortillas where I live (and I can't), I'd still keep making them. Once you get the process, it's a mind-freeing task that turns out to be a lot of fun. Much as I try to keep them in stock in the freezer, we always seem to gobble them up before they get there.
How to bake tortilla chips
We're going to smother these with cilantro lime dressing and break them up or use them to scoop up the salad, so this is a straight crisp 'em up.
So, preheat the oven to 4250 F (2200 C) and cut the tortillas like you would a pie into triangles or into strips. Anything goes. Toss them onto a baking tray and bake them for 15 minutes until they start to crisp and slightly, ever so slightly brown. Toss them around on the tray several times as they bake so they don't burn. Remove them and set them aside (try to leave some for the salad).
While the chip baking commences, you can move to the dressing.
2. Make the dressing
If you ask me which came first, the salad or the dressing, I'll admit it – this creamy cilantro lime dressing was more than inspirational.
Just remember to grind the pepitas before adding the rest of the ingredients. Pepitas are fairly soft so if you have a decent blender, then you might be able to grind them down with that. Otherwise, a spice grinder works wonders.
Once you make the dressing, you can just put it in a bowl and set it aside. You can even make it a day ahead and just keep it in the fridge in a tightly sealed container.
The hardest part is avoiding dipping those crispy tortilla chips into the dressing as you get everything else ready. Not such a big problem, but something to consider snacking fiends.
3. Prep all the salad ingredients
Before you start with the tofu, it's always smoother if you wash and chop the lettuce, slice the tomatoes and olives and get everything ready to assemble the salad. If you are adding diced avocado, just toss them with a tablespoon of lime juice to keep them from browning.
It's at this point that you can dice the onion and green pepper as well as peel and mince the garlic for the chorizo tofu. Gather the chili powder, cumin, cinnamon, salt, and apple cider vinegar. You will want to cook the tofu last so it's warm when you serve it.
4. Get the black beans and corn ready
Start out by draining and rinsing the black beans and corn. If you are going to serve them warm (our preference), then add them to a saucepan. You will need to add about ½ cup of water to keep them from sticking as they heat. Start warming them after you've added the crumbled tofu to the chorizo ingredients and spices.
When adding them to the salad, drain off any excess liquid, or use a slotted spoon. Another hack is to add the beans and corn to the tofu after it's done cooking. From a point of salad presentation, it's nicer to have them separately, but this is an idea I wanted to share.
5. Chorizo tofu
Chorizo time. If you have the onion and pepper ready, then this is a quick last process. Just add the onion and green pepper to sauté for a few minutes (about 5). This helps them soften.
You may need to add a few tablespoons of water to keep them from sticking. Not to worry, this is an oil-free cooking strategy. The water evaporates. Something to note about this is that if you have the pan hot and add the water, your onions will instantly brown up. Relax, the water is just picking up the good bits from the bottom of the pan.
After the onions and pepper are going, add the spices, but wait on the vinegar. I've found that if you add that with the tofu, more of the flavor is retained.
You want to add rinsed, but not drained tofu. Once you crumble it into the pan, all the moisture will cook away. Add the apple cider vinegar then and just start stirring.
The longer you cook the tofu, the firmer it will get, so the decision as to how you like it is entirely yours. I've found that 10-15 minutes works best for our taste. You will also want to taste it and add more spices, including salt according to taste.
6. Assemble your super salad!
You can mix everything together or you can layer this salad. I usually start with a layer of lettuce and a few tomatoes, sitting ready on my serving plate. Then, when everything is done, I just pile on the black beans and corn, add the chorizo tofu and then add the rest of the tomatoes, black olives, avocados, and anything else.
You can crumble and layer the tortilla chips in the mix, crumble them on top or serve them on the side. Add the dressing at the end or serve that on the side as well. This helps keeps the lettuce crisp.
Individualizing your taco salad
We like to top off the chorizo tofu along with the black beans and corn with lettuce, tomatoes, avocado cubes, black olives, and tortilla chips. But you, my friend, are in choice, so here are a few ideas:
Vegan sour cream
Sliced, pickled jalapenos
Salsa
Shredded carrots
Diced red onion or scallions
Diced bell pepper
Final thoughts
Cooking is all about timing and it's the first thing you should consider when taking on a recipe with multiple ingredients. Even when you cook a one-pot meal, you need to pause and do a bit of planning (and prep) before you turn any knob on the stove.
A sequenced plan of events raises the potential for success and joy and diminishes the stress that accompanies kitchen havoc. That plan starts with knowing what you're going to cook. Then, move on to considering timing, what can be made ahead, and how you avoid the trap of food burning on the stove while you are furiously chopping or blending.
Planning is a powerful tool beyond cooking. If you're working on establishing healthier eating habits, planning what you want to eat each day – before that day comes, is a tool you may want to explore. A goal without a plan is a wish. Peace.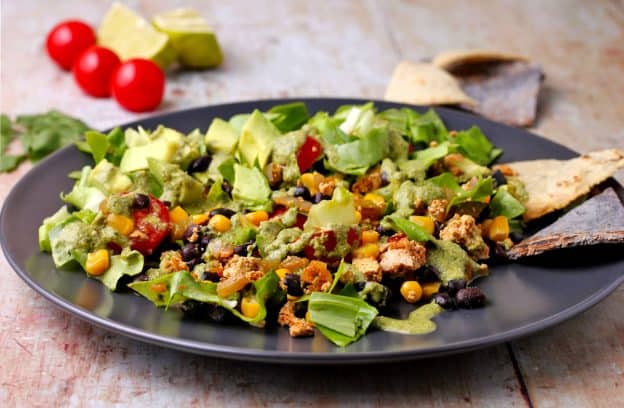 Print
taco salad supreme with chorizo tofu
Taco salad supreme is loaded with chorizo tofu, beans, corn, creamy oil-free cilantro lime dressing, baked tortilla chips, and your favorite salad veggies.  
Author: Denise
Prep Time:

30 minutes

Cook Time:

30 minutes

Total Time:

1 hour

Yield:

6

big servings

1

x
Category:

Salads & Bowls

Cuisine:

Mexican

Diet:

Vegan
Chorizo tofu
1

small onion, small diced

1

small green pepper

, small diced

2

cloves garlic

, minced or pressed

1 Tbsp

. chili powder

2 tsp

. cumin

½ tsp

. cinnamon

½ tsp

. salt

8

oz

. (220

gm.)

block tofu

, rinsed, NOT pressed

2 tsp

. apple cider vinegar
Cilantro lime dressing
¼ cup

pepitas (pumpkin seeds), ground up in a spice grinder or blender

¾

cup

lime juice

1 Tbsp

. maple syrup or agave syrup or another liquid sweetener

½ tsp

. chili powder

1

bunch cilantro (

2 cups

with stems and leaves)
Additional salad ingredients
1

-

15

oz. (400 gm.) can black beans, rinsed and drained

1

-

10

oz. (

300

gm.) can corn, drained

3

cups

shredded lettuce

1

cup

cherry tomatoes, sliced in half

¼

cup

sliced black olives (optional)

1

avocado diced (optional)

6

-

8

corn tortillas for homemade tortilla chips (or a commercial brand)
Instructions
To make the tortilla chips, preheat the oven to 4250 F (2200 C) cut 6-8 corn tortillas like a pie into 6 triangular pieces or cut them into strips about ½ inch wide.

Place the tortilla pieces on a baking sheet and bake them for 15 minutes until they are slightly brown and crunchy. Toss them around on the tray a few times so they don't burn.

To make the cilantro lime dressing, first grind the pepitas into a powder using a spice grinder, blender, or food processor.

Next, add all the ingredients – the ground pepitas, lime juice, maple syrup, chili powder, cilantro – into a blender and blend until smooth.

Prepare the raw ingredients, such as the shredded lettuce and sliced tomatoes and black olives.

Drain and rinse the black beans and corn and place them in a smaller saucepan along with ½ cup of water (this will keep them from scorching). Wait to heat the beans until you have added the tofu to the pan. The corn and beans can heat on low the last 5 minutes of the tofu cooking process.

To make the chorizo tofu, heat a skillet to medium and add the onion and green pepper. Sauté them, stirring them frequently until they start to soften (about 5 minutes). Add a few tablespoons of water if they begin to stick.

Stir in the garlic, chili powder, cumin, cinnamon, and salt, and sauté for another 30 seconds.
With your hands, crumble the un-pressed tofu into the pan and then add the apple cider vinegar.
Stir the tofu frequently, breaking up any of the bigger pieces if necessary. Continue sautéing the tofu until it becomes firmer and the moisture has evaporated.

To assemble the salad, layer a large plate or platter with shredded lettuce and a few tomatoes and black olives, then add the beans and corn, and then the tofu. Top off with crumbled tortilla chips or serve them on the side.
Add the dressing or serve on the side.
Notes
The prep time and cook times assume that you are starting with pre-made tortillas but does account for the baking time to make chips.
Be sure to taste the tofu,

depending on the brand and how It's processed, you may need to add extra spices or salt.
Nutrition
Serving Size:

1 heaping plate

Calories:

339

Sugar:

7 g

Sodium:

583 mg

Fat:

14.6 g

Carbohydrates:

42.5 g

Protein:

16.4 g

Cholesterol:

0 mg
Keywords: Taco salad supreme with chorizo tofu