5 alarm plant-based chili is the rich, spicy hot, flavorful, and healthy chili 'non-Carne' that warms you up inside and out.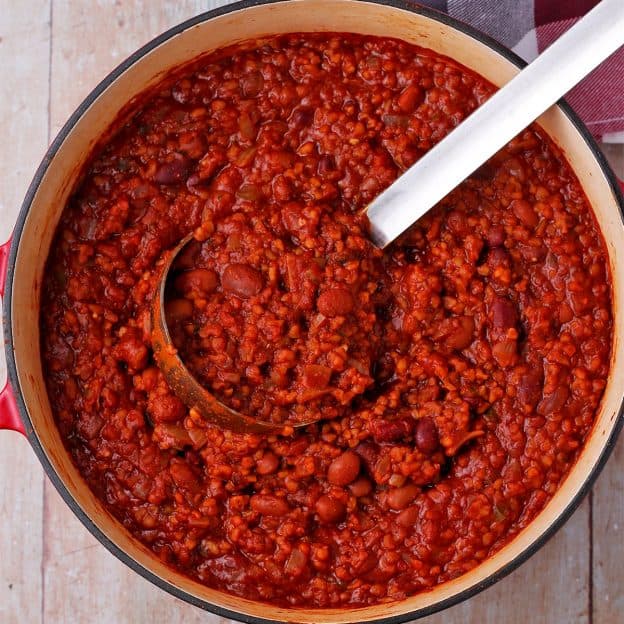 I've been after a spicy hot chili recipe with a thick consistency, with a texture more on the meaty side than some of our other favorites such as black bean with cocoa powder or one-pot zucchini chili. I was going for a straight-up spoon standing-in-the bowl kind of chili. 
And after a bit of planning, tweaking, a few trials, and learning (always learning), I ended up with exactly what I was seeking. This is the kind of recipe that's a 'keeper.'
You can make this chili precisely the same every time, and you can draw on the chili foundations I'm going to present for your consideration. You can then decide what you like and raise your own alarm.
I've got six considerations for you. They lead to your steps for making this chili recipe. They go like this:
1. Flavor building – this is the beginning of the cooking process where we sauté the onions and jalapenos and then add the garlic. So many recipes start with onions and adding garlic. We know this drill, you want to cook the onions first and then add the garlic later, so it doesn't scorch and get bitter. Because the jalapenos have quite a bit of moisture, I added them along with the onions.
Here's my final word about the onions. You've heard it before. Heat the pan before you add them. If you add onions to a cold pan, they will disintegrate into the pan, and most assuredly, they will stick.
2. Spices – You can go crazy adding chili spices (feel free), but I limited these to my personal essentials. This includes:
Cumin
Chili Powder
Oregano
Coriander
Cayenne Pepper
Spices can be adjusted according to your taste. Add, subtract, reevaluate,  cast a spell, or a prayer. This might be necessary if you have a super-hot chili powder or a particular complex chili blend.
3. Chili – you can't call yourself 5-alarm unless you've got some chili game going on. In addition to the chili powder and cayenne, and the jalapeno I mentioned earlier, I used a combination of canned Chipotle Chilis in Adobo sauce and 3 dried ancho chilis.
Ancho chilis are those deep red (nearly black) chilis that are lower on the spicy alarm scale. They also have a sweet and smoky flavor that contrasts the fresh jalapeno. FYI, ancho chilis are the dried form of poblano peppers.
If you can't find ancho chilis, you may discover it as a powder among the spices. Use 1 teaspoon for every dried chili if you are making that substitute.
Ancho chilis are usually easy to find, but If you want to use other dried chilis, aim for those that are dark red.  Check the heat indicator and adjust accordingly.
A few other chili tips to consider
Wear gloves when handling the chilis. Admittedly, I don't always practice what I preach. When handling chilis, I am careful to wash my hands with soap and try not to do something foolish like clean my contact lenses.
My second tip is to remove the stems and seeds. I made a huge mistake when I first made this chili. I didn't shake out the seeds. Now, I like super-spicy food, but that was a bit of a disaster. Too hot to taste anything is not the ultimate goal – even for 5 alarm.
Finally, soak the dried chilis for about 30 minutes. After I removed the stems and seeds, I broke the chilis into a few pieces and set them in a bowl of hot tap water. Soaking helps soften them, making them blend easier.
4. The thickener – this is chili by gosh, so let's not muck it up with regular flour. I used Masa Harina. That's the stuff we use to make corn tortillas, but did you know it's a chili thickener extraordinaire?
If you don't have masa harina, try 2 tablespoons of cornmeal or another kind of cornflour. I will note that the chili will be pretty thick from the bulgur, so you may not even need it.
5. The beans and 'meat' – it's not chili without at least one of the two. I went for both. You want to use 4 ½ cups (3 cans of beans). I used a large can of pinto beans and 1 can of kidney beans. Mix and match people. Make it your own or at least something of convenience.
The meat part is my current favorite – a cup of dried bulgur. Seriously, it's the best substitute for ground beef for this kind of recipe. I love that it cooks in 15 minutes right in the pot and soaks up the flavors while giving your chili a touch of Carne without actual meat.
Other 'meaty' alternatives include:
An extra can of beans
Portobella mushrooms
Soy curls or TVP (textured vegetable protein) crumbles
1 cup of red lentils. I'd suggest using whole rather than split lentils as they will retain their integrity.
6. Your 'secret' ingredients – I've got 2.
Beer – make it a dark 'hoppy' kind for the best flavor. And hey, something spicy like this goes down pretty well with beer. Of course, when you cook with it, all the alcohol will dissipate, so don't depend on getting your high on chili. Maybe save one to serve alongside your bowl.
Date paste or dates – I discovered that a little sweetener really picks up the flavor. I used 2 tablespoons of date paste; however, if date paste isn't in your reach, consider a few options.
First, dice 2 dates and add them to the tomatoes and chilis to blend them. This is my easy 'forget to make date paste' hack.
Second, use a different liquid sweetener such as agave syrup or even maple syrup.
Setting the alarm
Move through making this chili in sequential steps. It's a breeze. It's all about timing and convenience.
Start with the dried chilis. It takes minutes to remove the stems and seeds, but about 30 to get them soft. That's plenty of time to gather and measure the spices. Dice the onion and jalapeno and mince the garlic. Finally, you can add the tomatoes, date paste (or dates), masa harina, and chilis in adobo sauce in a blender or food process. When you get that done, your dried chilis will be ready to drain and be blended with the tomatoes.
Now, grab your big chili pot because it's going to take 25 minutes before you are ready to get the bowls.
Final Thoughts
When I think about chili, I think about time. Not cooking time, but time to savor the flavor, enjoy every spoonful. Chili appreciates time. It tastes delicious on day one and even better on day two. If you want to cool it down, top it off with plant-based sour cream. If you want the full chili experience, what could be more traditional than tortilla chips? Try out your favorite cornbread recipe or make a few corn fritters. It's chili, it's spicy, and even though it's 5 alarm, there's no disaster here, just good eating. Peace. 
Print
5 alarm plant-based chili
5 alarm plant-based chili is the rich, spicy hot, flavorful, and healthy chili 'non-Carne' that warms you up inside and out.
Author: Denise
Prep Time:

30 minutes

Cook Time:

30 minutes

Total Time:

1 hour

Yield:

8

servings

1

x
Category:

Soups & Stews

Cuisine:

plant-based

Diet:

Vegan
3

-

4

dried ancho chilis, broken, seeds removed and soaked in water

2

-

15

oz. (

400

gm.) cans tomatoes in juice

4

chipotle chilis +

2 Tbsp

. sauce from chipotle chilis in adobo sauce

2 Tbsp

. masa harnia (corn flour for tortillas)

2 Tbsp

. date paste

2

onions, diced
1- 2 jalapenos, diced (remove the seeds to control the heat)

6

cloves garlic, minced or pressed

2 Tbsp

. cumin

1 Tbsp

. chili powder

1 Tbsp

. oregano

2 tsp

. coriander

1 tsp

. cayenne pepper

1

bottle dark 'hoppy' beer

4 ½

cups

of cooked, mixed beans such as kidney, pinto, or black (3 - 15 oz. or 400 gm. cans)

1

cup

dry bulgur

3

cups

of water
Instructions
Start by removing the stems and seeds from the dried chilis. Place them in a warm bowl of water and set them aside while you prepare everything else.

In a blender or food processor, add the canned tomatoes, chipotle peppers in adobo sauce, masa harina, and date paste. Drain then dried ancho chilis, and add them to the tomatoes. Blend everything until smooth. Set aside.
Heat a large chili pot over medium heat. Add the diced onions and jalapenos. Sauté them for about 5 minutes until they start to soften and the onions become slightly translucent.
Add the minced garlic and the spices (cumin, chili powder, oregano, coriander, and cayenne powder). Mix this together and let the garlic sauté for 30 seconds.
Deglaze the pan with the beer. Stir with a wooden spoon and pick up the pieces of onion from the bottom of the pan. Keep the heat at a slow simmer for about 5 minutes so the beer can settle.
Mix in the tomato mixture, add the beans, bulgur, and 3 cups of water.
Bring the pot to a low boil and then lower the heat to simmer. Cover the pot and cook for 15 minutes until the bulgur is tender.
Once the bulgur is done, check the consistency, and add more water if needed. Add salt and/or black pepper as desired.
Notes
Substitute dried Ancho chilis for ground ancho chili, 1 teaspoon for every dried pepper. If you use other dried chilis, use the dark, not red.

If you can't find masa harina, substitute 2 tablespoons of cornmeal or cornflour.
If you do not have date paste, you can dice 2 pitted dates and add them to the tomato mixture. You can also use another liquid sweetener like agave syrup or maple syrup.
I've found that a dark, 'hoppy' beer gives the chili more flavor, but use your favorite. If you don't want to use beer, deglaze the pan with 1 cup of vegetable broth.
There are several 'meaty' alternatives you can use in place of the bulgur, although I seriously recommend the bulgur. Consider using an extra can of beans, diced portobello mushrooms, soy curls or TVP (textured vegetable protein) crumbles, or 1 cup of whole red lentils.
Keywords: plant-based chili