With this easy 4-ingredient vegan cashew sour cream recipe, you'll never be without the creamy, dreamy, tangy flavor of this beloved, if not essential, ingredient.
We make this non-dairy, plant-based sour cream so often that it's on autopilot. It's impressive that the flavor of 4 simple ingredients creates a taste better than the 'real' thing with the same versatility as regular sour cream.
This post contains helpful tips and tricks to make sure you're successful in your first attempt. Below, you'll find a handy table of contents with links. But if you're in a rush, please use the link at the top to jump to the recipe card at the end!
Jump to:
⭐Why this recipe works
As a foundational ingredient for vegan recipes, sour cream is a must. Suppose you are vegan, plant-predominant, or need a sour cream substitute that can be made from shelf-stable ingredients. In that case, this recipe meets all those criteria.
Once you have the process on point, you can make as little or as much sour cream as you need in just a few minutes.
For the love of sour cream, we're including tips and different options for prepping cashews, being mindful that, just like cooks, kitchen devices vary.
📋 4-ingredients
Raw cashews: It's true that all cashews a lightly roasted during the preparation process. What we know as roasted cashews are darker and are not suitable for making sour cream. Off-color is one thing, but the flavor is entirely different and close to offensive. You want raw, unsalted cashews. If it's cheaper, go for cashew pieces rather than whole cashews. Don't compromise.
Apple cider vinegar: The sour tang of apple cider vinegar lifts the neutral flavor of the cashews. Ok, apple cider vinegar is healthy, but it's also a tasty ingredient. If you must substitute, try rice vinegar or white wine vinegar.
Lemon juice: With less sharpness than vinegar, the sour flavor of lemon juice brings more zest and slight sweetness to balance the acid.
Salt: Add a depth of flavor with just a little salt. Use it sparingly, so start with ¼ a teaspoon (less if you are salt-sensitive) and add after tasting if desired.
⏲️ How to prep cashews
For some folks, the idea of prepping cashews for sour cream is as simple as dumping them into their high-speed, high-powered blender. I've got a Vitamix, but I'll be honest, I still faithfully prep cashews, and I'll continue advocating this until my last bite.
Overnight soak: Add the cashews to a bowl and cover them with water. Soak them overnight or for at least 4 hours.
Quick soak: Add hot water (preferably boiling) and the cashews to a bowl. Soak for at least 15 minutes. Soak longer if your blender is less powerful.
Grind: Place the cashews in a spice grinder or small, powerful blender. Grind the cashews into a fine powder.
Steaming: Place the cashews in a steamer basket and steam them over boiling water. Add a lid to the pot to preserve the steam. Steam for 5 minutes, longer if you need them softer.
Boiling: Bring a pot of water to boiling and add the cashews. Boil the nuts for 5 minutes, then drain.
Tip: Be sure to drain and rinse the soaked cashews before adding them to the rest of the ingredients.
🥄 Making cashew sour cream
Tip: A high-speed blender is better by design than a food processor for getting a smooth consistency. You want a small enough space to create friction so that the cashews can break down.
Start by adding the cashews, apple cider vinegar, lemon juice, salt, plus ¼ a cup of water to the blender. Begin at a slower speed, gradually increasing as the cashews break down.
Check the consistency and then add a few tablespoons of water and continue blending until you have a creamy texture. Be sure to taste the sour cream and adjust the vinegar or lemon juice as needed.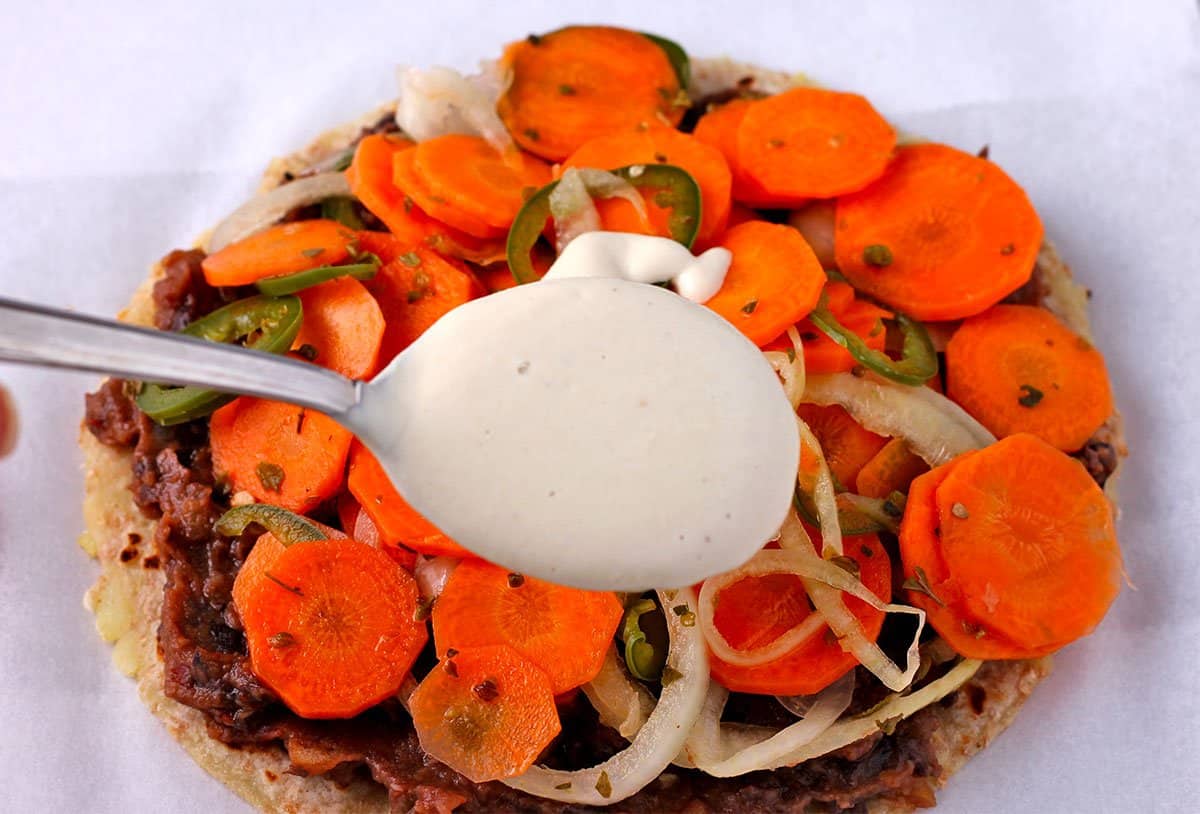 💭 Common Questions
Can you make vegan sour cream without cashews?
For a nut-free vegan sour cream, we recommend sunflower seeds. This is another perfect substitute for the dairy version of sour cream. Blanched almonds can also be used, although you may need to adjust the apple cider vinegar and lemon juice as the nut flavor will be stronger. Check out our sunflower seed vegan sour cream recipe for further information.
Why is my cashew sour cream grainy?
If, after blending, the cashew cream has a grainy or gritty texture, it might be due to under soaking the cashews. Let the cashews sit for 10 minutes, and then continue blending, adding more liquid if it is too thick. If this doesn't work, add it to a spice grinder, splitting the amount if needed. A smaller space will create more friction and help make the texture creamier.
Will cashew sour cream thicken when added to recipes?
Cashew sour cream or dressings with a cashew cream base can seize and thicken as the starch in the nuts expands. Start with a thinner consistency before adding it to other ingredients. If making warm pasta, use a little bit of the pasta water to thin the sour cream sauce. Rinse the pasta before adding a sour cream-based dressing if you are making pasta salad.
🍽 Serving & storage
🍽 Serving & storage
Cashew sour cream makes delicious dips and salad dressings. It is delicious as a topping for tacos, chili, and any dish that needs a cooldown. And, of course, it's the perfect topping for any baked potato.
You can also use cashew sour cream as a mock coconut cream by adding a few drops of coconut extract or a few tablespoons of coconut milk. A great compliment for many Indian curry recipes.
Store sour cream in an airtight container in the refrigerator for 5 days. It will thicken after being stored, so add a little water or a few drops of lemon juice to loosen it up.
You can also freeze sour cream in a sealed container for several months. Toss leftovers in an ice cube tray and drop them into vegan chili.
📖 Related recipes
Print
👩🏻‍🍳 Recipe
Easy 4-Ingredient Vegan Cashew Sour Cream
With this easy 4-ingredient vegan cashew sour cream recipe, you'll never be without the creamy, dreamy, tangy flavor of this beloved, if not essential, ingredient.
Author: Denise
Prep Time:

20 minutes

Total Time:

20 minutes

Yield:

1 ¼ cup

1

x
Category:

Ingredients

Method:

Blending

Cuisine:

American

Diet:

Vegan
1

cup

raw cashews, soaked

2 tablespoons

apple cider vinegar

2 tablespoons

lemon juice

¼ teaspoon

of salt

½

-

1

cup

of water
Instructions
Prepare cashews. Quick soak the cashews by adding them to a bowl and covering them with boiling water. Allow them to soak for 15 minutes. See notes for alternative cashew prep methods.
Blend the sour cream. Drain and rinse the cashews, then add them to a blender along with the apple cider vinegar, lemon juice, salt, and ¼ cup of water. Start blending slowly, gradually increasing the speed as the cashews break down. Continue adding a little water until you have a smooth texture and consistency you like.
Adjust and finish. Taste the sour cream and add more vinegar, lemon juice, or salt if desired. Cashew sour cream will thicken, so thin it out a bit if you are adding it as an ingredient to another dish.
Notes
Nutritional information is based on 2 tablespoons.
1 cup of cashews will yield about 1 ¼ cup of sour cream, depending on how much liquid you add.
A blender is best for making sour cream. For making small amounts, use a smaller blending device such as a spice grinder.
In addition to the quick soak method for cashews, you can also soak them overnight in water, grind dry cashews into a fine powder, steam them, or boil them. Refer to the body of the post for more info.
Store cashew sour cream in an airtight container in the refrigerator for 5 days. You can also freeze it. If it thickens after standing, stir in a few drops of water or lemon juice. 
Keywords: vegan cashew sour cream, plant-based sour cream, cashews