Crispy baked tofu recipe – no oil? Absolutely and delicious! I'm sharing my best practices because we all deserve an easy and reliable crispy tofu recipe that is dip-worthy, curry-worthy, and ready for anything in between.
This easy tofu recipe is perfect for beginners. There are infinite to enhance the flavor of the tofu using the basic principles of this easy technique. That's why this is one of my foundational tofu recipes.
That's one reason I decided it deserved a shout-out all of its own. I serve crispy tofu so often that's it's become a bit of an afterthought. But it never occurred to me, until some lovely person pointed it out, that it isn't an afterthought to a lot of cooks. In particular, people following a plant-based diet who do not use added oil in their cooking.
This is also for those of us who rely on our ovens to do the job. As must as I dream about having an air fryer, I don't own one. But I usually have a baking tray or baking dish handy. That's all the specialized equipment you'll need for this one.
Types of tofu
Before we get started, can we have a word about tofu? It can be confusing with so many varieties. So let's cut through it.
The most important thing to remember is that tofu is categorized by its texture or consistency. That's determined by the water content. The firmer the tofu, the less water. In general, from the highest moisture content to the least:
Silken tofu
Regular
Firm
Extra-firm
Super firm
Seasoned – special spices are added to create different flavors.
Smoked
Fermented
Tofu a la minute – these are precooked and ready to drop into your dishes.
This is not an exhaustive list, and it can obviously get confusing with so many choices. My advice is to choose easily. For crispy tofu, sausage crumbles, sheet pan bacon, or tofu ricotta where you want firmness, go for a firm or extra firm. The only difference between the two will be the time you need to press it.
You can get excess moisture from super and extra firm tofu in minutes. Wrap the block in paper towels and press it with your hands. You can also place it between two flat surfaces and press it on the top.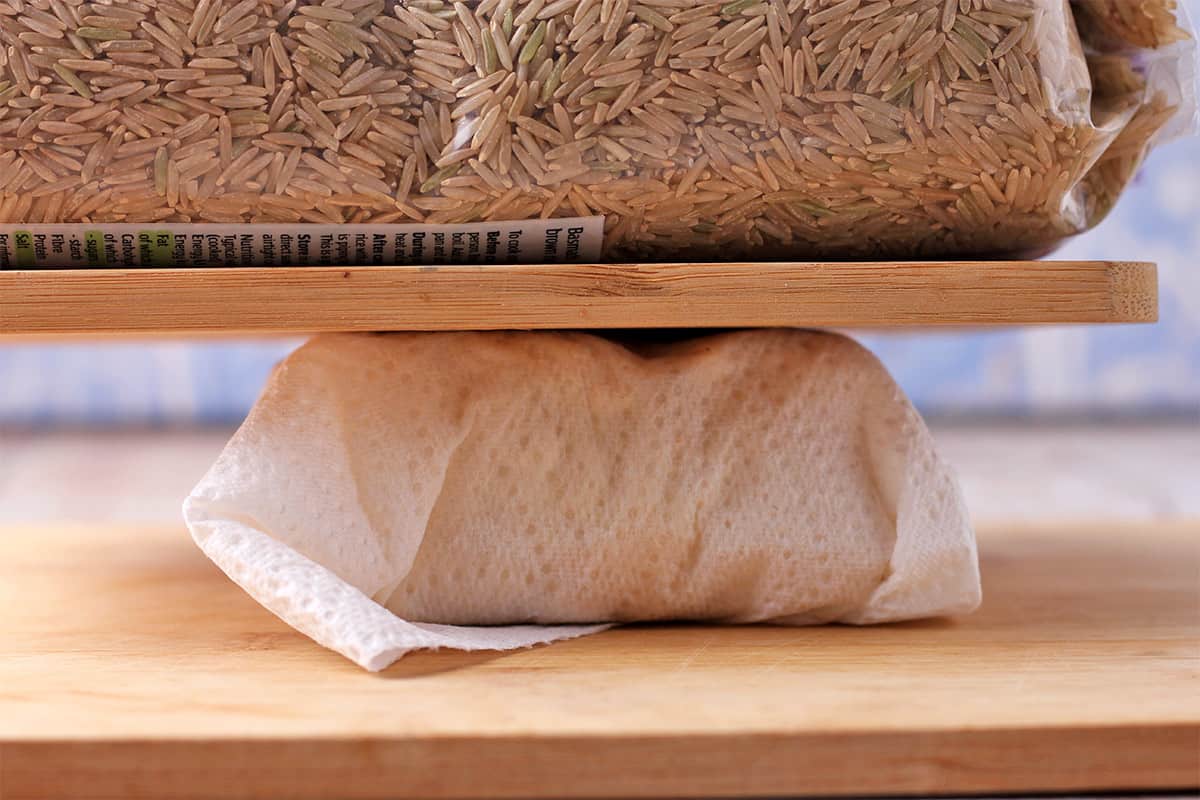 How do you press tofu?
When you buy regular or firm tofu and open the package, you may notice excess moisture. The tofu will be spongy, and if you handle it too aggressively, it may start to fall apart.
Pressing tofu is just what it sounds like. It involves exerting pressure on it so that it will release its excess water. This takes around 20 minutes. Pressing is a best practice because pressed tofu gets crisper on the outside, firmer on the inside. It also holds added flavors better.
Do I need to have a tofu press?
Although they are nice to have, you don't need an official tofu press. Just wrap the tofu in a paper towel and place it between 2 flat surfaces like a cutting board. Weigh the top down with a heavy object to help speed up the process.
Tip: For big blocks of tofu, try cutting the block into halves or quarters before pressing it. This is a good way to get the moisture out quicker and more evenly.
Crispy cubes
Once you have pressed your tofu, cut it into any size pieces that you like. Long strips to tinier, square tofu cubes. Don't let your inner perfectionist toss out imperfect pieces or cubes. As long they are about the same thickness, it all bakes and tastes the same.
Keep the pieces relatively thin. Keep the cubes about ¼ - ½ of an inch thick. Thicker tofu may stay spongy in the middle, so if that bothers you, then thinner is better.
For this recipe, we're using a quick prep using 3 simple ingredients. Toss the tofu in 2 teaspoons of lemon juice, 2 teaspoons of soy sauce, and a ¼ to ½ of a teaspoon of maple syrup (if desired).
If you want to marinate the pieces before baking, simply mix up the marinade, toss the tofu pieces, and allow it to sit for 20 minutes or more. Toss with the corn starch right before baking.
Once you've got the first three ingredients distributed over the tofu, start adding cornstarch or arrowroot. Begin by adding 1 teaspoon of starch. I've found that the best way to get the cornstarch covering all the pieces is to use your hand. Rub each piece, break up any small granules of the powder.
Add more corn starch ¼ of a teaspoon at a time until it stops being absorbed into the tofu. That's your stop signal. If you discover that you've added too much, add a drop or two of lemon juice or water.
Corn starch versus arrowroot powder
Either corn starch or arrowroot will crisp of tofu in the oven. I've used both with equal success. Arrowroot is less processed than cornstarch; however, sometimes the texture can get a little slippery when added to dishes with a lot of sauce such as curry.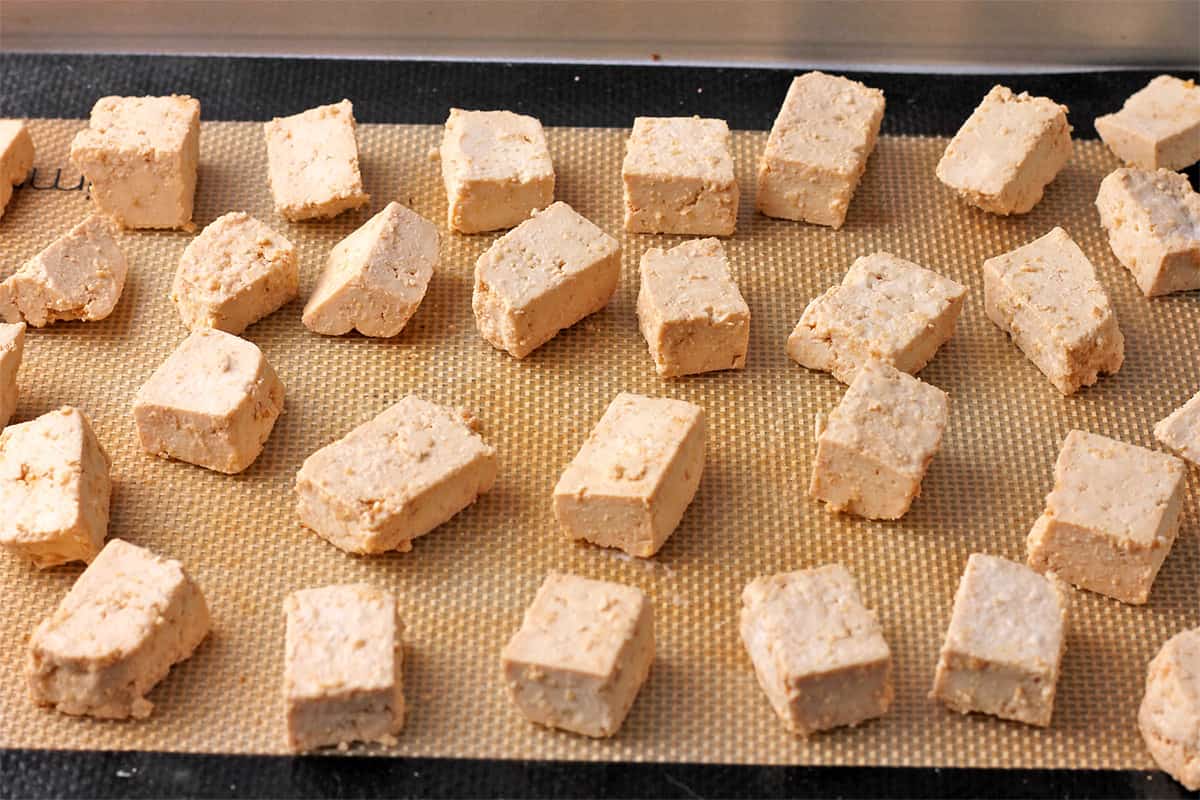 The baking process
Be sure you preheat the oven to 4250 F. (2200 C.). The hot oven helps to keep the tofu from sticking to the bottom of the baking tray and immediately activates the crisping process.
Line the baking sheet with parchment paper or a silicone baking mat. This makes it easier to flip the pieces with less risk of losing the crispy coating. Place the tofu in a single layer. Don't force the flip. Bake the tofu for at least 15 minutes on the first side. Check to see if a piece easily releases from the bottom. If not, let it bake another 5 minutes.
Pro tips
Once you've baked the tofu, you may encounter a few pieces that still have cornstarch on them. They'll look a bit dusty. There are a few ways to resolve this:
Flip the pieces and keep them browning. The tiniest bit of steam rises between the baking sheet and the underside of the tofu pieces. That may emit enough moisture to help the cornstarch absorb.
Spray the tofu with a tiny bit of water or flick a few drops over the tofu pieces. This might seem like a bit of a cheater's way out, but it works from time to time.
Cover the tofu pieces with foil and continue baking for 5 minutes. Again, this helps to create a small amount of steam to absorb excess starch.
Be happy, embrace a little corn starch, and pop the tofu into your curry pot. Trust me, it won't matter from there.
FAQ's
Is tofu healthy?
Tofu or soybean curd is often used as a meat substitute. It is an excellent source of plant-based protein, iron, and calcium. And other essential vitamins and minerals. Tofu is naturally cholesterol-free; however, it is higher in fat than other bean products, so you may want to consume it in moderation.
What type of tofu is best for baking?
Extra-firm tofu is ideal for baking because it only needs a few minutes of pressing, is easy to dice into cubes, and holds its shape. Be advised that brands of tofu, and their firmness designations, can vary. So your regular tofu may be very firm and perfect for baking.
What is organic tofu?
Organic tofu is made by coagulating soymilk to create bean curd that is pressed into blocks. In some countries, tofu is made from genetically modified soy milk. Organic tofu is made from non-GMO condensed soy milk.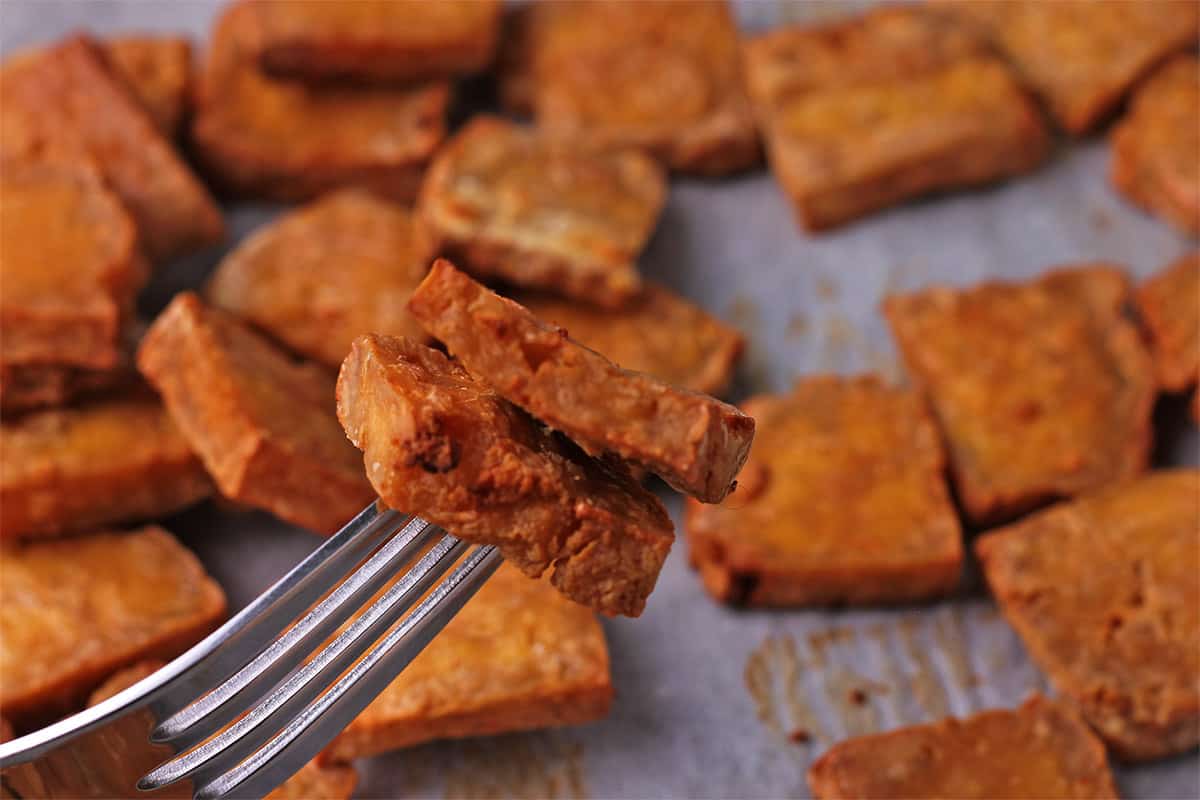 Print
crispy baked tofu recipe: no oil
Crispy baked tofu recipe - no oil? Get your plant-based protein crispy, low fat, delectable, and ready for curries, soups, and your favorite dips. 
Author: Denise
Prep Time:

25 minutes

Cook Time:

25 minutes

Total Time:

50 minutes

Yield:

4

1

x
Category:

Tofu

Method:

Baked

Cuisine:

American

Diet:

Vegan
1

-

10

ounce

(280

gram

) package of firm or extra firm tofu

2

teaspoon

lemon juice

2

teaspoon

soy sauce

¼

-

½

teaspoon

maple syrup, date paste, or another liquid sweetener (optional)

1

-

2

teaspoon

cornstarch or arrowroot
Instructions
Press the tofu. Remove the block of tofu from the package and rinse if desired. Wrap the tofu block in a paper towel, then place it between 2 flat surfaces and weigh the top surface. You can also use a tofu press. Press the tofu for 20 minutes.
Preheat the oven. Preheat the oven to 4250 F. (2000 C.) and line a baking tray with parchment paper or a baking mat.
Mix liquid ingredients. In a small bowl, mix the lemon juice and soy sauce.
Cut the tofu. Once the tofu has been pressed, cut it into bite-sized pieces that are ¼ - ½ of an inch thick and add them to the bowl.
Toss the tofu. Toss the tofu pieces to ensure they are covered and that there is no more moisture in the bottom of the bowl.
Coat the tofu. Add 1 tsp. of cornstarch or arrowroot and toss the pieces so that every side is coated. Add another ¼ of a teaspoon until you can observe cornstarch not being absorbed. Add the tofu to the baking tray, keeping the pieces separated.
Bake. Place the tray in the oven and bake the tofu for 15 minutes or until they start to brown. Flip each piece and bake another 5-10 minutes until they are brown.
Add crispy tofu to curries, stews, or use them with your favorite dips.
Notes
If you add too much cornstarch or arrowroot, you can add a drop of lemon juice or soy sauce to absorb the excess.
Sometimes unabsorbed cornstarch will form on the outside of the baked pieces. They are harmless and do not impact the flavor. You can spray the tofu with a bit of water and allow it to bake for another minute. Flipping the pieces a few extra times will also help.
If you want to add more flavor, you can marinate the tofu before tossing it with cornstarch. You can make a quick marinade of soy sauce, rice vinegar, garlic or onion powder, and hot sauce. Allow the tofu to marinate for 30 minutes to an hour or overnight.
You can also add a bit of garlic powder or onion powder to the cornstarch or arrowroot if you want a quick flavor boost.
You can use cornstarch or arrowroot as the coating. Arrowroot is a less-process product; however, it can sometimes leave a slippery surface when tofu is added to sauces or curries.
Keywords: Baked Tofu, oil-free, cornstarch, arrowroot. oven-baked
Recipes with crispy tofu