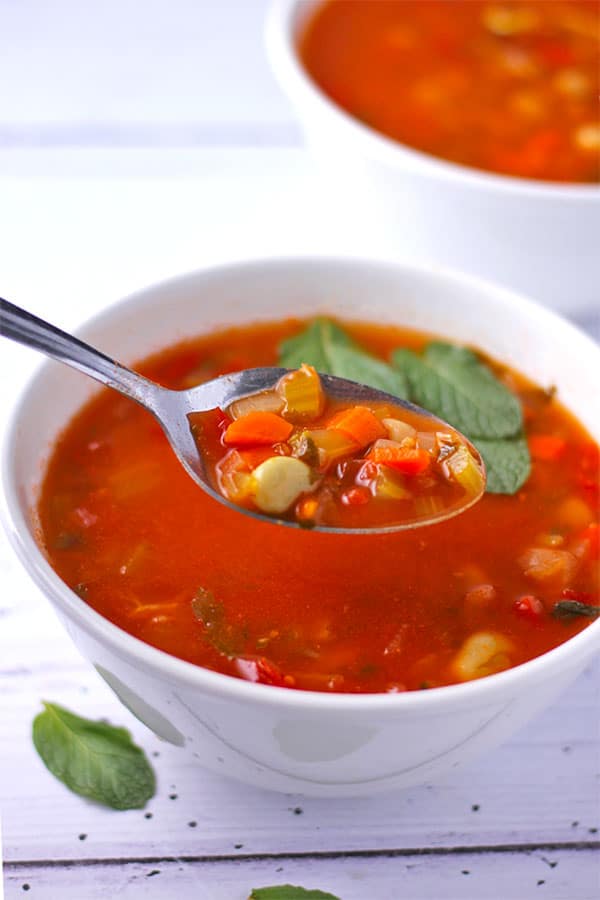 Fresh, rejuvenating fava bean soup. I seriously cannot believe how great I feel after a bowl (or two) of this deliciously light, super quick vegetable and fava bean (broad bean) soup with a unique and simple flavor blend. It just makes you step a bit quicker.
Why we all need more fava bean soup in our lives
I've learned a lot through my lifetime struggle with healthy eating, but one of the most important is that having a range of quick recipes that don't require fancy ingredients is critical. Let's face it, we don't always have time to cook, let alone desire. And it's way too easy to grab something and deal with the regrets later.
I'm not suggesting that any one recipe will immediately solve this for you, but if you can whip up a quick something, in this case a flavorful soup, it can really help to keep things on track. And if that quick something is satisfying and flavorful, the all the better in my book.
There's no lack of abundance for strategies to eat healthier. From drinking a lot of water, to cleansing the crevices of your house of junk food ensuring that you have quick access to the 'right' foods. Since my focus is all about recipes, let's take on door number three.
Plan and conquer
Don't know about you, but my plans routinely get tripped up when I open the fridge and discover that either I don't have the ingredients I want, or I can't spend time preparing what I need. Usually that's because I need something right now. As far as I'm concerned, it's one reason to always keep bags of frozen veg and beans. So, when I saw that bag of frozen fava beans the other day, and I was starving after my workout, it occurred to me that it was time for a quick soup.
Fava bean soup, the tale of an alias
I based this fava bean soup recipe on a traditional and popular Egyptian recipe known as Ful Nabed, you may also know it as Egyptian vegetable and bean soup or broad bean soup or some other variation of these themes. The theme here is the use of fava or broad beans. You know, those rather large green beans that remind you of lime beans. I used to reserve their use for loaded tempeh stew, but hey, they are masterful when added to soup.
No matter the name, the concept begins with a foundation of vegetables plus the beans, 3 spices (one optional), and fresh mint, parsley and lemon. A 'basic' soup with a distinctive and fresh flavor.
Let's jump up and make us some soup!
There are times when I can get a bit lazy about toasting whole spices. If it's a batch of special like fresh Thai red curry paste that I know I'll be freezing and using later, it's all good. But there's seriously no reason to substitute ground for the seeds. Just start by toasting for a minute right in the pot and then start layering. Besides, the smell of roasted cumin seeds is just too good to pass up when the opportunity is right before you.
That's what happens here. Start by toasting the cumin seeds, get that smell going. Then just layer in your onions, carrots and celery. By the time you get to adding the garlic and a heaping tablespoon of smoked paprika plus the bay leaves, soup should be on your mind. Good thing goes quickly.
I diced the fresh tomatoes rather small so they would break down in a few minutes while you mix in the smoked paprika. Then you just add the frozen fava beans (or canned) along with the broth and simmer for about 15 minutes. We'll be putting in the lemon, fresh mint and parsley at the end to weigh up the refreshment and flavor scale.
Fresh mint, parsley and lemons – oh yes!
One thing I will strongly suggest if you decide you need a dose of clean soup is that you use fresh mint and parsley. The combination of mint, parsley and lemon creates a super refreshing flavor combination. If fresh mint isn't something you automatically reach for when out shopping, I'll give you my 2-cent plug about why you should.
The benefits of fresh mint
I grew up with the idea that mint tea would help cure any upset tummy, this is one of the known benefits of mint. Mint also provides antioxidants, so it is an anti-inflammatory and helps the immune system.
My idea for leftover fresh mint
Back to that mint tea. Like any dried spice, what you get in that tea bag or dried mint flake jar, isn't totally unhelpful, but it you want the big bang, go for fresh mint. Just a few tablespoons of chopped mint can really brighten up salads and dressings but make fresh mint tea by adding a few fresh sprigs of mint to boiling water and holy wow!
This idea of fresh mint 'tea' might seem a bit strange to you. I was introduced to it the first day I moved to The Netherlands and I immediately adopted it. So simple and it makes you feel incredibly renewed. So, you worry about buying a big bunch of mint, only to use a few tablespoons when you make your fava bean soup, it's all good because now, you have another, very healthy way to use it up.
Parsley and lemon round it out
The combination of parsley and lemon is a real winner in my book. I love making a simple vinaigrette for pouring over Greek flatbread pizzas or to boost up Mujadara with flatbread. It's only fair that when I speak of parsley, I really mean flat-leafed (the Italian kind). I am not a curly parley hater or anything, but the flat leaf has a bit of a mellower flavor and the texture is much softer. If you are a curly or nothing person, it's a find substitute here.
And just like that mint, using fresh parsley is a formidable health booster, making our fava bean soup all the better. I don't think I want fresh parsley tea anytime soon, but parsley is another herb that provides nutrients, antioxidants, immunity assistance and benefits to eye and heart health to name a few (). Besides, it tastes great and seriously, you can't make Briam (Greek roasted vegetables) without mountains of it.
Final thoughts
Whether we're calling it fava bean soup, broad bean soup, Ful Nabed, Egyptian soup or just 'the good stuff', the result is the same. Something quick and healthy that can deter you from your darker impulses. My advice is to get some cooking immediately. Hit a quick bowl when you need a pick-me-up after a workout or when it's dark outside and you need warmth with a dose of sunshine. Ditch the chips and nourish yourself with good food and fresh flavors. Step out a bit lighter with purpose. It's a worthy aim. Peace.
Print
Fava bean soup: Broad bean and vegetables
Fava bean soup (broad beans) is flavored with what you'd expect from Egyptian Ful Nabed – cumin, smoked paprika, mint, parsley and lemon. Yummy detoxing!
Author: Denise
Prep Time:

15 minutes

Cook Time:

25 minutes

Total Time:

40 minutes

Yield:

6

servings

1

x
Category:

Soups & Stews

Cuisine:

Egyptian
2 tsp

. cumin seeds

1

lg. onion diced 1 ½ cups

2

medium carrots, peeled and diced (

1 cup

)

2

celery stalks, diced (

1 cup

)

4

cloves garlic, minced

1 Tbsp

. smoked paprika

2

bay leaves

2

medium tomatoes, diced small (

2 cups

)

6

cups

vegetable stock or 6 cups water plus veggie stock cubes

3

cups

cooked fava beans (broad beans), frozen or canned

½ tsp

. cayenne pepper (optional)
Zest and juice of 1 lemon (try to use organic lemon as we will use the zest)

2 Tbsp

. chopped fresh mint leaves

¼

cup

chopped flat-leaf (Italian) parsley (the curly kind will work too)
Instructions
Heat a medium soup pot and add 2 tsp. cumin seeds. Toast the seeds for 1 minute until they start to release their aromas. Be careful not to let them burn.

Add the onions, carrots and celery and saute for 5 minutes to soften. Add water a tablespoon at a time if the vegetables start to stick.
Add 4 cloves minced garlic, 1 Tbsp. smoked paprika, 2 bay leaves and 2 cups diced tomatoes. Stir everything well and cook for about 5 minutes to help the tomatoes break down.
Add 6 cups of vegetable broth and 3 cups fava (broad) beans and bring the pot to a gentle boil. Cut the heat down to simmer, cover and cook for 15 minutes.
Mix in ½ tsp. cayenne pepper, the zest and juice of 1 lemon, 2 tbsp. chopped mint leaves and ¼ cup chopped parsley. Cook for another 3 minutes.
Serve it up!
Notes
This easy soup can also be made with chickpeas or other beans such as kidney or even black beans. Likewise, you can also add a grain such as quinoa, bulgur or rice.

If you use a hot smoked paprika, then be mindful if you use cayenne at the end. You can always serve this soup up with crushed red chili flakes at the table for you spice lovers.
In a pinch, I've used prepared lemon juice (yes, I admit it). Because you won't have the zest in this case, use ½ cup of lemon juice and then test for flavor.