4-ingredient, no cook, quick pickled red onions take minutes to make and add healthy, oil-free, zesty flavor to tacos, burgers, wraps, curry, and more.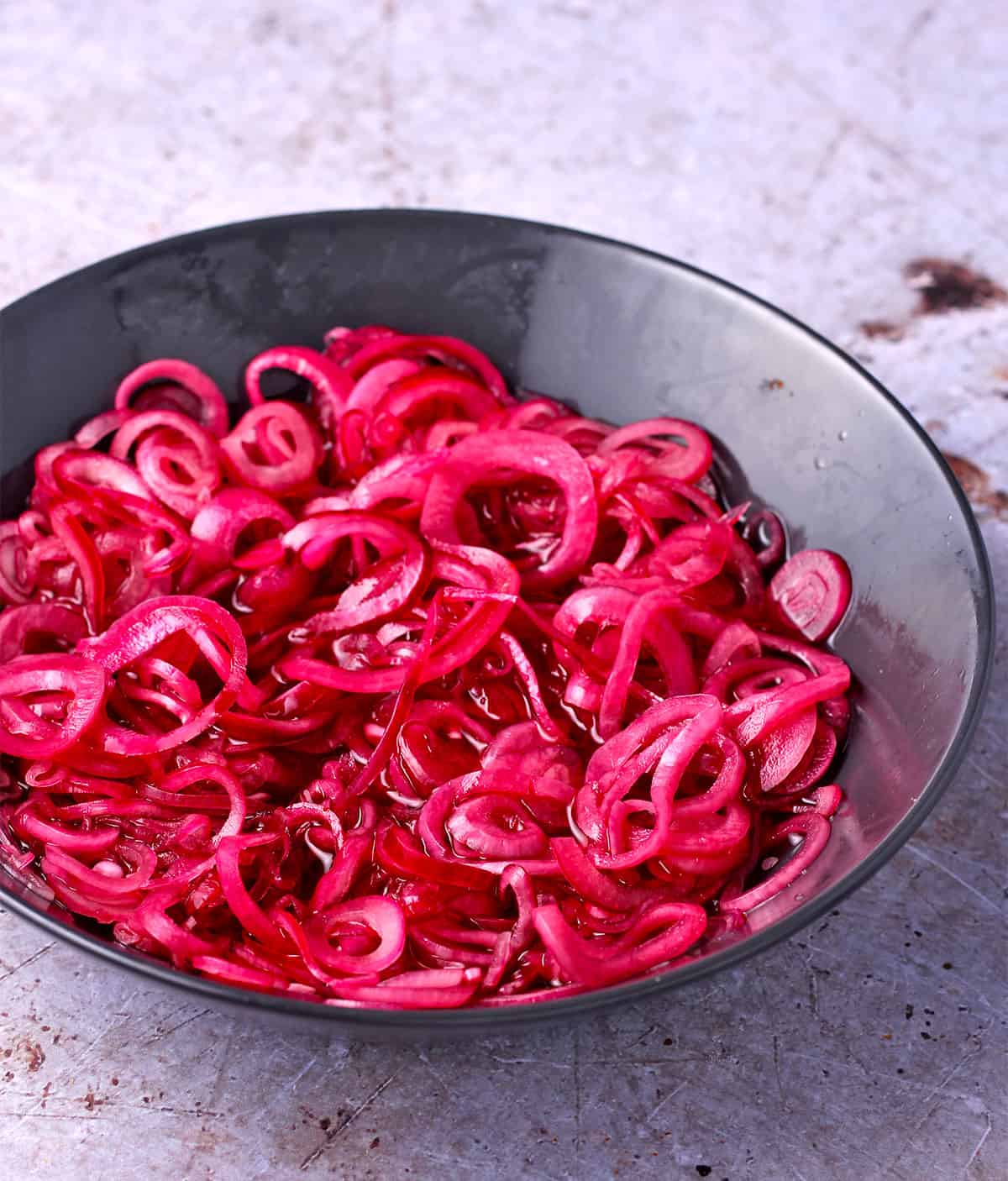 Jump to:
⭐ Recipe Highlights
Condiment Classic. This easy recipe transforms the classic red onion slice from an afterthought or filler to the perfect topping for even the blandest dishes.
Fantastic flavor. The balance of tangy vinegar, sweetener, and salt creates a pickled onion with a unique, slightly sharp, slightly sweet taste. The oniony flavor is not as strong as raw onions.
Always adaptable. Although we are sold on the classic, 4-ingredient flavor, you can accentuate the taste using different vinegar, garlic cloves, bay leaf, mustard seeds, or red pepper flakes.
📋 Ingredients, notes, & substitutions
Red onions – Use 2 or 3 medium raw red onions. You can also use different onions, such as standard yellow or white onions, or shallots.
Vinegar – Red wine vinegar or variations such as merlot or raspberry vinegar are more mellow than white vinegar. Besides, they give the red onions the beautiful pink color we love. We've also used rice wine vinegar in a pinch. It's also possible to use apple cider vinegar or white wine vinegar. Remember, more pungent vinegar will result in a more intense flavor.
Date sugar – Use healthy vegan sugar such as date or coconut sugar. A liquid sweetener such as pure maple syrup or date paste works equally as well as dry sugar.
Salt – There isn't a lot of salt, but it balances the acidic vinegar and sugar sweetness. Remember,  iodine is an essential mineral, so a little iodized salt isn't a bad thing.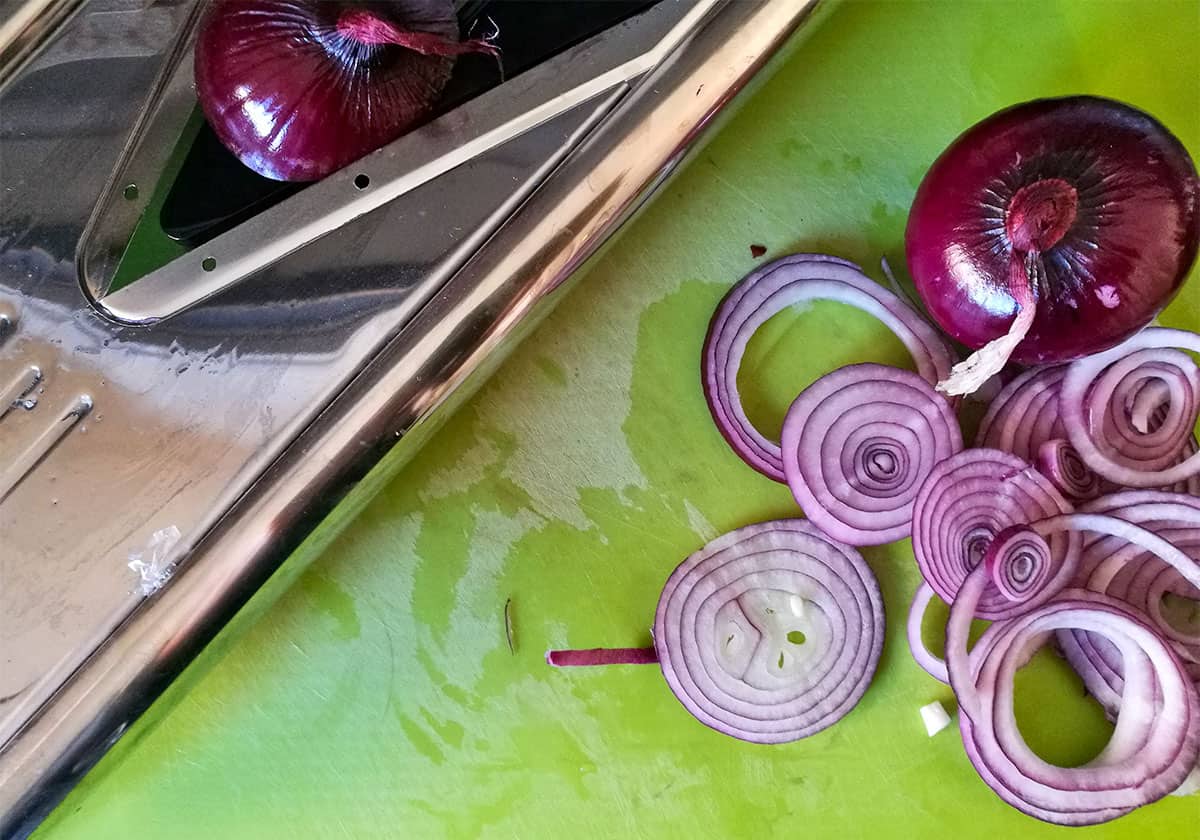 🔪 Instructions and pro tips
Equipment needed. The key to this recipe is thinly sliced onions, so you want to use either a sharp knife or a mandoline.
Safety first. A sharp mandoline can be a trusted time-saver. Still, if you get in a hurry or get distracted, it can be a painful experience. If you use a mandoline to slice onions, please practice all the recommended safety precautions.
A sharp chef's knife will also yield thin onion slices. If you don't feel secure balancing a whole onion, choose easy. Cut the onion in half from stem to end. Place the onion halves, cut side down, and slice the onion into half-moons. Same taste, just not rings. The onion ring police won't bother with that.
Mix the pickling liquid (vinegar, sugar, salt) before adding the onions. This ensures equal distribution of all the flavors.
Rather than a tapering bowl, use a bowl with a wider bottom. This makes it easier for more onions to contact the pickling liquid.
Carefully massage the onions in the liquid for a few minutes, so they start to soften. Leave the onions to marinate at room temperature for about an hour.
💭 Common Questions
Can you make pickled onions with no sugar?
Red onions are naturally sweet, so if you don't want added sugar (even healthy date sugar), leave it out of the recipe. Use a sweeter vinegar or add a tablespoon of balsamic vinegar to the red wine vinegar.
Can I pickle other vegetables using this recipe?
This recipe is also suitable for making a quick pickled mix of vegetables, including hot peppers such as jalapeno, or softer vegetables such as cucumber or zucchini.
Can you make pickled onions ahead?
You can marinate red pickled onions overnight in the refrigerator. Prepare them according to the recipe, and then place the onions and pickling liquid in a large jar or glass container. Cover them with a tight-fitting lid and allow them to marinate overnight.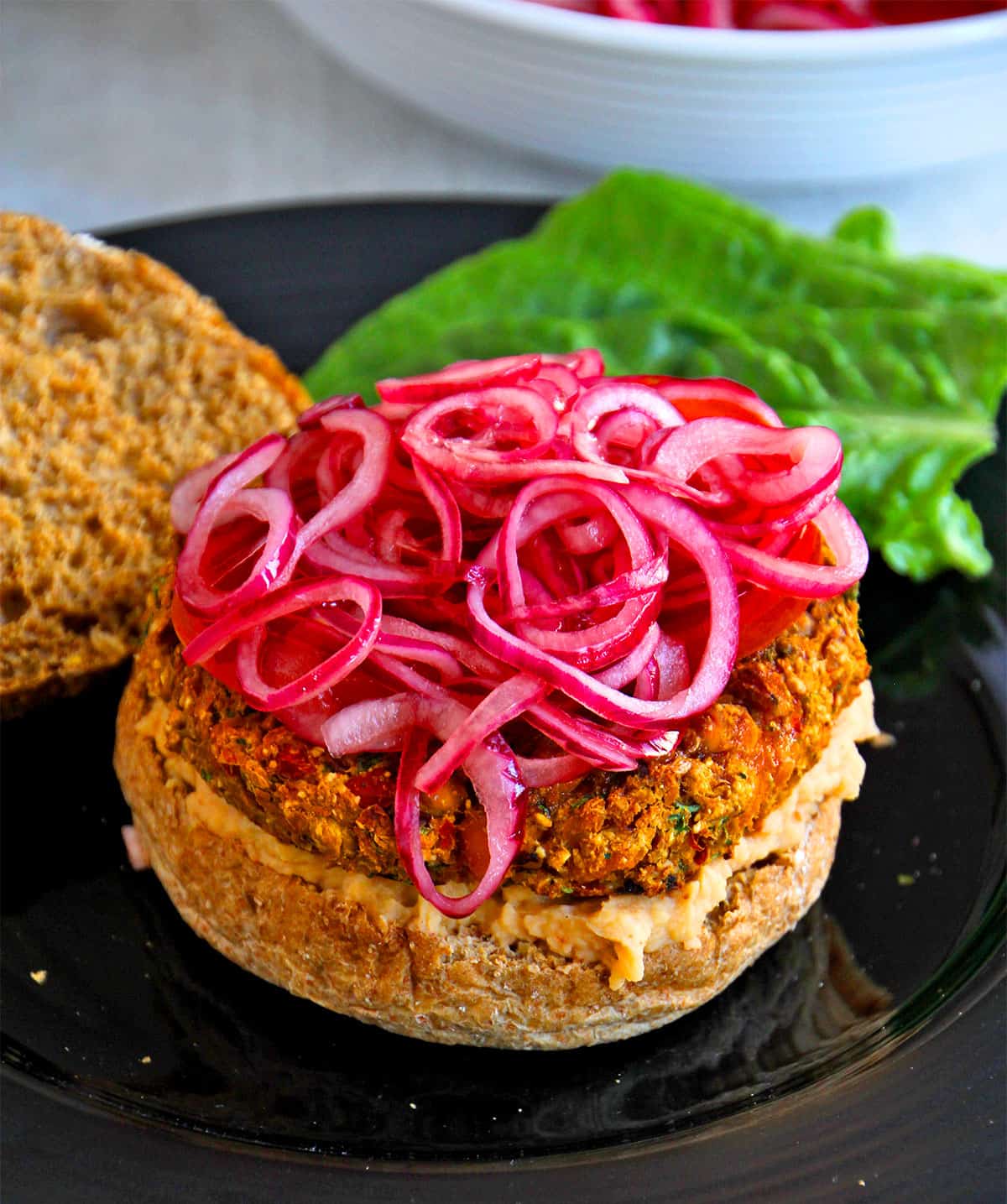 🍴 Serving suggestions
Use pickled red onions as a garnish anywhere you'd use diced or sliced onions, including soups or stews. Tacos and burgers are a given, but the flavor and beautiful color shouldn't be overlooked for things like avocado toast or baked potatoes.
Delicious salads can be built around red pickled onions or pickled red onions and cucumber, including pasta salads. If you feel creative, you can use pickling brine as a dressing ingredient.
🌡️ Storage
Place unused pickled onions and leftover liquid in a mason jar with a lid or an airtight container. A glass container is excellent for storing onions because it won't retain the oniony flavor the way plastic does. Store onions in the refrigerator for 7 days.
📖 Related recipes
Print
Recipe
Quick Pickled Red Onions
4-ingredient, no cook, quick pickled red onions take minutes to make for a healthy, oil-free, zesty flavor to brighten your favorite recipes.  
Author: Denise
Prep Time:

75 minutes

Cook Time:

0 minutes

Total Time:

1 hour 15 minutes

Yield:

8

1

x
Category:

Dressings & Condiments

Method:

Marnaide

Cuisine:

American

Diet:

Vegan
2

red onions, peeled and sliced thin

½

cup

red wine, raspberry, or merlot vinegar

2 tablespoons

of date sugar or maple syrup

¼ teaspoon

salt
Instructions
Slice the onions. Thinly slice the onions into rings, cut them half from top to stem, and cut them into half-moon shapes.
Make the pickling brine. In a large bowl, combine the vinegar, sugar, and salt. Stir well to dissolve the sugar and salt.
Massage and marinate. Add the onions and lightly massage the onions with the liquid for about 3 minutes. Cover the bowl and allow the onions to marinate for 1 hour for best results. 
Notes
The prep time includes 1 hour to marinate the onions. This can also be done overnight in the refrigerator.
Store red onions in the refrigerator in a sealed mason jar or container that won't readily absorb the onion flavor. Pickled onions will keep fresh for 7 days. 
Keywords: quick pickled red onions, no cook, quick pickles