Soft, gooey, sugar-free granola bars packed with toasted oats, almond paste, naturally sweet orange juice and dates, your choice of dried fruits, and nuts make a super-charged, tantalizing treat.
Gone are my days of mindlessly reaching for a 'natural' or even vegan granola bar all wrapped up and screaming 'eat me, it's good for you!'. I could have continued ripping off the wrappers and avoided acknowledging the labels. Pretended that a bit of added oil or refined sugar wasn't so bad. But why live that delusion when a healthier (and cheaper) solution is right in the kitchen?
Even a baking resistant cook like me can pull off a making granola bars. So can you!
Bar basics
There are four main categories to consider when making granola bars.
1. Oats
Regular, old-fashioned rolled oats work best for this recipe. Quick-cooking or instant oats will be too thin and won't have the density you need for binding the bars.
Don't pass up the part where you toast the oats. There isn't a lot of precision involved in tossing some oats on a baking tray and popping them into the oven for 10 minutes.
There is, however, some timing to consider. Toss the oats after 5 minutes, so they toast evenly. Be careful to not let them burn. Don't let them linger in the oven on the hot tray. Add them to a mixing bowl where they can rest while you prep the other ingredients.
2. Binding
Just like when you make veggie burgers, you need a binder to get your ingredients to stick together. Almond paste (or almond butter) adds a decadently rich flavor. When combined with the sugary dates and orange juice, it makes a perfect bar binder.
One trick to keep your bars from falling apart is to simmer the almond paste, dates, and orange juice. You need to dice the pitted dates. This helps them to get softer and blend smoother.
Start by simmering the almond paste, dates, and orange juice for about 15 minutes.
Then, add all that yummy, gooey stuff to a blender, food processor, and puree everything until it's smooth.
Sugar-free versus sweet
If you came here looking for refined sugar, wrong door. There isn't any. But that doesn't mean these bars aren't a sweet treat.
Sugar is bad for you. Unless you've been living in a bubble of with your own filter information, this is old news to you. 'Too much sugar' according to the Harvard Medical School 'can be one of the greatest threats to cardiovascular disease.'
Whew! That's bitter.
Hold on. Does this mean all foods with natural sugar are bad? The answer is no. Harvard goes on to explain that the fiber in whole foods slows digestion. As a result, their natural sugars are slowly released.
Processed, refined sugar, you know the white stuff, or high fructose corn syrup offer us the gift of spiking your blood sugar. Research indicates that too much contributes to inflammation that impacts diabetes, obesity, and yes, your heart.
But this is a good news story you can consume while you munch on an oat bar. There are plenty of healthy ways to sweeten the pot. Brown rice syrup and maple syrup are better than added refined sugar. Some folks contend these are not totally whole foods. If you want to go the purest route, consider date paste (check the labels if not making your own), or use dried fruits and unsweetened fruit purees.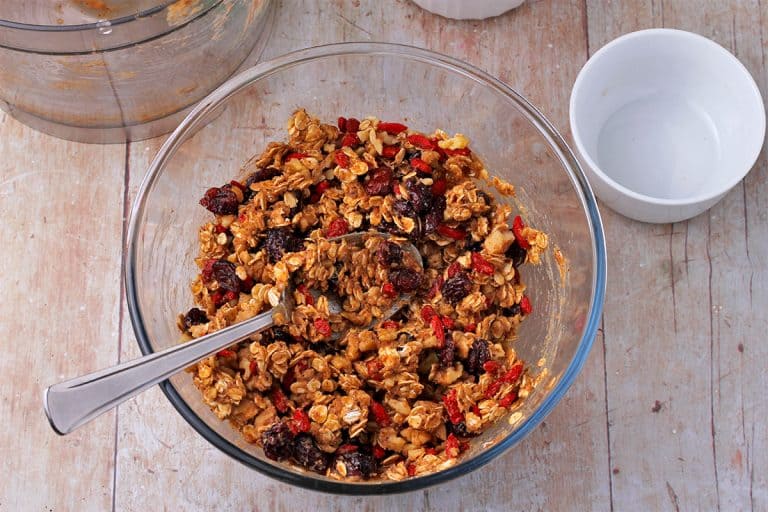 3. Dried fruits, nuts, and spices
Once you've toasted the oats and blended the liquid binding, all that's left is to add dried fruit, some walnuts (if you want), and a few spices.
A mix of dried cranberries and Goji berries made a tasty combination; however, dried cherries, raisins, even diced dried apricots can be added.
If you eliminate the nuts for this recipe, add another tablespoon or two of dried fruit to make up for the difference in the dry to wet ingredients.
There is a lot of flavor happening here; however, I never pass up an opportunity to spice things up – even if just a little. ½ a teaspoon of cinnamon along with a pinch of allspice did the trick here.
Now, I know this is a sequential list about ingredients, but you'll get a better distribution of the spices if you add them to the toasted oats. If you wait until after adding the wet ingredients, it will be more difficult to mix them in.
Before baking, make sure that the mixture has a consistency that is a bit sticky and holds together if you make a ball with a spoonful of it. I know, now you've got it in your hand, try to form a ball. Now, make a quick decision - mouth or bowl? I can't help you there, but I can help with consistency issues.
Too thin – if the mixture doesn't pass the ball test, you can either add more dried fruits and nuts or add more oats. When you make consistency adjustments, no matter what you're making, start by adding just a little. Mix. Test. Repeat.
Too dry – if the mixture is dry and a bit crumbly, add a little almond paste or almond butter or orange juice. In a serious pinch, you could add a small bit of date paste. Whole dates won't help you here unless you make your own date paste.
Baking tips
Be sure to preheat the oven and press the mixture into your baking dish. You don't need to crush it in there with force. Just pack it down firmly. The back of a metal spoon works best as wooden spoons tend to stick to the mixture a bit more.
Compression will help to keep the bars from falling apart after they've baked. It also helps if you let the bars cool before cutting them. No worries, they stay soft and a bit gooey for days. Just try to distract yourself long enough for digging in.
Final Thoughts
We're not particularly sweet treat superfans around here, so my baking is mainly reserved for whole wheat bread or other, more savory treats that take little effort or baking grace. But we certainly had no problem eating our way through these yummy bars. Everything in moderation. Peace.
Print
Baked sugar-free granola bars
Healthy, homemade, sugar-free granola bars packed with oats, dried cranberries, and walnuts are a naturally sweet, super-charged, tantalizing vegan treat. 
Author: Denise
Prep Time:

15 minutes

Cook Time:

45 minutes

Total Time:

1 hour

Yield:

12

bars

1

x
Category:

On the Side

Cuisine:

plant

Diet:

Vegan
2 cups

whole rolled oats

1 cup

dates

, pitted and coarsely diced

3 Tbsp

. almond paste

(or almond butter)

1

cup

of orange juice

1

cup

dried cranberries

(or a mix of dried fruit)

¼

cup

chopped walnuts

½ tsp

. cinnamon

¼ tsp

. allspice
Instructions
Preheat the oven to 3750 F (1900 C).
Spread the oats on a baking tray and toast the oats for 10 minutes until they start to brown. Toss the oats after 5 minutes. Once toasted, place the oats in a medium mixing bowl.
Add the ½ tsp. of cinnamon and ¼ tsp. of allspice to the oats. Set the bowl aside.
In a small saucepan, combine the dates, almond paste, and orange juice. Heat on low for 15 minutes, stirring it often until the mixture is thick and gooey.
Transfer the mixture to a blender or food processor and blend until smooth.
Add the mixture to the bowl with the oats and mix well until the oats are well-coated.
Mix in the dried cranberries and walnuts.
Preheat (or re-heat) the oven to 3750

F (190

0

C).

Add the granola bar mixture to an 8x8 inch baking dish (or pan). Press the granola mixture with the back of a spoon to compress it.
Bake for 20 minutes until the top is golden.
Remove it from the oven and allow the granola bar mixture to cool before slicing it into bars (makes 12).
Store the bars at room temperature, covered in the baking dish or an airtight container.
Notes
The cook time is calculated for toasting the oats, simmering the wet ingredients, and baking the granola bars separately. You could easily cut some time by simmering and toasting the oats at the same time.

Use any combination of dried fruits you like. For best results, dice larger pieces of fruit into the same size as the cranberries (or smaller).
You can substitute peanut butter for almond butter for this recipe. Check to ensure there is no oil added.
See information in the post about how to adjust the texture if your mixture is too thick or thin.
Keywords: sugar-free granola bars