This easy creamy vegan asparagus soup recipe combines potatoes, broth, spices, and plant milk to create a warming, low-fat, and gluten-free soup.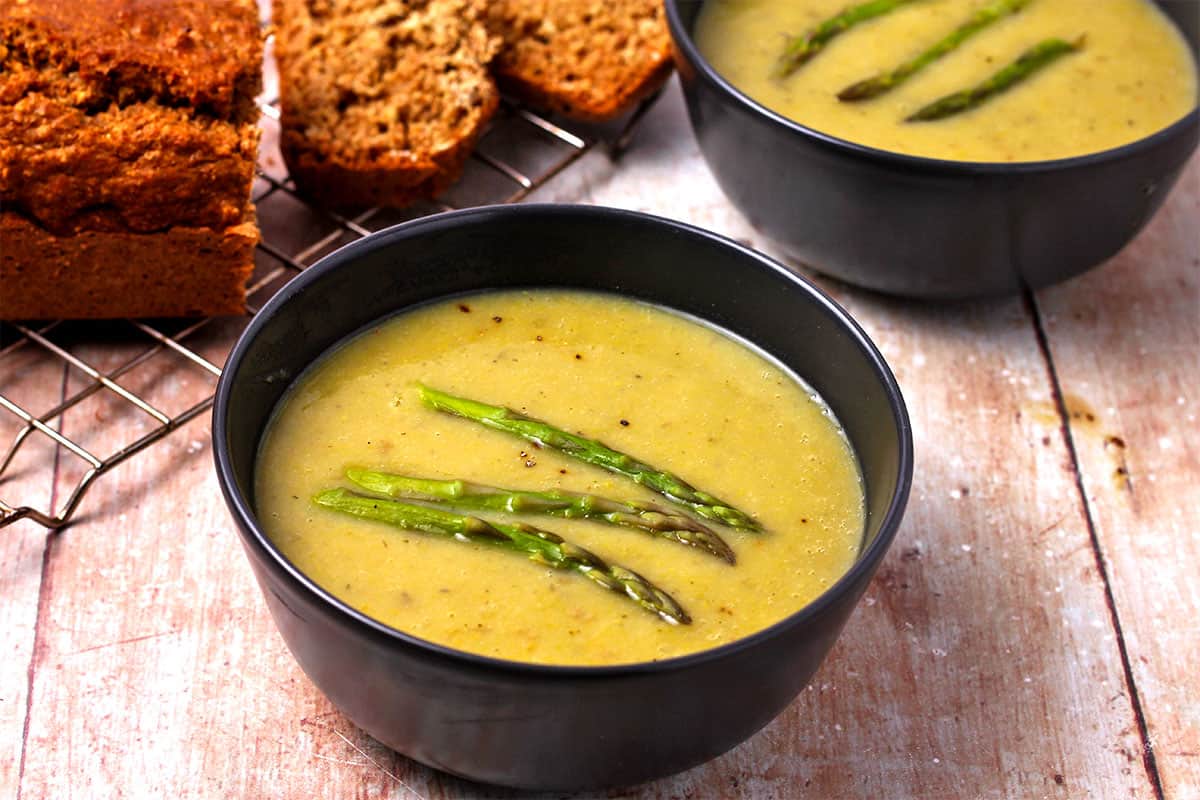 This post contains helpful tips and tricks to ensure success on your first attempt. Below, you'll find a handy table of contents with links. But if you're in a rush, please use the link at the top to jump to the recipe card at the end!
Jump to:
⭐Why this recipe works
Satisfying & low fat. This creamy soup utilizes a few plant-based cooking hacks, including no oil, naturally low in fat (1%), and calories.
Vegan. Rather than the traditional heavy cream or coconut cream that some creamy asparagus soup recipes require, we use the power of potatoes and a little plant milk.
Stalks and tips. Asparagus is one of our favorite vegetables. As much as we love steaming a few asparagus tips, you can use the entire asparagus stalk for this soup. This gives you all the flavor and even more fiber.
Easy & versatile. This recipe is 7-ingredients easy and is a quick, stovetop cook. Plus, you can take the foundation and build flavors by adding a simple squeeze of lemon juice, a toss of crushed red chili, or nutritional yeast.
📋 Key ingredients, notes, & substitutions
Asparagus – Fresh asparagus is the star of this soup. However, you can also use frozen asparagus, available out of season. If using large asparagus stalks with thick skin, don't throw them out. Peel them.
Potatoes – Try to use thin-skinned potatoes so you can dice and cook without peeling. The skins are nutritious and a good source of fiber. Peel them first if you use russet potatoes or those with thicker, darker skins.
Onion – Use an everyday yellow onion. You can also use a white onion or a few shallots if those are handy.
Vegetable broth – Vegetable broth or a few vegetable stock cubes add deeper flavor than water. Wait to add salt until the end of cooking because some veggie broth can contain plenty of sodium. If you are strictly gluten-free, be sure to check the labels of veggie stock cube or broth.
Thyme – Dash in ½ a teaspoon of dried thyme or 1 teaspoon of fresh thyme leaves.
Mustard powder – Mustard powder adds a bit of salty, cheesy flavor. It has a less prominent flavor than prepared mustard, but that can be used in a pinch.
Plant milk – Use any non-dairy milk such as oat, almond, or soy milk. Consider full-fat oat milk or cashew milk for a super creamy texture. If you don't want to use plant- milk, add a few tablespoons of soaked raw cashews when you puree it.
🔪 Pro tips & notes
Equipment needed
Use a dutch oven or heavy-bottomed medium soup pot for this recipe. To puree the soup, use an immersion blender (stick blender), food processor, or high-speed blender.
Cooking tips
Gather all the ingredients except the plant milk before you start cooking. Once you start the onions, it will only take a few minutes before you are ready to simmer the asparagus and potatoes in the broth.
To help prevent the onions from sticking, heat the soup pot to medium heat first. Onions will melt into a cold surface.
Cut the potatoes into small cubes so they finish cooking simultaneously as the asparagus. Sauté the onions until they soften, and then add the rest of the ingredients except the plant milk.
Toss the potato cubes with the cooked onions and spices. Use the vegetable broth to deglaze the pot. Use a non-abrasive spoon to clear the bottom of any stuck-on onion or spices.
Cook the soup at medium-high heat until the potatoes and asparagus are tender. The secret to creamy soup begins with veggies that are cooked super soft.
Remove the soup from the heat, add the plant milk, and start the pureeing process. You can use a stick blender, ensuring you don't touch the bottom or sides of your soup pot. Alternatively, add the soup in batches to a blender or food processor.
Blend the soup until it is smooth and has a creamy texture. After pureeing, taste it. Add salt or black pepper if desired. Return the soup to the stove to keep it piping hot.
Garnishes
Although this recipe uses simple ingredients and blending for its delicious flavor, lemon slices are complementary if you want to add a garnish.
💭 Common Questions
Can you substitute for the potatoes?
A can of white beans is your best substitute in place of potatoes. Drain and rinse them and cook them along with the asparagus. Puree the soup and season as directed.
Can you make asparagus soup from stalks?
If you want to use asparagus tips for another recipe, you can use just the stalks for this creamy vegan soup. You will need about 1 ½ - 2 pounds of asparagus to have enough stalks. Peel any of the thicker stalks. Dice them into smaller pieces and cook them until they are tender and a bit mushy.
How do you use frozen asparagus for making soup?
You can easily make delicious soups with frozen vegetables, and asparagus soup is no exception. Because frozen vegetables are precooked, let the potatoes cook to tender, and then add the frozen asparagus. Reduce the broth to 3 cups initially. After the asparagus warms through, you may want to add more broth after adding the plant milk and pureeing the soup.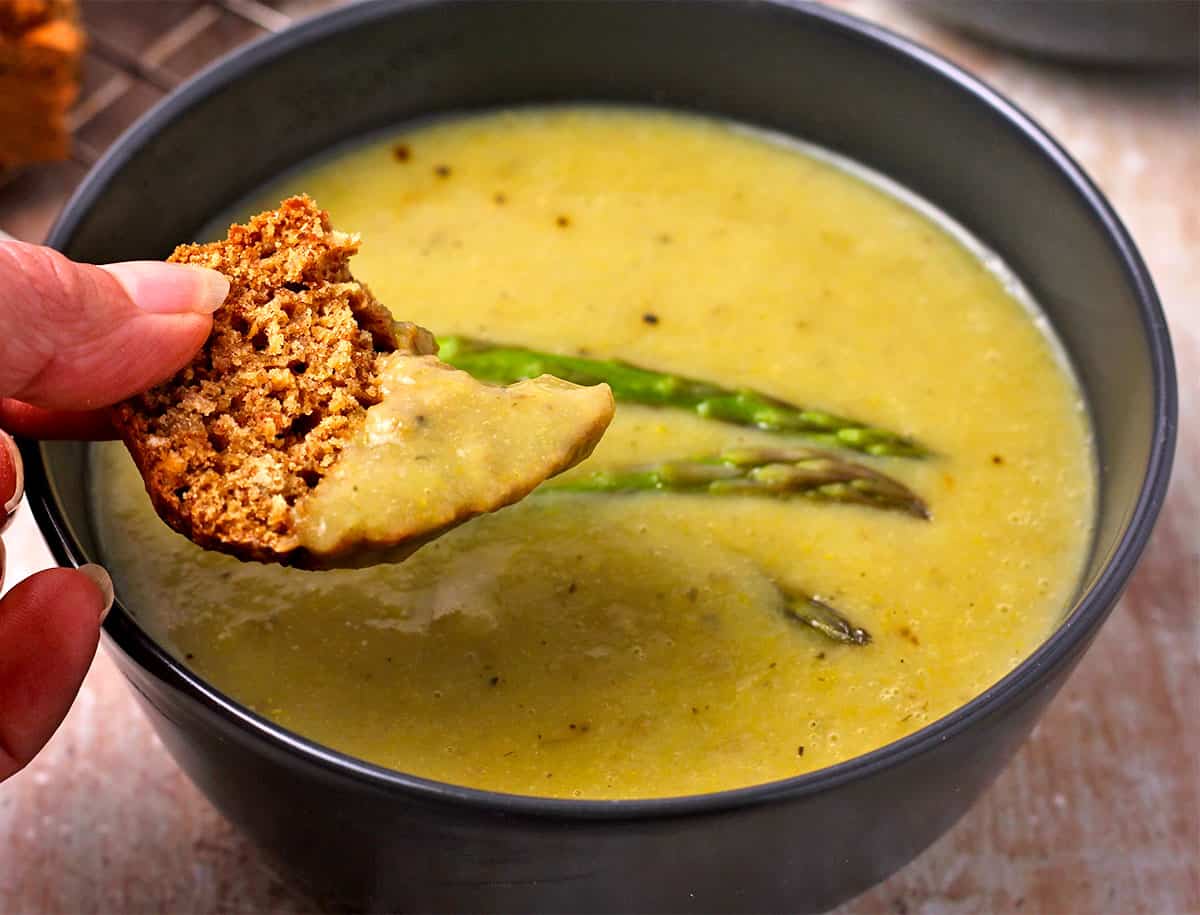 🥣 What to serve with vegan asparagus soup
With slices of crusty bread and a simple side salad, vegan cream of asparagus soup can be turned into a delightful main course. This is also the perfect recipe for bulking out with some cooked pasta.
Asparagus soup also makes a great starter or first course. Serve it in small bowls or thin it a little to create a thinner bisque with a creamy texture.
🌡️ Storage & freezing
Store the soup in an airtight container. After it cools to room temperature, place keep it in the refrigerator. It will keep for 5 days.
This is an easy-to-freeze recipe. Thaw it in the refrigerator. Reheat it either on the stovetop or in the microwave. You can keep it for 3 months.
📖 Related recipes
Print
Easy Creamy Vegan Asparagus Soup
This easy creamy vegan asparagus soup recipe combines potatoes, broth, spices, and plant milk for a satisfying, low-fat, and gluten-free bowl.
Author: Denise
Prep Time:

15 minutes

Cook Time:

25 minutes

Total Time:

40 minutes

Yield:

4

1

x
Category:

Soup

Method:

Stovetop

Cuisine:

American

Diet:

Vegan
1

pound

of fresh asparagus

2

-

3

medium potatoes (

2 cups

diced)

1

medium onion chopped (

¾ cup

)

4

cups

vegetable broth

½ teaspoon

thyme

½ teaspoon

mustard powder

1

cups

plant milk
Salt and black pepper to taste
Instructions
Prep the asparagus and potatoes. Cut off just the ends of the asparagus and dice the stalks into pieces about 2 inches long. Dice the potatoes into small cubes.
Sauté the onions. In a medium soup pot, sauté the onions for about 5 minutes until they soften.
Add spices and potatoes. Add the mustard powder, thyme, and potatoes. Mix to coat the potatoes and let them soften for a minute.
Deglaze with vegetable broth. Stir in the vegetable broth and use it to clear the bottom of the pot.
Simmer the soup. Add asparagus. Adjust the heat, so the ingredients are simmering. Cover and cook for 15 – 20 minutes until the potatoes and asparagus are tender.
Puree the soup. Remove the pot from the heat and add the plant milk. Use an immersion blender or transfer the soup to a blender (this may require batches). Blend the soup until creamy.
Taste and finish. Put the soup back on the heat. Taste and add salt and black pepper to taste. 
Notes
If you use thin-skinned potatoes, there is no need to peel them. White, baby or red potatoes work best. If using russets, peel before cubing them.
You can use a can of white beans as a potato substitute. Add them along with the asparagus.
To make this recipe when it isn't asparagus season, you can use frozen. Add a 16-ounce bag of frozen asparagus after the potatoes are tender. Reduce the vegetable broth to 3 cups. If necessary, add more after adding the plant milk and blending.
Keywords: vegan asparagus soup, creamy asparagus soup, low fat, gluten-free