Learn how to make date paste and indulge your sweet tooth with a natural, 1- ingredient sweetener that's a deliciously healthy alternative to sugar.
Let the natural sweetness of dates sweeten your recipes in different ways with a super easy, tried-and-true process with health benefits courtesy of dates. You only need dates, water, and your food processor or blender!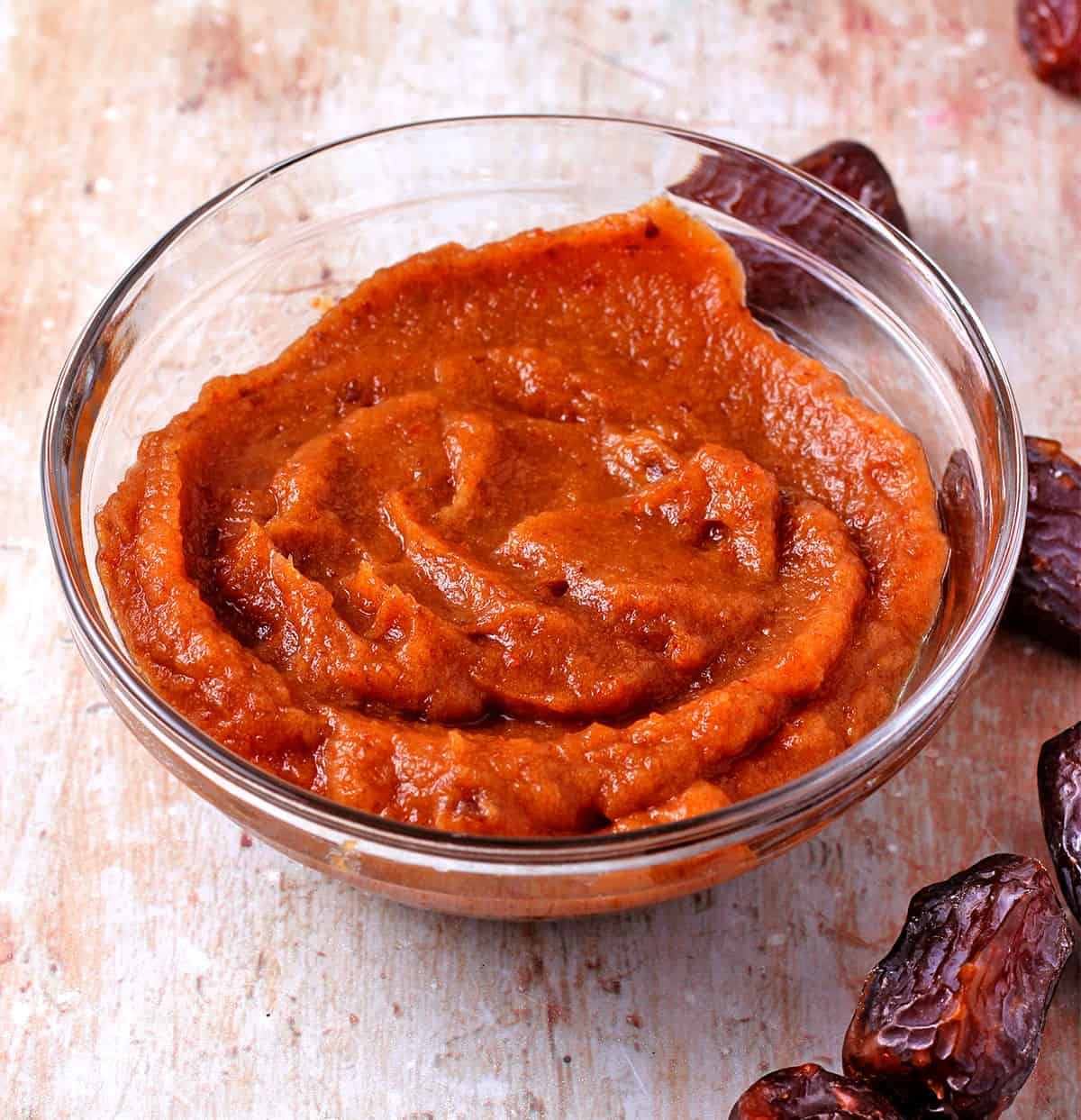 This post contains helpful tips and tricks to ensure success on your first attempt. Below, you'll find a handy table of contents with links. But if you're in a rush, please use the link at the top to jump to the recipe card at the end!
Jump to:
⭐Why this recipe works
Date paste is an undisputedly healthy sweetener with health benefits that include added fiber and essential minerals such as iron, calcium, magnesium, and potassium. This means that tablespoon for tablespoon, date paste exceeds even our favorite natural sugars such as coconut sugar, date sugar, or healthy forms of brown sugar.
Unlike honey and some granulated sugars, date paste is vegan and is considered a suitable whole food, plant-based sweetener.
You can use this yummy liquid sweetener as a sugar alternative for baking, sauces, and any recipe that needs a bit of sugar flavor. Plus, the slight caramel flavor adds a depth of flavor that most sugars (especially white sugar or cane sugar) can't deliver.
📋 About Dates
You only need dates for making date paste. But not all dates are the same, and the type of date you choose impacts flavor.
Medjool - Also known as California-style date. Medjool dates are big, sweet, and have a subtle caramel-like taste. 
Barhi – Soft, fragile dates that are somewhat syrupy. You probably won't need to soak Barhi dates before processing them because they are very delicate.
Dayri – Distinctively long dates have a heavy sweet flavor. A little paste will go a long way with these.
Deglet Noor – If you want date paste that isn't so sugary, Deglet Noor dates are considered 'dry,' with a sweet, delicate flavor.
Halawy – Another super-sweet, honey-flavored date. These are really nice right out of the bag, so try to exercise control if you intend to make date paste from them.
Khadrawy – Rich but not overly sweet-flavored, these dates are a good option if you want something less sugary.
Thoory – Sweet, with a nutty flavor. Sometimes called 'baking dates' because they are great in bread recipes.
Zahidi – Sugary, semi-dry dates that look like large, golden raisins. They are also great for baking, but they are also meaty, so they are worthy candidates for date paste.
🔪 Pro tips & notes
1 cup of pitted dates yields 1 cup of date paste. How much water you add and how thoroughly you process the dates could impact this amount.
Start with pitted dates before soaking or blending. Cut the date lengthwise, then use your knife or fingers to remove the pit.
Soft dates are the easiest to blend and yield the smoothest result, which is why we recommend soaking them first. You can skip this step if you have fresh dates and a high-speed blender.
To soak, place dates in a bowl and cover them with boiling or hot water. You need about an hour to fully rehydrate them. Ultimately, the amount of time you need depends on the age of the dates and your blending device's power. Place them in the refrigerator if you soak them overnight.
Drain the soaking water before you process the dates. Reserve a cup of the water to add as needed for processing.
Use a high-speed blender, food processor, or spice grinder to blend the dates. Start at a slow speed and gradually increase as the dates break down. Add a little water (about a tablespoon), blend, and repeat until you have a smooth paste with a consistency you like.
Can you make date paste without a food processor?
You don't have to miss out on the caramel-sweet flavor of date paste, even if you don't have a food processor or blender. The key is ensuring that the dates are very soft and warm so they are easier to mash. It's easiest to place the dates in a small saucepan and cover them with water. Bring the dates and water to simmer, cover the pot, and cook for 10-15 minutes. Add more water if you need to. Then, transfer the dates to a bowl and mash them with a fork or use a pestle and mortar.
💭 Common Questions
What is the difference between date paste and date syrup?
Date syrup is a thinner and pourable version of date paste. If you buy either date syrup or date paste, even if the label says natural sweetener, be sure to check the labels. Some brands contain refined sugar or other additives.
How long does date paste last?
If you store date paste in an airtight container in the refrigerator, it will last up to a month. You can also store portions of date paste in ice cube trays for several months. Cover the ice cube tray to prevent freezer burn.
Are there health benefits of date paste?
Date paste is made from whole dates but is far less processed than other liquid sweeteners such as agave syrup. Dates have a low glycemic index of 42 making them a healthy sweetener. The fiber in date paste will also make this an excellent way to help maintain blood sugar levels and mindfully regulate sugar intake.
Can I substitute date paste for maple syrup?
Date paste can substitute honey or maple syrup for baking. You need to adjust the amounts. The recommendation is that for every ½ cup of maple syrup, you should add ⅔ of a cup of date paste. For every 1 cup of sugar, use ⅔ a cup of date paste.
🍽 Serving & storage
Use date paste to sweeten up your favorite recipes, or enjoy the natural sweetness of dates on toasted slices of bread. Depending on which dates you use or how thick you date paste, you may need to adjust the amount you use in dishes like chili or hoisin sauce.
Date paste is a favorite way to sweeten salad dressings because it also helps to thicken them. This is particularly helpful if you like salad dressings with no added oil.
Add other flavors
When making date paste, consider what you might want to use it for. You can add a little coconut or vanilla extract for baking or even spreading. Add a little lemon juice, orange juice, or a pinch of cinnamon, allspice, or nutmeg, and you've got a yummy dip for fresh fruit.
The instructions for making date paste can be applied to other fruit pastes. Consider using dried mangos, apricots, or figs. Have a fruit paste party, make several and freeze them for adding distinctive flavors to your favorite recipes.
📖 Related recipes
Print
How to Make Date Paste
Learn how to make date paste and indulge your sweet tooth with a natural, 1- ingredient sweetener that's a deliciously healthy alternative to sugar.
Author: Denise
Prep Time:

1 hour

Cook Time:

10 minutes

Total Time:

1 hour 10 minutes

Yield:

1 cup

1

x
Category:

Ingredients

Method:

Blend

Cuisine:

American

Diet:

Vegan
1 cup

pitted dates

2

cups

of water
Instructions
Soften the dates. Soak the dates in boiling or hot water for at least an hour. Likewise, you can heat them in a saucepan or the microwave for a super-quick soak. Cover and store them in the refrigerator if you are soaking them overnight.
Make the paste. Drain the dates and reserve 1 cup of the soaking liquid. Place the dates in a blender or food processor with 2 tablespoons of water. Gradually increase the speed and add more water until the paste is smooth.
Store or freeze. Use a jar or airtight container and store date paste in the refrigerator for up to a month. Freeze in small containers, freezer bags, or ice cube trays for several months (up to a year if covered). 
Notes
1 cup of dates will yield approximately 1 cup of date paste.
Nutritional information is based on 1 tablespoon of date paste.
Make date paste without a blender or food processor by softening and warming the dates. Heat them in a saucepan or in the microwave. Drain the dates and immediately use a large fork, pastry cutter, or a pestle and mortar to break them down.
To substitute date paste for sugar, use ⅔ of a cup of date paste for every 1 cup of sugar or every ½ cup of maple syrup. 
Keywords: how to make date paste; vegan; sugar alternative