Easy vegan chickpea and potato curry is built for comfort with warming Indian flavors and a quick, spicy as you like it sauce for the best chana aloo curry.
Curry recipes come with varieties of spices, ingredients, flavors, and intentions. This chickpea potato curry features a tomato blender sauce, a combination of toasted and ground spices, aromatic veggies, and the satisfaction of potatoes and chickpeas.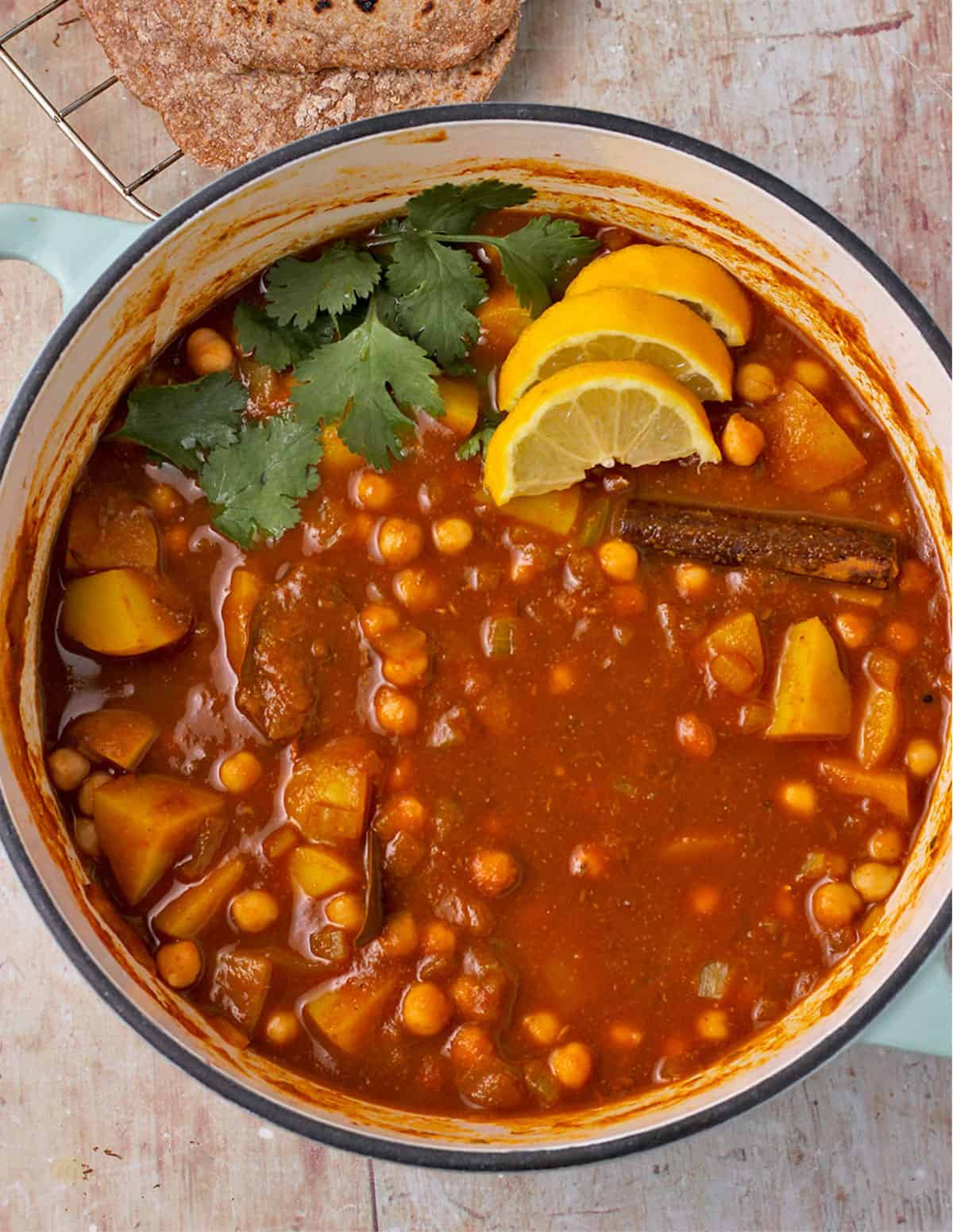 This post contains helpful tips and tricks to make sure you're successful in your first attempt. Below, you'll find a handy table of contents with links. But if you're in a rush, please use the link at the top to jump to the recipe card at the end!
Jump to:
⭐Why this recipe works
If you are looking for a tasty meal that leans into a whole-food, plant-based diet including no added fat (olive oil or lite coconut milk), this is it.
Chana (chickpeas) and aloo (potatoes) curry doesn't shout thrilling chickpea curry recipe or potato curry recipe found here. But add the right combination of special spices and toss in ginger, garlic, and onions. Well then, we're getting to it. Unassuming main ingredients shine with palatable pleasure.
The spicy curry sauce whizzed in the blender or food processor makes the cooking process an easy affair. And with relatively few ingredients to go in the pot, you'll spend most of the time just waiting for the potatoes to get tender.
🥘 Ingredients & notes
Potatoes – Any potatoes work for this recipe. We usually use baby potatoes or thin white potatoes because you don't need to peel them (more fiber, baby). Use can also use peeled sweet potatoes or butternut squash for a change. The type of starchy vegetable you use will impact the cooking time. If you like chunky potatoes, those could take a few more minutes to simmer as well. Good news! It's easy to adjust because we'll be making this on the stovetop.

Chickpeas – cooked chickpeas or garbanzo beans get added at the end of the cooking process. This recipe hasn't been tested with dry chickpeas, although you can always cook those ahead in the pressure cooker or Instant Pot.

Onions – Dice 1 large onion to enhance the flavor. You can also use red onions. So don't rush out to buy the perfect kind of onion. Use what you have on hand.
Garlic cloves – Use 3- 4 garlic cloves added to the blender. Or add a tablespoon of the prepared stuff.

Fresh ginger – We like this recipe with quite a lot of ginger (1 tablespoon). You can save steps using the prepped stuff.

Fresh chili – If you like your curry on the spicy side, use 2 fresh jalapenos or hot red chilies. For less heat, use a mild green chili or really mellow the flavor with ½ a diced red bell pepper (if that's handy). If you don't have fresh chili, use ½ a teaspoon of cayenne pepper or chili powder. For less heat, use ground black pepper.

Tomatoes – Tomatoes and other ingredients are blended to make the sauce before adding them to the curry. For this reason, you can use diced or even whole canned tomatoes packed in juice. Likewise, you can use 4 cups of fresh, diced tomatoes.

Fresh cilantro – Cilantro (coriander) is part of the spicy sauce. Use 1 cup of loosely packed cilantro (leaves and tender stems). If you don't love cilantro, maybe it tastes like soap to you, then leave it out. The sauce may be slightly thinner, but it will cook down as you simmer the potatoes. You can also adjust the amount of water you add.

Cardamom seeds – Crack open 4-5 cardamom pods or use a teaspoon of cardamom seeds (you can buy them as whole seeds). If you aren't using whole cardamom seeds (they do add a bit of crunch), add ½ a teaspoon of ground cardamom to the list of spices for the tomato sauce.

Cumin seeds – Toasted whole spices, cumin seeds, cardamom seeds, a cinnamon stick, and bay leaves start the cooking process. If you opt for ground spices, use a teaspoon of ground cumin (added to the sauce).

Cinnamon stick – A cinnamon stick adds a subtle spicy flavor. If you opt for ground cinnamon, start with ¼ a teaspoon and add it to the tomato sauce.
🔪 Pro tips & notes
Blend the tomato sauce before heating your curry pot and keep it handy. Use a blender, food processor, or immersion blender to blend all the ingredients. Use batches if you're device container is small. The cooking process is rapid once you toast the whole spices. You don't want to stop cooking to blend the sauce.
Choose a large pan or large saucepan with a heavy bottom if you can. That helps even out the heat and makes dry frying the onions easier. If the onions begin to stick, lower the heat, and add a little water to loosen them up if necessary.
The key to pro potato chickpea curry is giving the potatoes enough time to cook. It starts with dicing the potatoes into pieces roughly equal in size. If you are in a hurry, cut the pieces smaller. The smaller the potatoes, the quicker they cook.
💭 Common Questions
Can you use prepared ginger-garlic paste in this recipe?
Replace the garlic and fresh ginger with a tablespoon of ginger-garlic paste for this chickpea curry recipe. You can buy small jars of ginger-garlic paste in many supermarkets. Don't confuse this with green curry paste. They are entirely different things.
Can you use curry powder or garam masala in place of the spices?
Depending on the spice blend, you can try 1 tbsp of curry powder with a teaspoon of garam masala in place of the spices. The flavor may not be as bold. Adjust the spice blends accordingly after adding the sauce to the potatoes.
Can you freeze chickpea and potato curry?
This vegan curry recipe freezes well. Allow the curry to cool to room temperature. Add it to an airtight container and place it in the freezer for up to 3 months.
How do I reheat chickpea and potato curry?
If you are fortunate to have any left, reheating curry is a dream. On the stovetop, add a few tablespoons of water to keep it from sticking and heat on medium-low. I recommend reheating leftover rice just once and find it easiest to use a basket steamer for this.
🍽 Serving & storage
Like many Indian curry recipes, rice makes a tasty side dish for sopping up the sauce. Our preference is brown rice, specifically brown basmati rice; however, jasmine rice or lemon cauliflower rice are tasty choices.

Lemon wedges are an easy and tasty condiment for chickpea curry. A dollop of pineapple chutney or mango chutney also complements this dish. If you want something more substantive, consider veggie pakoras or a nice batch of potato tortillas. Primo!

Store leftovers in an airtight container in the refrigerator. As the flavor profile develops, you may discover that this curry is even more flavorful the next day. Reheat with ½ a cup of vegetable stock to thin the sauce and keep it from sticking to the pan.
📖 Related recipes
Print
Recipe
Easy Vegan Chickpea and Potato Curry
Easy vegan chickpea and potato curry is built for comfort with warming Indian flavors and a quick, spicy sauce for the best chana aloo curry.
Author: Denise
Prep Time:

20 minutes

Cook Time:

30 minutes

Total Time:

50 minutes

Yield:

6

1

x
Category:

Curries

Method:

stovetop

Cuisine:

Indian

Diet:

Vegan
1

-

15

-ounce (400 gram) can of crushed, diced, or whole tomatoes

1

-

2

fresh jalapenos or red chili

2 tablespoons

fresh ginger

4

garlic cloves

1

cup

fresh cilantro (leaves and tender stems)

1 tablespoon

ground coriander

1 teaspoon

turmeric

1

cup

of water

2 teaspoons

cumin seeds

1 teaspoon

cardamom seeds

1

cinnamon stick

2

bay leaves

1

medium onion, diced

3

cups

of potatoes, cubed

1

cup

of water
2

15

-

ounce

cans of chickpeas, drained and rinsed
Salt to taste (optional)
Instructions
Make the tomato sauce. In a blender or food processor, add the tomatoes, jalapenos, ginger, garlic, cilantro, coriander, turmeric, and 1 cup of water. Blend until smooth.
Toast the whole spices. Heat a large, heavy-bottomed pan to medium-high heat. Add the cumin seeds and coriander seeds. Stir the spices for 1 minute until they start to release their aroma.
Saute the onions. Add the onions and mix them with the toasted spices. Stir them until they soften (about 3 minutes). If they begin to stick to the bottom of the pan, lower the heat and add a little water.
Add the potatoes and sauce. Add the diced potatoes and stir them around for a few minutes to coat them with the onions and spices. Then, add the tomato sauce.
Simmer the potatoes. Once you've mixed in the tomato sauce, add another cup of water. Stir this into the bottom of the pan. Adjust the heat to a slow simmer and cover the pot. Cook the potatoes until they are tender when pierced with a fork. (About 20 minutes depending on the size of your potato cubes).
Add the chickpeas. When the potatoes are tender, stir in the chickpeas. Stir and allow the curry to simmer for a few minutes to heat the chickpeas.
Taste and adjust the spices. Taste the curry and add salt if desired. Add more ground spices or cayenne pepper, or add a quick squeeze of lemon.
Serve your curry. Serve curry over rice with lemon wedges, chutney, or vegan flatbread. 
Notes
If you are in a hurry, dice the potatoes into small cubes. Smaller potato pieces significantly cut down the cooking time.
Be sure to have the tomato sauce ready before beginning the cooking process. For a quick dinner, make the sauce ahead of time. Store it in the fridge until you start cooking.
If you use baby potatoes or those with thin skins, there is no need to peel them. You can also use peeled sweet potatoes. The flavor, in this case, will taste sweeter. The potatoes may break down a bit, making the sauce creamier. 
Keywords: chickpea and potato curry, chana aloo, vegan, plant-based