Huli Huli tofu – You'll flip for this super simple, sweet, and savory 5-ingredient and oil-free Hawaiian Huli Huli sauce and the ultimate baked tofu. Addiction guaranteed!
this is THE one
If I had to choose just one tofu recipe, this is it. Yes, you'll want to marinate it, which takes a little extra time, but trust me, it's worth it. The sauce is so easy to prepare that you have tofu marinating first thing in the morning and then pop it in the oven while you make a few side dishes for dinner.
what is Huli Huli sauce?
Huli Huli sauce is a Hawaiian teriyaki-style barbecue sauce that's universally associated with chicken. It's believed to have gained notoriety when Ernest Morgado and Mike Asagi founded the Pacific Poultry Company in Ewa Hawaii in 1954.
Although it's possible to buy Huli Huli sauce in bottles, there are loads of DIY creations used by cooks worldwide with flavors based on the original.
That's exactly where this recipe lands, somewhere between the original and a creation that fits the needs of cooks looking for a sweet sauce that isn't quite barbecue and isn't quite teriyaki. Ours is also plant-based compliant and thus, made without added oil.
I won't pretend for a minute that I'm trying to trick this out for anything more than it is – an easy sauce that we're gonna use for marinating and baking tofu.
ingredients
Ketchup – Surprise, we're using ketchup because it's sweeter than tomato paste (although you could use this as a substitute). Go for the standard, no-frills ketchup that you probably have in the fridge at the moment. Be sure to check that it's vegan and does not contain high fructose corn syrup or other unhealthy sweeteners if this is important to you.
Soy sauce – Soy sauce has an umami flavor which gives the sauce a deeper flavor. I like to use a dark soy sauce or Tamari (gluten-free) for this sauce because it has a fuller flavor.
Apple cider vinegar – When you build a marinade, you really need an acidic ingredient. Ketchup sometimes already has vinegar, but it isn't enough to bring forward the flavor. If you don't have apple cider vinegar, rice vinegar is a substitute I've used before. It works perfectly.
Date paste – More sweetener. I like using date paste, but any liquid sweetener such as maple syrup, or even a whole food sugar like coconut sugar.
Garlic and ginger – I used 2 cloves of garlic and backed that with 1-inch of ginger. This is a short tablespoon after it's minced. Personally, I love the ginger flavor, so I could go over that amount.
Tofu – It's important to note that I built this recipe on a 10 oz. (280 gm.) block of tofu. Make adjustments to the amount of Huli Huli sauce if your block of tofu is larger.
Firm or extra firm tofu is best for cutting and baking. Depending on the kind you get, you need anywhere from 20 minutes to 1 minute to press out the moisture.
making the sauce
If you need to press the tofu, that's a good time to make the sauce. If you need to press the tofu, make the sauce.
Place everything in a bowl and use a whisk to mix it up. Give it a taste and make adjustments as desired. You can make this sauce a day ahead if you like. Keep it in a tightly sealed container in the refrigerator.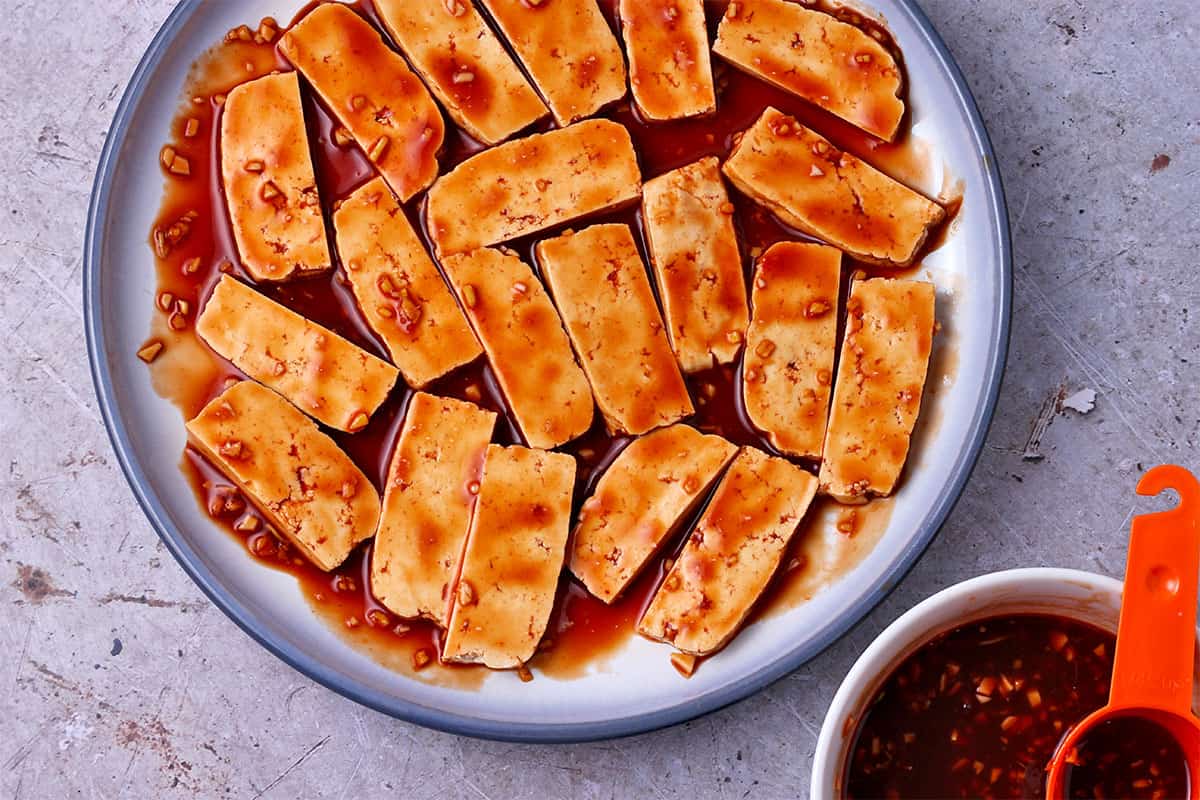 marinating
The time-consuming part of this recipe is allowing for the tofu to marinate. Tofu likes a flavorful bath. And the longer you let it sit in a marinade, the more flavor it absorbs.
First, cut the tofu. You want to keep the slices around ¼ of an inch. This allows them to soak up more marinade. It also ensures that the tofu will be firm on the inside in a shorter time.
Use half the marinade for the tofu. You want to reserve some so that you can spoon it over the top of the pieces as they bake.
Tip: I find it easiest to add the marinade to a rimmed plate or shallow dish. Then add the tofu and use your hands to rub the pieces a little. Using a spoon can be tricky because thin pieces of tofu can easily break.
baking
Allow the tofu to marinate for at least 20 minutes or longer. Turn the pieces at least once to ensure that all sides continue to be exposed to the sauce. If you marinate the tofu overnight, cover it and place it in the refrigerator.
Baking tip: Use parchment paper or a baking mat on your baking tray. It reduces mess and keeps the tofu from sticking to the tray and losing its outer layer of baked sauce when you flip it.
Preheat the oven before you add the tofu, then place it in the center rack. Allow about 20 – 25 minutes for the baking process and flip the tofu once.
Add half the reserve sauce over the tofu right before placing it in the oven. Use a brush or small spoon. After you flip it, use the remainder of the sauce on the other side.
You won't get ill if you eat undercooked tofu, but if you don't like spongy tofu, give it enough time to bake. Oven times, the thickness and density of the tofu, the actual oven heat versus the 'real' oven heat – all these things can impact baking time.
The best way to tell if the tofu is done is to press on it and determine if feels solid in the middle. You can also cut a piece in half if you want the ultimate assurance. No one's gonna notice that missing piece.
common questions
Are there other flavorings I can add to Huli Huli sauce?
You can add some spice to your Huli Huli with a shot of hot sauce, sriracha, or chili flakes if you like. Pineapple juice is sometimes used as a sweetener. It could be used to replace the date paste for this recipe.
How long can I leave tofu marinating?
It's best practice to let the tofu marinate for no more than 24 hours. After that, most tofu, except super firm, will begin to break down. Tofu will get softer as it marinates. This can make it more difficult to maneuver to the baking tray without it breaking apart.
How to I reheat Huli Huli tofu?
The best way to reheat Huli Huli tofu is to wrap it in foil and reheat it in the oven. After 10 minutes, open the foil and allow the tofu to crisp for 2-3 minutes.
Is ketchup vegan?
Many varieties of ketchup are vegan; however, it is best to check the labels and do a bit of research. The thorny issue of ketchup usually has to do with the sugar and how it's manufactured.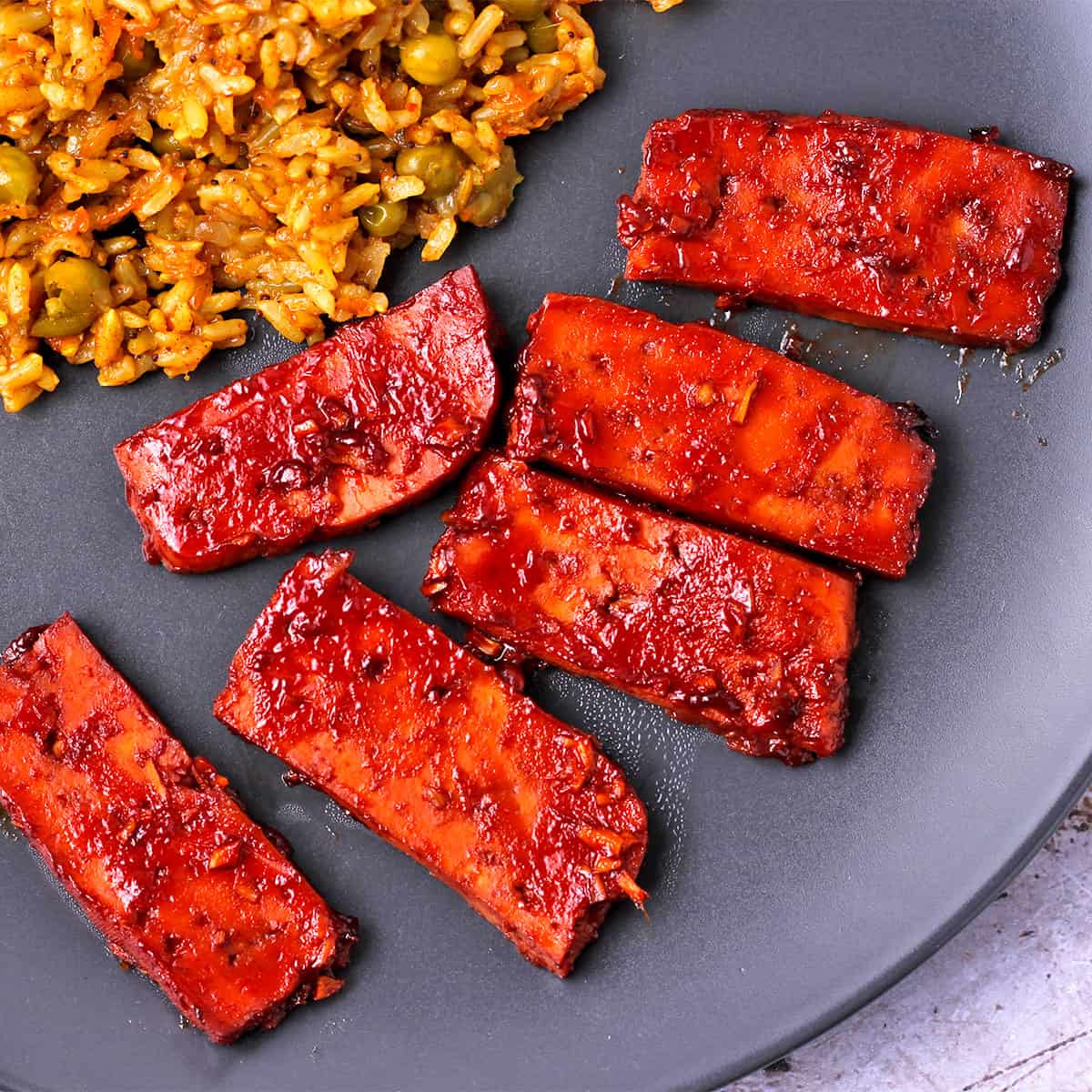 tofu recipes we recommend
Print
Huli Huli tofu
Huli Huli tofu – You'll flip for this super simple, sweet, and savory 5-ingredient and oil-free Hawaiian Huli Huli sauce and the ultimate baked tofu.
Author: Denise
Prep Time:

40 min

Cook Time:

25 min

Total Time:

1 hour 5 minutes

Yield:

3

1

x
Category:

tofu

Cuisine:

Hawaiian

Diet:

Vegan
10 oz

. (280 gm.) of a firm or extra firm tofu

¼

cup

ketchup

¼

cup

soy sauce or Tamari
2 Tbsp. date paste

2 Tbsp

. apple cider vinegar

2

cloves of garlic, minced or pressed

1

-inch piece ginger peeled and grated or minced
Instructions
Press the tofu if needed by wrapping it with a paper towel and placing it between 2 flat surfaces. Weigh the top down for faster pressing. Allow 5 – 20 minutes depending on how much moisture the tofu contains.

Make the Huli Huli sauce by combining the ketchup, soy sauce, date paste, apple cider vinegar, garlic, and ginger in a small bowl. Set the bowl aside until the tofu is pressed.
Cut the tofu into slices that are about ¼ of an inch thick. The length of the strips is up to you. It really depends on how you plan to use it.
Place ¼ of the sauce in the bottom of a rimmed plate or flat dish. Add the tofu strips a few at a time. Use your hands to rub them with the sauce. Adding another ¼ of the sauce as you cover the tofu. Keep the reserved sauce handy as you'll use it for baking.
Marinate the tofu for at least 20 minutes and up to a day. The longer you marinate it, the more flavor will absorb.
When you are ready to bake it, preheat the oven to 4250 F. (2200 C.). Arrange the tofu in a single layer in a baking dish. Spread half of the remaining sauce over the tofu pieces.
Place the dish in the center oven rack and bake for 15 minutes. Then, flip the tofu pieces, spread the remaining sauce, and bake for another 10 minutes.
Check that the tofu is firm in the middle. If you want to bake it further, but it's getting too brown on top, you can cover the tofu with foil and continue baking.
Remove the tofu from the oven and remove it from the baking dish. Serve warm or cold.
Notes
The prep time includes pressing the tofu for 20 minutes.

You can marinate the tofu for up to 24 hours. After that, the tofu may become super soft, break apart, and become unmanageable.
Reheat the tofu by wrapping it in foil and baking it for 10-15 minutes. Open the foil for the last 2-3 minutes to allow the tofu to crisp a little if desired.
Add hot sauce or chili sauce such as sriracha if you want a spicy sauce.