This stand-out roasted cauliflower and brussels sprouts recipe is so simple you won't believe this sumptuous side dish is also healthy and oil-free. Easy to make in the oven or air fryer.
Jump to:
⭐ Recipe Highlights
Hands down, roasting brussels sprouts, cauliflower, and other vegetables are tastier than any other cooking method. If you haven't tried roasted brussels sprouts, you've denied yourself the ultimate flavor of these tiny cabbages.
And because you don't steam or boil away the nutrients, you get all the nutritional benefits. That's extra vitamin c and antioxidants from low-carb veggies. More flavorful AND healthier? Count me in!
This quick vegetable recipe is designed for minimal prep. Expand beyond roasted cauliflower and brussels sprouts on your baking sheet to include sweet potatoes, broccoli, red pepper, or other veggies you have on hand. Once you learn this easy method, it can go so many places.
📋 Key Ingredients and Substitutions
Cauliflower – A small head of cauliflower is a good mix if you use a pound of brussels sprouts, but the amount is your call. Cut bigger cauliflower florets in half so they cook with the brussels sprouts.
Brussels sprouts – Use a bag of fresh sprouts, about a pound. Trim the ends and any loose or discolored outer leaves.
Onion powder – Use onion powder or onion granules to draw out the flavor of veggies. I like a ratio of twice as much onion powder as garlic powder, but you can adjust as you prefer.
Garlic powder – If you substitute garlic salt, leave the regular salt. You can always add salt after cooking.
Paprika – Use sweet paprika or smoked if you prefer that. A pinch (or more) of cayenne pepper is a great addition if you like a spicier flavor.
Black pepper – Black pepper might be all the spiciness you want. You'll be shaking all the spices, so ½ a teaspoon goes a long way.
Salt – A small amount of sea salt or whatever's on hand helps bring out the flavor of roasted vegetables. If you are salt-free, omit it or use your favorite salt substitute.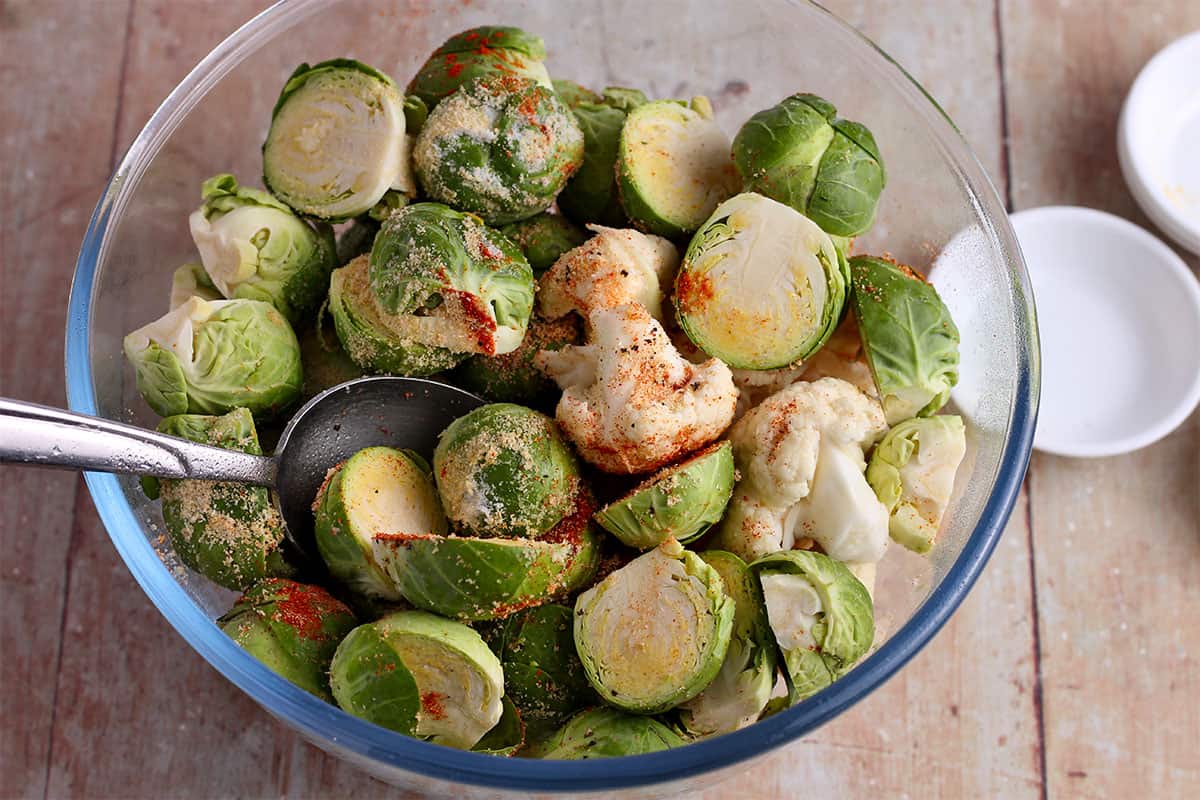 🔪 Pro tips & notes
My top tip for roasting veggies in the oven or air fryer is to preheat first. It sounds simple, but it's essential. Make sure to preheat so whatever you're roasting cooks on the inside before the outside is overly browned. Use medium heat for a slower roast, but the quickest method is to aim for high heat (425 F).
For roasted cauliflower and brussels sprouts, lining the baking tray with parchment paper or a silicone baking mat is optional. It reduces mess, especially if you toss a few sweet potatoes or peppers
.There's no need for separate pans unless you use a smaller baking tray and have an overload of veggies.
It's easiest to add the spices to a small bowl or jar and mix them up, so they are equally distributed when you add them to the veggies.
Add the prepped cauliflower florets and brussels sprouts to a large bowl and sprinkle the seasoning mix over the top. Toss the veggies, so they are well-coated. Spread them on a single layer on your baking tray. If you can't get them all on, you may need to add a smaller baking dish to accommodate the overload.
Bake the veggies in the center of the oven. After 15 minutes, toss them and continue roasting until they are tender inside and crispy brown on the outside.
Tip: To keep the vegetables warmer for longer, transfer them to a heated bowl. Cover them with a light cloth or paper towel so they stay warm but don't continue steaming.
💬 Frequently Asked Questions
Why are my roasted brussels sprouts not crispy?
If you want crispy brussels sprouts, start with dry sprouts. Never soak or let the sprouts get water-logged. Gently rinse them and make sure they are dry before roasting them. Also, you want the oven temperature high enough to quickly evaporate moisture and crisp them. Don't be afraid to ramp up the heat.
Can I air-fry roasted cauliflower and brussels sprouts?
Air frying is a quick way to cook crispy veggies. Preheat the air fryer to 375 degrees (F) and cook them for 10 minutes, tossing the veggies after 5 minutes.
How can I tell if roasted vegetables are done?
The best method to check for doneness is to taste a sample. Otherwise, use the fork test by piercing a brussels sprout or a bigger cauliflower floret. The veggies are done if the fork goes in easily and comes out clean.
Why does roasted cauliflower get mushy?
Mushy cauliflower is usually a result of too much moisture. This might result from rinsing and not drying cauliflower before roasting. Refrigeration for long periods can also result in excess condensation so start with cauliflower at room temperature.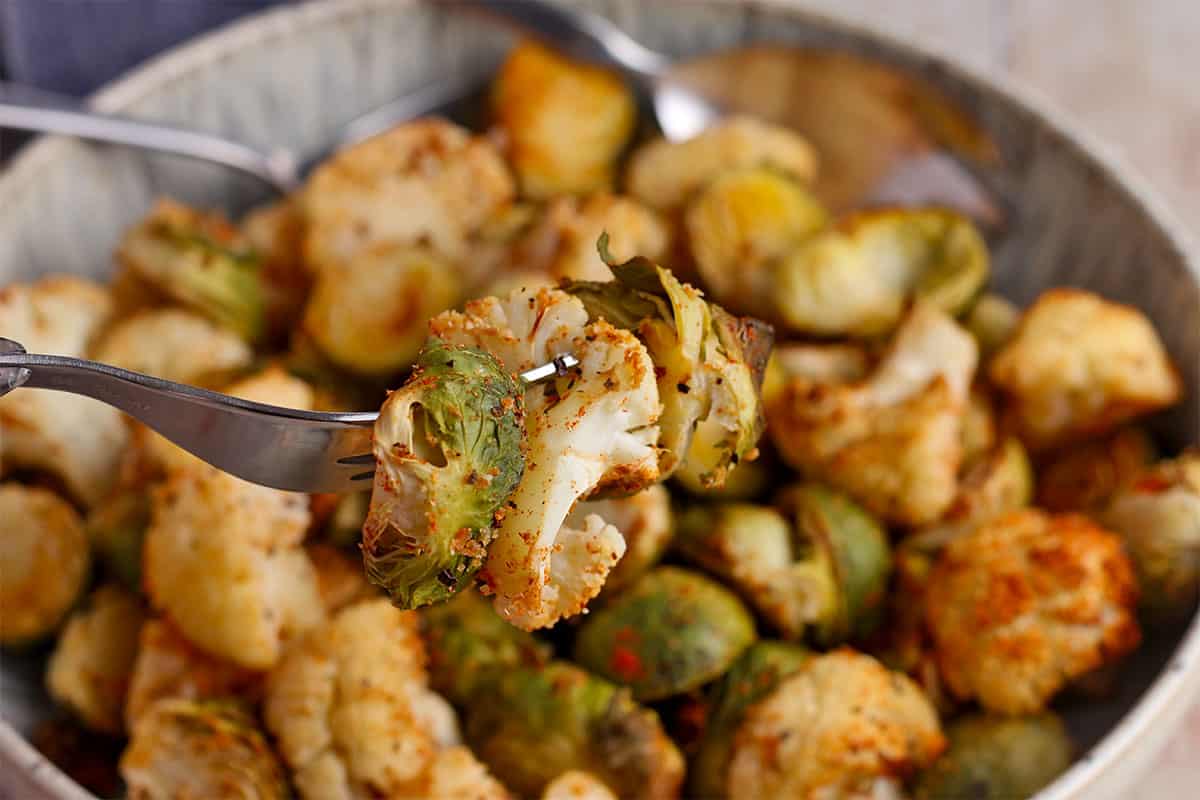 🍴 Serving Suggestions
To jazz up this delicious side dish, sprinkle on a few fresh herbs, such as parsley, or add fresh lemon juice to compliment the spice mix. Consider a smattering of pomegranate seeds or orange zest for a festive flavor. We highly recommend vegan parmesan or quick hemp seed bacon bits if you want a savory flavor.
Add roasted cauliflower and sprouts over garlic mashed potatoes for a delicious main dish, and smother it with gravy. Use our yummy mushroom gravy with white beans, and you've got a meal complete with protein.
🌡️ Storage, Freezing, & Reheating
Store leftovers in an airtight container or sealed bag in the refrigerator for 4 days or in the freezer for 3 months. Reheat in a preheated oven or air fryer. Even when frozen, add them directly to the heat. Thawing can result in mushy veggies and none of us like that.
📖 Related recipes
Print
Roasted Cauliflower and Brussels Sprouts
This stand-out roasted cauliflower and brussels sprouts recipe is so simple you won't believe this sumptuous side dish is also healthy and oil-free. Easy in the oven or air fryer.
Author: Denise
Prep Time:

15 minutes

Cook Time:

25 minutes

Total Time:

40 minutes

Yield:

6

1

x
Category:

side dish

Method:

oven baked

Cuisine:

American

Diet:

Vegan
1

pound

brussels sprouts, trimmed and halved

1

small head cauliflower, cut into bite-sized florets

2 teaspoons

onion powder

1 teaspoon

garlic powder

½ teaspoon

paprika or cayenne pepper

½ teaspoon

black pepper

½ teaspoon

salt (optional)
Instructions
Preheat the oven to 425 degrees F (220 C).
Trim the brussels sprouts and cut larger brussels sprouts in half. Cut the cauliflower into florets a little bigger than the brussels sprouts. Add them to a large bowl as you prep them.
In a small bowl, combine the onion powder, garlic powder, paprika, black pepper, and salt. Toss the vegetables to cover them with spices.
Spread the vegetables in a single layer on a baking tray and place them in the center rack of the oven. Bake for 15 minutes, then toss the vegetables. Continue roasting them for another 5-10 minutes until they are crispy outside and tender in the middle. Serve warm.
Notes
To roast in the air fryer, preheat to 375 F, then bake for 10 minutes, shaking them after 5.
If you use onion or garlic salt, consider cutting back or eliminating the ½ teaspoon salt listed in the ingredients.
This recipe doesn't use olive oil. If you want, lightly spray oil over the vegetables before tossing them with the spice mixture.
Add bacon bits, vegan parmesan, or lemon juice for a flavor boost.
Keywords: roasted cauliflower and brussels sprouts, oil-free