Learn to make healthy homemade tahini (sesame seed paste) with no added oil that is head to toes tastier than anything you can get off the shelf. And the even better news? The only ingredient is sesame seeds!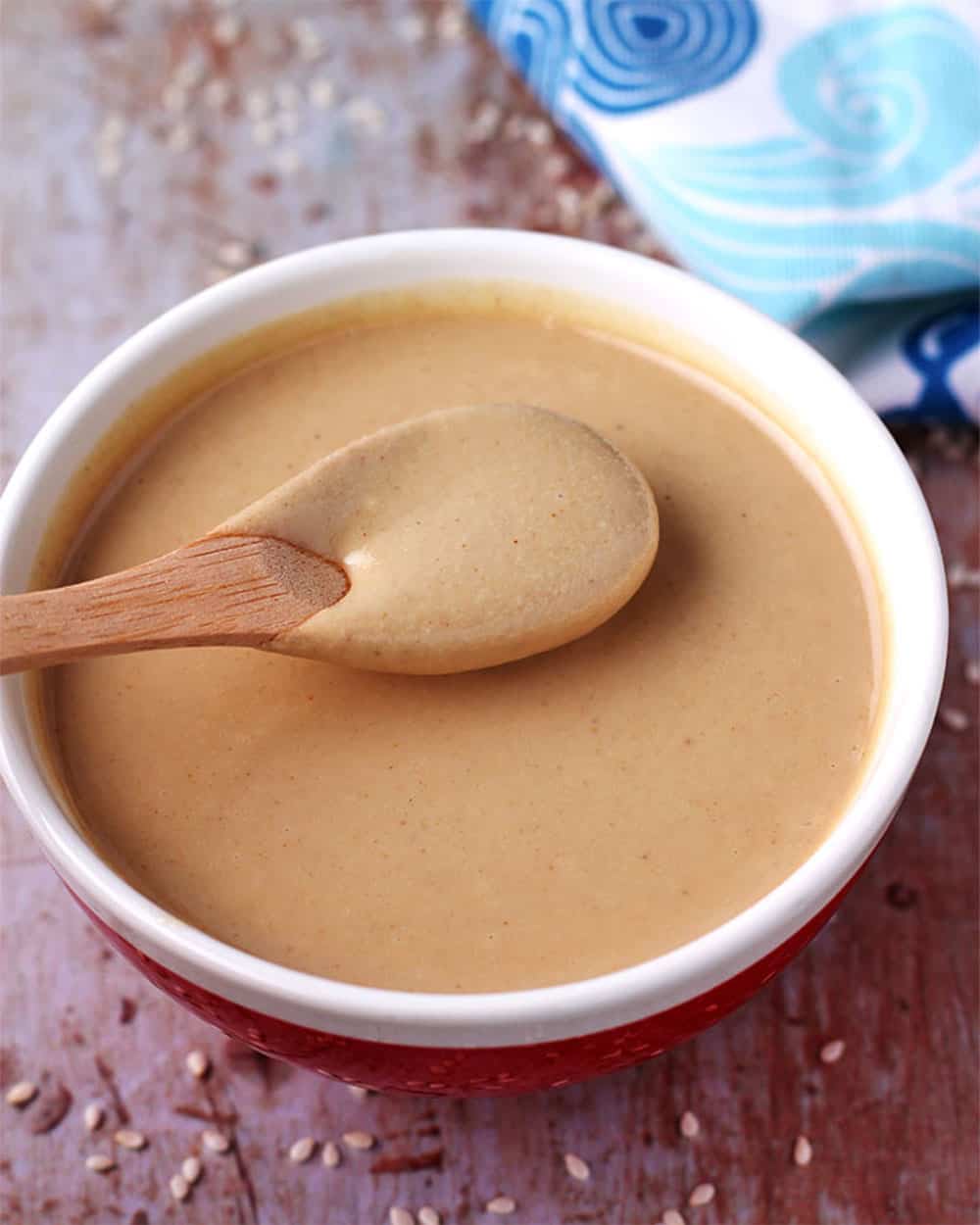 This post contains helpful tips and tricks to ensure success on your first attempt. Below, you'll find a handy table of contents with links. But if you're in a rush, please use the link at the top to jump to the recipe card at the end!
Table of Contents
🥣 What is tahini?
First and foremost, tahini is a paste made from ground sesame seeds. That means it is naturally vegan. Tahini has a nutty flavor, although not as pronounced as peanut butter or other kinds of nut butters.
Once elusive and known to only a few American home cooks, tahini has become a staple ingredient. It's no longer limited to making creamy hummus or baba ganoush.
Creamy, ground sesame paste (tahini) is a Mediterranean or Middle Eastern cuisine staple. You'll often find it in traditional Asian and African dishes.
Why You'll Love This Recipe
Healthier. By making your own tahini, you have complete quality control. You have the power to eliminate added oil, salt, or preservatives that might be hiding in that jar stashed in the back of the cupboard.
Tastier. Fresh tahini made from toasted, hulled sesame seeds has a bold, nutty flavor.
Economy. High-quality tahini without added oil (if you can find it at the grocery store) is expensive.
📋 One ingredient
Sesame seeds. The best-tasting tahini uses hulled sesame seeds. Hulling is the process of removing the outer casing of sesame seeds. In my experience, tahini made with unhulled seeds can have a bitter flavor and a less creamy texture. 
Pro Tips
Conversion
Two cups of sesame seeds will yield one cup of creamy tahini.
Equipment needed
Making sesame paste requires a food processor (ideally, high speed). Still, you can use a blender or a spice grinder if you make a small amount.
You need enough volume of seeds to create friction between the sesame seeds and the sides and blades of the apparatus. Use at least 2 or 3 cups of sesame seeds if you have a larger food processor.
Processing tips
Toasting the sesame seeds first helps the seeds to blend into a smooth paste and makes a better-tasting tahini. I've found that warm sesame seeds are easier to process into creamier tahini.
As the seeds break down, they become crumbly and appear dry. Be patient and keep processing. Continuous friction and the heat generated through processing are essential in creating creamy sesame paste.
Scrape the sides of the food processor or blender frequently.
Troubleshooting
If you end up with a crumbly or firm texture and can't get the sesame seeds to break down further, here are some ideas to rescue the situation.
Switch devices. There may be too much space in your food processor. Move the sesame seeds to a spice grinder or small processor. Even in batches, this may do the trick. In my experience, this has worked well.
Add liquid. Add a little warm water if all else fails. For some tahini recipes, the suggestion would be to add sesame or olive oil, but we aren't going there.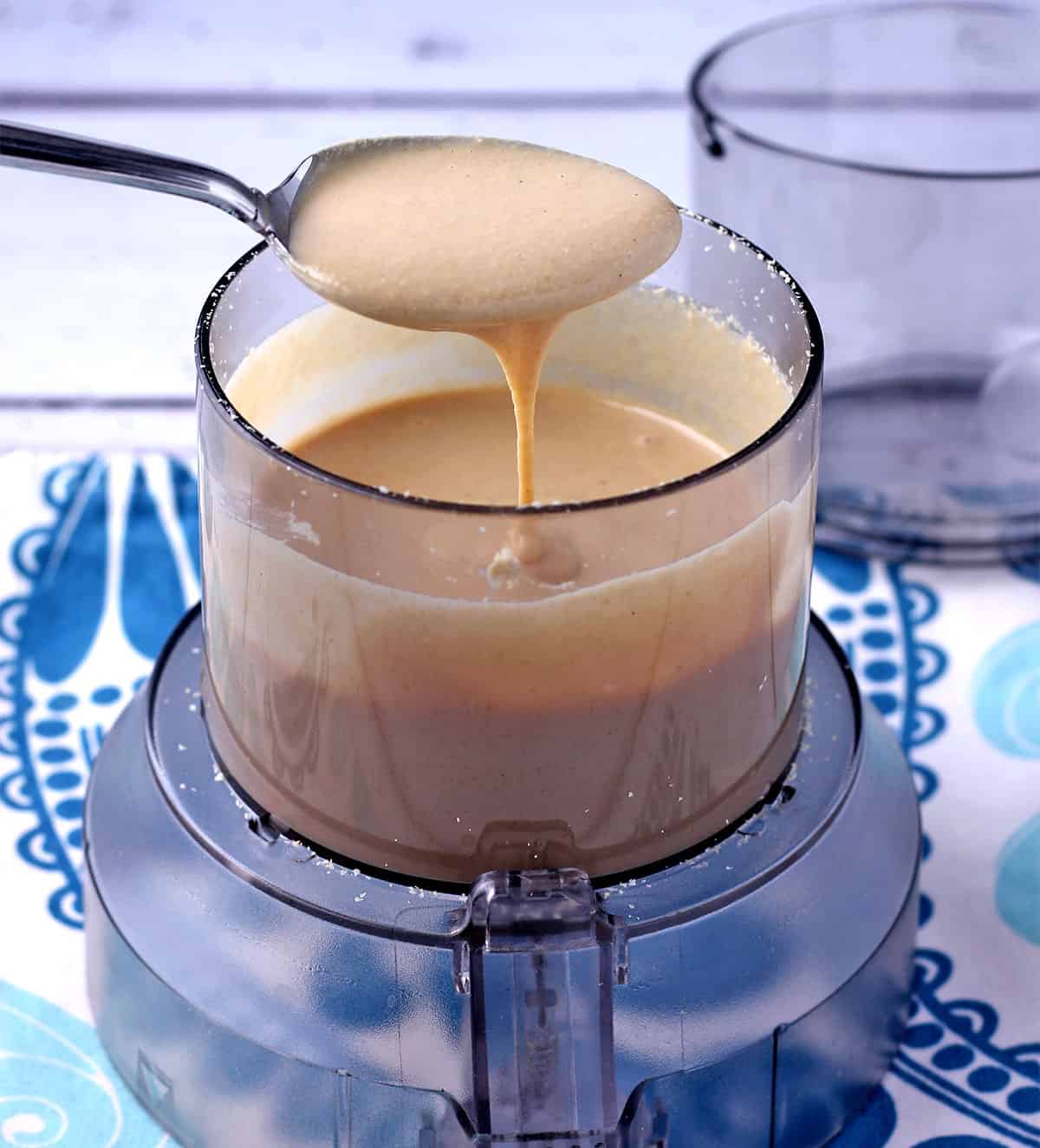 Frequently Asked Questions
Should tahini be refrigerated?
Even tahini with no added oil contains natural sesame oil, so you should always refrigerate it. Refrigeration keeps the tahini fresher longer.
What can I use as a tahini substitute?
Tahini is a seed butter, so depending on intended use, use sunflower seed butter or nut butter such as natural peanut butter, almond butter, or cashew butter. If you make a salad dressing or sauce, you might consider aquafaba (chickpea juice) as an alternative.
Is tahini healthy?
Tahini, made with only sesame seeds, is a source of the healthy fats we all need. It also offers significant nutritional value. It is high in fiber, protein, calcium, selenium, and copper. This means that a bit of tahini has anti-inflammatory properties and can help the body absorb iron and regulate blood pressure.
🍽 How to use tahini
Tahini is used to make creamy salad dressings or to add a touch of healthy oil to baked goods like vegan hamburger buns, veggie burgers (think chickpea burgers), and other delicious recipes.
One of the most delicious ways to use tahini as a main ingredient for a simple tahini sauce recipe with lemon juice and garlic. Tahini is a delicious ingredient in simple pasta sauces or glazes for cauliflower or tofu.
🌡️ Storage
After tahini is refrigerated, it can become dense, almost semi-solid. This is easy to remedy. Place unused tahini in an airtight container and, as mentioned above, keep it in the refrigerator.
Before using refrigerated tahini, allow it to warm up. Set it out on the counter and warm it to room temperature. If it is super-solid, run warm water over the sealed container.
If you are blending tahini with a few simple ingredients, just toss it in a small bowl with a bit of water, citrus juice, or vinegar and stir for about a minute. The tahini will get smooth and turn a lighter color.
Related Recipes
Print
Healthy Homemade Tahini: Oil-free Recipe
Learn to make healthy homemade tahini (sesame seed paste) with no added oil, head to toes, tastier than anything you can get off the shelf.
Author: Denise
Prep Time:

20 minutes

Cook Time:

0 minutes

Total Time:

22 minutes

Yield:

1

6

1

x
Category:

vegan ingredients

Method:

blending

Cuisine:

Middle Eastern

Diet:

Vegan
2 cups

hulled sesame seeds
Instructions
Toast the sesame seeds. Heat a heavy-bottomed skillet or pan and add the sesame seeds. Use a wooden spoon or heat-resistant utensil to constantly toss and stir the seeds. Toast for 1-2 minutes until the seeds start to brown.
Blend the seeds. Transfer the sesame seeds to a food processor (see notes for equipment recommendations). Start at a slow speed and then gradually increase as the seeds break down. Continue processing, scraping the sides, until the tahini is smooth and creamy. 
Notes
Use a guideline of 2 cups of sesame seeds for 1 cup of tahini. The nutritional information provided is based on one tablespoon.
Making sesame paste requires a food processor or other devices such as a blender or spice grinder.
You need enough volume of seeds to create friction between the sesame seeds and the blades and sides of the apparatus. Use at least 2 or 3 cups of sesame seeds if you have a standard food processor.
If you can't get the creamy texture you desire, consider transferring the tahini to a smaller blender or spice grinder (even in batches). If all else fails, add a little warm water and continue blending. 
Nutrition
Serving Size:

1 heaping tablespoon

Calories:

52

Sugar:

0 g

Sodium:

1 mg

Fat:

4.5 g

Trans Fat:
Carbohydrates:

2.1 g

Protein:

1.6 g

Cholesterol:

0 mg
Keywords: homemade tahini, how to make tahini, oil-free tahini, sesame paste