Want to jazz up plain quinoa? Think color and flavor! Make a sensational vegan side dish in minutes with this tri-color quinoa recipe with nutty, fluffy quinoa, rosemary, almonds, and an oil-free lemon mustard dressing.
Jump to:
⭐ About quinoa
When it comes to plant-power foods, quinoa is one of the best. It's a whole grain and a complete protein, providing essential amino acids. And naturally, gluten-free quinoa has a nutty flavor that cooks in a fraction of the time it takes to rev up the rice cooker.
Tri-colored quinoa is just what it sounds like – three colors– white, black, and red. But there's a little more to it than that. There are subtle differences in flavor and unique textures. Red and black quinoa hold their shape better (less mushy quinoa) and have a more earthy taste than white quinoa.
📋 Key ingredients, notes, & substitutions
Quinoa – You can buy tricolor quinoa prepackaged in grocery stores (Bob's red mill or store brands). You can mix your own with ⅓ cup of each color to make 1 cup. There is no magic formula here, so use what you have. I mix up tri-color quinoa when I'm running low on a few colors to use them up.
Shallots – Mild onion flavor makes shallots a standout for many recipes. Green onions or scallions are the best substitutions because they are also mild. You may want to cut the amount to 2 tablespoons if you use red onion. I don't use fresh garlic for this recipe, but if you like it, use it!
Rosemary – Fresh rosemary, roughly chopped, add a lovely, earthy flavor. Other fresh herbs like fresh oregano or finely chopped basil could be substituted but will slightly alter the overall taste. If you use dried, use 1 teaspoon dried.
Almonds – I prefer almond flakes because they require no prep and add a nice crunch. Slivered almonds will work just as well. If you have whole almonds hanging around, chop them. You can also substitute with sunflower seeds or chopped hazelnuts, or walnuts.
Lemon juice - Fresh lemon juice will lift the flavor. You can also add lemon zest if you like.
Dijon mustard – Don't forget the Dijon! That's your salty umami flavor right from the jar. You can also use a grainy mustard and, if all else fails, your favorite, mild, prepared brand.
🍚 Pro Tips
Even organic tricolor quinoa will contain saponins, a naturally occurring pesticide that causes a slightly bitter taste. Although it's routinely rinsed before packaging, it's always a good idea to rinse dry quinoa before cooking it.
If you want perfectly fluffy quinoa, the amount of water is critical. I find white quinoa cooks best with a ratio of 1 cup of quinoa to 1 ¾ cups of water. For tricolored quinoa, it's better to use a ratio of 1 cup of quinoa to 2 cups of water or broth.
How to cook quinoa
1. Rinse the quinoa in a mesh strainer. Shake it to dry it a little.
2. Add water, quinoa, and a pinch of salt to a medium saucepan.
3. On medium-high heat, bring the water to boiling, then reduce the heat until the liquid is slowly simmering.
4. Cover the pan and simmer the quinoa until the water is absorbed. This takes about 12-15 minutes.
5. When the water is absorbed, remove the quinoa from the heat.
6. Let the quinoa sit
Step-by-step instructions
While the quinoa simmers, dice the shallots, and remove the leaves from the rosemary stems. In a small bowl or cup, whisk the lemon juice and mustard.
Transfer the cooked quinoa to a large bowl and add the rest of the ingredients. Toss the quinoa and ingredients. Then conduct the all-important taste test (the best part of cooking). Add more lemon juice or mustard if desired. Serve it warm.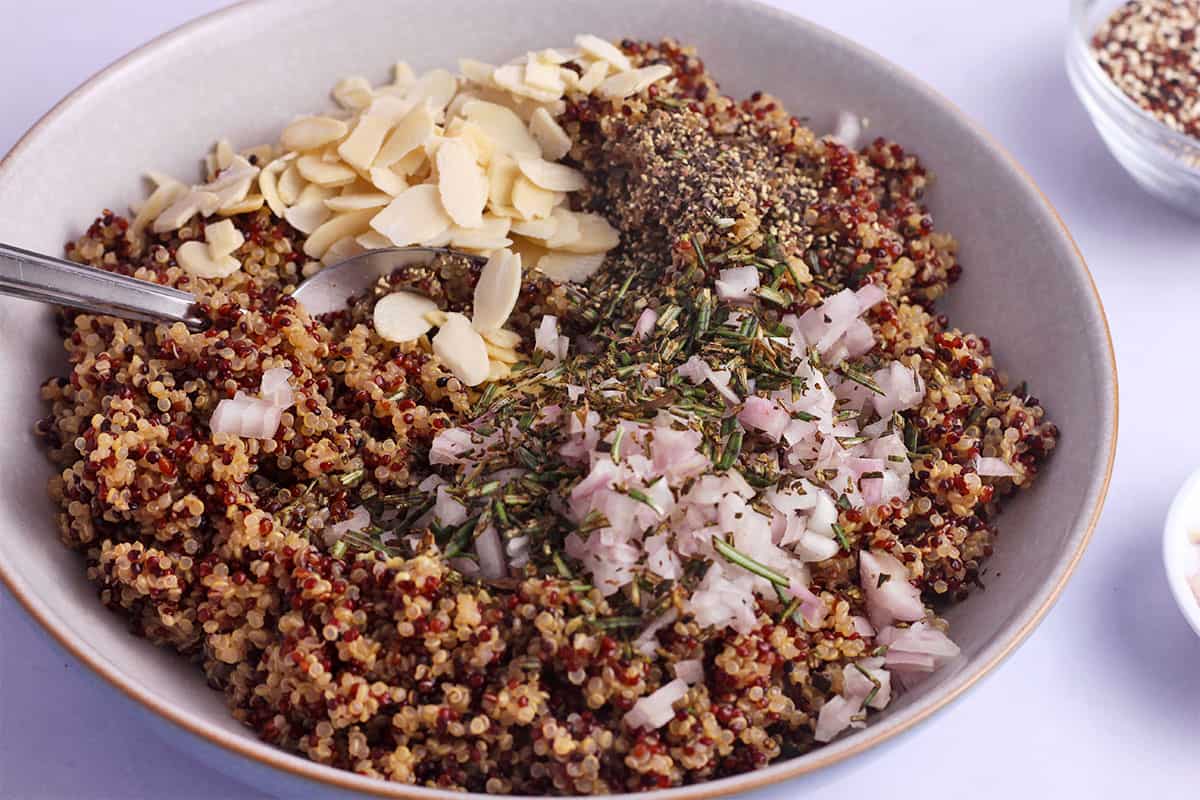 💭 Frequently asked questions
Which color of quinoa is healthiest?
Quinoa of any color contains healthy plant-based protein and fiber and is a low-fat option. Red quinoa is the highest in protein and fiber, with the black second in this area compared to white quinoa. But any quinoa is better than no quinoa when it comes to nutrition.
Does tri-color quinoa taste different?
The differences in the texture and nutty flavor of individual colors of quinoa make tri-colored quinoa a little crunchier and more robust nutty flavor than commoner white quinoa.
Is all quinoa gluten-free?
Quinoa, any color, is naturally gluten-free. You should also check the labels to ensure that your quinoa hasn't been processed with glutenous foods. This is like selecting oats.
Can you make quinoa in the Instant Pot?
You won't save much time, but if you want to make tri-colored quinoa in the Instant Pot, cook on high pressure for 3 minutes with 10 minutes of natural pressure release. Use a ratio of 1 cup quinoa to 1 ½ cups water. You don't need as much water in the Instant Pot.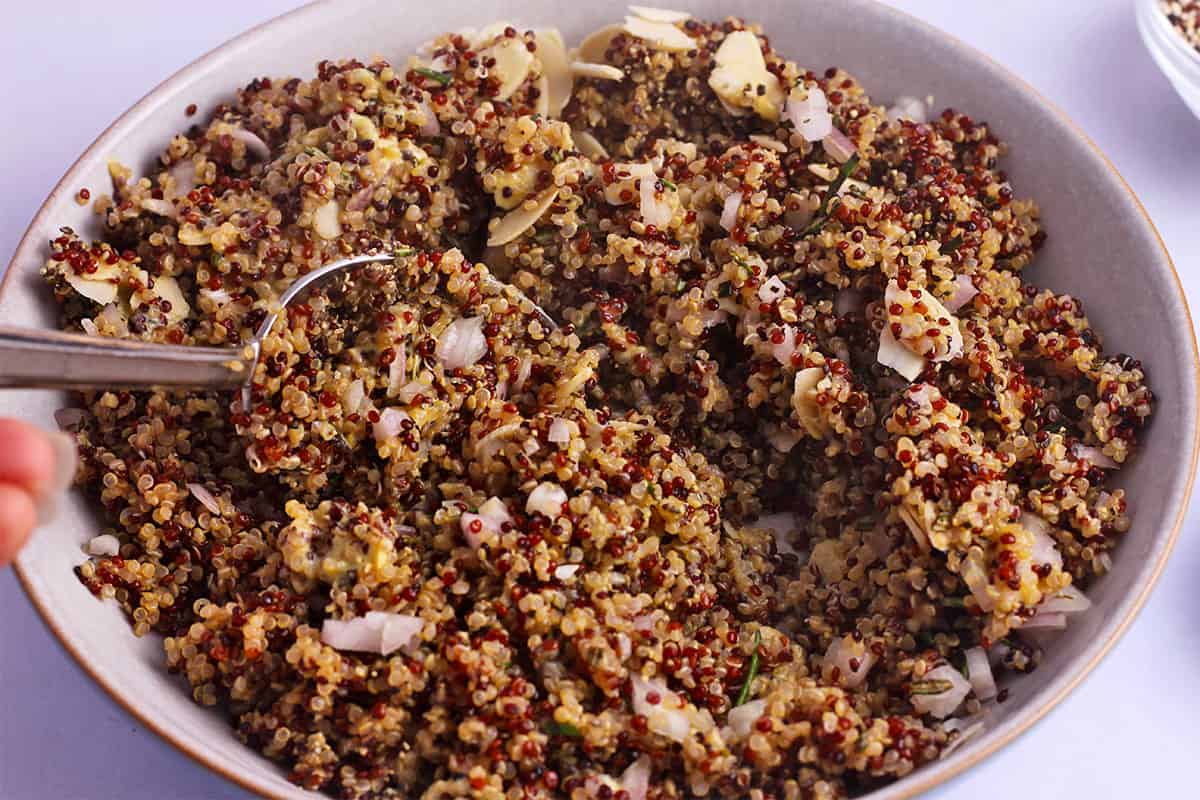 🍴 Serving suggestions
This tri-colored quinoa recipe makes a quick and delicious side dish where you might otherwise serve brown rice or a bowl of plain quinoa. It goes well with savory main dishes like lentil loaf, sausage-cauliflower bake, stuffed portobello mushrooms, or stuffed baked sweet potatoes.
To turn this delicious recipe into a more substantive salad, add veggies. Cucumbers, carrots, zucchini, cherry tomatoes, and red pepper are a few to consider. If you add a lot of extras, you may want to add more lemon juice and mustard, but that's easy enough. Add white beans or chickpeas to turn this from a side dish to a meal.
Want an easy way to add a little more flavor? Try substituting the water for vegetable broth or vegan chicken broth.
🌡️ Storage, freezing, & reheating
Store leftover quinoa in an airtight container in the fridge for 1 week. You can also freeze it for 6 months. To reheat, place quinoa in a steamer basket and let it steam until it is fluffy and hot. If you reheat it in a pan, add water or lemon juice to keep it from scorching. You can also reheat it in the microwave.
📖 More Quinoa Recipes
Print
Tri-color Quinoa
Make a sensational vegan side dish in minutes with this tri-color quinoa recipe with rosemary, almonds, and an oil-free lemon mustard dressing.
Author: Denise
Prep Time:

5 minutes

Cook Time:

20 minutes

Total Time:

25 minutes

Yield:

4

1

x
Category:

Side Dish

Method:

Stovetop

Cuisine:

American

Diet:

Vegan
1

cup

tri-color quinoa

2

cups

water
Pinch of salt

¼

cup

minced shallot

¼

cup

slivered or flaked almonds

1 tablespoon

fresh rosemary (

1 teaspoon

dry)

½ teaspoon

black pepper

1 tablespoon

Dijon mustard

¼

cup

lemon juice
Instructions
Rinse the quinoa in a mesh strainer. Add the quinoa, 2 cups of cold water, and a pinch of salt (¼ a teaspoon) to a saucepan. Heat over medium until it starts to boil, then reduce the heat to a slow simmer. Cover the pot and cook for 15 minutes until the water is absorbed and the quinoa is tender. Fluff the quinoa with a fork.
In a small dish, mix the lemon juice and mustard. Transfer the quinoa to a bowl, then mix in the lemon-mustard dressing and the rest of the ingredients.
Serve warm.
Notes
Quinoa can take anywhere from 12-15 minutes to cook. This depends on the exact temperatures, pan type, and the quinoa's age (to name a few). Keep an eye on it, so it doesn't burn.
If you use dried rosemary, mix it with lemon juice and mustard so it can rehydrate and is well distributed.
Make this dish with regular white quinoa with only 1 ¾ cups of water.
Keywords: tri-color quinoa