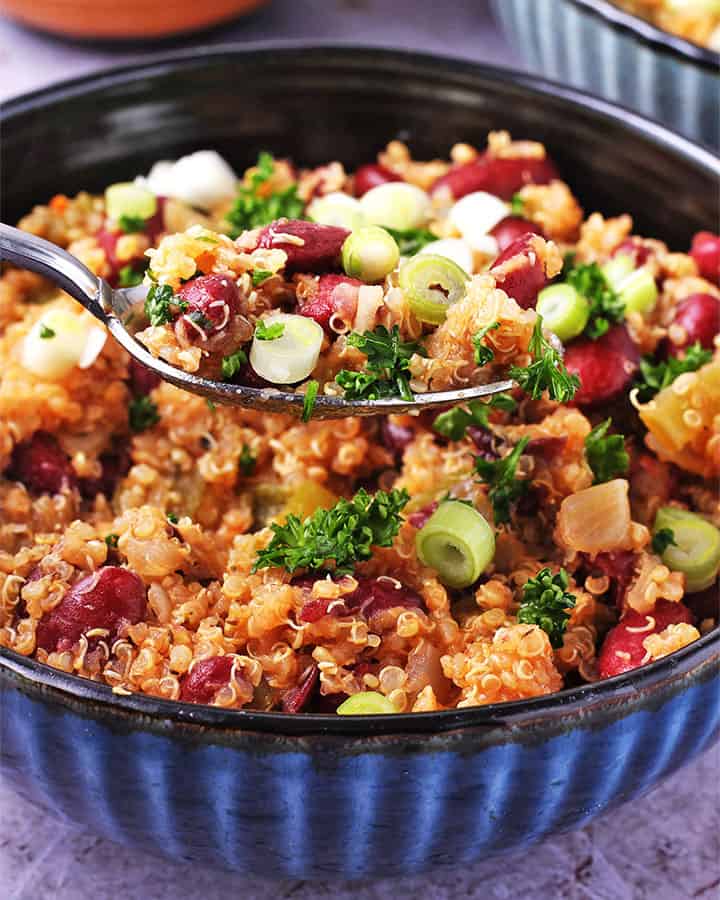 As a confirmed stockpiler, it's never too surprising when I discover a stash of red beans and quinoa hidden in some random container in the kitchen. And just like that stash of post-it notes, highlighters and pens 'commissioned' from conferences, it makes sense (in my brain) that cans of beans and bags of quinoa are strategically placed together. They're waiting to be called up when I'm hankering for a satisfying 30-minute prep to table dinner.
Beans and grains – the perfect combination
There is only one reason to discuss combining beans and quinoa – because they taste great together. Did you think I was going to tell you all about protein combining? Sure, I'll tell you. The idea that plant-based eaters should combine foods to 'complete' their protein is complete bunk.
After the myth of not getting enough protein, the idea that we need to bine certain foods for complete nutrition is a bit silly. The truth is, unless you eat exclusively fruits, we are all getting enough (probably too much) protein. But like a lot of notions, like my irrational idea that there will be a global shortage of sticky notes, the idea of complementary proteins persists.
Fad news
The idea of food combining or food complimenting as the phrase was coined in 1971 in the book Diet for a Small Planet by Frances Moore Lappé proposed that some plant foods are deficient in essential amino acids, so combining say, beans and grains, for example, would make them whole.
The self-acclaimed diet gurus at the time jumped on that train. And, like a lot of diet trends, it became vogue. No seriously, it made the cover of Vogue magazine in 1974. Thankfully, we now know that a diet consisting of a variety of plant-based foods with sufficient calories not only provides more than enough protein, but our bodies don't require all essential proteins to be eaten at every meal.
Our amazing bodies stockpile too.
Just like my stash of red beans and quinoa or office supplies, our bodies keep a stash of free amino acids. When we eat and add to the stash, some of the new and some of the free amino acids get together and tribes of complete proteins are formed. Food complimenting is happening internally and all we need to do is worry about what's for dinner. For this recipe, it required a look in my stockpile where I spied a bag of quinoa and 2 cans of red kidney beans.
How to make quinoa
It's unlikely that any discussion of plant-protein doesn't include quinoa. Quinoa has lots of that and although you can go your entire life, eating nothing but whole, plant-based foods without a bite of quinoa ever passing your lips. Why? Why do that with something so tasty and easy to prepare?
When I first started adding quinoa to my stockpile many years ago, I didn't have much experience cooking it. And I'll admit, the first time I tried it, I found it a bit bitter. But that stockpile soon needed frequent replenishing when I realized that quinoa is made all the better if you give it a good rinse before you cook it.
It's a seed
Quinoa is a gluten-free seed (one reason we love it) and it is naturally coated with saponin which gives it a bitter or soapy taste. Although much of the quinoa you buy in the package is already pre-rinsed, I've discovered that if you take that extra minute to put it in a small-mess strainer and run it under the faucet, it makes a heap of difference.
Today, I'm a confirmed a quinoa consumer and routinely keep it in stock. If you haven't experienced it, once you realize how wonderful it is in everything from cranberry or pear salads, to pilaf with chickpeas or flavored as sides in bowls or with BBQ cauliflower, you may well be engaging in some stockpiling too.
Dry beans in the stockpile? Here's what to do
When I set out to publish this favorite recipe, I discovered a bag of red kidney beans and decided it was a great opportunity to cook them up. Cooking beans from scratch is really easy and because I was using them along with the rest of the ingredients for red beans and quinoa, I didn't even flavor them as I might for black beans. The process, however, is identical:
1. Measure out 1 cup of dried beans (this will yield the 3 cups you need for red beans and quinoa).
2. Rinse and sort the beans and discard any stones or seriously shriveled beans.
3. Place the beans in a pot and cover them with water (at least 4 cups). Cover and leave them to soak overnight or use a quick soak by bringing the pot to a boil for 2-3 minutes and then soaking the beans for about 4 hours. Once the beans are soaked, drain and rinse them. If you are using the same pot to cook them in, give that a rinse too.
4. To cook the beans, put them back in the pot and add 3 cups of water. You can add a pinch of salt if desired. This helps to bring out the flavor of the beans.
5. Bring the pot to a boil and then reduce to simmer and cover the pot. Leave the lid tilted just a bit so that the steam can escape, and you can keep an eye on the pot.
6. Simmer the beans for about 1 hour or until they are tender.
7. Drain and rinse the beans.
Beans ready? Let's get dinner on!
Whether you use canned or beans from scratch, you'll only need a few easy ingredients and pantry staples plus some healthy shots of hot sauce to bring this recipe to fruition. Easy prep, a quick layering of flavors and off you go.
Final Thoughts
I fully admit that stockpiling can be contagious and sometimes even a bit irrational. Do I seriously think post-it notes or my other favorite office supplies will one day disappear? No. But I do like the security of having things at the ready when I call them to action. It's trickier with food. You can only stock up on so much fresh cauliflower before someone starts complaining that there isn't enough room for other essentials, like beer.
But for organizational freaks like me, stocking up generates a sense of security. Even if you don't have a big pantry – which I don't – it's always good to have a few combinations of beans and grains on hand. And although they have super-long shelf lives, they are eventually perishable. That's precisely why you need to break into your holdings. Besides, great combinations await and it's an opportunity to engage our inner creative cook. And all that combination needs to do is taste good. Our bodies will take care of all the protein-making, we just need to bring the hot sauce. Peace.
Print
weeknight red beans & quinoa
35-minute weeknight red beans and quinoa with easy ingredients, flavor staples and your favorite hot sauce for a healthy, plant-based dinner satisfier. 
Author: Denise
Prep Time:

15 minutes

Cook Time:

20 minutes

Total Time:

35 minutes

Yield:

6

servings

1

x
Category:

Main Courses

Cuisine:

American

Diet:

Vegan
1

onion

chopped into large chunks

1

green bell pepper, seeded and cubed

2

stalks celery, diced into bite-sized pieces

3

cloves garlic, minced

1 tsp

. smoked paprika

1 Tbsp

. dried thyme

2 tsp

.

apple cider vinegar

½

-

1

tsp.

Tabasco

(or your favorite hot sauce)

4

cups

water + 2 veggie bouillon (stock) cubes or 4 cups vegetable broth

2

(15-ounce) cans kidney beans, rinsed and drained

(3 cups)

2

cups

dry

quinoa, rinsed
salt and pepper to taste
Instructions
Heat a large pan or soup pot to medium. Add the onion, green bell pepper, and celery. Sauté for 3-4 minutes until the onions are slightly browned. Be sure to move the ingredients constantly to avoid sticking.

Add the 3 cloves minced garlic, 1 tsp. smoked paprika, 1 Tbsp. dried thyme. Sauté for 1 minute.
Add the apple cider vinegar, tabasco, veggie broth, kidney beans, and quinoa.
Bring the pot to a low boil, then reduce to simmer, cover and simmer until the liquid is absorbed (about 15 minutes).
Remove the lid and fluff up the quinoa.
Taste and add salt, pepper or more tabasco.
Garnish with sliced scallions or chopped parsley if desired.
Notes
If you can't get red kidney beans, white or even butter beans will work for this recipe. Follow my same guidance if you are going to cook them from scratch.

If you decide to make the beans from scratch, you can double the amounts and freeze the remaining beans. Thaw them in the fridge or run hot water over them and use them immediately so they don't soften too much.
This recipe was made with standard white quinoa; however, red, black or a combination might provide a visual flare. It's also a good way to use up those odd measurements of different kinds of quinoa you might have. Follow the same cooking instructions, no matter what color you choose.
If you find green pepper too bitter, red pepper is a great substitute. It will make the dish sweeter, so you may want to increase the amount of vinegar to balance it.
Keywords: red beans & quinoa