Zesty lemony freekeh salad with toasted cumin seeds and fresh herbs is the perfect solution when you want a quick meal that packs a punch of nutritional power. Learn how to cook freekeh and all about this ancient and healthy grain.
why this recipe works
Because we all need to eat and because we are always looking for new angles that don't take forever to prepare but don't compromise on flavor or nutrition. That's why you need a quick winner of a hearty salad that's flavor-packed and easy to tote.
We're flipping the switch with a grain, possibly new to you, which was well-known in ancient food circles. That's freekeh, in case I wasn't being obvious.
why you should eat Freekeh
If you aren't familiar with freekeh (free-kuh), it's time to take the plunge. Sure it's always exciting to try a new grain, but one that's super-nutritious and quick cooking? Let me grab 2 bags of that.
Freekeh, sometimes called 'green grain,' is wheat harvested when young and green. Then it gets roasted. This is what gives freekeh a distinctive, kind of smokey flavor.
Like a few younger, 'green' things, freekeh has a lot of energy to give. As a whole grain, it's high in fiber and protein and low in fat. Compare it to brown rice, and more surprisingly, quinoa, and you'll discover it's more nutritious.
As freekeh has gained in popularity, it's become more widely distributed. That said, you may run into two types – whole and cracked. Be mindful of the cooking instructions because whole freekeh will take about 40 minutes to cook. Cracked freekeh takes approximately half that amount of time.
So, if you aren't bound by gluten-free options (quinoa is gluten-free), then freekeh should be in your pantry. And if it's in your pantry, then let's grab it and make a quick salad.
ingredients
Freekeh – Freekeh looks a bit like green-tinted rice. As noted, you want to be sure to check out the instructions on your package for recommended times and the ratio of liquid to freekeh.
Chickpeas – Without chickpeas, I'd be tempted to consider this recipe more of a side salad than a quick meal. Chickpeas add a delicious flavor and a texture the complements the cooked freekeh.
Cumin seeds – Cumin seeds can be toasted right in the pot you'll use for the freekeh. They are so, so worth it! The earthy, bright, and slightly spicy flavor is distinctive. Yes, you can use ground cumin (use half the amount), but don't miss out on the delight of a bite of seed and the little burst of flavor.
Lemon juice – You'll want at least ⅓ of a cup of lemon juice (2 fresh lemons). I ended up adding lemon wedges for the final presentation, so you may want to plan for this. As the pilaf sits, it will become progressively lemonier – but is there ever enough lemon?
Garlic – Where's there's lemon and a 'dressing,' there's usually garlic in my kitchen. And so, there is here. I used 2 cloves of garlic, but if you have 1 plump clove, you might be happy with that. It all depends on your garlic tolerance, love, or fear of vampires.
Red chili flakes – It's zesty, and that's not just about the lemon, so if you like a little spicy, add red chili flakes (crushed red pepper). You can also use ground black pepper if you want something calmer.
Let me guess, that big jar of chili flakes is empty. I can count the times that's happened to me. Cayenne pepper is your friend here. Even hot (not smoked) paprika will work. Use half the amount if you make a substitute.
Celery – More than a filler, celery adds crunch and a naturally salty flavor. Grab a few stalks and dice them small enough that they are easy to push together with the freekeh and chickpeas.
Scallions (green onions) – Use 5-6 scallions, a smaller 'bunch.' Slice the white and green parts. There's no reason to ditch the green parts. They have a more subtle onion flavor but are still tasty.
Parsley – I used ½ a cup of flat-leaf (Italian) parsley. I find it more subtle in flavor than the curly kind. If you happen to have curly parsley growing in the garden, by all means, use it. You may want to cut back depending on how strong it is.
Mint – Fresh mint leaves add another level of brightness. When you think about flavors working together, mint, parsley, cumin, garlic, and lemon form a flavor alliance that needs to be taken seriously - for taste, that is. I can't imagine that mint takes itself seriously.
how to cook freekeh
Once you've sorted out if you are using cracked or whole freekeh and have confirmed the recommended water ratio, work backward from when you want to serve your salad.
1 cup of freekeh makes about 3 cups cooked, so plan the size of your cooking pot around that. You want a tight-fitting lid. Consider what you'd use for a cup of rice, and you'll be good to go.
Heat the cooking pot and add the cumin seeds to begin. It will take about a minute to toast them. Stir them constantly and promptly remove them from the pan. They easily burn. You can leave some cumin seeds in the pot to cook with the freekeh and infuse with the broth.
To bring out the naturally smoky flavor of the freekeh, toast it in the pot before adding the broth and chickpeas. This takes about 2 minutes.
The chickpeas can be added to the freekeh and cooked along with it. You can also add it as soon as the freekeh is cooked and then cover the pot for 10 minutes to warm them. If you are serving this salad cold, the chickpeas can be added with the rest of the ingredients.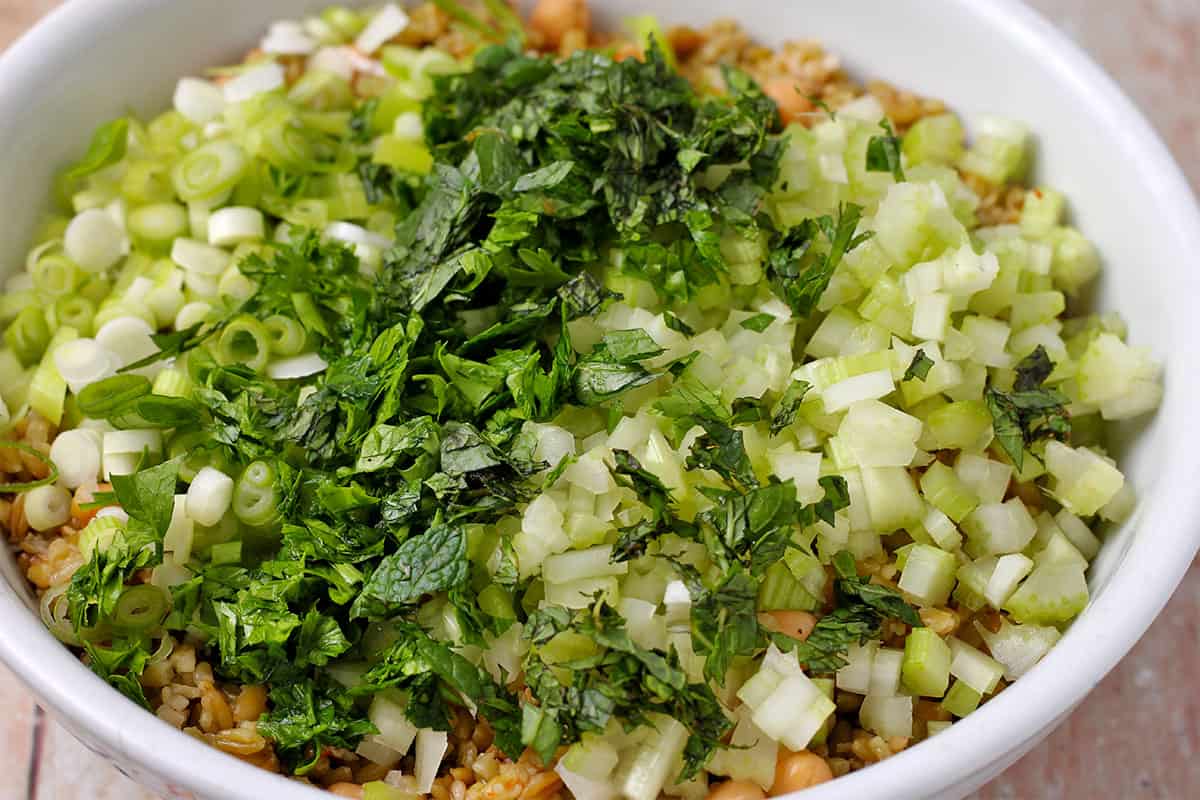 common questions
What is the difference between whole grain and cracked freekeh?
Wholegrain freekeh is similar to wheatberries and is firm and chewy. Cracked freekeh is just what it sounds like – wholegrain freekeh that's broken into smaller pieces. Cracked freekeh is softer and similar to bulgur after cooking.
How do you reheat freekeh?
Freekeh is best reheated in a basket steamer like you would reheat rice and other grains. The second-best option is in the microwave. If you reheat it in a pan on the stove, be sure to add water or broth so that the freekeh doesn't burn on the bottom.
Can freekeh be cooked in the Instant Pot?
Cook freekeh in the Instant Pot by adding 1 cup of the green grain and 1 ¾ cups of water or broth. Cook on High Sauté for 8 minutes, then allow a natural release which can take up to 15 minutes. For cracked freekeh, reduce the time to 6 minutes with a natural release.
extras, extras!
This is an intentionally simple dish. But given that cooking and eating are personal and a matter of circumstance, here are a few ideas for ingredients you might have on hand.
Diced or grated carrots
Adzuki or white kidney beans
Red onion
Red or green bell pepper
Fennel or celeriac
Fresh dill or cilantro
lighter suppers and hearty sides we love
Print
zesty lemony freekeh salad
Zesty lemony freekeh salad with cumin seeds and fresh herbs is a flavor vegan salad perfect for a quick meal that packs a punch of nutrition.
Author: Denise
Prep Time:

5 min

Cook Time:

30 min

Total Time:

35 minutes

Yield:

4

1

x
Category:

hearty salads

Cuisine:

American

Diet:

Vegan
2 teaspoons

cumin seeds, toasted

1

cup

freekeh

1 ½

cups

of chickpeas, rinsed and drained (a 15-ounce/400-gram can)

2

cups

vegetable broth (or water)

1

cup

celery

5

-

6

scallions (green onions), green and white parts sliced

½

cup

chopped flat-leaf parsley

½

cup

mint

⅓

cup

of lemon juice

2

cloves of garlic, minced or pressed

½ teaspoon

of red chili flakes
Instructions
Heat a medium pot and then add the cumin seeds and toast them for about 1 minute until they become fragrant. Remove half the seeds and set them aside.

Turn the heat back on if you turned it off and, In the same pot, add the freekeh. Over medium heat, toast the freekeh for a few minutes until it starts to brown just slightly. Use a wooden spoon or soft utensil to keep the freekeh moving so that it doesn't burn.
Add the chickpeas and broth. Bring the ingredients to a low boil, then reduce the heat to a low simmer. Cover the pot, then simmer for 20 minutes until the liquid is absorbed and the freekeh is tender. Be sure to consult the package directions for your particular brand of freekeh. Once the liquid is absorbed, take the freekeh off the heat. Keep it covered for 10 minutes.
While the freekeh cooks, prep the veggies and herbs. In a small bowl, combine the lemon juice, garlic, and black pepper.
When the freekeh is done, transfer it to a medium salad bowl, then add the contents of the lemon juice bowl. Mix well.
Mix in the celery, scallions, mint, and parsley. Top with the remaining cumin seeds. Taste and add more lemon juice if desired.
Serve the salad warm or at room temperature. Store leftovers in a sealed container in the refrigerator for up to 5 days. 
Notes
If you forget to add the chickpeas, add them after the freekeh is cooked. Toss them into the saucepan and cover them for the 10 minutes you need to set up the freekeh.

Freekeh can come as whole or cracked. For this reason, consult the cooking instructions on the back of the package, including liquid to grain ratio and cooking time. Cooking times will vary.
The best way to reheat freekeh is to place the desired portion in a steamer basket and give it a few minutes to steam. This dish is also delicious at room temperature.
Consult the common question in the post for instruction on how to cook freekeh in the Instant Pot.
Keywords: zesty lemony freekeh salad