Learn how to make easy tempeh crumbles to maximize the flavor and meaty texture of this high-protein, versatile, plant-based ingredient ready for your favorite recipes.
Tempeh may not be as familiar to you as its cousin tofu. But make no mistake, it's an incredibly versatile food that adds flavor and texture to an ever-growing list of plant-based recipes.
But there's a trick to making tempeh flavorful. Once you learn it, you'll cook protein-packed tempeh recipes like a pro.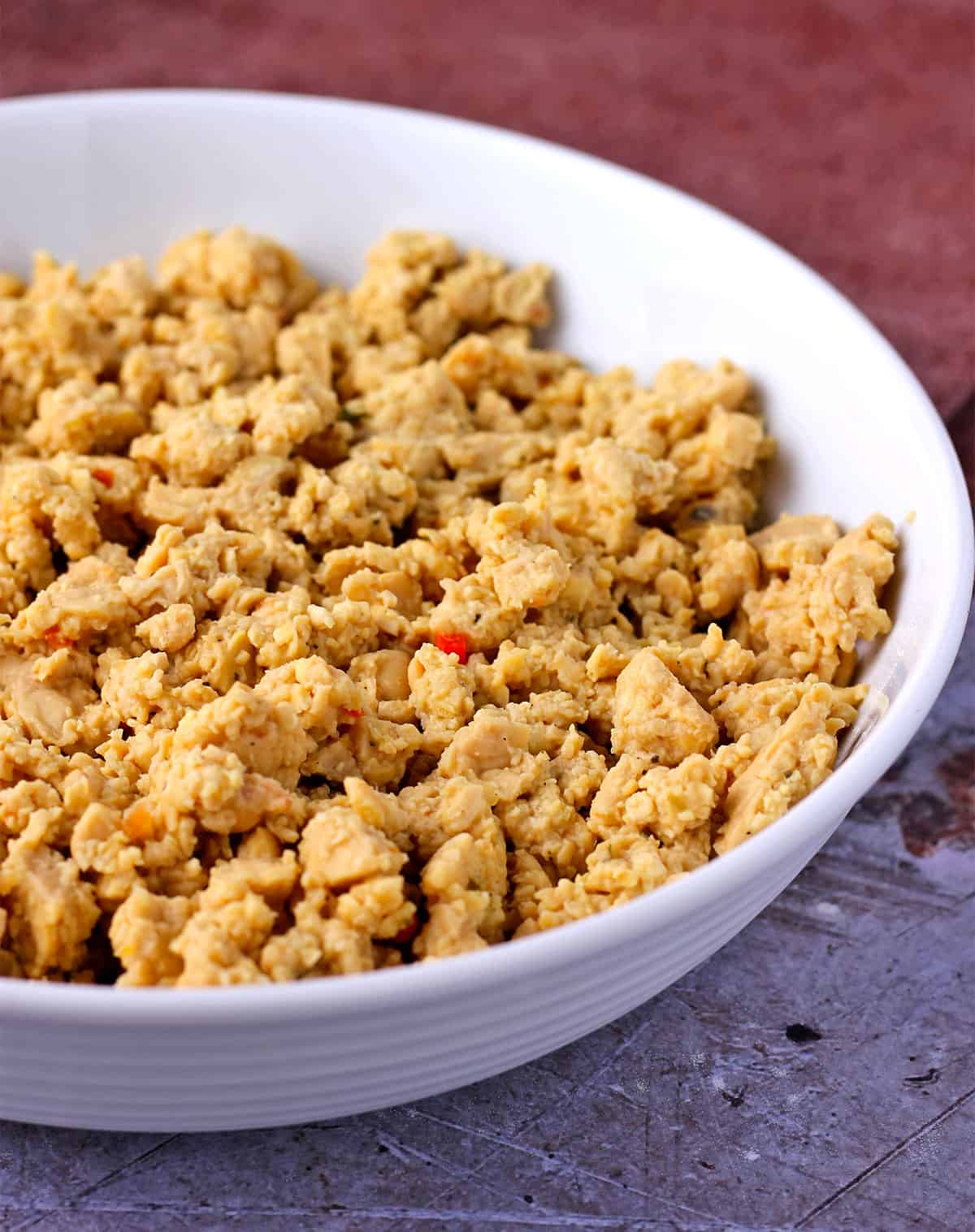 This post contains helpful tips and tricks to ensure success on your first attempt. Below, you'll find a handy table of contents with links. But if you're in a rush, please use the link at the top to jump to the recipe card at the end!
Jump to:
⭐Why this recipe works
Easy foundation. This recipe/cooking method is the foundation for all your favorite tempeh recipes, including burgers, sausage, tacos, and more.
Adaptable. Once you learn this easy recipe, you can customize the flavors to suit your tastes and tempeh intentions.
Healthy alternative. Tempeh may not be as familiar as tofu. Still, it's another power-packed, gluten-free, vegan meat alternative that is whole food, plant-based approved.
💬 What is tempeh?
Tempeh (tem-pay) comes to us from Indonesia and is traditionally made by fermenting whole soybeans. Fermenting means mold (Rhizopus Ogliosporus), and that's something to embrace, not resist. Mold creates the fermentation process and holds the soybeans together in those firm blocks that tempeh is packaged in.
You want to be sure to read the package labels. It can be confusing when you see tempeh varieties called 'regular,' then 'multigrain,' or even 'flax). The differences inform you that tempeh is sometimes made by adding other ingredients such as beans, grains, or brown rice. I've even seen 'soy-free' tempeh made from hemp seeds and beans.
If you're a tempeh novice, I suggest starting with the soy and exploring other kinds once you have your feet firmly in tempeh territory. Personally, soy-based tempeh is my favorite in terms of flavor and texture.
📋 What you need to make tempeh crumbles
Tempeh – Start with a block of tempeh, usually between 8 and 12 ounces. You can adjust the amount of liquid accordingly.
Vegetable broth – The primary flavoring liquid used for simmering is vegetable broth. You can also use a vegan beef broth, chicken broth, or other flavors. It just depends on how you intend to use your tempeh crumbles.
Soy sauce – This is optional, but a little soy sauce helps boost the flavor. Coconut or regular liquid aminos will also add flavor. Use tamari as a gluten-free option.
🔪 Pro tips & notes
I find it easiest to cut the block of tempeh into quarters before crumbling it. It only takes a few minutes. Another less time-consuming option is to dice the tempeh into small pieces. This is easier if your hands tire easily.
Crumble the tempeh directly into a large saucepan or medium pot. Then cover the tempeh with 4-5 cups of vegetable broth. Then add the soy sauce.
Adjust the burner to medium-high heat until the ingredients begin to simmer. Cover the pot with a lid and reduce to medium heat if necessary. You don't want the tempeh to boil so hard that it either overflows or seriously beats up the tempeh.
Simmer the tempeh for 15 – 20 minutes. Drain the tempeh and press it against the colander to help release the moisture.
Simmering liquid variations
The variations for flavoring the simmering liquid are limitless. It all depends on how you intend to use your tempeh crumbles. Here are some ideas:
Mexican. Add chili powder, taco seasoning, lime juice, cumin, oregano, garlic powder, or onion powder. Appropriate for tacos, burritos, enchiladas, or other Mexican-inspired recipes.
Asian. If you're using tempeh in a stir fry, consider adding rice vinegar, ginger, or Chinese 5-spice powder.
Indian. Add turmeric, ginger, garlic, curry powder, or red chili flakes for curries or other Indian-inspired recipes.
Italian. Use Italian seasoning or dried Italian herbs such as basil, oregano, thyme, fennel seeds, or oregano.
💭 Common Questions
Can you use this method for tempeh slices?
If you are making bacon slices or other tempeh recipes that require marinating, it's best to simmer or steam tempeh strips first. This method pre-cooks and softens the tempeh, so more marinade flavor gets inside the slices.
Can you steam rather than simmer tempeh?
Steaming will cook and soften tempeh and will reduce bitterness. You won't get the flavor advantage of simmering. Add aromatics such as ginger, garlic, or dried chilis to the steamer basket to ramp up the flavor.
Can you freeze tempeh?
If your tempeh gets close to the use-by date, you can freeze it and use it later. You can also freeze simmered crumbled tempeh. Be sure to drain and let the tempeh dry before freezing.
Where can you buy tempeh?
Look for tempeh in the refrigerated section of your grocery store near the tofu. Tempeh can also be found in specialty stores. Still, due to its gaining in popularity, you can usually find it easily.
🍽 Serving suggestions
Crumbles tempeh can be used in any recipe where you might use TVP (textured vegetable protein), pre-packaged vegan mince, or ground meat.
Once the tempeh is dried, add it to a hot large skillet and dry fry it until it's brown and a bit firmer. Add salt, black pepper, and taco seasoning for tacos, and you'll be ready in no time. For stirfry, saute tempeh with sesame seeds, add green onions and a few veggies, with a dollop of hoisin sauce. There are so many delicious ways to enjoy savory tempeh crumbles!
Because simmered tempeh is soft, it makes an excellent foundation for veggie sausages or sausage crumbles that can be added to a tofu scramble or breakfast burritos.
If you are adding tempeh to stews, soups, or sauces, you can just directly add the tempeh crumbles after they dry out. They have been cooked during the simmering process, so you can add them toward the end.
🌡️ Storage & freezing
Store tempeh crumbles or recipes with tempeh in the refrigerator in an appropriate container. You can also freeze cooked tempeh crumbles.
Tempeh crumbles last in the refrigerator for about 4 days and in the freezer for 3 months.
📖 Related recipes
Print
Make Easy Vegan Tempeh Crumbles
Learn how to make easy tempeh crumbles to maximize the flavor and meaty texture of this high-protein, versatile, plant-based ingredient. 
Author: Denise
Prep Time:

15 minutes

Cook Time:

20 minutes

Total Time:

40 minutes

Yield:

4

1

x
Category:

Temeh

Method:

Simmer

Cuisine:

Indonesian

Diet:

Vegan
8

-ounce block tempeh (makes

2 ½ cups

crumbles)

5

cups

vegetable broth

1 tablespoon

soy sauce or tamari (optional)
Instructions
Crumble. Cut the tempeh block into quarters and crumble it into pieces about the size of a US dime directly into a large saucepan.
Add liquid. Cover the tempeh crumbles with vegetable broth (4-5 cups) and add soy sauce (if using).
Simmer. Bring the ingredients to a slow simmer, cover the saucepan, and simmer the tempeh for 15-20 minutes.
Drain and dry. Drain the crumbles. Press with the back of a spoon against the side of the colander to press out the moisture.
Finish. Add cooked tempeh to your favorite recipes (see post for ideas). 
Notes
The nutritional information is based on a 2-ounce tempeh serving.
If you don't have time to crumble tempeh, you can cut it into small cubes. This saves time and is more comfortable if the motion is sensitive to your hands.
Adjust the broth amount depending on the tempeh you are using and the size of the cooking pot you are using.
If you want to steam the tempeh, you will get the benefit of softening and cooking the tempeh. It will also help reduce bitterness. You won't get the flavor benefit of simmering. Place aromatics such as garlic or chili peppers in the steamer basket to enhance the flavor. 
Keywords: make perfect tempeh crumbles