Let easy baked vegan tofu burgers lift you from the veggie burgers blues with a quick gluten-free recipe loaded with flavor and firm burger texture.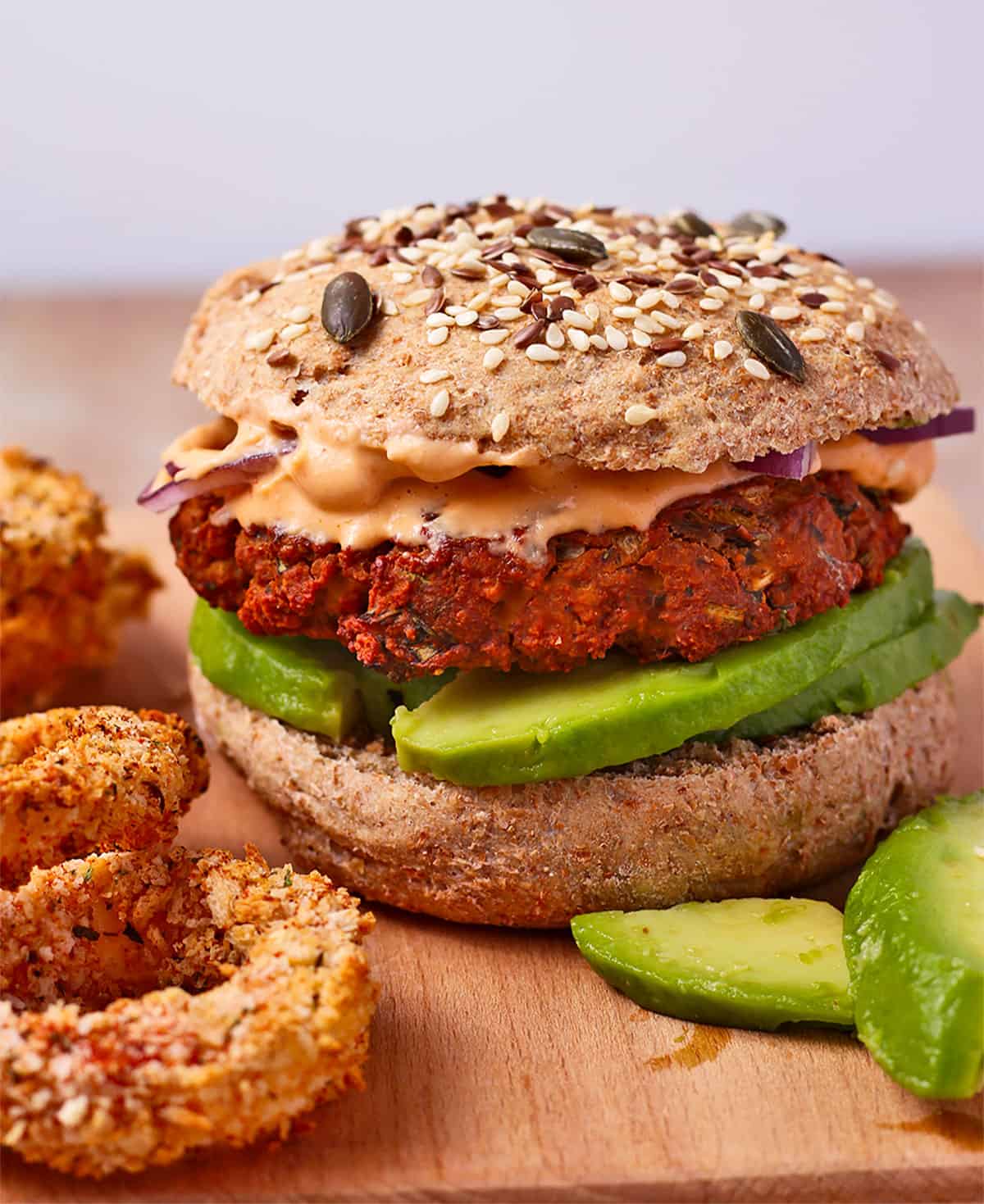 Jump to:
⭐Why this recipe works
Given all the veggie burgers that rely on beans or maybe tempeh as the main ingredient, I don't know how I missed that crumbled tofu makes a mighty fine burger. What a surprise! Crumbled tofu (my go-to for sausage crumbles) with just a few ingredients and a binder make just about the easiest, tastiest vegan burger ever.
Let's get to it. I think you'll like this one.
📋 Ingredients, descriptions, & substitutions
Tofu – This is a job for a firm or extra-firm tofu. A soft tofu block won't crumble or provide enough texture to make burgers that will hold their shape.
Scallions – Green onions, salad onions, whatever you call them, use about 6. You can use the white parts and the green (especially if you don't use cilantro). Finely chop the onions, so they are easy to mix with the rest of the ingredients. No scallions? Red onion, finely diced, can also be used.
Garlic – A lot of garlic is excellent. Still, if you think you'll use extra sriracha (totally understandable), you may want to add less. If you can't be asked to peel and press garlic (again, totally understandable), then use ½ a teaspoon of garlic powder. Add ½ a teaspoon of onion powder for a little extra flavor if desired.
Cilantro – Aka coriander. If you don't like (or have) cilantro, use extra of the green tops of the scallions, or you can use parsley.
Tamari – If you're sticking to gluten-free, substitute Tamari for more common soy sauce. You can also use essential amino acids (Bragg's) or vegan Worcestershire sauce. If none of those suit, 1 teaspoon of salt. You might also consider a tablespoon of nutritional yeast. The idea here is to add a savory flavor.
Dijon mustard – Dijon is one of my secret sauce ingredients for burgers, pasta sauces, and dressings. It adds zest and a slightly cheesy flavor.
Maple syrup – A little sweetness courtesy of maple syrup or date paste rounds out the flavor.
Sriracha – Use sriracha or another chili sauce you like. You can also use chili powder or smoked paprika if you prefer a smoky flavor.
Lime juice – Lime juice is a little burger twist, sweeter than lemon juice but equally as refreshing.
Chickpea flour. Chickpea flour is one of the best veggie burger binders around. Dense and sticky when moist, it clings to other ingredients more aggressively than flour. And here's a bonus, chickpea flour, garbanzo bean flour, or Besan is naturally gluten-free. Hey, here's a 2-for-1 bonus – it's loaded with protein and other nutrients. Ok, maybe you don't need extra protein with a tofu burger, but it's good to know when you're making veggie pakoras.
🔪 Pro tips & notes
Press the tofu. For the best flavor, press as much liquid as possible from your tofu. This is more than an essential step to combat the 'mush' factor. Extra moisture leaves little room for other ingredients to absorb. It's like trying to clean up water with a wet towel.
Even if you don't have time to drag out your tofu press, warp the tofu in a few paper towels and place it on a plate, place another flat plate over the top and press down. Even better, put that cast iron skillet to good use and weigh the top down with that.
Top-tofu pressing tip: Cut the tofu into four strips before pressing. This cuts pressing time and really gets the excess water out.
Crumbling tofu. Crumbling creates a better texture than small, diced tofu pieces. Besides, the flavor clings to the crevices of the crumbles.
Want more flavor? Refrigerate the burger mixture or burger patties for a few hours or overnight. It has a similar impact as marinated tofu.
Burger-making basics. The best way to mix tofu burger ingredients is with your hands. Massaging the tofu helps it absorb the flavors.
First, measure out ¼ cup of chickpea flour and place it in a dish or measuring cup. You may need more, so keep the bag handy. After crumbling the tofu in a mixing bowl, add the rest of the ingredients except the chickpea flour.
Here comes the fun part. Use one hand to mix all the ingredients. This tofu massage helps build the flavor. Mix in about half the chickpea flour. Add more chickpea flour until you can form a ball with a handful of the mixture that holds together.
The amount of chickpea flour you need will depend on how much moisture is in the tofu and other ingredients.
Divide the tofu mixture into 4 equal parts and form patties. Place them, separated, onto the baking sheet.
Best baking. Start with a hot oven if you want veggie burgers with firm middles. Before you get your hands dirty, grab a baking tray. Line it with parchment paper, and pre-heat the oven.
Keep the oven temperature at 400 degrees (F) for best results. This gives the inside time to cook, the middle to firm, and the outside from getting to brown.
💭 Common Questions
Can I make chickpea flour?
If you have dried chickpeas, then you can make chickpea flour. Place the dried chickpeas in a food processor, high-speed blender, or spice grinder. Grind the chickpeas until they break down into a powder. Use a mesh strainer to sift the flour and toss out any small pieces of dry chickpeas.
Can you fry tofu burgers?
If you want to fry rather than bake tofu burgers, use a non-stick skillet if possible. If you have a frying pan that tends to stick, you may need to use a spray of olive oil. Fry the patties at medium heat until the burgers start to brown and get firm in the middle. You may want to cover the pan for the first 10 minutes, so cook the inside. Uncover, flip the burgers and cook until brown and firm.
🍔 What to serve with tofu burgers
A tofu patty between your burger bun, loaded with your favorite toppings and condiments, is simply irresistible. As for sides, I don't need to tell you that a big pile of sweet potato fries is a welcomed sight next to any burger. If you want a salad, here are a few of our favorites:
Potato salad with BBQ dressing
Cucumber salad with peanut dressing
Curried vegan macaroni salad
Borlotti bean salad
Broccoli slaw with tahini lime dressing
Mango coleslaw
🌡️ Storage, freezing, & reheating
Store leftover burgers in an airtight container in the fridge for up to 5 days. You can also freeze patties. Wrap them individually or place them in a freezer container separated by parchment paper, so they don't stick together.
To reheat the patties, wrap them in aluminum foil and bake at 400 degrees for 15 minutes. Unwrap them toward the end of reheating so the outside can crisp a bit.
🥣 Yummy Burger sauces
Print
Recipe
Easy Baked Vegan Tofu Burgers
Beat the veggie burger blues with easy vegan tofu burgers with a quick oil-free, gluten-free recipe loaded with flavor and hearty burger texture. 
Author: Denise
Prep Time:

20 minutes

Cook Time:

35 minutes

Total Time:

55 minutes

Yield:

4

1

x
Category:

Burgers

Cuisine:

American

Diet:

Vegan
1

block of tofu (

10 ounces

/

280 grams

)

¼

cup

roughly chopped cilantro

6

scallions. Chopped (

⅓ cup

)

2 teaspoons

Dijon mustard

2 teaspoons

maple syrup

1 tablespoon

tamari or soy sauce

2 teaspoons

Sriracha or chili sauce

2 tablespoons

lime juice

2

cloves garlic

½ teaspoon

black pepper

¼

cup

chickpea flour
Instructions
Press the tofu. For best results, press the tofu using a tofu press or warp the tofu in paper towels and place it between two plates. Place something heavy on the top plate to weigh it down. For quicker pressing, cut the tofu into quarters first. Press for 15 minutes.
Pre-heat the oven. Preheat the oven to 400 degrees (200 C.). Line a baking tray with parchment paper or a silicone baking mat.
Make the burger mixture. Crumble the tofu into tiny pieces directly into a mixing bowl. Then add the rest of the ingredients except the chickpea flour. Use your hands to mix the ingredients and break up large pieces of tofu.
Add chickpea flour. Add the chickpea flour to the burger mixture. Test that you can form a patty by forming a ball of the mixture. If it sticks together, you're ready to make the patties.
Make tofu patties. Divide the mixture into 4 equal parts. Form patties that are about ¾ of an inch thick. Too thick, and they won't cook in the middle.
Bake. Place the patties on the baking tray and place the tray on the center rack of your oven. Bake the patties for 20 minutes until they start to brown and firm up. Flip the patties and bake for an additional 15 minutes.
Serve. Tofu burgers are great on a bun with your favorite fixings or over heaps of salad.
Notes
Although this tofu burger recipe was developed to be baked, you can fry the burgers if desired. Use a non-stick skillet to fry the burgers over medium heat. Once they firm up, you may want to adjust the heat to medium-high to finish them.
The amount of chickpea flour you'll need depends on the moisture in your tofu crumbles and other ingredients.
Keywords: vegan baked tofu burgers, gluten-free