Diner burgers at home
In an age of unprecedented convenience, how do you deliver a healthy diner at home? The kind that brings everyone to the table, keeps them there and brings them back again? Here's one way: Deluxe Tempeh Burgers.
Rather than clicking the take-out app, hitting the ready-made shelf in the grocery store or dropping in for the local diner special, let's spend an hour and hit a home run straight to the dinner table. The payoff for that hour is big if you compare it to the extra expense of having someone else deliver that unhealthy burger. I'm not just talking pennies here. This one is about making the most out of what you eat including the tastes and textures you crave. We're just going to cut out all the unnecessary extras, compromises and background noise.
Vegan burgers come home
I was completely taken in when vegan burgers as I transitioned from vegetarian to vegan to plant-based no oil eating. Those pre-made veggie burger patties were always in my shopping basket. And for good reason (so I thought). They were convenient, tasty and as it became more and more apparent, I craved them. The more kinds that appeared on the shelf, the more I tried.
And then I started reading the labels.
If I was going to keep feeding my craving for pre-made veggies burgers, it was probably a bad idea to read the label. That's where I discovered that I was eating a lot of salt and fat. Why was I surprised? Salt and fat are the two ingredients that make food both palatable and addictive. Fat satiates us. It cons us into thinking we are eating a lesser amount of food, but in reality, most of those veggies patties are so nutritionally dense we'd have to eat less (like one bite only) to equal the platefuls of more healthy offerings we could eat if we just cut those extra additives.
Slow changes moving forward
It was a cautious path I traveled when I turned away from convenience to what I like to think of as more responsible eating. It was cautious because I needed to come up with new recipes that would deliver the same satisfaction as the purchased stuff, but that wouldn't kill me in the kitchen.
If you make them yourself, you get controlled creativity.
The ingredient/flavor control making baked chickpea burgers, or samosa burgers or Mediterranean burgers was never lost on me. And all veggie burgers follow a simple recipe:
Grain or beans – veggies – binder – seasonings
Let's apply that rule to tempeh burgers
Tempeh talk
If you've seen blocks of Tempeh and wondered what it is and more importantly what do with it, you aren't alone. Tempeh, the bridesmaid to tofu, the bride in full white grab, is gaining popularity and thus more shelf space, but just like tofu, it can be subject to bad reviews. In part, that's because of bad cooking practices.
Tempeh didn't grab me by the taste buds the first time I tried it. The texture was substantial and 'meaty', however, the taste was strong and bitter. So, I had the opposite problem with tofu. Tofu soaks up any flavor you give it, but the is a texture problem that can be difficult to impossible to overcome. I even overcame the marinating time by blending it for the greatest plant-based bacon ever. A bit of experimenting later and I learned the value of baking it and finally crisping it (add link).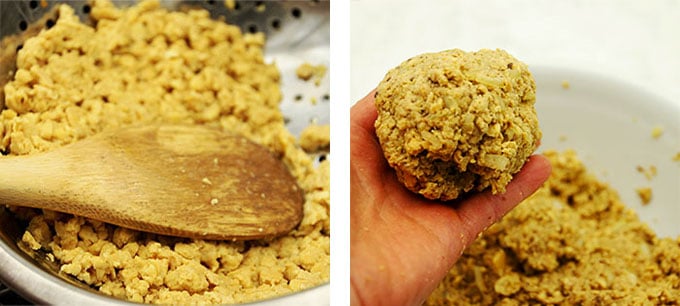 Bitterness away with ye
But tempeh presented a different challenge. I couldn't marinate the bitterness away – at least to my taste. The texture was too firm for starters. That's when I learned that it would be steamed or simmered. And that's what changed my relationship with tempeh for good.
Making tempeh crumbles, for tacos, sauces, stews and for your burger base is nothing more than a matter of crumbling, simmering and draining well. If I'm not going to do any marinating, I usually simmer it in veggie broth with a tablespoon of Tamari. It's honestly and autopilot thing now. I build the 20 minutes or so I use to simmer the tempeh right into my prep time. In the case of the burgers, in those 20 minutes, you can prep the onions, mushrooms, spices and even the burger fixings.
Pulse, mix and roll
5-6 pulses in the food processor for the tempeh, onion and mushrooms is a magic touch that makes tempeh burgers special. That little bit of processing will smooth out the bigger pieces while allowing the burgers to maintain texture integrity. The simmered tempeh will be moist, so take the time to press on it in the colander to get it as dry as possible. Once you get your pulse on, you will be in a better position to decide how much seitan you'll need to add.
Hail Seitan (say-tan)
My binder of choice for bringing out the texture of the tempeh and giving burgers a bit of extra chewiness is vital wheat gluten – aka seitan. Seitan is found in bigger supermarkets and specialty shops. It usually comes in bags that look like flour, so that's your first place to search for it. I've noticed a lot of homemade plant-based burgers using seitan as a binder.
Although you might find seitan next to the flour, there's a reason it's called 'wheat meat'. Unlike flour, when seitan is mixed with liquid, even the liquid of our simmered tempeh, mushrooms and Tamari, it takes on a chewy texture (one might even call it meaty).
Consider this
And now a moment of caution. In my experience, it's best to exercise restraint when using seitan. Don't add so much that the dough becomes stiff with it. Otherwise, your final baked product – tempeh burgers can take on a hard, crusty-bread kind of texture. I find that for 8 ounces of simmered tempeh with 1 ½ cups of chopped mushrooms, ½ - 1 cup is enough.
You want your burgers to hold together enough to make patties that stay formed and keep their shape when placed on the baking tray. If the patties are a bit too moist, the worst that might happen is you need to bake them a bit longer. Personally, I usually take the entire 30 minutes to bake as I like burgers that are done through to the middle.
Baking versus frying
Full disclosure – I've never tried pan-frying tempeh burgers. My best advice if you want to try it is to fry on low, without oil (of course) and you may want to cover the pan after you flip them so that the middle cooks firmly. Once I try this method, I'll update you on the results.
'you' time while the burgers bake.
Or possibly making some wonderful oven chips so your diner experience is even more authentic. Ah, tempeh burger and chips – made the way you want it, all in the comfort of your own home.
Final thoughts
Burgers – plant-based, pre-made, delivery, diner – I'm showing the love. And while I might be throwing major shade on those last three options, it's because I have found the way forward to bringing a deluxe, diner burger home. And I'm not talking in a brown, greased stained paper bag. No compromises, just straight-up burger nirvana – without the side of guilt. Peace.
Print
deluxe tempeh burgers
Make deluxe tempeh burgers and deliver your favorite diner meal right at home with a healthy, plant-based makeover with flavorful, guilt-free satisfaction.
Author: Denise
Prep Time:

10 minutes

Cook Time:

50 minutes

Total Time:

1 hour

Yield:

4

burgers

1

x
Category:

Burgers & wraps

Cuisine:

Plant-based
8 oz

(250 gm) package of tempeh

5 cups

vegetable broth (or use water and a few veggie cubes)

1 Tbsp

. Tamari or soy sauce

½ cup

onion diced large (you'll be putting this in the food processor, so it doesn't need to be so small)

1 ½ cups

sliced mushrooms

1 Tbsp

Tamari or soy sauce (yes, another one)

1 Tbsp

. vegan Worcestershire sauce (optional)

½ tsp

garlic powder
Dash of cayenne pepper

½ tsp

. ground black pepper

½

-

1

cup seitan (wheat gluten)
Instructions
Slice the temp into quarters for easier handling. Crumble the tempeh into small pieces (aim for thumbnail size) and place it in a medium pot.

Cover the tempeh with 4 -5 cups of vegetable broth and add 1 Tbsp. tamari or soy sauce.
Bring the pot to a boil, turn down the heat, cover and simmer the tempeh for 20 minutes. Check it a few times to ensure that the liquid has not evaporated.
While the tempeh simmers, prepare the onion and mushrooms and other ingredients. Everything but the seitan will go into the food processor, so you put it there for now. 
When the tempeh is done, drain it being sure to press it down a bit to get as much moisture out as possible.
Put the tempeh, onion, mushrooms and another tablespoon of tamari or soy sauce, Worchestershire sauce, garlic powder, black pepper and cayenne into your food processor. Pulse it just enough to break it into smaller pieces. You don't want it so smooth as to lose all the texture.
Take a moment to preheat your oven to 4250F (2200 C) and dig out your baking tray. Line the tray with parchment paper if desired.
Place the burger mixture into a medium mixing bowl and then start adding the seitan a quarter cup at a time until you have a mixture that will easily form into a balls and hold.
Make 4 burger balls and press them into patties and put them on your baking tray.
Place the burgers in the oven in the middle-top middle of your oven.
Bake for 15 minutes, flip, and bake another 10 – 15 minutes more until the burgers are slightly brown on the top and are firm, but not hard.
Notes
Tempeh burgers can be reheated in the microwave or wrap them in foil and steam them in a steamer basket or reheat them in the oven.

You can make the simmered tempeh or the burger mixture ahead. Keep it in the fridge for up to 3 days in a tightly sealed container. Do not add the seitan until you are ready to form and bake patties. We learned that if you keep the patties with seitan added in the fridge, they will expand and get super-chewy.
Keywords: DeluxeTempeh burgers