This vegan taco salad with bulgur taco meat will have you digging into layers of flavorful, saucy vegan taco meat, all the taco fixings you can handle, and tasty dressing for the ultimate taco salad.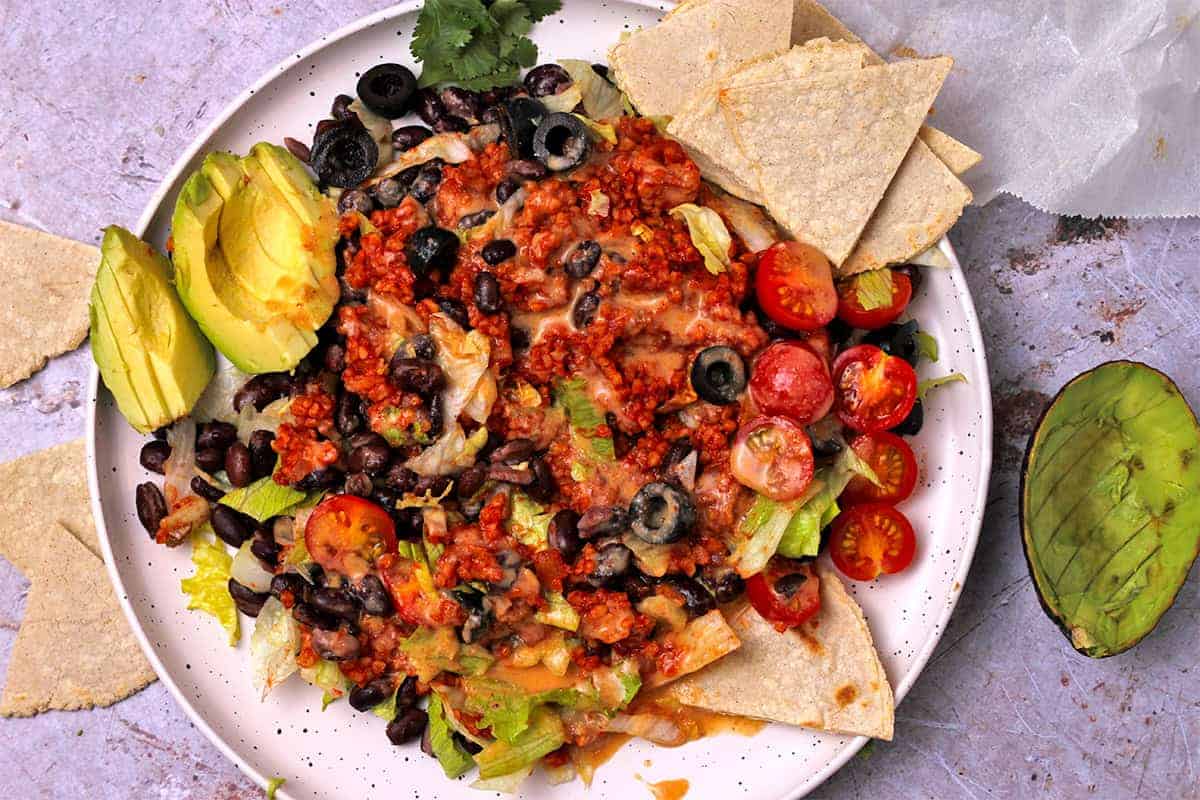 Jump to:
⭐Why this recipe works
Raise your hand if you don't love taco salad. This recipe was my first vegan taco salad, and I loved it from the beginning. But it's had quite an evolution from the first one. I've learned a lot.
Today's version, the one I love better than the original, is even easier, healthier, and more satisfying.
I've discovered that it's easiest to approach this recipe in three parts.
🥗 Part I: The Salad
The 'salad' part. All the good stuff, except the bulgur taco meat and dressing - that's what I mean by salad.
The bulgur taco meat takes 15 – 20 minutes to cook. That's not enough time to prepare everything and keep the bulgur hot. Prep everything before you start cooking. I speak as a taco salad warrior.
When it comes to toppings, anything goes, but here are a few ideas:
Crisp lettuce – Yes, this is a place to revere iceberg lettuce. Chopped Romaine is also a great choice. If you rinse and chop the lettuce, you can place it in the fridge, and it will get even crispier.
Tomatoes – Cherry, Roma, you name 'em or pick 'em. Fresh tomatoes are a taco salad tradition.
Black olives – If you love them, you love them. ½ a cup of sliced black olives is a must for my taco salad.
Avocado – Want to keep them fresh while you get on with the rest of your salad? Cube them and then toss them in lemon or lime juice. Cover them until you are ready to use them.
Salsa, hot sauce, or pico de gallo – Serve something extra spicy on the salad or on the side for folks who can't get enough heat.
Sour cream – Whenever you can, do it, go for vegan sour cream. If you aren't feeling the love for a particular dressing, try mixing sour cream with salsa or hot sauce. No nuts? Don't skip the sour cream; make it with sunflower seeds.
Corn – a cup of canned or thawed corn can go straight into the bowl, or you can mix it into the cooked bulgur.
Onions - Sliced red onions or scallions (green onions) can add a bit more fire to your salad.
Cilantro (coriander) – Mix chopped cilantro with the tomatoes and some onion – oops, we're back to pico de gallo.
Tortilla chips – It's a requirement, isn't it? Because I try not to have added oil, I make my own. I start by making my own corn tortillas, then cut them and bake them. That's a bit extreme for a weeknight, but you can make them ahead. Be sure to hide them from yourself so that there's something left for the salad.
Beans – Black beans, white beans, kidney beans, tall beans, short beans… You get it. I usually drain and rinse a can of black beans and add them. If you want them heated, add them to the cooked bulgur and stir them.
🥣 Part 2 - The Dressing
You need a dressing to pull everything together. I have a few ideas that have all been tested. That's how much I loved my taco salad research.
Spicy chipotle – This is what I used for all the pictures. It's creamy and spicy, and the chipotle chili flavor is smoking.
Cilantro lime – I first tried this with our taco salad supreme. It's bright and citrusy.
Sriracha tahini – This is a little heat and a bit of nut.
Chipotle cream – I use this a lot for cauliflower tacos. Coconut milk, ground flax seeds (to thicken), lemon juice or lime juice, and hot sauce. Primo!
🥘 Part 3 - Bulgur Baby!
If you aren't familiar with this fearless meat substitute, it's overdue.
Bulgur wheat is an absolute gold strike for anyone who wants a cheap, easy-to-cook meat substitute. Take whole wheat groats, crack them, parboil them, and dry them – it's bulgur. Grab a bag or box at the store next time if you aren't already stocked with it.
From a nutritional perspective, bulgur rocks. It's high in fiber and low in calories (and fat), and big on vitamin B and iron. More forgiving than rice, bulgur is seriously easy to cook. Because it's already been parboiled, you're looking at 15 minutes for it to get tender.
That's why you want to prep all the other salad ingredients first. Bulgur won't give you must simmer rest time.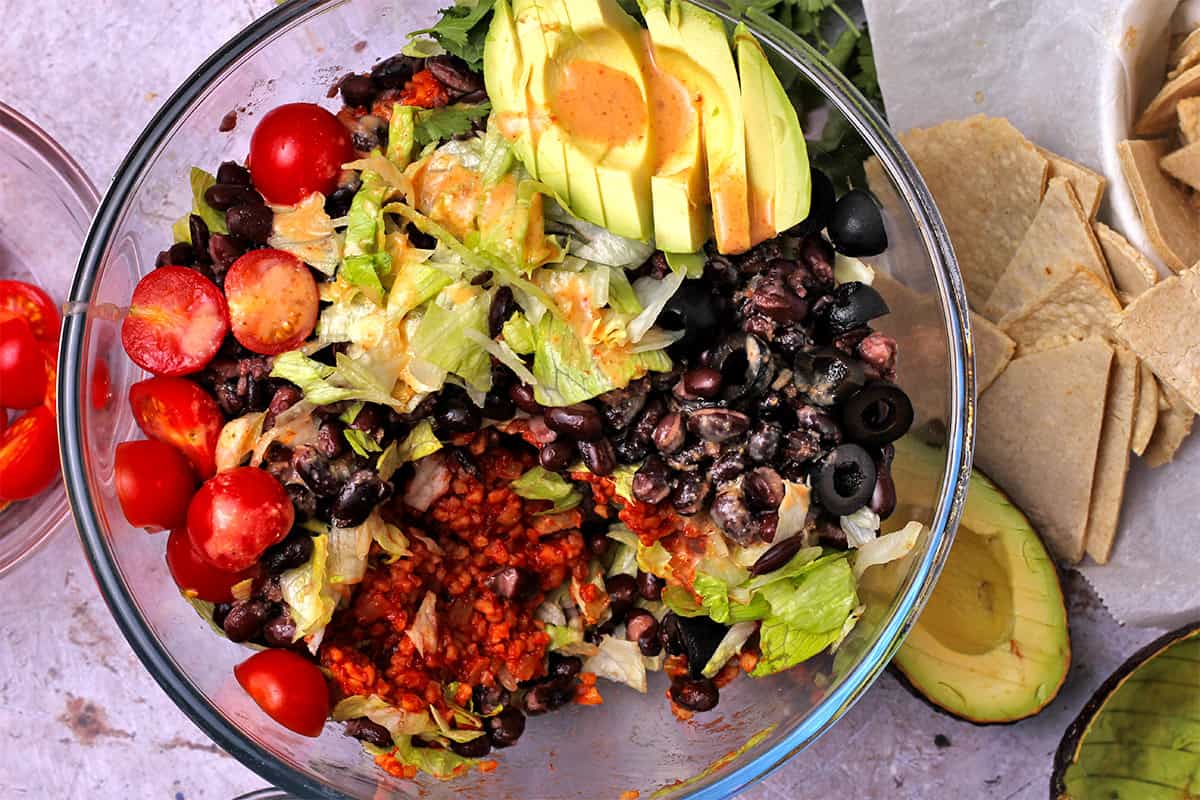 🔪 Pro tips & notes
I like to make my taco salad layers, but I always add 2 layers of shredded lettuce. It's my sneaky way of not making it all seem like 'only' salad. Be sure to grab a big enough bowl. Space can become precious quickly once you start piling things on.
💭 Common Questions
What is a substitute for bulgur?
If you need a substitute for bulgur, consider using quinoa or brown rice. Other options include cracked wheat, farro, or wheat berries.
Can you reheat bulgur taco meat?
You can reheat bulgur in the microwave or a saucepan on the stove. Mixing in a bit of water is a good idea in both cases, so the bulgur doesn't get clumpy.
🌡️ Storage
In anticipation of leftovers, or to make taco salad as a lunch meal for a few days, consider combining the bulgur and beans so that you can reheat them. Then, house all the lettuce, tomatoes, and olives in a separate container. Keep the dressing, chips, and sour cream separate. This helps your salad not to get soggy.
💬 Final thoughts
Taco salad can seem overwhelming once you look at the list of ingredients and things to do. Attack the cooking process - one part at a time. The bulgur cooks quickly, so don't depend on doing much more than washing a few dishes, setting the table, or checking your phone.
And then, get ready because that bowl's gonna go quickly. Peace.
Print
Recipe
bulgur wheat salad - taco style!
Dig into layers of flavorful bulgur taco meat and all the taco fixings you can handle for a supreme vegan taco salad.
Author: Denise
Prep Time:

25 minutes

Cook Time:

20 minutes

Total Time:

45 minutes

Yield:

6

1

x
Category:

Hearty Salads

Cuisine:

Mexican

Diet:

Vegan
Bulgur taco meat
1

medium onion, chopped

1

-

2

fresh jalapenos, diced (remove the seeds if you want to make it less spicy)

2

cloves of garlic, minced or pressed

1 tablespoon

chili powder (adjust depending on how hot you want it)

1 teaspoon

ground cumin

2

cups

tomato sauce

1 tablespoon

tomato paste

1 tablespoon

date paste or maple syrup

½

cup

vegetable broth

1

cup

bulgur wheat
The salad fixings
1

-

15

ounce (400 gram) can of black beans, drained (substitute any beans you like)

4

cups

shredded lettuce

1

cup

diced tomatoes

½

cup

sliced black olives

1

avocado, diced

Tortilla chips

- they are nice to crush over individual servings
The dressing options
Instructions
Prepare the lettuce, tomatoes, black olives, avocado, any other toppings, and the salad dressing before starting the bulgur.

To make the chipotle dressing, combine all the ingredients. For more information, please refer to this link.
To make the taco meat, heat a large skillet or heavy-bottomed pan to medium.
Add the onions and jalapenos and saute them for 5 minutes until they begin to soften.
Next, mix in the garlic, chili powder, and cumin. Saute for 30 seconds.
Add the tomato sauce, tomato paste, date paste, and vegetable broth. Mix everything well.
Mix in the bulgur and bring the pot to a low simmer. Cover and simmer for 15 minutes until the bulgur is tender.
To assemble the salad, layer half the shredded lettuce, followed by the bulgur. Then add the black beans, the remaining lettuce, the tomatoes, black olives, and any other toppings.
Serve with the dressing at the table, along with the tortilla chips.
Notes
Nutritional information includes the bulgur wheat taco meat, black beans, lettuce, tomatoes, black olives, avocado, and 6 corn tortillas for chips.

If you plan to have leftovers, keep the salad 'stuff' (lettuce, tomatoes, black olives) in one container and the bulgur and beans in another for separate reheating.
To keep your cut avocado fresh and happy, squeeze lemon or lime juice over the top, and give the cubes a toss. Cover tightly and store it in the refrigerator.
I've not reheated the salad leftovers in their entirety. I have allowed it to heat to room temperature and eaten it as a cool salad. Delicious!
Keywords: vegan taco salad, bulgur taco meat,