Irresistible smoky hemp seed vegan bacon bits are an effortless and nutritious way to add addictive bites of smoky umami flavor anywhere you sprinkle them. You'll only need 4 ingredients and 15 minutes to bake up these little gems. They will honestly transform your 'everyday' salads and other dishes to heights of indulgence.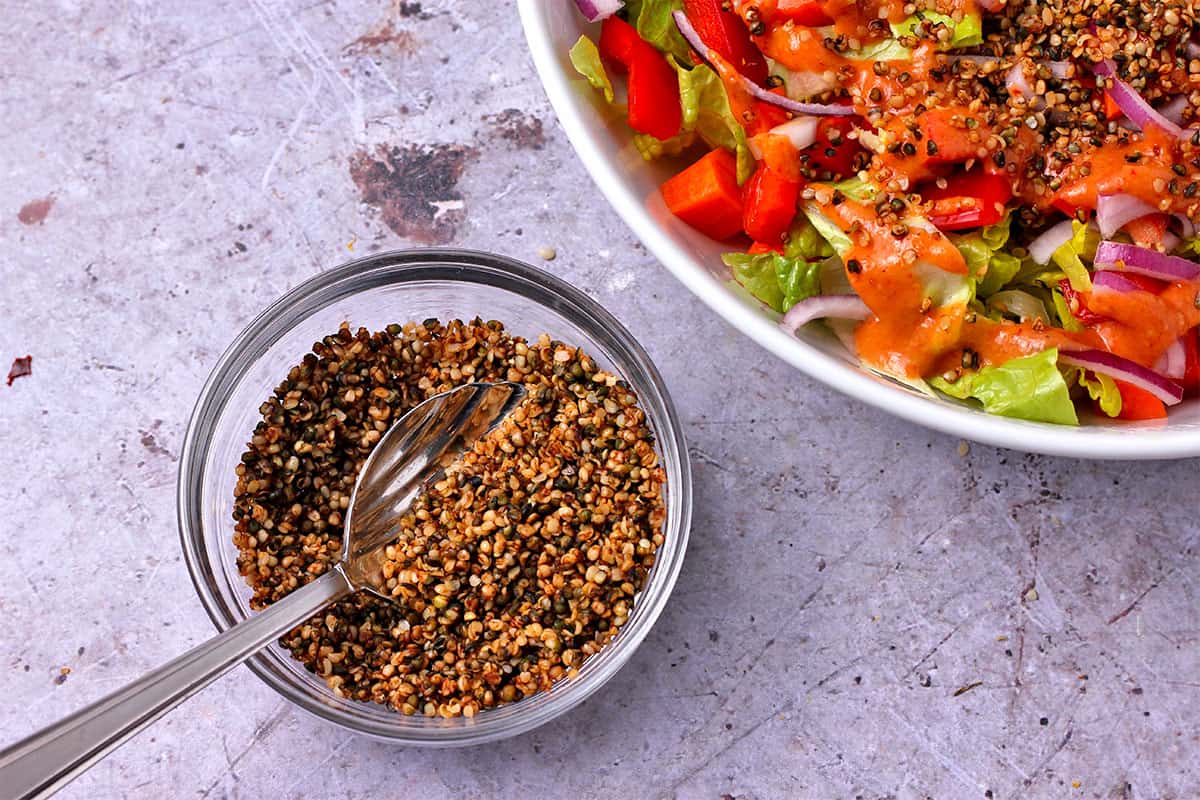 Recipe Features
Having made mountains of hemp seed parmesan for several years, how did I not realize they make amazingly flavorful bacon bits? They do, they really do!
When it comes to making vegan bacon strips, tofu bacon rules (at our house). And we certainly love our coconut bacon. But there is honestly something magical about the taste and chewy crunch of homemade bacon bits made with hemp seeds.
The smoky flavor shines through with even a little bit. And it goes a long way, which means you aren't making huge batches all the time. And the ease of this recipe is only matched by the fact that you can make a giant batch and keep them for weeks. That's if you can keep them around. But hey, we can always eat more salads, can't we?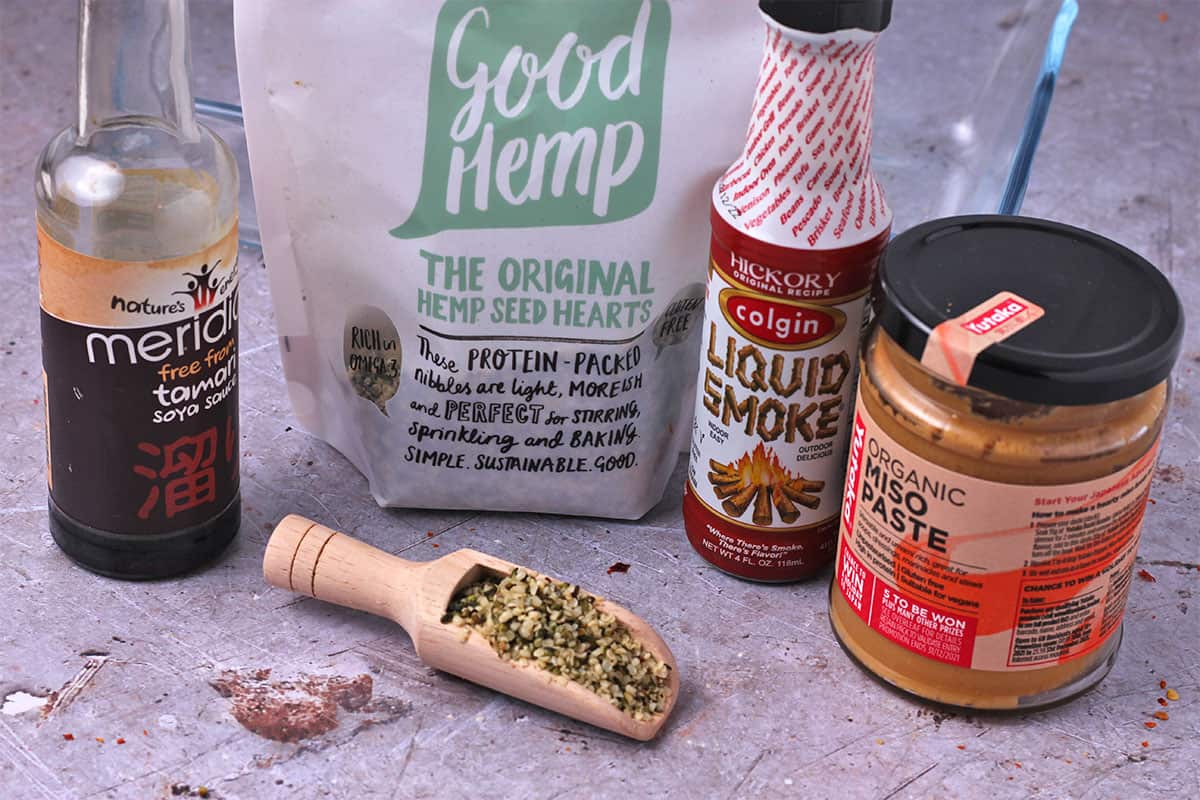 Key Ingredients
Hemp seeds – For the best result, use shelled (hulled) hemp seeds, also known as hemp hearts. They are softer and will absorb the bacon flavors. Most hemp seeds you'll find in the store are hulled. There is more info about hemp seeds in the next section.
Miso paste – Miso paste is our secret umami flavor bomb. I use Shiro (white) miso because it has a mellow flavor. You can find a lot of miso options, including soy-free.
Liquid smoke – Most liquid smoke brands are vegan. You can also find brands that are specifically gluten-free as well.
Tamari or soy sauce – I like the flavor of gluten-free tamari because it has a robust deep flavor. You can use soy sauce, dark soy sauce, or coconut aminos.  
The Skinny on Hemp Seeds
If you wanted to build a pyramid of nuts and seeds, hemp seeds would be the star on top. They are nutritional kryptonite. They are great for cooking because they have a mellow flavor that is slightly nutty but not overpowering or bitter.
Hemp seeds are most often hulled when you find them in large supermarkets or health food stores. Hulled means that the hard brown outer shell has been removed. Unlike brown versus white rice, hulled hemp seeds, also known as hemp hearts, are brimming with nutrients.
Hemp seeds are high protein and contain all 9 of the essential amino acids. For vegans or folks who eat mostly plant-based food, hemp seeds provide high levels of omega-3 and omega-6 fatty acids. So that high you feel after dishing up hemp bacon bits or hemp parmesan might just be all that nutrition. I can safely tell you that it isn't the other high you might associate with hemp. Hemp seeds don't contain THC. They are safe to eat without side effects.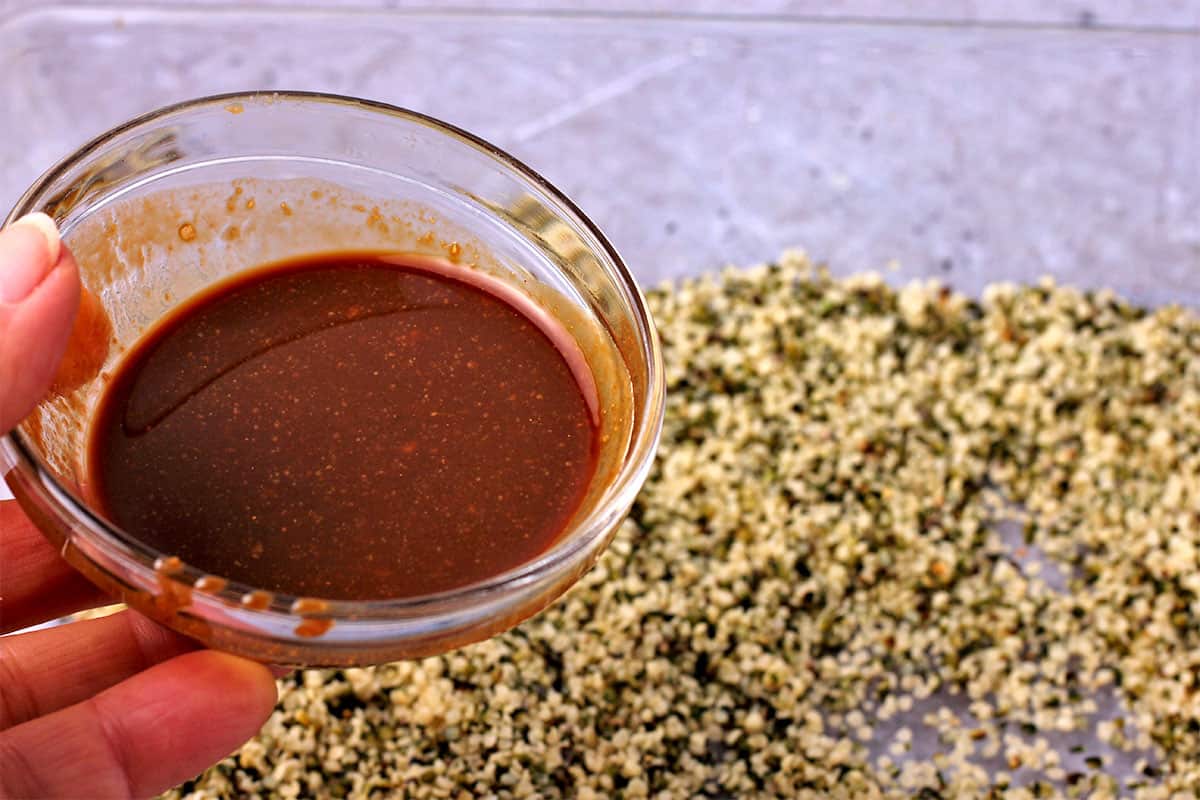 Pro Tips
Mix the 3 wet ingredients well before combining them with the hemp seeds. 
Use a big enough baking dish or baking sheet so that you can spread out the hemp seeds in a thin layer. They will cook more evenly if they are not clumped up.
Bake the hemp seeds in the middle of the oven and stir them a few times throughout cooking to avoid burning them.
The hemp seeds will dry out and harden as they cool to room temperature. Oven heats can impact cooking times, so be sure to keep a careful eye the first time you make these. You'll be a pro in no time!
Common Questions
What is the best substitute for hemp seeds?
The best substitute for hemp seeds is flax seeds. Chia seeds can also be used, although they have a hard shell. For this reason, they are less likely to absorb flavor. You can also use sunflower seeds in a pinch.
Can you freeze vegan bacon bits?
Hemp seed bacon bits will last in the fridge for at least a month; however, you can freeze them if you like. Place them in an air-tight container or sealed freezer bag in small quantities. Break them up a bit as they begin to thaw. If you want to dry them out quicker, place them on a baking sheet and bake them for a few minutes.
How long do hemp seed bacon bits last?
Bacon bits are best stored in the refrigerator and will last for over a month, although I challenge you to keep them around that long.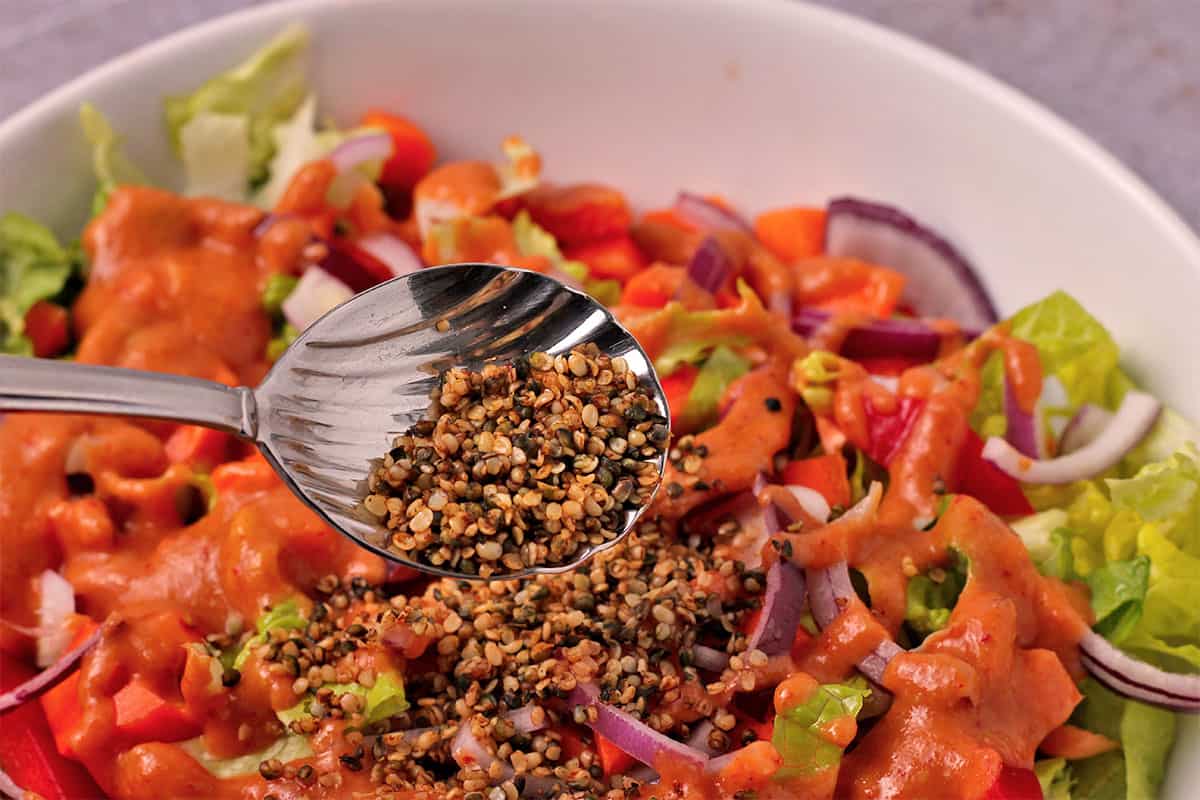 Modifications and Flavor Enhancements
The extra crunch of hemp seed bacon bits adds excitement to the top of salads. But don't stop with salads. Try mixing them in your next tofu scramble, added to avocado toast, or sprinkled over potato soup or other creamy soups. Keep a stock in the fridge, and you are set to switch up the flavor on all your easy vegan recipes.
That said, you can experiment with this exact recipe using textured vegetable protein or, for soy protein, soy mince, or diced soy curls in place of the hemp seeds. In terms of flavor, try sweetening the mix with maple syrup or spice it up with sriracha or hot sauce. Substitute half the regular soy sauce for vegan Worcestershire sauce. Add a pinch of garlic powder. Consider a teaspoon of nutritional yeast or mustard powder for a cheesy flavor.
Recipe Inspiration for Bacon Bits
Print
Smoky Hemp Seed Vegan Bacon Bits
Irresistible hemp seed vegan bacon bits are an effortless and nutritious way to add addictive bites of smoky umami flavor wherever you sprinkle them.
Author: Denise
Prep Time:

5 minutes

Cook Time:

15 minutes

Total Time:

20 minutes

Yield:

1

0

1

x
Category:

Condiments

Method:

Baked

Cuisine:

American

Diet:

Vegan
⅔ cup

hemp seeds

2 teaspoons

miso paste

3 teaspoons

liquid smoke

2 teaspoons

Tamari or soy sauce
Instructions
Preheat the oven. Preheat the oven to 4000 F. (2000 C.)
Mix liquid ingredients.

Combine the miso paste, liquid smoke, and tamari in a small dish or bowl.

Prepare for baking. Place the hemp seeds in a small glass baking dish. If you use a baking sheet, consider lining the bottom with parchment paper first to prevent the ingredients from sticking. Add the wet ingredients, mixing them into the hemp seeds until they are well-covered.
Bake.

Bake the bacon bits for 15 minutes. Stir them after 5 minutes of baking and again at 10 minutes. Be careful that they don't burn. Although they will dry out as they cool, you may want to bake them a few more minutes if they see too moist after 15 minutes.

Serve and store.

Transfer the bacon bits to a bowl or jar. Store them in an air-tight container or jar with a lid in the refrigerator for up to a month. 
Notes
Oven temperatures vary, so be sure to keep a watchful eye the first time you make this recipe. Stir the hemp seeds a few times. The bacon bits will dry out and get crunchier after baking.

Hulled hemp seeds or hemp seed hearts are best for this recipe. If you need a substitute, consider flax seeds. Chia seeds might be a bit hard. You can also use sunflower seeds.
Want to ramp up the flavor a little? Use coconut aminos to replace some or all of the tamari. Add a teaspoon (or more) of sriracha for spicy bacon bits or maple syrup to add maple undertones.
Keywords: hemp seed vegan bacon bits, plant-based bacon bits, veggie bacon bits