Stuffed seitan roast: with mushroom-cranberry stuffing
Looking for a holiday dish with a healthy twist? Let stuffed seitan roll be the centerpiece of the table. Savory, mushroom-cranberry bread stuffing is surrounded by a 'meaty' seitan (vital wheat) roast. What a treat!
As my repertoire of healthy side dishes has expanded and we've excitedly chowed down on vegan scalloped potatoes, creamed onions and everyday Brussels sprouts & grapes, something was always missing. That's the central dish that ties all those yummy sides together. This is the motivation of my quest for the perfect stuffed seitan roast.
From the Inside-out: start with the stuffing
Stuffing is just one of those things. We all have our own way of making it. Different ingredients or spices, those little things that make it special. But for stuffing's sake, let's at leady agree that it's about bread (ok, or corn bread), vegetables (onions at the least), spices and broth (or something else to moisten it). At least, that's my starting point.
Catch all
With the above in mind, I want to acknowledge that there are as many variations on the stuffing theme as there are cooks. From stuffing from a box to elaborate, multi ingredient, go to the specialty shop kind. My basic (Mom's kind) of stuffing is someplace in the middle. I like a combination of veggies including onions, celery, carrots and mushrooms. For the purposes of stuff seitan roast, it's also a good idea to include mushrooms as they will help keep your stuffing moist.
Is it stuffing or dressing?
When I started exploring this recipe, I was trying to explain it to a friend and, after looking a bit puzzled said "oh, it's seitan with dressing". What? Well, yes. Whereas the term stuffing seemed apt to me this was another reminder that not only do we have our own ingredients, we have our own names for the final dish. Thanks to the Victorian's for cleaning up that foul (or fowl) term stuffing to the nice version, dressing. I also learned that some folks call it filling (not to be confused with pies). Oh boy.
Safe conversation starter?
No matter what you call it, we're going to create a flavorful seitan roast and stuff it (yes, stuff) with our stuffing-dressing-filling. In my world we'll do it all in one pan. Then we're going to stuff it in our mouths. I don't think there's a dispute about that part of the term, but you never know. Perhaps that's a safe discussion/debate for the dinner table?
Onward to the Seitan roast
Enough stuffing about stuffing, let's get to what wraps it all up – the seitan roast.
What is seitan ("say-tan")?
Seitan or vital wheat gluten, wheat meat, wheat protein or just wheat gluten looks like flour, but it behaves very differently. Seitan is touted as a meat substitute, but it handles and behaves much differently from tofu and tempeh. First, it is not soy based. It's made from hydrated gluten (the main protein found in wheat). That gluten gets released when you knead it and it's what makes the 'dough' sticky when you handle it.
Seitanic experiences
I've been working with seitan off and on for several years and I've had my fair share of successes and failures. Not claiming expertise (I'm always learning), but there are a few tidbits I've picked up along the way. This is by no means an exhaustive list, but my highlights.
Be generous with the flavoring
Seitan on its own is just a spongy flour dough. The flavorful liquid you use, along with dry ingredients such as mushroom powder or nutritional yeast make a huge difference. I always include vegetable broth, but I nearly always add beans of some kind for texture (in this case chickpeas).
What is aquafaba?
You'll notice in this recipe that I include aquafaba and if your wondering, that's a fancy term for the liquid in the can of beans. I mostly use chickpea liquid in cooking, but aquafaba has wonderful qualities and uses from thickening to binding ingredients. I quite often use it in baking as an oil substitute.
Be resilient - The don'ts
Don't overuse the seitan – you don't need a lot to bind your ingredients and it can overpower your recipe.
Don't give up – seitan is seriously elastic. This means that it won't roll out and stay put. When I make sweet potato crust pizza, for example, I just roll out the crust and call it job done. Seitan on the other hand, requires a bit of effort and more resilience than your seitan.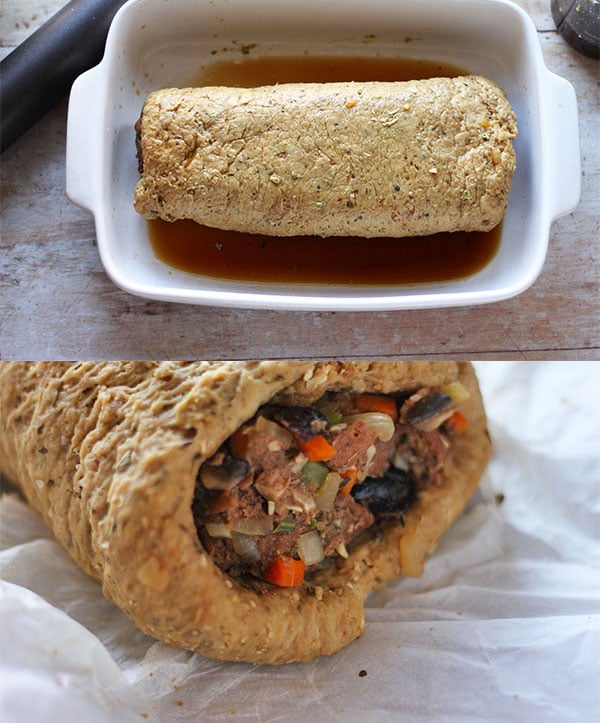 Don't expect perfection – seitan likes to express its individuality and every roast I make has its own slightly unique shape. You goal in rolling it out is to get the thickness as even as possible. Even thickness, even cooking.
Don't overbake it – overcooked seitan can take on a tough, 'bready' quality and that's not the point.
Do a flip
Don't be afraid to flip things – You'll be basting the seitan roast often to keep it moist, but I've found that the top always gets done (and quickly overdone). The bottom usually remains spongy and too 'doughy' for my taste. For this reason, I recommend that you flip it midway through the baking process. You'll notice that once you've baked the roast for 25 minutes, it won't fall apart when you handle it. I tucked 2 spatulas underneath to help and to make sure it wouldn't stick. Then, just a gentle flip over. Flipping back will be even easier.
Center and sides
There is no reason why a meat-absent table should just be filled with sides. I for one, am never focused on what I'm not eating. Of course, if those sides of creamed onions and scalloped potatoes mysteriously end up easily within my reach, you won't catch me complaining. I will say that stuffed seitan roast seriously balanced our table and hey, anything I can add more gravy to is always a pleasure.
Final Thoughts
Let's face it, the center of the table is really about who sits around it, the camaraderie, the conversations. We get to create memories with other folks. Hopefully, they are good memories, not built around winning the trigger positions. The biggest controversy might be stuffing versus dressing (with a side of filling for good measure). When you get folks around the table (even if they are the same people you see every day), be sure to have a laugh or ten. Life's too short. It's far easier to acknowledge different perspectives than it is to change deeply held beliefs. And just like stuffing, we all have our own special ingredients that make it our own. Peace.
Print
stuffed seitan roast
Make stuffed seitan roast with savory mushroom-cranberry dressing wrapped in an herbed poultry-flavored seitan roll the centerpiece of your holiday table.
Author: Denise
Prep Time:

65 minutes

Cook Time:

65 minutes

Total Time:

2 hours 10 minutes

Yield:

12

servings

1

x
Category:

Main Courses

Cuisine:

American
Mushroom-cranberry stuffing
1

medium onion, diced (1 cup)

1

medium carrot, diced (

½ cup

)

2

ribs celery, diced (

1 cup

)

1

cup

mushrooms, diced into small pieces

1 ½ tsp

. dried thyme

1 tsp

. sage

½ tsp

. ground black pepper

¼ tsp

. cayenne pepper

½ tsp

. dried marjoram

5

cups

bread cubes (about 1-inch square) (I used a whole wheat French loaf and just cut it into cubes, but any bread will do).

1

-

1 ½

cups

vegetable broth

⅓

cup

dried cranberries or cherries

¼

cup

chopped walnuts
Basting broth
1 cup

vegetable broth

1 tsp

. dried sage

1 tsp

. dried thyme

1 tsp

. dried rosemary

1 tsp

. dried marjoram

½ tsp

. ground black pepper
Seitan roast
1 ½ cups

seitan

⅓

cup

nutritional yeast

1 tsp

. ground black pepper

1 tsp

. garlic powder

1 tsp

. onion powder

⅓

cup

oats (oatmeal)

2 tbsp

. dried mushrooms or

1 tbsp

. mushroom powder

½

cup

aquafaba (liquid reserved from the chickpea can)

1 Tbsp

. tamari or soy sauce

½

cup

chickpeas (be sure to reserve ½ cup of the liquid from the can)

1

cup

vegetable broth
Instructions
Stuffing
Cut or tear the bread into cubes about roughly 1-inch squares. Place in a bowl or heap on a plate. Set aside.

Heat a large skillet or pan to medium and add the onions, carrots and celery. Sauté the vegetables for about 5-8 minutes until they start to soften. Add vegetable broth or water a tablespoon at a time if they begin to stick.
Add the diced mushrooms and the spices (thyme, sage, black pepper, cayenne, marjoram) and sauté for another 5 minutes until the mushrooms have released most of their moisture.
Turn off the heat. Add the bread cubes and mix them with the rest of the ingredients. Add ½ cup of the broth and mix to moisten the bread cubes.
Add the cranberries, walnuts and another ½ cup of the broth. Mix.
Add more broth until you have a stuffing that is moist and sticks together. You don't want it so wet that there is any broth left in the bottom of the pan, but moist enough that you can make a ball with some of it that will hold together.
You can just leave the stuffing in the skillet or transfer it to a bowl.
Basting broth
In a small bowl, whisk together 1 cup vegetable broth, 1 tsp. dried sage, 1 tsp. dried thyme, 1 tsp. dried rosemary, 1 tsp. dried marjoram, ½ tsp. ground black pepper.
Keep this handy so you can use it throughout the roasting process. 
Seitan roast
In a medium bowl, combine 1 ½ cups seitan, ⅓ cup nutritional yeast, 1 tsp. ground black pepper, 1 tsp. garlic powder and 1 tsp. onion powder. Set aside.

In a food processor with your sharp blade, add the ⅓ cup oatmeal and 2 Tbsp. dried mushrooms. Process until they break down.
Next add the chickpeas, aquafaba and tamari and blend until the chickpeas are broken down. Finally, add the 1 cup vegetable broth and blend until everything is combined.
Make a well in the center of the seitan mixture and add the wet ingredients. Combine everything and then, using your hand, knead the dough until it is smooth (you can do this right in the bowl). Knead until the dough will form a ball that is elastic. This means it will not come completely apart if you stretch it a bit with your hands.
Pre-heat the oven to 4000 F (2000 C).
Now, fetch the baking dish you will be using. This helps to guide you so that your roll will fit the baking dish. Also gather the stuffing and basting broth so both are within easy reach.
Lay the seitan dough on parchment paper or plastic wrap and then cover it with a good length of plastic wrap. Start rolling the dough out. It will be elastic, so don't get discouraged if it is a bit obstinate. Keep working at it and it will start to take shape. Aim for a length that will fit your pan and a width that is about ½ inch. Try to make the thickness as even as possible so it bakes evenly. Don't panic if the parchment paper or plastic wrap bunches up a bit (it will). Just readjust as you roll.
Once you get the seitan rolled out, remove the top layer of plastic wrap and spoon the dressing over the dough (lengthwise). Leave about 1 inch of the long edges free to help with sealing. Lift the bottom parchment paper (or plastic wrap) you rolled the dough on at one of the lengthwise edges and lift it over so that the edges meet.  Use your fingers to seal the edges. If the dough is stubborn to seal, try adding a tablespoon of the basting broth on one edge of the roll to help the edges stick together.
Add ¼ cup basting broth in the bottom of your baking dish and gently transfer the seitan roll with the sealed edges at the bottom of the pan. Use that bottom layer of parchment paper to help with the transfer. Slowly pour another ⅓ cup of the basting broth over the top of the seitan roast.
Cover the baking dish with a tightly fitting lid or cover it tightly in foil. Place the roast in the oven and bake for 25 minutes in the middle of the oven.
Remove the roast from the oven and using a spatula, gently flip the roast over in the pan. Add another ⅓ cup of the basting broth, recover and bake the roast for another 20 minutes.
Last step, remove the roast from the oven, flip it back over, add the remaining basting broth allow it to bake uncovered for another 15-20 minutes or until most of the broth has absorbed. Note – if your roast is already browned, recover it with the foil for this last step. If the roast seems too mushy or 'doughy' continue baking until it firms up.
Notes
Cook time accounts for the time needed to bake the seitan roast. Prep time includes making (and cooking) the dressing and all the seitan preparation and rolling.

You can substitute white beans (and its liquid) for the chickpeas. Your seitan may be slightly softer, but the results will be the same.
Your best bet for reheating is to wrap portions in foil and steam them. This will keep the seitan from drying out and getting hard (and incredibly chewy). If you microwave leftovers, be sure to cover it tightly in plastic.
If you happen to end up with leftover dressing after stuffing the roast, simply place it in a small baking dish, cover it with foil and bake it for about 30 minutes along with the roast.
Keywords: stuffed seitan roast