Creamy chipotle avocado dressing with a nip of spice and a twist of lime is vegan and made without oil so you can drizzle and dollop to your heart's content.
Shout out for creamy vegan dressing made with simple ingredients. And for those of you who want a healthy alternative without mayo, sour cream, or olive oil, we've got you covered. Heck, this tasty dressing doesn't even require fresh herbs, so if you aren't a fan of cilantro, it's all good.
This post contains helpful tips and tricks to ensure success on your first attempt. Below, you'll find a handy table of contents with links. But if you're in a rush, please use the link at the top to jump to the recipe card at the end!
Jump to:
Why You'll Love This Recipe
Whereas many plant-based dressings rely on cashews, we're going for the healthy fats of avocado to quickly blend up a salad dressing with an irresistibly creamy texture.
Unlike vegan avocado ranch dressing, characterized by fresh herbs, this avocado salad dressing recipe needs only scallions (green onions). Most of the ingredients are probably in your pantry or fridge right now, and we'll load you with substitutes in case they aren't.
📋 Key ingredients & notes
Avocado – This recipe is based on an average-sized ripe avocado. If you use a small avocado or half a large one, you may want to make some adjustments to the rest of the ingredients. Frozen avocado will also work.
Scallions (green onions) – Scallions have a mellow onion flavor and are delicious in blended dressings. Alternatively, use 2 tablespoons of diced red onions or shallots. In a pinch, onion powder will also do the trick.
Lime juice – We really love the flavor of zesty lime juice for this particular dressing. You can also use lemon juice or, for something non-citrus, consider apple cider vinegar or white wine vinegar.
Garlic cloves – It doesn't take a lot of raw garlic (1-2 cloves) to add a little spice to buttery avocado. If you substitute with garlic powder, start with a ½ teaspoon and add more to taste after blending.
Maple syrup – A touch of sweetness is always a good thing! You can also whiz in date paste or another sweetener of choice.
Chipotle powder – Smoky, spicy chipotle makes the perfect salad dressing; however, you can take this a few different ways. If you don't have chipotle powder, add a few chipotle pepper flakes if you have them. Also, combine ¼ teaspoon of chili powder and ¼ teaspoon of smoked paprika. For less heat, ground black pepper works.
Plant milk – Depending on the desired consistency, use up to a cup of almond milk, oat milk, or other plant milk of your choice. If you're making vegan salad dressing, stick to non-dairy products.
Salt – Salt is optional, but after you blend all the ingredients, add a pinch of kosher salt to balance the sweetness and clarify the flavors.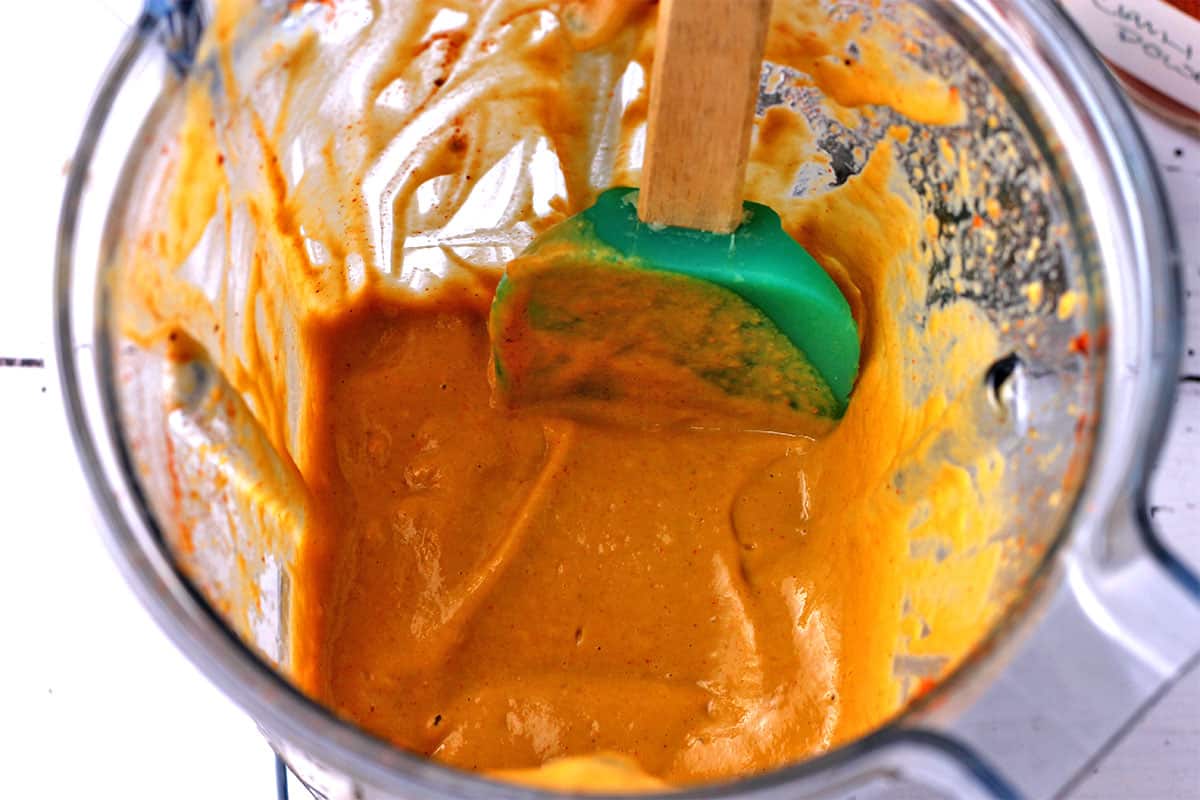 🥄 Instructions & tips
The secret to making creamy avocado dressing lies in 2 things – using a ripe avocado and blending the ingredients smoothly.
You don't necessarily need a high-speed blender, although it will whip this up in no time. You can use a mini blender or a stick blender if you like. The only difference might be whether you need to chop the scallions and garlic first.
Place all the ingredients except the plant milk in your blending device. Start at a low speed and gradually increase as the dressing ingredients combine.
Consider the purpose of your dressing as you start adding the plant milk a little at a time. If you want an avocado dip, then keep the consistency thicker. If you are slathering a creamy salad, you may want a thinner consistency. Thinner makes a perfect base for pasta or grain-based mixed salads. 
Let the dressing sit for a minute before you start adjusting the seasonings. Once the flavors mingle, the overall flavor will intensify. This is one reason why I recommend adding salt after blending. It's difficult to counter a too salty taste.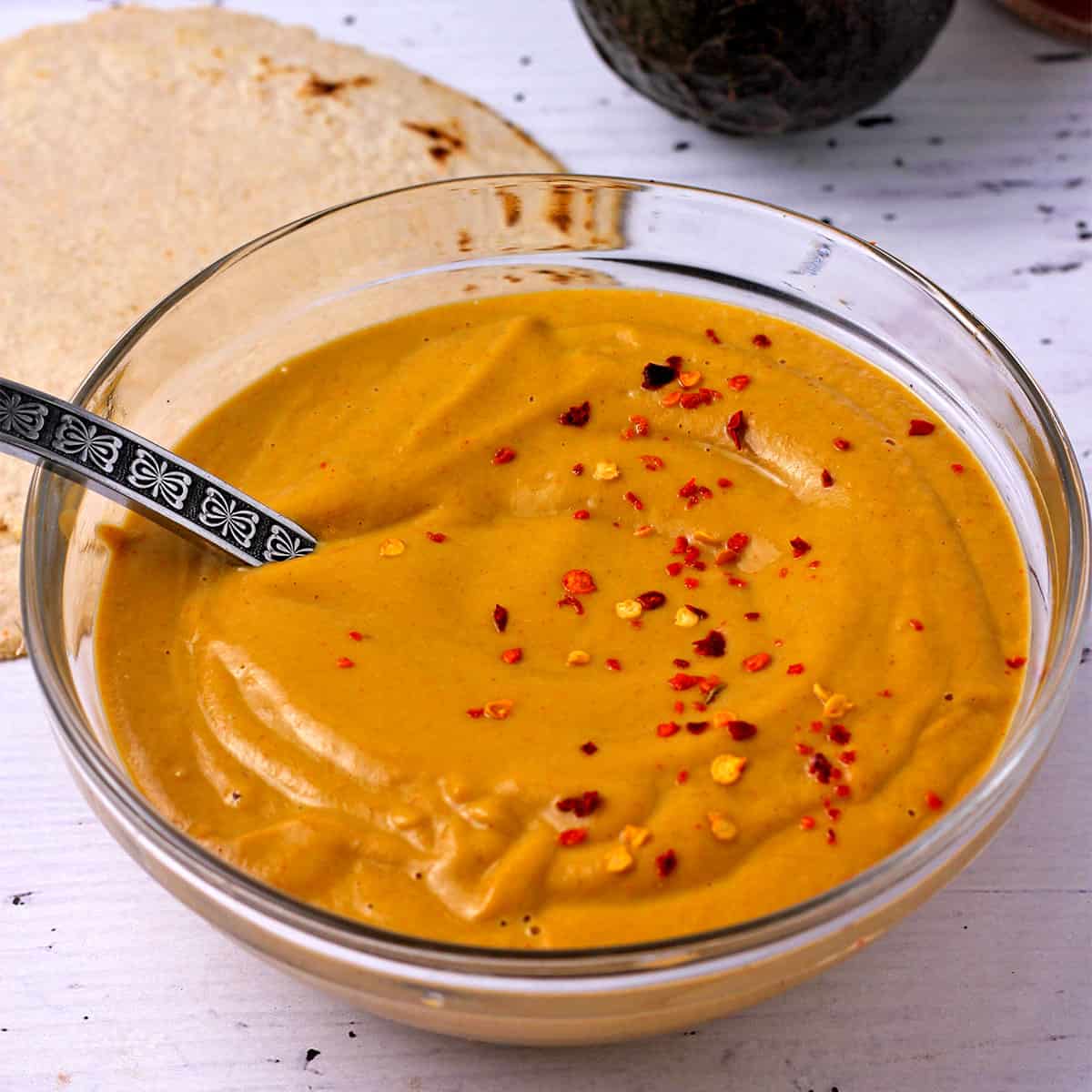 Frequently Asked Questions
How do you keep the avocado dressing from turning brown?
Once avocados are cut, they start to oxidize. That's what turns them brown. If you end up with half an unused avocado unused, rub lemon juice on it, cover it tightly in plastic wrap, and keep it in the refrigerator. This will help keep it from browning.
How do I know if an avocado is ripe?
One easy way to tell if an avocado is ripe is to check the stem or 'cap' on the bottom of the avocado. If the cap comes off easily and the flesh underneath is green or yellow, your avocado is ripe. If the end cap is tightly secured, don't force it, the avocado is probably not ready for consumption. If the avocado flesh underneath is brown, unfortunately, the avocado is likely to be overripe and brown throughout.
How much dressing will 1 avocado make?
Ultimately, the amount of avocado dressing you end up with depends on the size of the avocado and how much plant milk and lime juice you use. A medium avocado will yield about 1 ½ cups of dressing. That's about 6, 2-tablespoon servings.
Serving Suggestions
The smoky chipotle flavor of this creamy vegan avocado dressing makes it a winner on everything from your favorite summer salad to taco salad. Although spicy avocado screams black beans, tacos, or burrito bowls, you can make the spice subtle enough to compliment any grain bowl with mixed greens.
After tacos, one of our favorite ways to use this dressing is mixed with pasta. If you are making pasta salad, rinse the pasta to separate it before adding the salad dressing.
Storage
Store avocado dressing in an air-tight container for up to 2 days. The color of the chipotle and chili powders prevents this dressing from being intensely green. You may not notice avocado browning as you would with traditional avocado ranch dressing.
Be sure to stir the dressing before you serve it. Thin it out by adding more lime juice if needed.
Related Recipes
Print
👩🏻‍🍳 Creamy Chipotle Avocado Dressing
Creamy chipotle avocado dressing with a nip of spice and a twist of lime is vegan and made without oil so you can drizzle to your heart's content.
Author: Denise
Prep Time:

15 minutes

Cook Time:

0 minutes

Total Time:

15 minutes

Yield:

6

1

x
Category:

Dressings

Method:

Blend

Cuisine:

Mexican

Diet:

Vegan
1

ripe avocado

⅓

cup

lime juice

1

-

2

cloves of garlic

1

-

2

teaspoons of chili powder

1 teaspoon

chipotle chili powder

3

scallions (green onions)

2 teaspoons

maple syrup

½

-

1

cup

of plant milk

¼ teaspoon

salt (optional)
Instructions
Prep the avocado. Cut the avocado in half and remove the pit. Scoop out the flesh and place it in a blender. It doesn't need to be pretty; it's getting blended.
Blend the ingredients. Place the rest of the ingredients, except the plant milk, in the blender and blend until smooth.
Add plant milk. Add ¼ of a cup of plant milk and blend. Then start adding more plant milk until you reach the desired consistency. Taste and adjust the spices as desired.
Notes
Keep avocado dressing in the refrigerator in a tightly sealed container for up to 2 days. Stir before serving and add more lime juice to thin it out.
Keywords: avocado dressing, chipotle avocado vegan dressing, oil-free, nut-free, dairy-free