This creamy cranberry, walnut, and chickpea salad wins the prize for our best vegan chickpea salad yet! In less than 20 minutes, you too can experience divine pleasure in a packed sandwich, wrap, or just by the spoonful.
love at first bite
There is no doubt – we love chickpeas, and we love chickpea salads, but THIS one is our favorite so far. It has everything we love, a creamy dressing, sweet cranberries, crunchy celery, and walnuts, with a few scallions for good measure. What more could you want? Seriously, this is a must-try.
Pile this between 2 slices of your favorite bread, preferably homemade, and you have a cranberry walnut chickpea salad sandwich extraordinaire. If you can maintain bread restraint, make it open-faced. Or dollop it into a potato tortilla, wrap it up and move on down the road. Plan to stop for a bite before you get too far. This salad is equally delicious sitting on a bed of leafy greens.
Even if you don't regularly eat vegan sandwiches or plant-based is your exclusive, you can't go wrong with a quick and easy spread like this. The easy ingredients and simple dressing ingredients make this a big hit around our house.
ingredients
As promised, this is an easy one. I worked to pare down the ingredients for all the goodies in every bite with less fuss. Here's all you'll need:
Chickpeas – Your target is 3 cups of chickpeas (garbanzo beans) or 2–15-ounce cans (400 gm.). If you decide that you want to use another type of bean, be sure it is somewhat firm. My initial thinking is borlotti beans, although I've not tested this. Some prepared beans, such as cannelloni, are a bit mushy. If you cook them yourself, they might stand up a bit better.
Celery – Crunchy fresh celery serves as more than a filler. The natural salt helps to flavor the salad as well as provides a bit of texture.
Scallions – Scallions, green onions, or salad onions won't overpower this salad which is what we like. Use the white and green parts of the scallions and slice them thin.
I first tested this recipe with diced red onion and found them to be too strong. Another option could be shallots, although you might want to cut the amount by half or more and then add after you've blended everything.
Cranberries – Dried cranberries! I'd have them every day if I could. Recently, I started exploring different brands of dried cranberries and was dismayed to discover some of the bags contained added sugar and oil. That last one was a bit of a shocker, but it explains the shiny look and smooth feel of some dried cranberries as I compared them in packages at the store.
As always, we just need to be alert consumers if our aim is to eat foods with the lowest of additives we choose to avoid.
Walnuts – The crunchy satisfaction of walnuts is a willing complement for cranberry anything. Chop the walnuts small enough so that you make the most of ⅓ of a cup, but large enough that you know they're walnuts.
Vegan mayo – This is the one ingredient you'll want to plan for. I used homemade vegan mayo. If you wish to avoid cashews, you can make our recipe with sunflower seeds as well. You can also use a favorite commercial brand or your own recipe.
It's also possible to use homemade sour cream or commercial vegan sour cream. You may need to adjust the ingredients depending on the original flavor.
White balsamic vinegar – I swear, I can't get enough of this lovely, sweet and mellow vinegar. It doesn't overwhelm the flavor. Many recipes use apple cider vinegar for chickpea salad, but I find the mellower flavor of white balsamic complements the flavors of the other ingredients.
Lemon juice – Fresh lemon juice will give you the best of the zesty lemony flavor, but you can use a high-quality prepared lemon juice as well. I matched the amount of lemon juice and white balsamic; however, some of this will depend on the mayo you choose to use.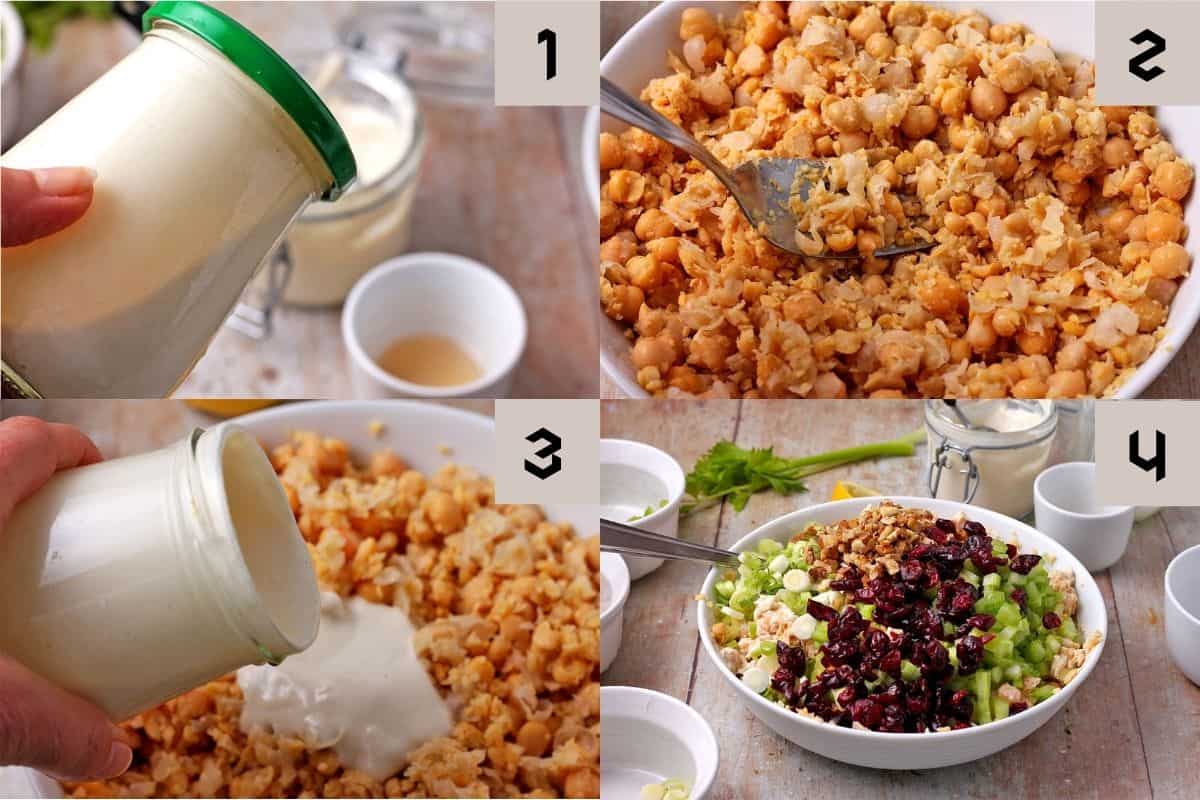 pro tips
Making this recipe is straightforward and quick. Mix the dressing by combining the mayonnaise, white balsamic vinegar, and lemon juice. I have an old mustard jar that I dump the ingredients into and then give it a shake.
The secret to creamy chickpea salads is simply to mash some or most of the chickpeas. This gives the dish a creamy texture.
I used this method for any saucy chickpea recipe, from chickpea salad with fresh herbs to creamed chickpeas and mushrooms. Ir's pretty simple, use a potato masher or strong fork and pressed cooked chickpeas. Simple!
I recommend avoiding a food processor to mash chickpeas. It's too easy to end up with something akin to hummus. That's not what we're building here.
It's up to you to leave a few whole chickpeas, I usually do, but if I'm making wraps to go, I often mash them quite a bit. This keeps chickpeas from popping out of a wrap as you bite into them. Although there might be a time for launching a chickpea as someone, it's always best if we get to control the toss.
common questions
Can you use another nut besides walnuts for chickpea salad?
If you don't want to use walnuts, pecans are a good option because they go well with cranberries. Sunflower seeds are also a tasty nut-free option.
Are canned chickpeas healthy?
Chickpeas are a good source of fiber and are packed with nutrients, including protein. Like most legumes, chickpeas are high in carbohydrates and nearly fat-free. This makes them a healthy option for anyone looking for food to satisfy without adding unnecessary fat and calories. Be sure to check the labels for any added ingredients such as salt.
Can you use 'regular' mayo rather than a vegan variety?
If you do not follow a vegan or plant-based diet, you can substitute regular, non-vegan mayo in this recipe. These alternatives have not been tested, but my advice is to add half the white balsamic vinegar and lemon juice to start and then taste and adjust.
Is there a substitute for white balsamic vinegar?
The best substitute for white balsamic vinegar is white wine vinegar. For chickpea salad, we recommend using only 3 tablespoons and adding ½ a teaspoon of pure maple syrup or another liquid sweetener.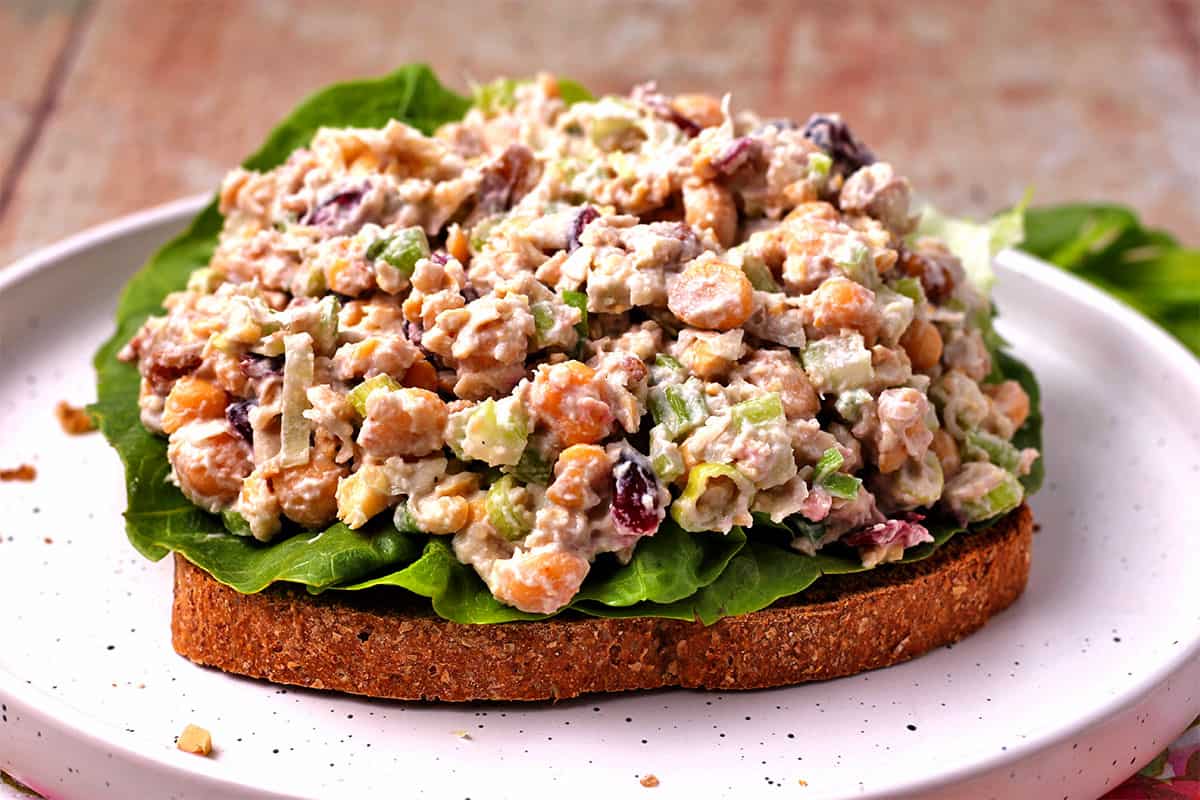 looking for more chickpea salads?
Print
cranberry, walnut, and chickpea salad
Creamy cranberry, walnut, and chickpea salad takes just 20 minutes to make, and it wins the prize for our best vegan chickpea salad.
Author: Denise
Prep Time:

20 min

Cook Time:

0 min

Total Time:

20 minutes

Yield:

6

1

x
Category:

hearty salads

Cuisine:

American

Diet:

Vegan
Salad ingredients
2

-

15

oz. (400 gm.) cans of cooked chickpeas (3 cups)

1

cup

celery, diced

½

cup

scallions, sliced thin

½

cup

dried cranberries

½

cup

walnuts, chopped
Salt & pepper to taste
Dressing
6 Tbsp

. vegan mayo (or sour cream)

4 Tbsp

. white balsamic vinegar

4 Tbsp

. lemon juice
Instructions
To make the dressing combine the vegan mayo, balsamic vinegar, and lemon juice in a jar or small bowl. Shake the jar or whisk the ingredients until they are well-mixed. Set aside until you have the rest of the ingredients prepped.

Add the chickpeas to a medium bowl and mash them a bit. This helps the dressing cling to the chickpeas and make a better sandwich filler.
Pour the dressing over the chickpeas and mix well. Mash more of the chickpeas if necessary.
Add the celery, scallions, cranberries, and walnuts to the bowl. Mix everything. Taste and add salt and/or pepper if desired.
Notes
The nutrition information does not include bread and uses our vegan mayo recipe.

We highly recommend chickpeas for this recipe; however, you can use another firm bean such as white kidney beans, borlotti, or cannelloni.
Although we prefer using our homemade vegan mayo, you can use any that you like. You may need to adjust the amount of white balsamic and lemon juice depending on the flavor of your mayo.
If you need a substitute for white balsamic vinegar, white wine vinegar is probably the best option. Start by using 3 tablespoons and adding ½ a teaspoon of maple syrup or another liquid sweetener.
Keywords: cranberry, walnut, and chickpea salad