Plant-based Dal Makhani, black lentil dahl with its mild, creamy smoothness is so wonderful that you may want to make a double batch. Honestly, it's that comfortably addictive. Good thing it's healthy and guilt-free.
Whole black lentils, also known as urid beans, black gram, vigna mungo as well as other names are the main ingredient for this simple black lentil dahl. Although you aren't likely to find black lentils in cans on the shelf, you will find them dry. Yes folks, we're going to cook our own beans.
I was a bit skeptical when I started with 1 ½ cups of lentils that I'd get 4 servings from the final recipe. Wrong, Denise. The rehydrated lentils nearly doubled in size. Unlike split red lentils, they didn't break down so easily, giving our Dal Makhani a 'creamy with texture' finish.
Urid beans are surprisingly easy to prepare. You'll need to do this from scratch as you won't be finding convenient cans lined on the supermarket shelves.
Never fear, all you need to remember is to soak them overnight. If you happen to forget, try the following quick-soak method:
Rinse and sort through your dry beans, picking out any stones or 'bad' beans.
Add the beans to a medium pot and cover them with water (about 4-5 inches over).
Bring the pot to a boil and boil the beans for 2 minutes.
Cut the heat and allow the beans to soak for at least 1 hour.
Dal Makhani isn't quite a one-pot meal, but it's still a minimal preparation. While our beans are cooking, we'll make a 'tempering' from the onions, garlic, ginger, spices and tomatoes. If you decide to add more spice, just remember that there is cayenne pepper in the bean pot. You can always adjust when you combine everything.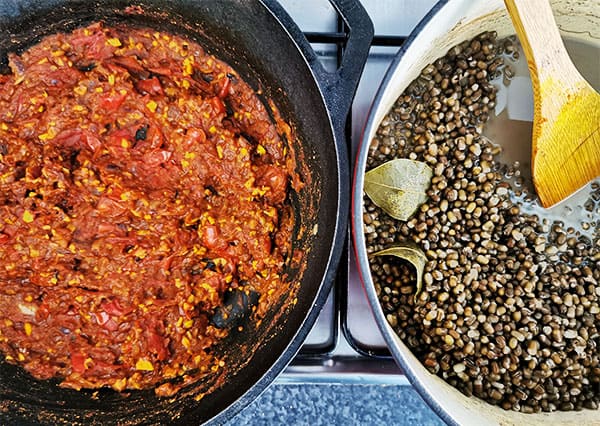 Depending on how old your lentils are, you will need about 30-45 minutes to cook them. You want the cooking liquid to reduce by about half. Don't overthink this – once you add the tempering to the lentils, you'll do another 30 minutes of cooking, so there's plenty of time to keep reducing.
Our final step in creating the ultimate in creamy dal is adding coconut milk. If you want to keep the fat to a minimum, you could also add a different kind of plant-based milk. Toss in a few drops of coconut extract to replicate the flavor.
Dal, daal, dail, dhal, dahl?
Time to clear the air. It's all the same thing! No matter how you spell it, we're talking about dried, split pulses/legumes (think lentils, peas) and all the wonderful soups made with them. What happens after that depends on which pulse, which spice and in my opinion which garnishes. For example, you'll get entirely different culinary experiences if you prepare a quick red lentil dahl or French lentil soup.
Final thoughts
I've been looking forward to perfecting Dal Makhani ever since I had a first taste of it (same day as my first date with my husband). I know my plant-based oil free version isn't entirely the same, but it definitely brought up fond memories of a rather eventful trip to the UK. It reminds me that food fills more than the physical. It can bind us to the past in positive ways. Peace.
Print
Dal Makhani: Black lentil Dahl
This creamy Dal Makhani, black lentil dah recipe with an easy spiced tomato tempering and smooth coconut milk is plant-based and oil free. Guilt-free yum!
Author: Denise
Prep Time:

5 minutes (not including soaking time for the beans)

Cook Time:

70 minutes

Total Time:

1 hour 15 minutes

Yield:

6

servings

1

x
Category:

Main Courses

Cuisine:

Indian
Lentils
1 ½ cups

(11 oz./300 gm) urid beans (whole black lentils), rinsed

4

cups

(1 liter) water

½ tsp

cayenne pepper

3

bay leaves

½ tsp

salt
Tempering
1

red onion, diced

4

cloves garlic, minced

1 Tbsp

. ginger, minced

½ tsp

. fenugreek

1 tsp

. turmeric

2 tsp

. cumin

2 tsp

. ground coriander

2 tsp

. garam masala

½ tsp

. paprika

½ tsp

. smoked paprika

1

-

15

oz. (

400

gm) can cherry or diced tomatoes

1 ½

cups

(350 ml) coconut milk
Finishing
Rice of your choice
Chopped cilantro (coriander), lemon slices, sliced red chili peppers or thinly sliced red onion
Instructions
Rinse the urid beans, place them in a large pot and cover them with water about 4 inches above the beans. Soak the beans overnight or follow the quick-soak method described above (in this blog post).

Drain the soaked beans, give the pot a quick rinse and put the beans back in the pot with 4 cups of fresh water. Add ½ tsp. cayenne pepper, 3 bay leaves and ½ tsp. salt. Bring the pot to a boil and then reduce to simmer. Cover the pot and simmer the beans for 30-45 minutes until the beans are starting to get tender and the liquid has reduced by about half. Keep an eye on the pot and add more water if necessary.
While the beans are cooking, make the tempering.
Heat a skillet (something you can cover) or medium pot and add the diced onions. Sauté the onions for about 5 minutes until they start to soften.
Add the garlic, ginger, ½ tsp. fenugreek, 1 tsp. ground turmeric, 2 tsp. cumin, 2 tsp. coriander, 2 tsp. garam masala, ½ tsp. paprika and ½ tsp. smoked paprika. Mix well and sauté for another minute.
Add the tomatoes. As they cook, break up and mash them using a wooden spoon (if using whole tomatoes, you may want to dice them before adding). Set the heat to low and allow the tomatoes to reduce and become a bit 'saucy'.
Once the beans have cooked and their liquid is reduced, add the tomato mixture, and the coconut milk. (Note: you may want to reserve ¼ cup coconut milk to add as a garnish right before serving.) Stir, reduce to medium low and continue cooking the beans for another 30 minutes until they beans are very tender and start breaking down a bit and the sauce becomes creamy.
Taste and add salt, pepper or other spices to taste.
Serve with rice if desired.
Garnish with chopped cilantro (coriander), thinly sliced red chili, sliced red onions or lemon slices.
Notes
Nutritional information does not include rice.

Prep time is based on preparing the beans. The ingredients for the tempering can be prepared and cooked while the beans are simmering.
Cooking time for the urid beans will depend on how old the beans are (older will take longer).
If you can't find urid beans, it is possible to substitute mung beans or adzuki beans. You can also substantially reduce the cooking time using canned adzuki beans. If you take this option, be sure to mash some of the beans as they cook so they break down and help create a creamy sauce.
Dal Makhani is easy to freeze and serve. Simply store it in an airtight container in the freezer and reheat in the microwave.