Crispy vegan Mongolian tofu combines oil-free baked or air-fried tofu and an easy, savory-sweet Mongolian sauce for a sumptuous plant-based delight.
Jump to:
⭐ Recipe Highlights
Healthy vegan – This recipe was carefully developed to highlight the flavor of oil-free, wholesome ingredients. We're starting by using our favorite meat alternative – tofu!
Air-fried or baked tofu – A quick soak in soy sauce and Merin (or rice vinegar)adds a little flavor. A dusting of cornstarch makes the perfect cover for crispy tofu that is as easy as it is delicious.
Simple sauce – Mongolian sauce is super easy to make. It has a balance of savory (salty) and sweet flavor that can only be interrupted by – you guessed it – more chili sauce.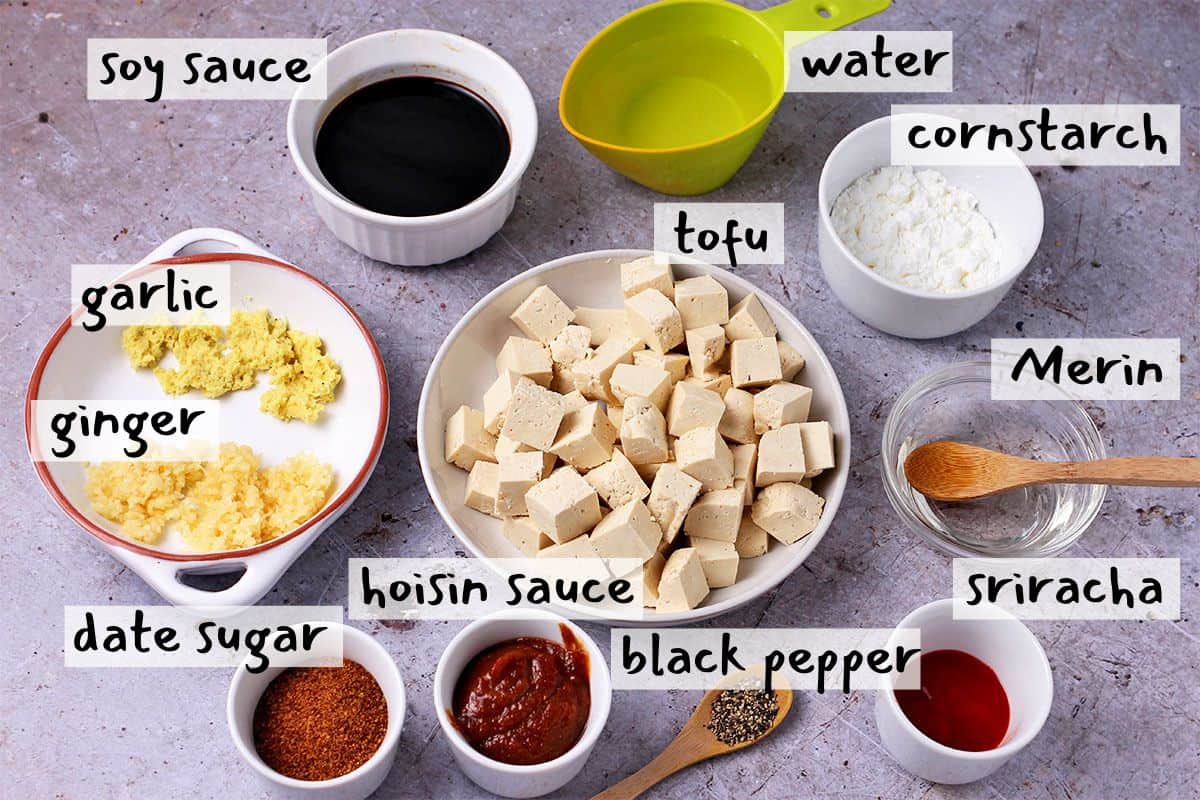 📋 Key Ingredients, Notes & Substitutions
Tofu – When making crispy tofu, it is best to use firm or extra firm tofu. Some tofu doesn't need to be pressed, and some tofu brands don't contain much moisture. But it's a good practice to at least wrap the tofu block in a few paper towels and press it. If you don't have a commercial tofu press, place it on a plate with something flat over the top. Weigh the top with a heavy object and press for 10-15 minutes.
Soy sauce – There is a total of ½ a cup of soy sauce for the sauce, plus 1 tablespoon for the marinated tofu. For a lower salt option, use lite soy sauce. Use Tamari as a gluten-free substitute, coconut aminos, or regular amino acids if you prefer them.
Merin – Merin is sweeter than rice vinegar. Still, since this is used in the quick tofu marinade, you can use either ingredient. You can also use white wine vinegar if you don't have either.
Date sugar – Mongolian beef traditionally uses brown sugar, but we're shaking things up with this Mongolian tofu recipe. So, let's use a healthier sweetener, like date sugar or coconut sugar. You can also use a liquid sweetener such as date paste or maple syrup works well too. Lots of choices when it comes to healthy approaches to a bit of sugar, friends. Lots of choices.
Sriracha – It's our favorite chili paste, but options are available. Use another chili paste such as Sambal Oelek or red pepper flakes. If some folks like it hot, serve chili sauce on the side for individual added heat.
Hoisin sauce -Hoisin sauce has a specific blend of Asian spices that enhances the sauce. Hoisin sauce can be sweet, so if you want less sugar, add 1 tablespoon of date sugar to start and adjust after adding the Hoisin. Can't find healthy hoisin sauce? There's a recipe for that 😊. Read your labels when buying it commercially.
Cornstarch – One secret to making crispy tofu is a sprinkle of cornstarch. And the other is that cornstarch tastelessly thickens sauces. This recipe uses both. I've not tried either approach with flour, but arrowroot can be used as a substitute.
🔪 Pro tips & notes
If you have a heavy pan or saucepan with a thicker bottom, that's best for simmering the sauce. Start the sauce by first heating the pan over medium-high heat. Then add the minced garlic and ginger and stir it for about 30 seconds.
Have ¼ a cup of water and the soy sauce handy, so you can immediately add it. This keeps the garlic from scorching.
If you use granulated sugar, stir that into the soy sauce mixture before adding the hoisin sauce and sriracha. This gives you a little control to check that the sugar is dissolved.
Finally, when using any thickening agent, mixing it before adding it to a simmering pot of ingredients is best. Make a slurry of 1 tablespoon of cornstarch and ¼ cup of water. Mix it separately in a small bowl, so there are no lumps. Lower to medium heat before adding the slurry. Then vigorously whisk it into the sauce.
Once the sauce is made, and you turn your attention to the tofu, lower the heat, so the sauce is barely simmering. It will continue to thicken. Stir it occasionally. If it gets too thick, add a little more water.
Prepare and cook the tofu
This recipe has a bit of timing, and that's the question of making the sauce first or after you start baking the tofu. I prefer to press the tofu for a few minutes, cut it into 1-inch pieces, then toss it in the soy sauce and Merin.
Keep the tofu pieces (cubes) bite-sized. More importantly, try to keep them uniform so they cook evenly. Add the cornstarch right before you bake the tofu.
Air fry tips. It's simple. First, preheat the air fryer to 375 degrees. Place tofu in a single layer in the basket or rack and cook tofu for about 6 minutes. Then shake it so none of the pieces of tofu stick to the bottom. Cook another 6 minutes until all sides are crispy and brown.
Baking tips: Oven-baked tofu takes a little longer than the air fry method, so you may want to bake the tofu while you make the sauce. Preheat the oven to 425 degrees. Place tofu on a parchment-lined baking sheet. This helps keep it from sticking. It should take about 15 – 20 minutes for the tofu to crisp on the top. Once that happens, flip it and let it brown and firm (about 10 minutes).
2 ways to finish this dish
Once the tofu and sauce are done, there are two ways you can finish this dish. First, toss the tofu straight into the sauce and mix it. Alternatively, dish the tofu over brown rice and then add the sauce.
💭 Common Questions
Where do I find tofu in the supermarket?
Look for tofu in the supermarket's cooler (not freezer) section. It should be with the other vegan meat substitutes such as tempeh or chilled veggie burgers. It's sometimes near the stir fry vegetables or in weird places like the end of the chilled meat cabinet.
Can I make crispy tofu without cornstarch?
If you want to omit cornstarch or arrowroot for making crispy tofu, simply leave it out. The tofu will still be brown and firm in the middle.
Is regular tofu the same as firm tofu?
When you see a block of tofu in the supermarket, it's a good chance that it's firm tofu. If you aren't sure, lightly press the package (if you can), it will be packed in some liquid, but it should have some firmness. Silken tofu is super soft and giggly like Jell-O.
🍴 Meal Prep & Serving Suggestions
To save time, you can make the sauce a few days ahead, or you can make it and freeze it. You can also press, cube, and marinate the tofu overnight. Don't add the cornstarch until right before baking.
Our favorite way to serve Mongolian tofu is over brown rice or noodles with a few toasted sesame seeds and spring onion scattered over the top.
If you want more veggies, grab a large skillet and stir fry green beans, a red or yellow bell pepper, a large red onion, and some broccoli florets. Mix that with the tofu and sauce. Mongolian stir fry, Chinese restaurant style!
🌡️ Storage & Reheating
Store leftover tofu and sauce in an airtight container for 4 days in the refrigerator. You can also freeze it. The tofu of frozen tofu will be firmer, but since it's already been baked, it's amenable to thawing and reheating. Store any leftover rice separately.
Reheat Mongolian tofu in a heavy pan. If the sauce is thick, add a little water or vegetable broth and a few drops of soy sauce. You can also reheat it in the microwave. The best way to reheat leftover rice is in a steamer basket.
📖 Asian-style Tofu Recipes You'll Love
Print
Recipe
Crispy Vegan Mongolian Tofu
Crispy vegan Mongolian tofu combines oil-free baked or air-fried tofu and an easy, savory-sweet Mongolian sauce for a sumptuous plant-based delight.
Author: Denise
Prep Time:

20 minutes

Cook Time:

35 minutes

Total Time:

55 minutes

Yield:

4

1

x
Category:

Tofu

Method:

Air Fryer or Bake

Cuisine:

Asian

Diet:

Vegan
1

block of firm or extra firm tofu 10 ounces (

280 grams

)

½

cup

+

1

tablespoon

of soy sauce or Tamari

1 tablespoon

of Merin or rice vinegar

4

cloves garlic, minced or pressed

1

small knob of minced ginger (

1 tablespoon

)

2 tablespoons

of date or coconut sugar

2 tablespoons

of Hoisin sauce

½ teaspoon

of black pepper

1

-

2

teaspoons of sriracha (or another chili sauce)

3 tablespoons

of cornstarch
Instructions
Press the tofu. Press the tofu for 15 minutes, then cut it into bite-sized cubes. In a shallow dish, combine 1 tablespoon soy sauce and 1 tablespoon of Marin. Add the tofu cubes and toss them in the marinade. Let them sit for 15 minutes while you make the sauce.
Heat a medium saucepan to medium heat. Then, add the ginger and garlic and stir them for about 30 seconds. Then add ½ a cup of soy sauce, ¼ a cup of water, and the sugar. Stir to dissolve the sugar.
Adjust the heat to low, then whisk in the hoisin sauce, sriracha, and black pepper. Whisk 2 tablespoons of cornstarch in a small dish with ½ a cup of water. When the cornstarch slurry is smooth, add it to the saucepan. Let the sauce simmer, stirring a few times while you finish the tofu.
Return to the tofu and sprinkle 1 tablespoon of cornstarch over it. Then toss the cubes, so they are covered, but no white spots of cornstarch show.
To Air Fry: Preheat the air fryer to 375 degrees (190 C). When it's preheated, place the tofu in a single layer in the air fryer basket (or rack). Fry the tofu for 6 minutes, then flip, toss, and fry for another 6 minutes until the tofu is firm and crispy.
To Bake: Preheat the oven to 425 degrees (220 C). Line a baking tray with parchment paper or a silicone baking mat, making the tofu easier to flip. Place the tofu in a single layer on the baking tray. Bake the tofu for 15 minutes, flip it and bake it for another 15 minutes. The tofu should be slightly brown and firm.
Finish. When the tofu is done, place it in a large dish or bowl, then smother it with the Mongolian sauce. You can also add the tofu directly to the saucepan.
Serve over rice or noodles. Sprinkle with sesame seeds if desired.
Notes
The prep time includes pressing tofu for 15 minutes, and the cooking time represents making the sauce and baking the tofu in the oven.
If you serve rice or noodles, consider the cooking time so it's done with the crispy tofu.
If you want tofu without cornstarch or arrowroot, simply omit it. This won't change the baking time and will still get brown, firm, and crispy.
Keywords: crispy vegan Mongolian tofu, air fryer, baked tofu, crispy tofu