This crispy vegan Mongolian tofu recipe is a delightful main dish featuring oil-free baked or air-fried tofu smothered in a savory, sweet, and slightly spicy Mongolian sauce. 
​This recipe takes full advantage of easy crispy oil-free tofu and homemade vegan hoisin sauce for a delicious and healthy vegan dinner, easy enough for a weeknight with elegance deserving of a special occasion. 
Jump to:
Why You'll Love This Recipe
✔ Healthy vegan. This recipe was carefully developed to highlight the flavor of oil-free, wholesome ingredients. 
✔ Crispy tofu. Seasoned tofu tossed in a little cornstarch is my tried and true method for tofu. It is the foundation for everything from spicy orange tofu to vegan sweet and sour tofu with veggies to Thai coconut crispy tofu curry.
✔ Simple sauce. Mongolian sauce is super easy to make and has a balance of savory (salty) and sweet flavor that can only be interrupted by – you guessed it – more chili sauce.
Ingredients, Notes, and Substitutions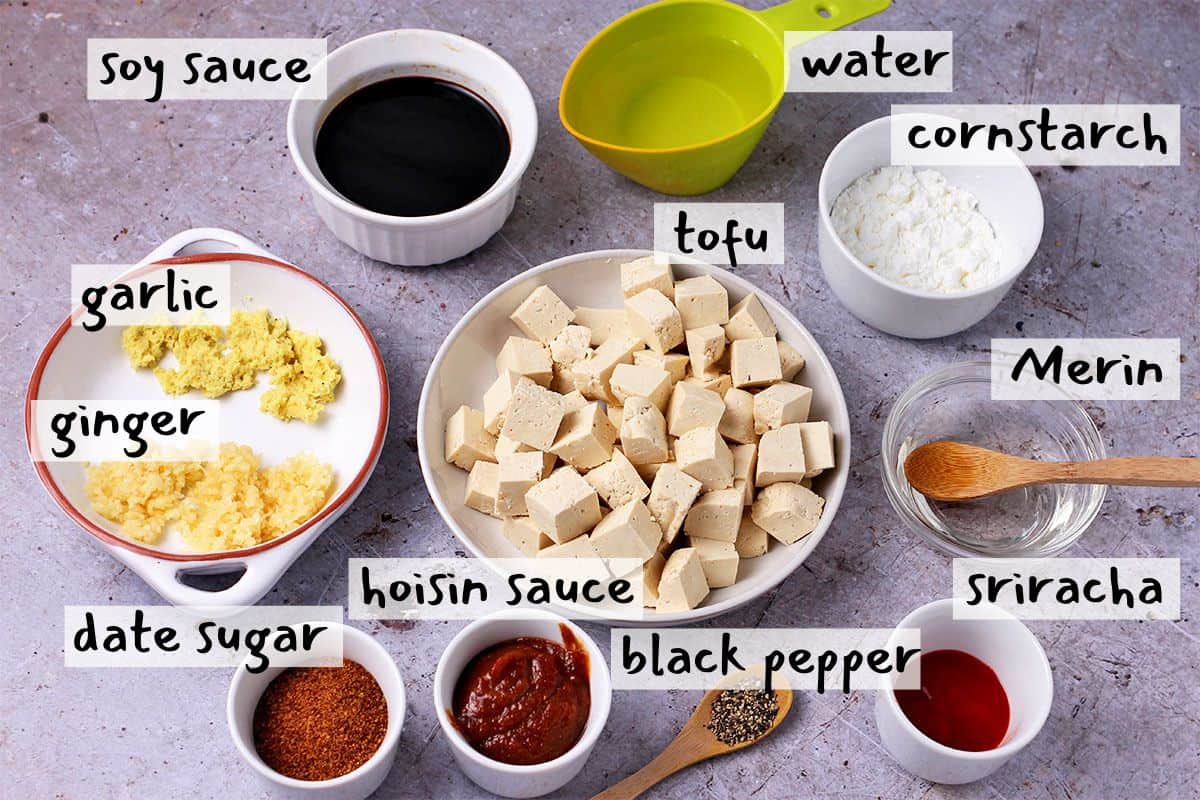 Tofu. Use firm or extra firm tofu. Some tofu doesn't contain much moisture, but it's a good practice to at least wrap the tofu block in a few paper towels and press it. If you don't have a commercial tofu press, place it on a plate with something flat over the top. Weigh the top with a heavy object and press for 10-15 minutes.
Soy sauce. There is a total of ½ a cup of soy sauce for the sauce, plus 1 tablespoon for the marinated tofu. Use Tamari as a gluten-free substitute, coconut aminos, or regular amino acids. For a lower salt option, use lite soy sauce.
Mirin. Mirin is sweeter than rice vinegar, but since this is used in the quick tofu marinade, you can use either ingredient. You can also use white wine vinegar if you don't have either.
Date sugar. You can also use coconut sugar or vegan brown sugar. You can also use a liquid sweetener such as date paste or maple syrup.
Sriracha. Look for vegan sriracha or chili sauce, including Sambal Oelek or red pepper flakes. 
Hoisin sauce. Hoisin sauce has a specific blend of Asian spices and flavor. Read your labels when buying it commercially, or use homemade hoisin sauce. 
Cornstarch. Potato starch or tapioca starch are good substitutes.  
Please see the recipe card at the bottom of this post for the complete list of ingredients with measurements plus recipe instructions.
Recipe Variations
​Make Mongolian cauliflower substituting small cauliflower florets for the tofu or bake them in the oven as cauliflower steaks. You can also play with the size of the tofu pieces. Turn them into thick sticks, similar to spicy Buffalo Tofu, and dip them into the sauce. 
Step-by-Step Instructions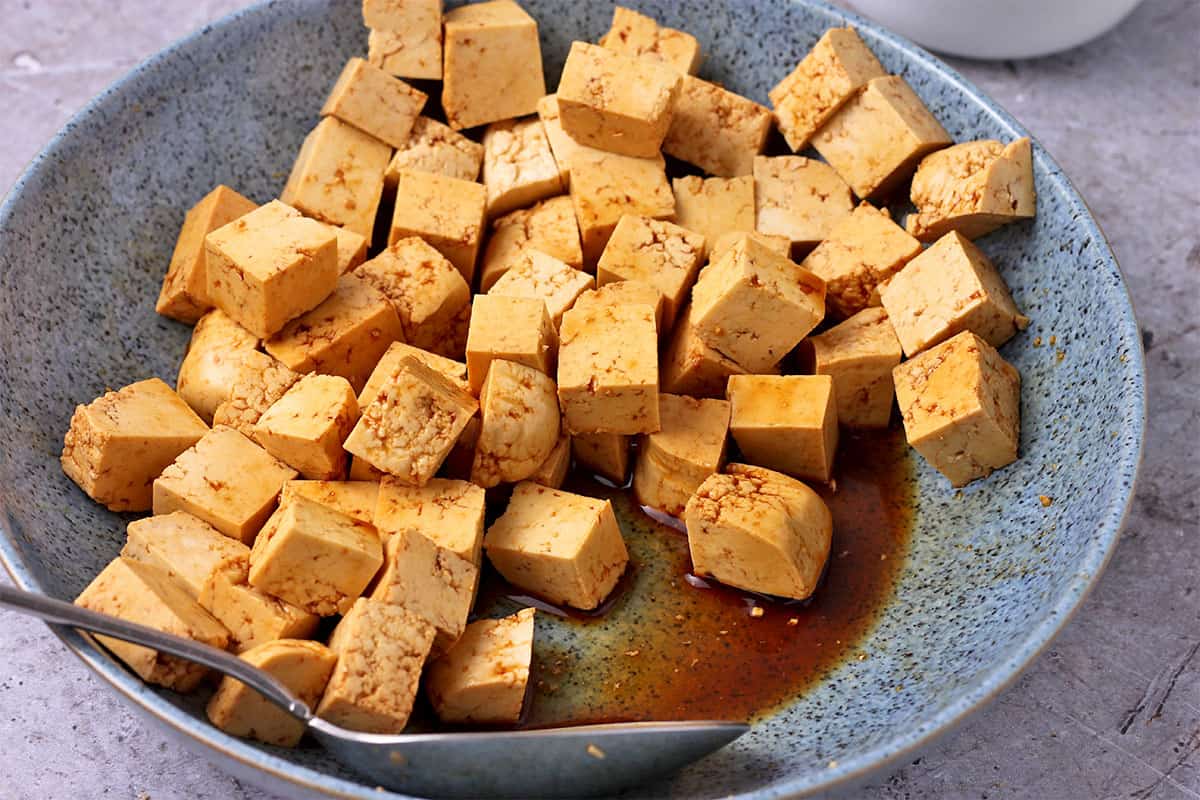 Step 1: Press and cube the tofu into 1-inch pieces, then marinate it in 1 tablespoon of soy sauce and mirin. Set aside while you make the sauce.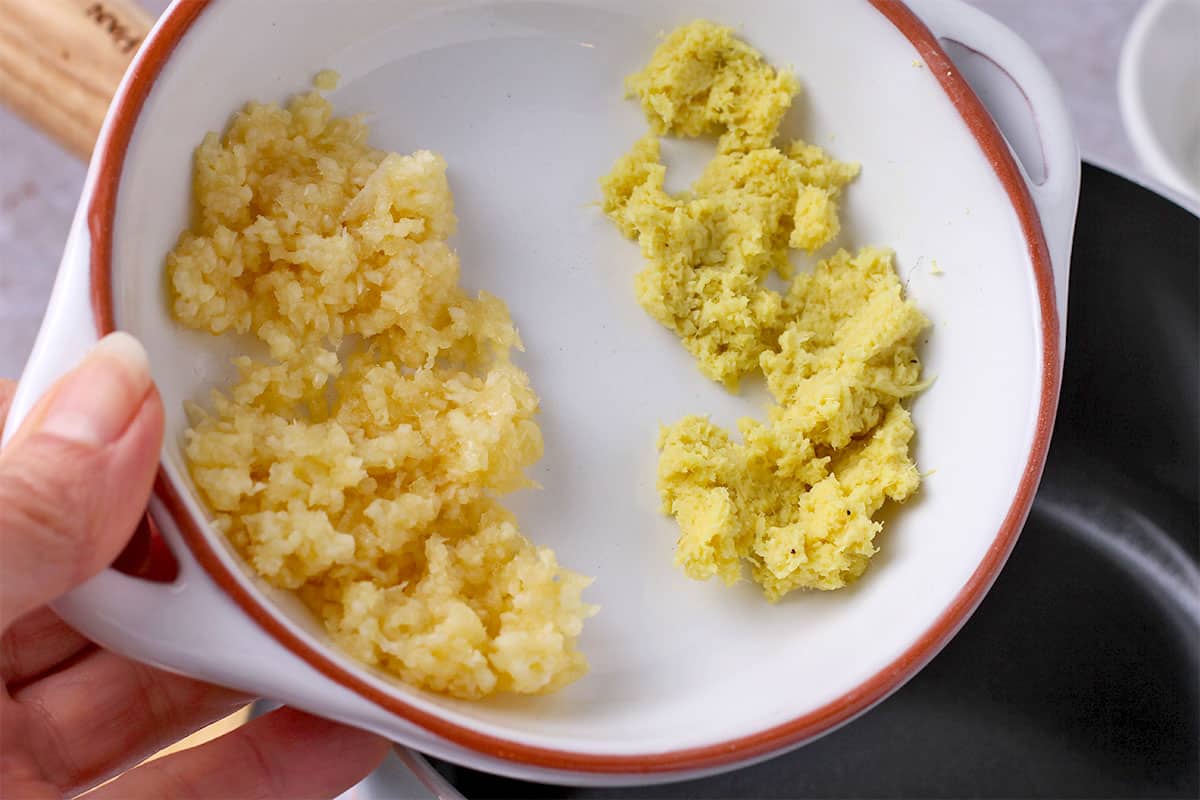 Step 2: Heat a saucepan to medium heat. Add the ginger and garlic for about 30 seconds.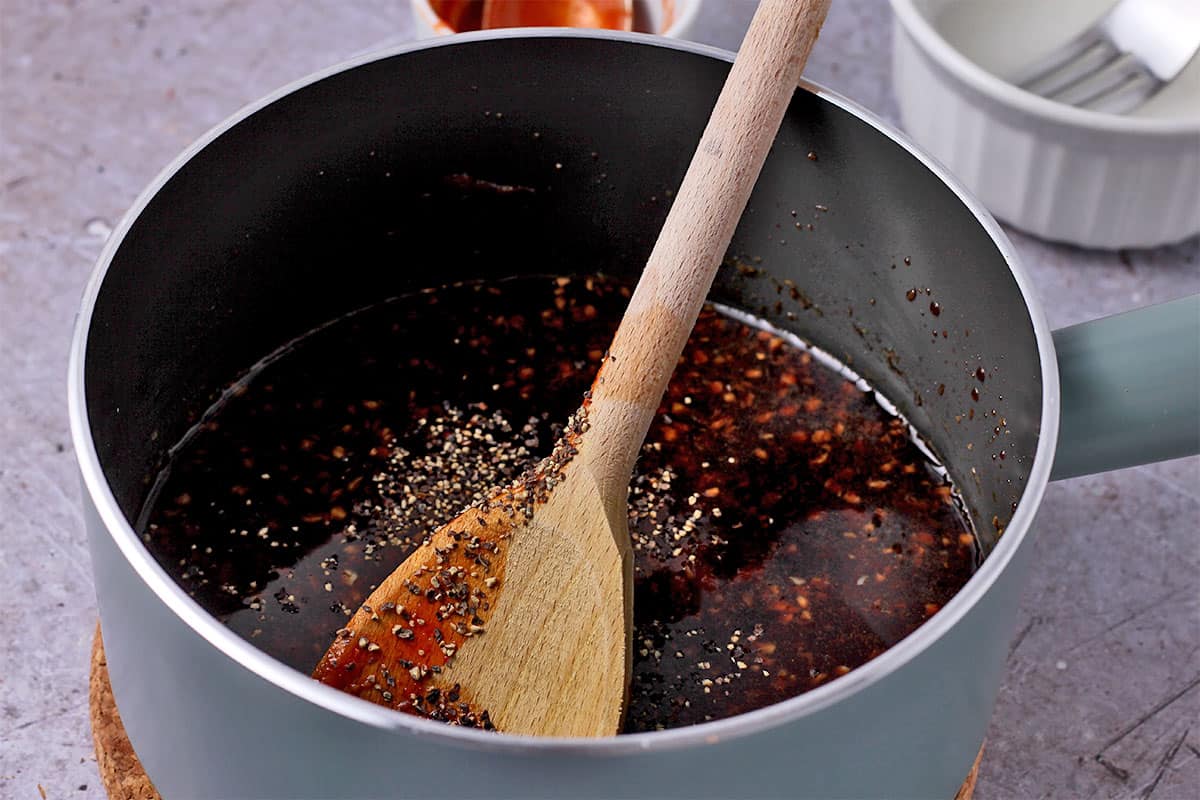 Step 3: Stir in the rest of the ingredients except the cornstarch and water. Stir to dissolve the sugar. 
Step 4: Make a slurry of cornstarch and water, then whisk it into the sauce. Simmer the sauce on low.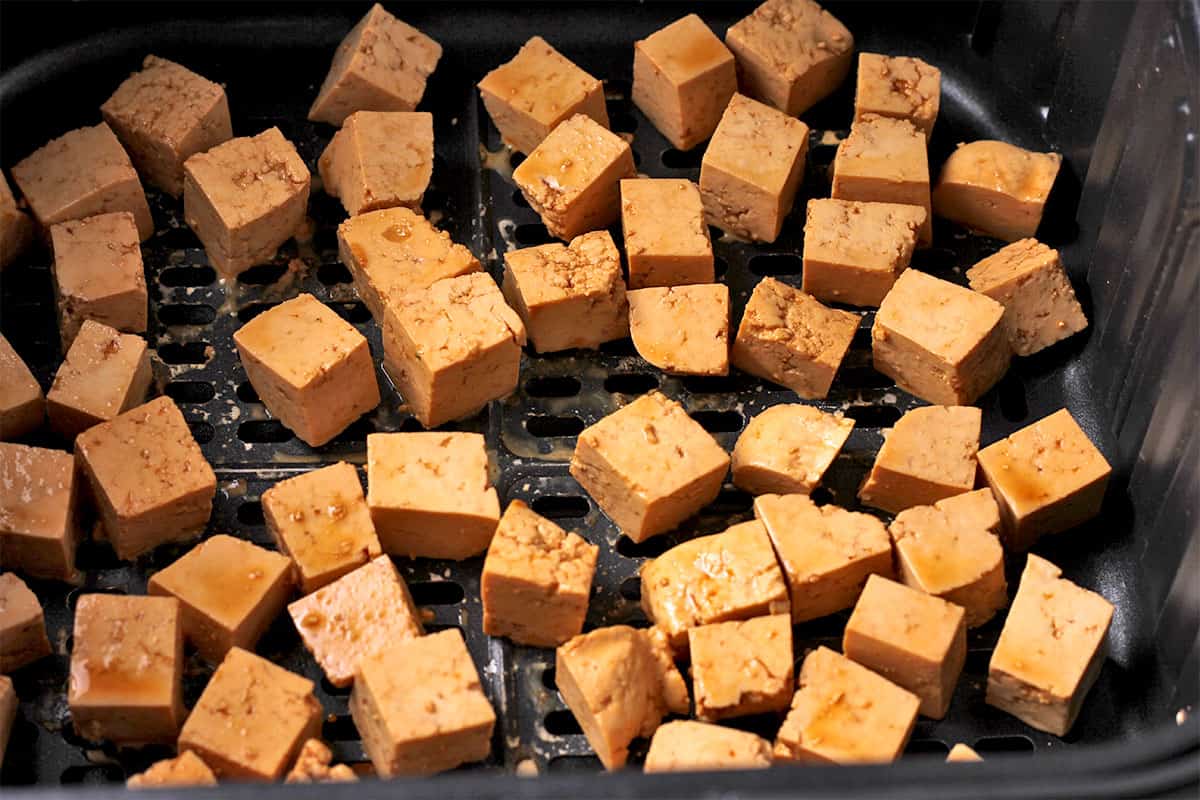 Step 5: Toss the tofu cubes in 1 tablespoon of cornstarch and add it to the air fryer basket (or a line baking sheet if baking).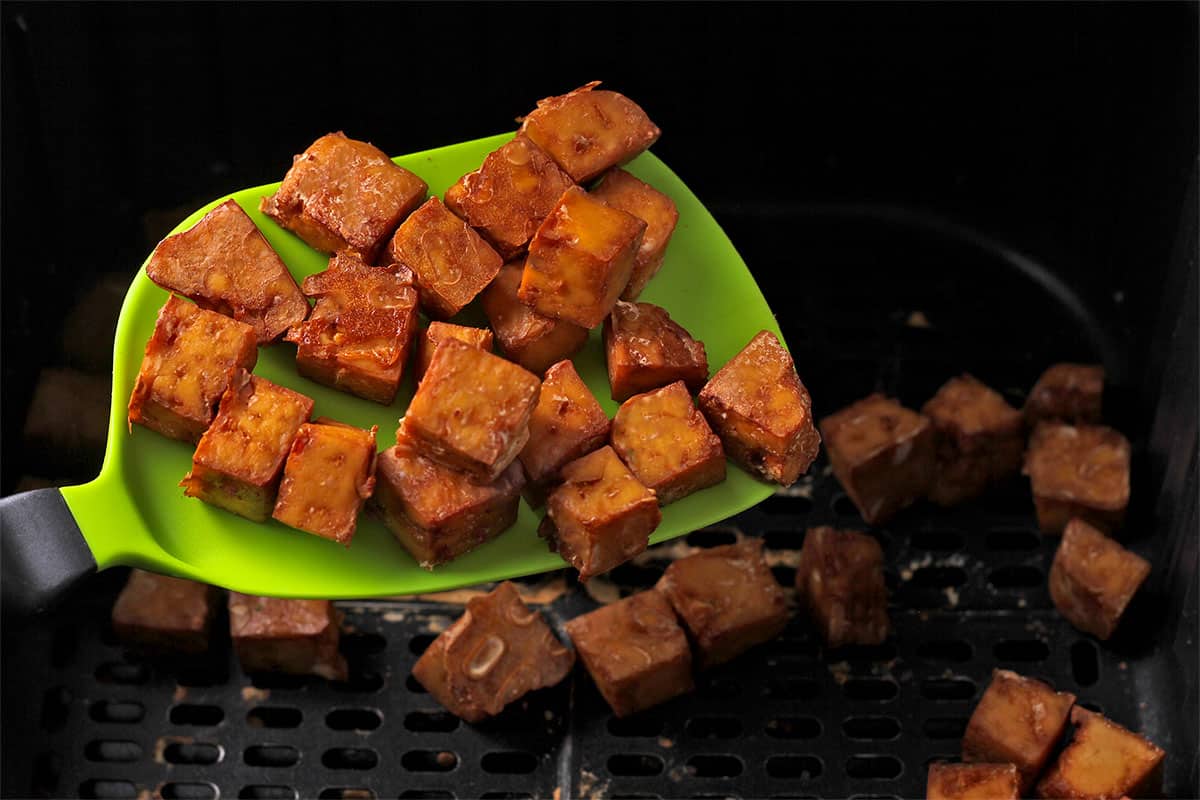 Step 6: Air fry or bake the tofu until firm and crispy.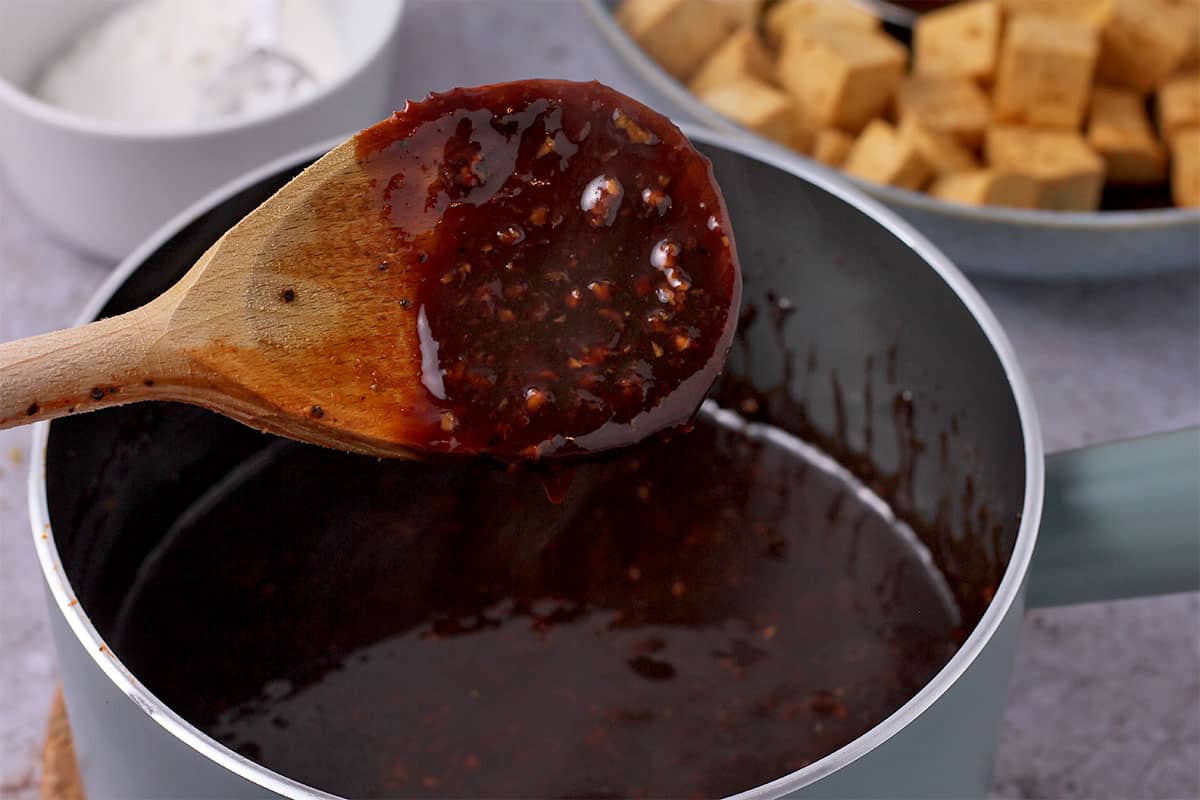 Step 7: Stir the sauce occasionally. It should get thick and sticky as it simmers.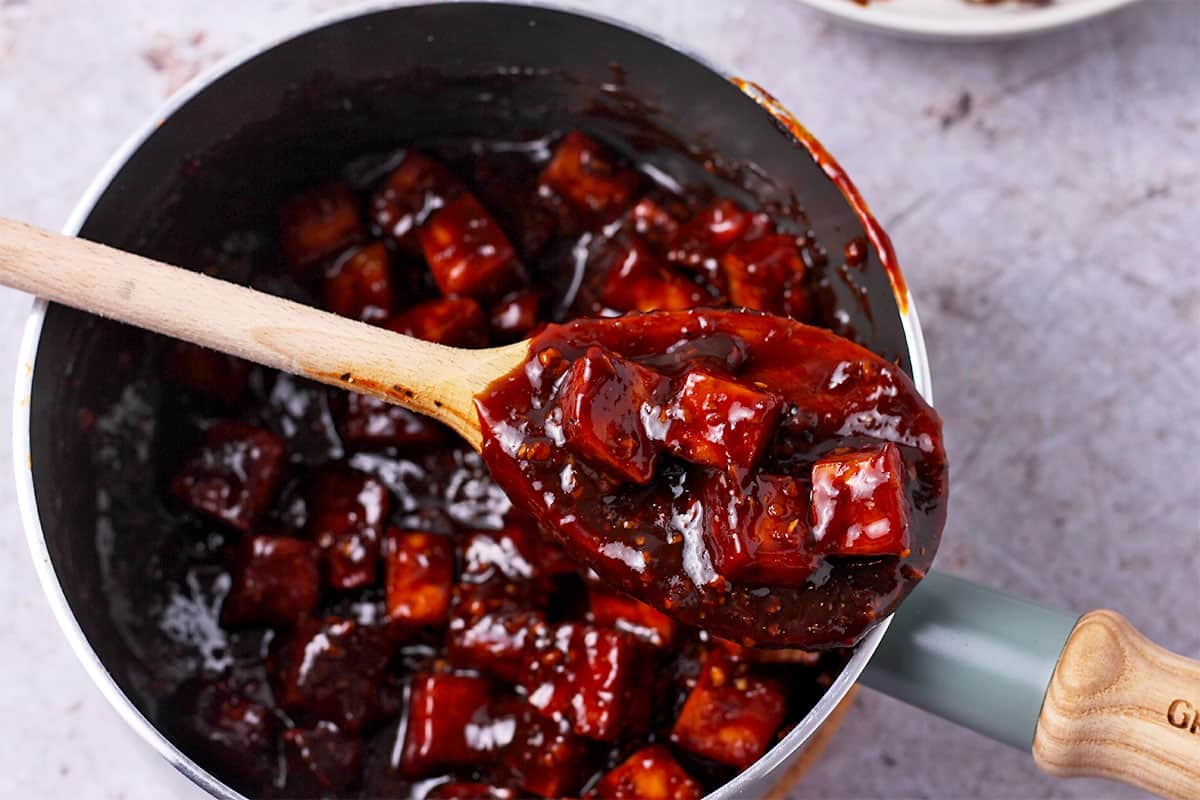 Step 8: Add the tofu to the sauce.
Pro Tips
The air fryer takes about 12 minutes plus a few minutes to preheat to 375 degrees. Air fryer heat and times can vary. Keep watch and flip the tofu after the first 6 minutes.
Oven-baking takes longer than air frying (about 30 minutes at 425 degrees). For this reason, start the sauce after you get the tofu into the oven. It's helpful to line your baking tray with parchment paper. This keeps the tofu from sticking, making it easier to flip.
If you want to meal prep, make a double batch of the sauce and freeze it. You can marinate the tofu overnight, but wait to add the cornstarch until you cook it.
Serving Suggestions
Our favorite way to serve Mongolian tofu is over brown rice or noodles with a few toasted sesame seeds and spring onion scattered over the top.
Grab a large skillet and stir-fry green beans, a red or yellow bell pepper, a large red onion, and some broccoli florets if you want more veggies. Mix that with the tofu and sauce. Mongolian stir fry, Chinese restaurant style!
Frequently Asked Questions
How do you store Mongolian tofu? 
Store leftover tofu and sauce in an airtight container in the refrigerator for 4-5 days. You can also freeze it. The texture of frozen tofu will be firmer, but since it's already been baked, it's amenable to thawing and reheating. Store any leftover rice separately.
How do you reheat Mongolian tofu?
Reheat Mongolian tofu in a heavy pan. Add a little water or vegetable broth and a few drops of soy sauce if the sauce is thick. You can also reheat it in the microwave. The best way to reheat leftover rice is in a steamer basket.
Where do I find tofu in the supermarket?
Look for tofu in the supermarket's cooler (not freezer) section. It should be with the other vegan meat substitutes such as tempeh or chilled veggie burgers. It's sometimes near the stir fry vegetables or in weird places like the end of the chilled meat cabinet.
Can I make crispy tofu without cornstarch?
If you want to omit cornstarch to make crispy tofu, leave it out. The tofu will still be brown and firm in the middle.
Is regular tofu the same as firm tofu?
When you see a block of tofu in the supermarket, it's a good chance that it's firm tofu. If you aren't sure, lightly press the package (if you can), it will be packed in some liquid, but it should have some firmness. Silken tofu is super soft and giggly, like Jell-O.
More Vegan Tofu Recipes
Do you have a question or recipe request or need a cooking tip? Leave a comment below or contact Denise. I'm here to help! If you want more healthy vegan recipes, please subscribe to my newsletter or follow me on Facebook or Pinterest for the latest updates.
If you make this recipe, please leave a ⭐⭐⭐⭐⭐ rating. It's much appreciated!
👩🏻‍🍳 Recipe
Crispy Vegan Mongolian Tofu
This crispy vegan Mongolian tofu recipe is a delightful main dish featuring oil-free baked or air-fried tofu smothered in a savory, sweet, and slightly spicy Mongolian sauce. 
Rate this Recipe:
Ingredients
1

block

firm or extra firm tofu

-

10-12 ounces

1

tablespoon

soy sauce

1

tablespoon

mirin

-

or rice vinegar

4

cloves

garlic

-

minced or pressed

1

tablespoon

ginger

-

minced

½

cup

soy sauce

2

tablespoons

date sugar

-

or coconut sugar, brown sugar

2

tablespoons

Hoisin sauce

½

teaspoon

black pepper

1-2

teaspoons

sriracha

-

or another chili sauce

3

tablespoons

cornstarch
Instructions
Press the tofu by placing it between two flat surfaces and weighing the top or with a tofu press. Press for 15 minutes.

In a shallow dish, combine 1 tablespoon of soy sauce and 1 tablespoon of mirin.

After pressing the tofu, cut it into bite-sized cubes (about 1-inch), add it to the shallow dish and toss. Let it marinate while you prepare the sauce.

Heat a saucepan to medium heat and add the ginger and garlic. Stir them for 30 seconds.

Stir in ½ a cup of soy sauce, ¼ a cup of water, and the sugar.

Adjust the heat to low, then whisk in the hoisin sauce, sriracha, and black pepper.

Whisk 2 tablespoons of cornstarch in a small dish with ½ a cup of water. When the cornstarch slurry is smooth, add it to the saucepan. Let the sauce simmer, stirring a few times while you finish the tofu.

Return to the tofu and sprinkle 1 tablespoon of cornstarch over it. Then toss the cubes, so they are covered, but no white spots of cornstarch show.
How to Air Fry Crispy Tofu
Preheat the air fryer to 375 degrees (190 C). When it's preheated, place the tofu in a single layer in the air fryer basket (or rack). Fry the tofu for 6 minutes, then flip, toss, and fry for another 6 minutes until the tofu is firm and crispy.
How to Bake Crispy Tofu
Preheat the oven to 425 degrees (220 C). Line a baking tray with parchment paper or a silicone baking mat, making the tofu easier to flip. Place the tofu in a single layer on the baking tray. Bake the tofu for 15 minutes, flip it and bake it for another 15 minutes. The tofu should be slightly brown and firm.

When the tofu is done, place it in a large dish or bowl, then smother it with the Mongolian sauce. You can also add the tofu directly to the saucepan.

Serve over rice or noodles. Sprinkle with sesame seeds if desired.
Notes
The prep time includes pressing tofu for 15 minutes, and the cooking time represents making the sauce and baking the tofu in the oven.
Store leftovers in an airtight container for 4-5 days. You can also freeze extra sauce or sauce with tofu for 3 months. 
If you serve rice or noodles, consider the cooking time so it's done with the crispy tofu.
If you want tofu without cornstarch, this won't change the baking time, and will still get brown, firm, and crispy.
Nutrition
Calories:
177
kcal
(9%)
Carbohydrates:
22
g
(7%)
Protein:
13
g
(26%)
Fat:
5
g
(8%)
Saturated Fat:
1
g
(6%)
Polyunsaturated Fat:
3
g
Monounsaturated Fat:
1
g
Cholesterol:
0.2
mg
Sodium:
2077
mg
(90%)
Potassium:
105
mg
(3%)
Fiber:
2
g
(8%)
Sugar:
8
g
(9%)
Vitamin A:
4
IU
Vitamin C:
2
mg
(2%)
Calcium:
140
mg
(14%)
Iron:
2
mg
(11%)
Nutritional information is an estimation only.
Tried this recipe?
Rate it & leave a comment below