Mediterranean sweet potato and chickpea burgers take a unique spin on traditional veggie burgers with bright and savory flavors that taste like deep sunshine.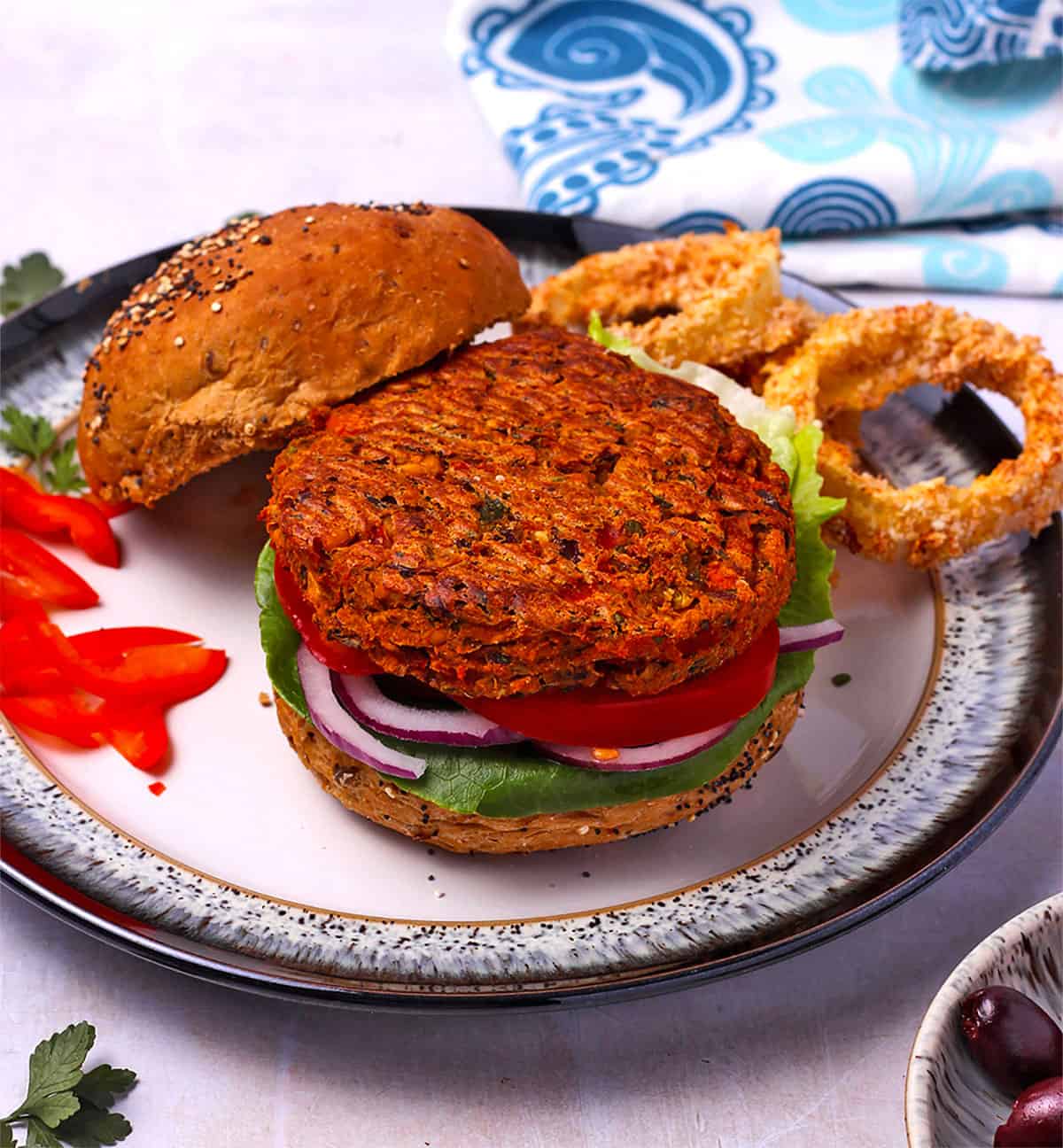 Jump to:
⭐ Recipe Highlights
Baked for healthy eating. Grab a baking sheet and take advantage of an easy way to prepare baked sweet potatoes with roasted red peppers. This means you can skip the expensive jarred peppers swimming in olive oil.
Naturally gluten-free. These vegan sweet potato burgers are unabashedly gluten-free, using chickpeas and chickpea flour or oats for binding.
Easy and hearty. Keep the baking tray handy because these baked burgers will get firm and crispy enough to give them a brilliant texture and firm center.
📋 Key Ingredients, Notes, & Substitutions
Sweet potato – Use a medium sweet potato to aim for 1 ½ cups of cooked cubes. It doesn't have to be precise because you can adjust the chickpea flour when you make the burger mixture.
Red bell pepper – The sweetness and smokiness of roasted red pepper are one of our secret favorites for everything from burger recipes to sauces to salads. A yellow or orange pepper can be used as a substitute. Green pepper may be too bitter for these burgers.
Chickpeas – Cooked chickpeas (garbanzo beans) help build a firming base for these burgers and add a kick of bean protein and fiber. One can of drained chickpeas is 1 ½ cups, which you'll need. I've not tried other types of beans, but you could easily substitute a can of black beans or kidney beans.
Kalamata olives – Because they taste like sunshine, kalamata olives are perfect for these Mediterranean-inspired vegan burgers. If you substitute, use green, not black olives.
Red onion – A small, finely diced red onion doesn't need to be precooked. Just drop it into the rest of the burger mixture.
Parsley – Either flat-leaf Italian or stronger-tasting, curly parsley will work. Chop it fine, so it is evenly distributed.
Onion powder – Even when using fresh onions, onion powder, adds a different (and not too oniony) flavor.
Garlic powder – If you decide to use fresh garlic, mince two cloves. Be careful, if you use garlic salt, you may want to eliminate the added salt.
Cumin – Some sweet potato veggie burgers use chili powder for flavor; there is a disparity in the different blends. I find that it's easier, in this case, to add some of the components separately. Quality control if you will.
Oregano – A traditional Mediterranean spice, oregano adds a little earthy flavor.
Cayenne pepper - Use a little or as much as you like to add some spice. Red chili flakes or paprika make a suitable substitute. For a smokier flavor, use chipotle pepper or hot smoked paprika.
Chickpea flour – Also known as gram flour or besan, chickpea flour is a great burger binder. Oat flour is a good substitute. If you don't have that, try grinding oats in the food processor.
🔪 Pro tips & notes
My preference for cooking sweet potatoes is to bake them. Boiling or steaming tends to make them very moist, requiring more flour. To bake them whole, pierce them with a fork and wrap them in foil. Or try my favorite way: cut them in half lengthwise and lay them on the baking tray. They cook quickly, and it's easy to monitor when they are soft and ready.
Baking sweet potatoes and peppers are notoriously messy. For this reason, you should always line your baking sheet. Parchment paper is an easy way to go, but silicone baking mats also work well and are reusable.
Remove the pepper as soon as the skin starts to turn dark brown. This is likely to happen before the sweet potato is done. For easy peeling, place the pepper in a bowl and cover it with plastic wrap. Let it cook, and the skin will slide off the pepper by the time the sweet potato is done (another 10 minutes).
Depending on the size of the sweet potato and how much moisture the cooked sweet potato yields, plan for ½ to ¾ of a cup of flour. Making the best homemade veggie burgers requires a combination of precision, practice, and the feel of the burger mixture.
Make good use of your time by prepping, gathering, and adding the rest of the ingredients. Grab a large bowl and mash the chickpeas. Use a fork or potato masher on the chickpeas. Chunky burgers with a lot of textures keep things interesting.
⏲️ Tricks for making burger patties
Here's how to test the 'feel.' When you are ready to mix the chickpea flour, measure out ¾ of a cup and set it aside. Add about ¼ of a cup, and then use one hand to mix it in. Keep the other hand free (if you can) to add a little more chickpea flour.
Test the mixture by making a patty in your hand. The patty should be firm enough to stick together and hold its shape when handled.
You don't want to overdo the flour but use enough to avoid 'spreading burger syndrome.' That's when the burger starts to expand in the oven.
Keep the burgers reasonably thin. No more than ½ an inch. This ensures that the middle gets firm (my pet peeve). Even the best veggie burger recipe in the world can be derailed by a soggy middle (my opinion).
One secret to baking veggie burgers is that they take longer on the first side than the second. This is because you want them firm before flipping, so they don't stick or fall apart. Using parchment paper or a silicone baking mat is helpful here. You can leverage the paper to peel them off the first side if they stick a little.
💭 Common Questions
What else can you use to bind veggie burgers?
Use a different, neutral flavor binder if you don't want to use chickpea flour or oats. Quinoa flour or rice flour are good options. Because cooked sweet potatoes have a lot of moisture, traditional binders such as a flax egg, tahini, or avocado won't work by themselves but could reduce the amount of flour you need.
Can I use purple sweet potatoes or yams for this recipe?
Prepare any kind of yam or sweet potato as directed. The time to bake them and the amount of moisture they contain depends on the type of potato and its individuality. You can also use leftover mashed sweet potatoes (1 ½ cups).
🍔 What to Serve with Sweet Potato Burgers
The Mediterranean theme makes this a great burger to serve loaded in a bun with your favorite toppings like lettuce, tomato, and red onion. Sliced avocado (or fresh guacamole) goes nicely too! Indeed, you can ramp them up with an excellent side dish like fries or Greek baked beans.
You can also consider serving the patties on a bed of salad, a smattering of cooked green or black lentils, classic lemon tahini dressing, or a few shots of hot sauce. Primo! For a lighter dressing, consider the herb vinaigrette we like with Greek flatbread pizza. A super-simple winner of a dressing!
🥣 Burger Condiments We Love
🌡️ Storage, Freezing, & Reheating
Let leftover burgers cool to room temperature and then place them in an airtight container or wrap them in plastic or foil. They keep in the fridge for five days.
To reheat, wrap the burgers in foil and heat them in the oven at 400 degrees for about 15 minutes. The foil will protect them from getting too brown. If you want to crisp them up a bit, open the foil for the last 5 minutes. You can also reheat a leftover burger quickly in the microwave.
These are great burgers for freezing. It's a good idea to separate them with a small piece of parchment paper, so they don't stick together. Be sure to bake them before freezing.
Print
Recipe
Mediterranean Sweet Potato and Chickpea Burgers
Mediterranean sweet potato and chickpea burgers are a unique spin on traditional veggie burgers with bright and savory flavors that taste like deep sunshine.
Author: Denise
Prep Time:

10 minutes

Cook Time:

65 minutes

Total Time:

1 hour 15 minutes

Yield:

4

1

x
Category:

Burgers

Method:

Bake

Cuisine:

Mediterranean

Diet:

Vegan
1

medium sweet potato (

1 ½ cups

cooked)

1

small red bell pepper, deseeded and cut in half

1 ½

cups

cooked chickpeas (15-ounce can)

10

-

12

kalamata olives, chopped (

¼ cup

)

1

small red onion, chopped

¼

cup

chopped parsley

2 teaspoons

onion powder

2 teaspoons

garlic powder

1 teaspoon

ground cumin

1 teaspoon

oregano

½ teaspoon

cayenne pepper

1 teaspoon

black pepper

1 teaspoon

salt

½

cup

chickpea flour (see notes for substitutions)
Instructions
Bake the sweet potato and red pepper. Preheat the oven to 425 degrees (220 C.) and line a baking sheet with parchment paper. Scrub the sweet potato and cut it in half lengthwise. Cut the pepper in half, and remove the stem, seeds, and core. Place the sweet potato and pepper cut side down on the baking tray.
Remove the red pepper when the skin browns (15-20 minutes). The sweet potato may take another 10 minutes before it is soft. Remove the potato and let it cool.
Add the chickpeas to a large mixing bowl and mash them with a potato masher or fork. Then add the olives, onion, parsley, onion powder, garlic powder, cumin, oregano, cayenne pepper, black pepper, and salt.
If the oven has cooled, reheat it to 400. Line the baking tray with fresh parchment paper or a silicone mat.
Peel the skin off the red pepper and dice it into small pieces. Remove the skin from the sweet potato halves and dice them into small cubes.
Add the pepper and sweet potato to the chickpea mixture and mix the ingredients well.
Measure out ¾ of a cup of chickpea flour and set it aside. Add about ¼ of a cup of flour and use your hand to mix it with the rest of the burger mixture. Use your free hand to add more flour, a little at a time, until you can form a ball or small patty that doesn't fall apart.
Divide the burger mixture into quarters and form about ½ an inch thick patties. Place them on the baking tray and bake for 20-25 minutes or until brown. Then flip and bake for 15 minutes until the middle is firm and the outside is brown and a little crispy. 
Notes
You can use any color or type of sweet potato or yam you like. Note that the time they bake and their moisture content can vary.
You need a dry binder such as chickpea flour for the burgers. If you substitute, use neutral-tasting flour such as oat, quinoa, or rice flour. You can also grind 1 cup of whole oats in a food processor and use this to bind the burgers.
The burger baking time can vary depending on how thick the burgers are and your oven idiosyncrasies.  
Keywords: Mediterranean sweet potato and chickpea burgers, vegan, gluten-free