Spicy orange and beetroot salad with savory baked tofu, abundant with a combination of sugary orange and beets, peppery arugula and radishes, sweet-tart cherry tomatoes, Halloumi-flavored tofu, and a spicy orange pour-over dressing.
We've been making a version of orange and beetroot salad for ages, but who says greatness can't improve? It can. And this recipe proves it. Although this salad remains simple, built on a foundation of oranges and roasted beets, it's the tofu that made the impact and changed the way we serve it for good (and for the goodness).
Rubbed Tofu
I'm using an entirely new recipe for the tofu. The flavor is based on Halloumi cheese. It's savory (salty) and a bit herby with a liberal addition of dried oregano and lemon juice and nutritional yeast to round it out.
The marinade is more rub than liquid. Get your hands messy here because if you take a few minutes to rub all that flavor into each slice of tofu, you will be richly rewarded. You can marinate the tofu at room temperature or place it in the fridge. It won't make much difference. If you decide to make this the night before, cover the dish and keep it in the refrigerator.
The tofu is the first place to begin this recipe because it requires the most downtime. First, you need to press the firm tofu block, then marinate it, then bake it.
How to press tofu
I've been a confirmed tofu presser for a long while now, and I'm convinced that pressing is possibly the most crucial step to prepare it. If you, like me, loath mushy tofu, then know that pressing is your super-power.
It's important to note that when I'm talking tofu here, it's the firm kind. That works best for baking, dry frying, and making sheet pan marvels like bacon. There are a few kinds of tofu presses out there. I've got one and have used it to the max. You can get the same pressing impact if you use a plate and something flat with something heavy placed over the top.
If you are using the plate-flat surface method, remember to use a plate or something that will catch the moisture that will accumulate. Don't roll your eyes. I once decided to press it between 2 cutting boards and came in to find the counter (and floor) required yet another cleaning job. You don't need a deep dish, just something with a little curve.
Do a little pre-planning about how long you want your tofu strips. Before pressing, cut the block into thirds or quarters. Separate them slightly, if possible. This helps to get more moisture out of the middle.
Don't slice your tofu into small strips or little cubes before pressing. Otherwise, the shape will collapse and may compress so much that even the strongest marinade won't penetrate it.
Allow about 20 minutes for pressing. You can also press it a day before, but if you are marinating it anyway, get it started, cover it, and leave it. I've personally forgotten about it for 2 days without any problem.
If you start with a huge block (this recipe uses 8 ounces) or you're making this salad for only a few, then press the block. Freeze half and carry on. Frozen tofu, once thawed and baked, will have a less spongy texture. So, if you are tofu-resistant, freezing is worth a try.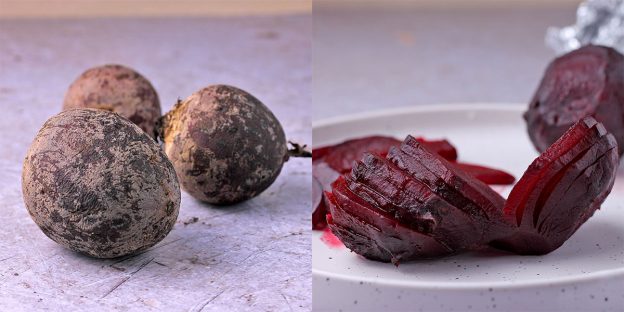 Beetroot – roasted or packaged
I've made this recipe using pre-cooked beets (the kind in the vacuum seal) and by roasting my own. Both are delicious. If you opt for the convenience of pre-packaged, make sure they aren't packed in brine (pickled). Those can be pretty yummy, but they would likely overpower all the other flavors of this recipe.
Here's what I've learned: baking beets is easy! Simply scrub the skins a bit, then wrap them individually in foil. This helps them to create a bit of steam and cook quicker, with a side of mess prevention. Bake them on a tray just in case any juice escapes.
Bake the beets at 4000F (2000C) for 40 - 50 minutes. This time can vary depending on how big your beets are. Check every 20 minutes or so during the baking process to ensure that they aren't drying out too much. Use an oven mitt to gently open one of the foil packs and, if they are dry, add a tablespoon of water over the top.
The beets are done when you can easily pierce them with a fork. Allow them to cool by opening each packet so the steam can escape. Once they are cooled, you can peel them and slice them. Try removing the peeling by grabbing a beet with a paper towel and rubbing the skin off.
Roasting beets leaves them tender and silky and concentrates their sweet flavor, but you can also eat them raw. They will be a bit less sweet that way and will have a nice crunch.
Options are good.
Prep the oranges
I don't consider the tofu messy, but let's agree, the oranges can be. Start by using a cutting board that allows for draining or that will capture the juices. I've also used a large baking dish with a cutting mat placed inside.
Slice the ends off your orange and then cut away the peel and as much of the pith (the white part) as you can without completely destroying the orange. A little pith won't hurt anyone.
Once you get the orange peeled, grab a bowl and hold the orange over the bowl with one hand. Carefully, very carefully, slice through the membrane of the orange and bring your knife up to cut the segments away. Don't throw away the membrane once you've removed the orange segments. Squeeze the juice out over the orange slices. This is what we'll use for the pour-over dressing.
The Pour-over
Here comes the spicy! Seriously, I made a pour-over that is nothing more than orange juice and Tabasco. Just drizzle a bit of sweet and spice over the top of everything.
This is where the strategy of using a bowl to capture the juice comes in handy. You want about ½ cup of orange juice, so if you've not collected enough from the orange segments, juice half a fresh orange or just add some from a carton if you have it handy.
I used to believe that I needed a thick creamy salad dressing, or it just wasn't a great salad. And at times (like often) it's what I live for. But orange and beet salad doesn't require this.
If you think you simply must have a thick creamy dressing, blend in a few tablespoons of ground flax or chia seeds (like we did for Chipotle cream). You can also grind some pepitas (pumpkin seeds) and blend them with the juice and Tabasco for a thick, creamy dressing. We did that for creamy cilantro lime dressing.
Final Thoughts
It might appear that I took a bit of a 'kitchen sink' approach to this one, but believe me, this salad has been an evolution over the years. When we get a craving for beets, it's the first recipe we turn to. You'd think it would be hummus, but something about the idea of beets, savory tofu, and spicy orange ignites a Pavlovian response. It could be the variety of colors and textures I'm going to get to dig in to. But, the way you feel after eating a big plate of goodness? Now that's addictive. Peace.
Print
spicy orange and beetroot salad with savory tofu
Spicy orange and beetroot salad with savory baked tofu, and spicy, oil-free dressing is bursting with flavors, textures, and plant-based deliciousness.
Author: Denise
Prep Time:

50 minutes

Cook Time:

65 minutes

Total Time:

1 hour 55 minutes

Yield:

2

big salads

1

x
Category:

Salads & Bowls

Cuisine:

Meal Salad

Diet:

Vegan
Savory baked tofu
1

small block of firm tofu (8 oz. or

250 g

m.)

3 tbsp

. freshly squeezed lemon juice

½ tsp

of sea salt (adjust to your preference as needed)

2 tbsp

nutritional yeast

1 tbsp

. dried oregano

½ tsp

. ground black pepper
For the rest of the salad
2

-

3

fresh beets (2 cups sliced)

3

-

4

medium navel or other oranges (the 4th is a reserve if you need the juice)

4

cups

arugula (rocket)

½

cup

sliced radishes

1

cup

sliced cherry tomatoes
Orange pour-over
½ cup

of orange juice

¼

-

½

tsp. Tabasco or other hot sauce
Instructions
Cut the tofu into quarters before pressing. Use a tofu press or between a plate with a top of a flat surface weighted down. Press for 20 minutes.

While the tofu presses, prepare the rub (marinade) by combining the lemon juice, salt (if using), nutritional yeast, oregano, and black pepper in a small dish.
Grab a shallow dish and rub each of the tofu slices with the marinade. Place the slices in a shallow dish or rimmed plate and allow them to sit for 30 minutes or overnight.
If you are roasting the beets, scrub each and wrap them in foil. Place them in a preheated oven on a baking tray in case they leak a bit. Bake at 4000 F. (2000 C.) for 40 – 50 minutes, checking periodically to ensure they are not drying out. The beets are done when you can easily pierce them with a fork. Allow the beets to cool before you peel and slice them.
Slice the cooled beets into bite-sized pieces.
If the timing works out, you can also start baking the tofu while the beets are roasting. Otherwise, bake them at 4000 F (2000 C). Lay them on a baking tray lined with parchment paper. Bake them 15 minutes on one side, flip them and bake for another 10 minutes or until they are browned and firm.
To prepare the oranges, cut the ends off 3 oranges and then set them on a cutting board and cut off the skins and pith. Then hold each orange over a bowl with one hand and use a knife to cut the fruit from each membrane. Keep them in the bowl until you are ready to add them to the salad plates. Squeeze the leftover membranes over the bowl to capture the juice.
To assemble the salad, split the rocket into 2 – 4 portions (depending on how many salads you are making). Lay them on a place, then add the oranges, beets, radishes, tomatoes, and tofu.
Once you've added the orange slices to the salad, place the reserved juice in a small dish, add ½ tsp. of Tabasco (more if you like it hot). That's the dressing.
Serve the salads immediately with the dressing on the side and more Tabasco if desired.
Notes
The nutritional information is for 2 huge salads. This salad is also a fantastic dish to serve with a flavorful soup or lentil dish.

The tofu can be pressed and marinated a day before. Cover the tofu after you've rubbed it, cover it, and keep it in the fridge until you are ready to bake it.
The beets can also be roasted a day before. Place the wrapped and cooled beets on a plate and store them in the fridge.
Prepping the oranges can be a messy business. Use a cutting board with a rim or place a baking mat in a rimmed baking tray or dish. Don't forget to cut the orange segments over a bowl to capture all the juice.
Keywords: orange and beetroot salad