Easy Instant Pot lentils with tamarind sauce transform 11 healthy ingredients into a tangy-sweet, barbecue flavor of satisfying lentils for an irresistible one-pot vegan meal. No Instant Pot? No worries, we've got stovetop instructions.
The bright, intense sweet-sour flavor of tamarind paste with a splash of tomato paste and maple syrup makes a quick and distinctive sauce. Toasted cumin seeds and garam masala give the lentils an Indian-inspired barbecue taste. No wonder this is one of our favorite one-pot meals.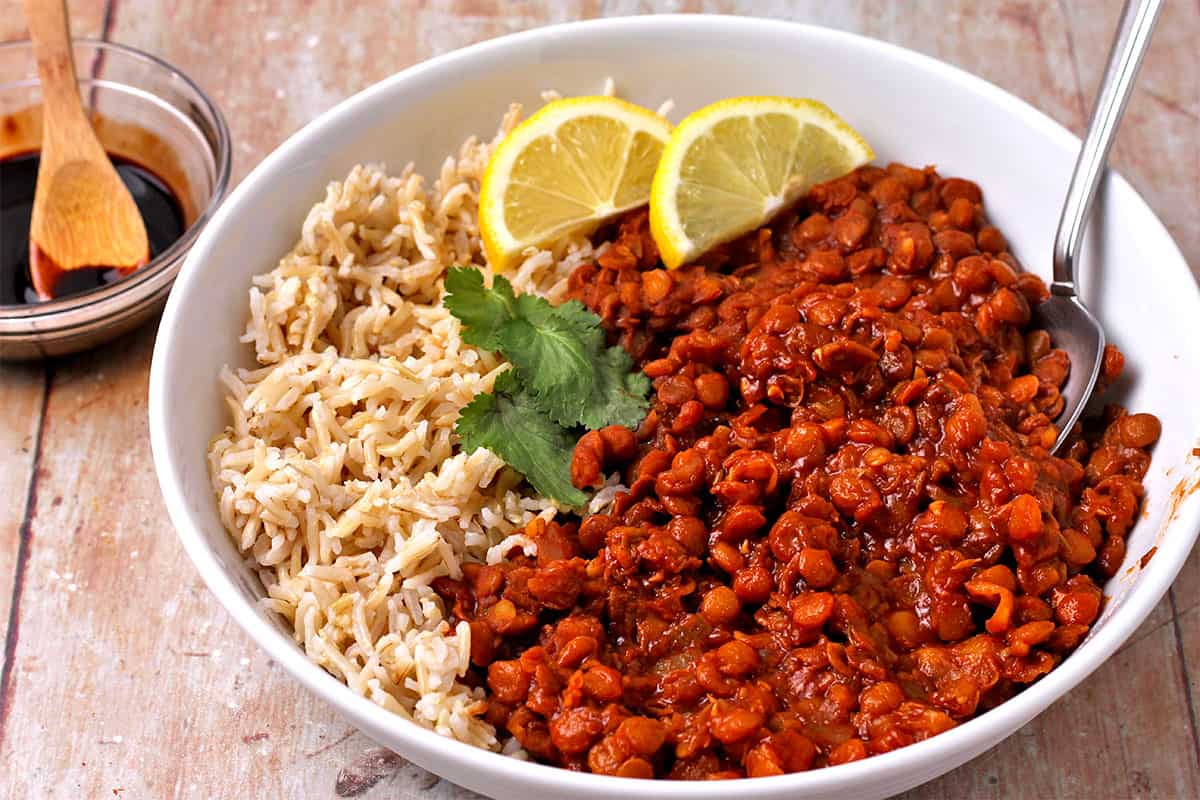 This post contains helpful tips and tricks to ensure success on your first attempt. Below, you'll find a handy table of contents with links. But if you're in a rush, please use the link at the top to jump to the recipe card at the end!
Jump to:
Why You'll Love This Recipe
Convenience, flavor, and clean nutrition highlight this easy, always satisfying recipe for tamarind lentils. Green or brown lentils work well for this recipe because they hold their shape. This allows for a pleasant texture and mouthfeel. It also means that you can enjoy a quick bowl of lentils with tamarind sauce straight out of the Instant Pot or accompanied with rice, pasta, or noodles.
Our recipes and instructions never include added oil in the preparation or cooking processes. Oil is highly processed and adds extra saturated fat we choose to avoid. Feel free to add oil to the cooking process if you desire.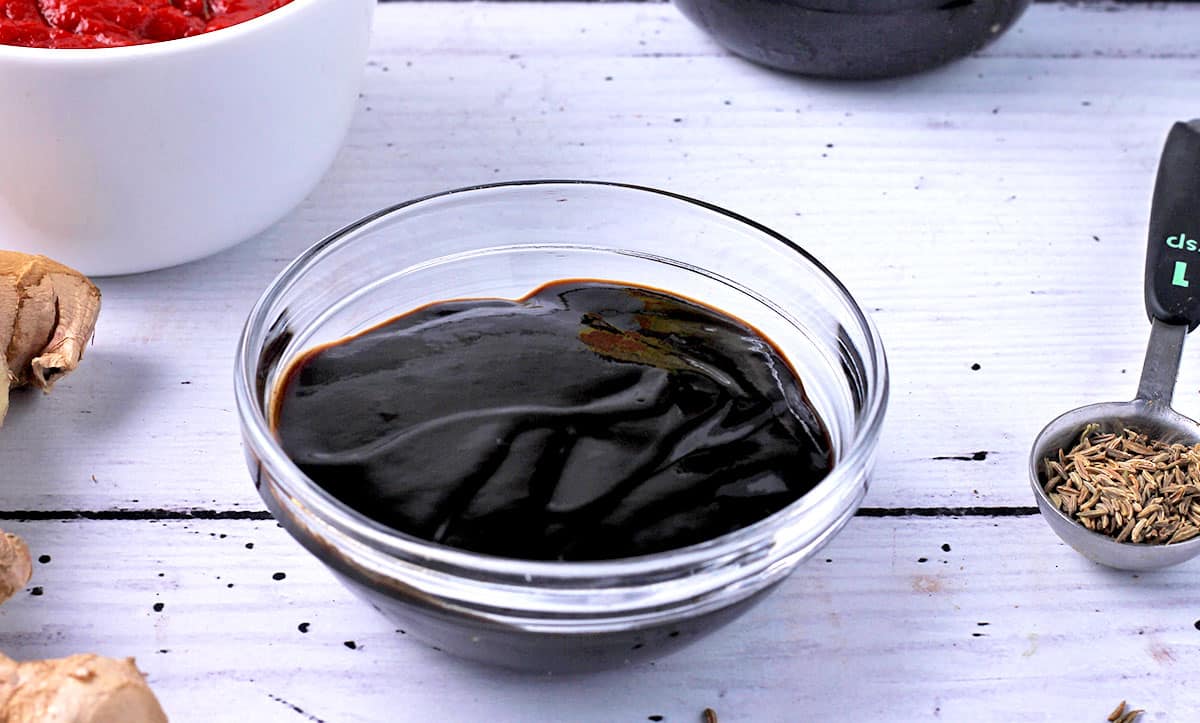 🍋 What is tamarind?
Tamarind is a kind of tree with pod-like fruit that looks a bit like peanuts in the shell. The pulp-like seeds inside the pods are ground to make tamarind paste, pulp, syrup, or concentrate.
Tamarind is used in Asian, Indian, and some Mexican dishes. Even Hawaii notably has tamarind trees.
Flavor
Tamarind has a distinctive sour-sweet flavor. It has a citrus, lemony flavor but is far more intense and complex. It's often an ingredient in Worcestershire sauce. And when in Mexico, you're likely to run across tea using tamarind pulp as the main ingredient.
Buying tamarind
In some places, you'll find tamarind as a block of paste that you can reconstitute, so don't be put off if this happens to you. My only caveat about buying tamarind is the same as with any processed product – read the label. Avoid any added ingredients such as sugar. The more processed an ingredient, the longer the list of additives, so you may find tamarind paste cleaner than tamarind sauce. This is, of course, highly dependent on the brands you can find.
🥘 Key ingredients & notes
Cumin seeds – Toasted cumin seeds add earthy flavor and aroma. If you don't have cumin seeds, use 1 teaspoon of ground cumin. Add this with the garam masala and cayenne pepper.
Green lentils – This recipe is developed with everyday green or brown lentils in mind. If you make a substitute, try to avoid red or split red lentils. They will probably taste great, but the texture will be very creamy, similar to dal.
Garam masala – Garam masala is a unique blend of Indian spices that isn't the same as curry powder. Garam masala is readily available at larger supermarkets and Asian or Indian specialty stores.
Maple syrup – You'll want to add a little sweetener to balance the sharpness of the tamarind paste. Maple syrup is an excellent option, but date paste also works.
Tamarind paste – You may have to experiment with the amount of tamarind paste depending on how concentrated your brand is. Tamarind has a unique flavor, but the closest substitute we've discovered is pomegranate molasses which you can use in roughly the same amounts as called for in the recipe.
Pro Tips
Before you begin cooking gather, prep, and measure all the ingredients. This is important because once you start toasting the cumin seeds the sauteing goes quickly.
If you aren't familiar with tamarind paste, start by adding half the amount. Then add more before you pressure cook the lentils. You can also mix in a bit after cooking but be sure to mix it well.
Avoid the 'Burning Food' notice on your Instant Pot. Before adding the vegetable broth and lentils, turn the Instant Pot off. After adding the broth, use a wooden spoon or another non-abrasive utensil to carefully clear the bottom from any stuck-on ingredients.
You may notice that salt isn't part of the ingredient list. Given differences in vegetable broths and individual preferences, salt can be added at the end of cooking if desired. This gives you better control over the flavor.
Stovetop Directions: Use a heavy-bottom Dutch oven or soup pot and let it heat to a medium temperature. Add the cumin seeds and stir them constantly for about a minute. Then add the diced onions. Continue following the instructions as written, adding 4 ½ cups of vegetable broth rather than 4. Cover the pot and simmer the lentils until they are tender (about 30 minutes). Stir the lentils a few times and add more water or broth as needed.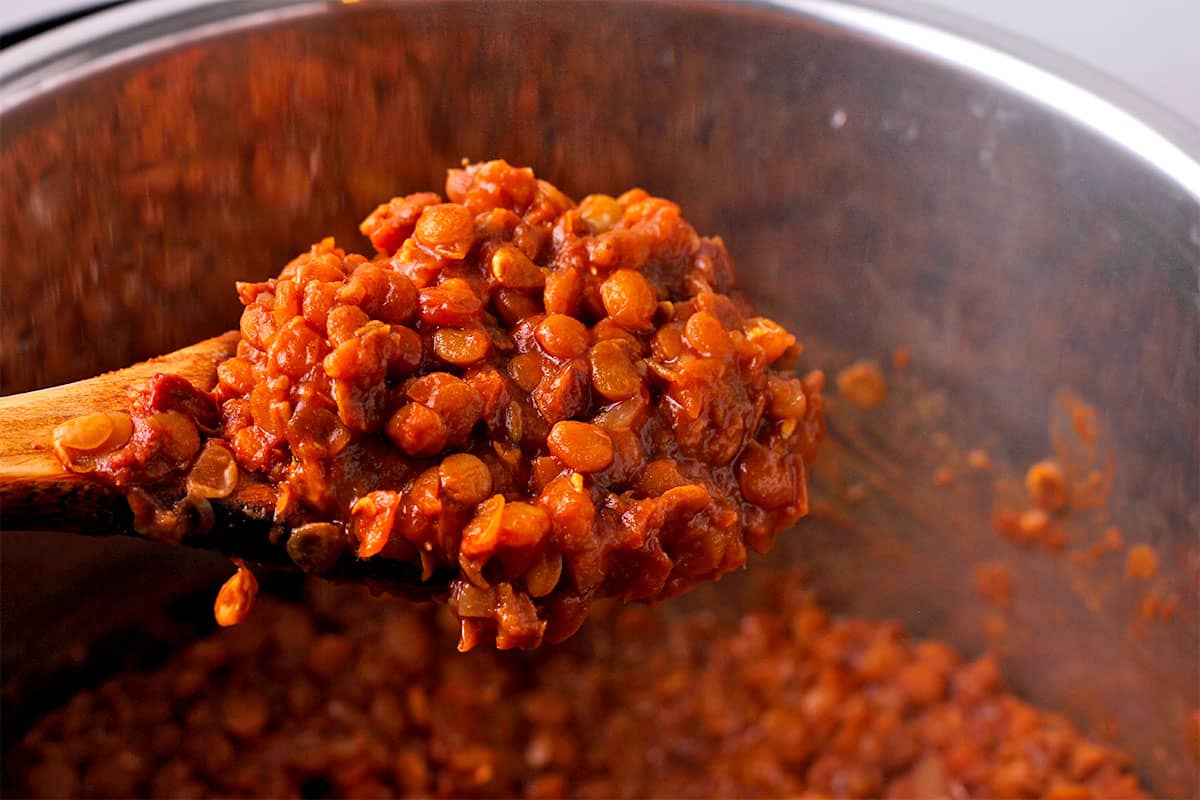 Frequently Asked Questions
Is tamarind paste gluten-free?
Tamarind paste, derived from the fruit of the tamarind seed is gluten-free. To be certain, when buying tamarind paste or concentrate, check the label to ensure there are no additives that contain gluten.
Can you substitute lemon juice for tamarind paste?
Although our favorite substitution for tamarind paste is pomegranate molasses, you can use lemon juice or consider pureeing 2 preserved lemons. Mango powder or 2 tablespoons (or more) of purred dried mangos will also give you a strong tangy flavor. Be sure if you use dried fruit that they are not preserved with added sugar.
Is tamarind paste and tamarind concentrate the same thing?
Tamarind paste and tamarind concentrate can be used interchangeably; however, tamarind concentrate will have a stronger taste. For this reason, start by adding half the amount of concentrate. Tamarind bark, which comes as a solid, will have the same flavor, but you need to blend it with a little water to create a paste.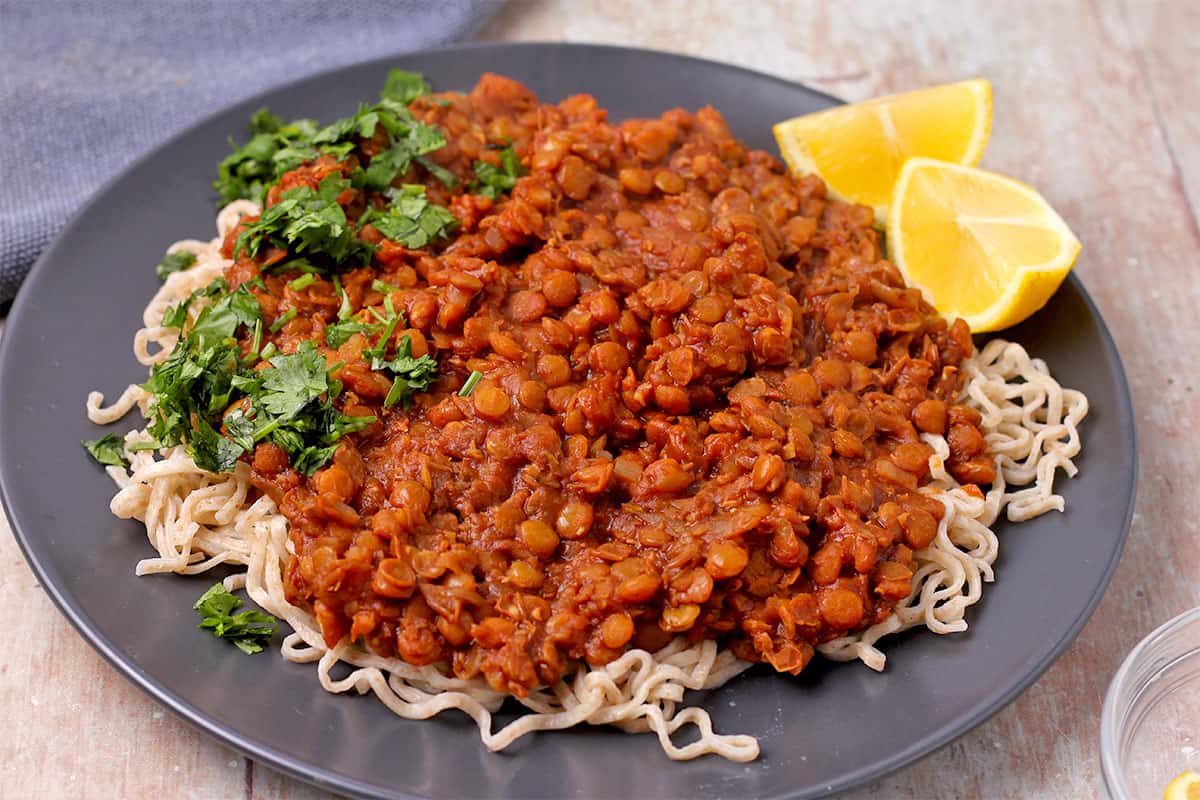 Serving Suggestions
This easy recipe is perfect straight from the Instant Pot garnished with a bit of chopped cilantro (coriander), parsley, or lemon wedges. While the lentils are cooking, whip up a batch of caramelized onions or, for a zestier flare, quick-pickled red onions.
Lentils go well with rice or another grain such as bulgur or quinoa. We also love them with quick-cooking whole wheat noodles.
Storage
Store leftovers in a container with a lid. Keep it in the refrigerator for up to 5 days. You can also freeze lentils with tamarind sauce for months in the freezer.
How to reheat
If you reheat on the stove, be sure to add a little broth or water to the lentils. Reheat over low or medium and stir them a few times to keep them from sticking to the bottom of the pan.
You can also reheat in the microwave on the reheat setting. Cover individual servings with a paper towel or lid to keep splatter to a minimum.
Related Recipes
Print
👩🏻‍🍳 Recipe: Instant Pot Lentils with Tamarind Sauce
Easy Instant Pot lentils with tamarind sauce is an irresistible vegan meal with tangy-sweet flavors and satisfying lentils with no added oil.
Author: Denise
Prep Time:

10 minutes

Cook Time:

30 minutes

Total Time:

40 minutes

Yield:

6

1

x
Category:

Instant Pot

Method:

Instant Pot

Cuisine:

Indian

Diet:

Vegan
2 teaspoons

cumin seeds

1

onion, diced

4

cloves garlic, minced or pressed

2 tablespoons

minced, fresh ginger

2 teaspoons

garam masala

½ teaspoon

cayenne pepper

6 tablespoons

tomato paste

2 tablespoons

maple syrup

2 tablespoons

tamarind paste

4

cups

vegetable broth

2

cups

green or brown lentils, rinsed
Instructions
Toast cumin seeds

. Set the Instant Pot to Saute. Once it beeps to indicate that it's hot, add the cumin seeds. Stir the seeds constantly and toast them for 30 seconds to 1 minute until they release their aroma.

Add the onions

. Immediately stir in the onions. Cook the onions for about 3 minutes until they start to soften and get translucent.

Stir in the garlic and ginger

. Add the garlic and ginger. Mix them with the onions and cumin. Saute for about 30 seconds.

Mix in the tamarind sauce

. Add the garam masala, cayenne pepper, tomato paste, maple syrup, and tamarind paste. Turn off the Instant Pot at this point. Stir all the ingredients so they are evenly distributed.

Add the broth and lentils

. Mix in the broth first and use a wooden spoon or non-abrasive utensil to clear the bottom of the Instant Pot. Mix in the lentils.

Pressure Cook

. Secure the lid of the Instant Pot and set the steam handle to the Sealing position. Set at High Pressure for 10 minutes and turn off the warming button. Once the Instant Pot is done and beeps. Leave the Instant Pot alone for 15 minutes. This is the natural pressure release (NPR).

Finish

. After 15 minutes of NPR, move the sealing handle to Open and allow any remaining steam to release. Once the sliver pressure valve has dropped, carefully remove the lid. Stir the lentils.

Taste, adjust, and serve

. Taste the lentils and add salt or pepper or any additional seasonings if desired. Serve with chopped cilantro or lemon wedges, or add rice, pasta, or noodles. 
Notes
To make this recipe on the stove, use a heavy-bottom Dutch oven or soup pot and let it heat to a medium temperature. Add the cumin seeds and stir them constantly for about a minute. Then add the diced onions. Continue following the instructions as written, adding 4 ½ cups of vegetable broth rather than 4. Cover the pot and simmer the lentils until they are tender (about 30 minutes). Stir the lentils a few times and add more water or broth as needed.

If you use tamarind concentrate rather than tamarind paste, start with half the amount (1 tablespoon). Pomegranate molasses is the best substitute for tamarind. Refer to the post for more information.
We recommend green or brown lentils because they hold their shape after being cooked. You can also use black lentils or French (Puy) lentils. If you use red lentils, the resulting texture will be creamier and more soup-like (but still plenty good). 
Keywords: tamarind curry, tamarind lentils, Instant Pot, Insta pot, vegan, plant-based