Spicy and flavorful roasted barbacoa cauliflower tacos with your favorite fixings and quick pepita dressing. It's the kind of delicious vegan meal we can all get our hands around.
Barbacoa is a Mexican-inspired paste that's easy to make and clings to cauliflower florets as they bake and soak up the flavor. The result? Mighty fine cauliflower and happy taco-eaters.
This post contains helpful tips and tricks to make sure you're successful in your first attempt. Below, you'll find a handy table of contents with links. But if you're in a rush, please use the link at the top to jump to the recipe card at the end!
Jump to:
⭐Why this recipe works
A flavorful and easy recipe made with no added oil is tasty and gluten-free. Winner!
When you are stuck on dinner, there's a solution for that. Barbacoa paste is made from 9 ingredients that you likely have on hand. If you don't, there are some easy substitutions. You can even make a double batch of this paste and freeze the rest.
The paste comes together in a few minutes and requires coating the cauliflower and then tossing it in the oven. The 20 – 25 minutes of cauliflower baking gives you time for prepping the taco fixings and making the pepita dressing.
The flavors in barbacoa offer a break from barbecue or Asada (it is someplace in between) for a new way to liven up cauliflower. And we've added a secret ingredient – pepita dressing. A quick blend of easy ingredients that takes minutes to make.
Cauliflower is an often overlooked powerhouse of nutrition and fiber. We know all the good things it offers. And it's so versatile that if you despise steamed or boiled cauliflower, you need never have it again – unless you're making creamy bechamel.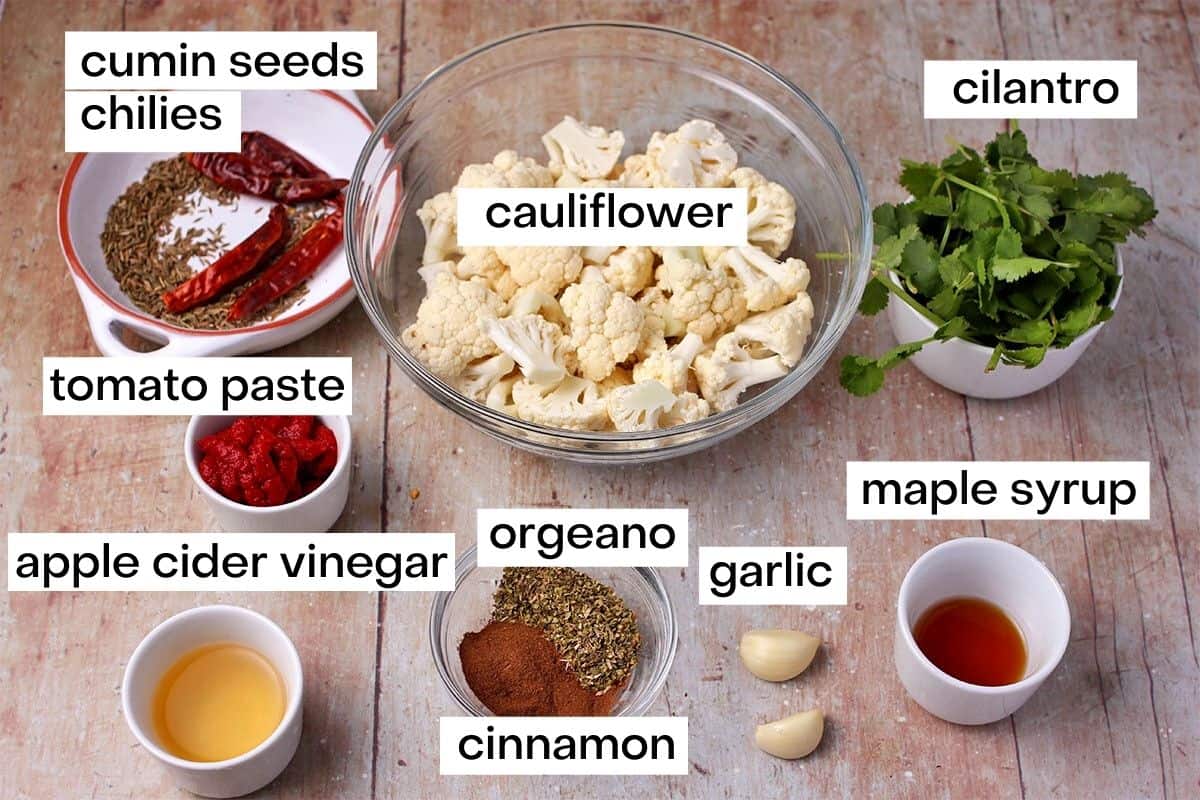 📋 Key ingredients and notes
Cauliflower: Use a medium head of cauliflower and think of filling tacos as you cut the florets. You can also cut some of the stalks into pieces and use them. Less waste!
Dried red chilies: In some parts of the world, there is a plethora of dried chilies in supermarkets. My advice is to consult the heat rating when selecting. If you use dried chipotle peppers, they have a smoky flavor. Not a dealbreaker, just a slight difference in taste. Crack open the dried chilies and remove the seeds if you want them milder.
Cumin seeds: Seeds have an intense cumin flavor when they are toasted and ground. If you use ground cumin, use 1 teaspoon, and add it to the blender when you make the paste.
Garlic: 2 cloves, 1 teaspoon minced, won't overpower the paste. If you like more garlic flavor, add it. Because you are blending the garlic, you can just peel it and toss it into the blender.
Tomato paste: Sweetness, color, and binder. That's the role of tomato paste (tomato puree) here. Use 3 heaping tablespoons of your favorite tomato paste.
Cilantro: Cilantro (coriander) adds peppery flavor. I know it isn't for everyone, so leave it out if you don't like it. I've not tried parsley as a substitute, but flat-leaf (Italian) parsley might be worth trying.
Apple cider vinegar: A tangy acid is a must for barbacoa. Apple cider vinegar is easy and mellow. Rice vinegar is a good substitute. If you don't use or have vinegar, lime juice can be substituted.
Maple syrup: Balance the taste with something sweet. Maple syrup is my preference here, but you can also use coconut or date sugar. Date paste is a great option.
Oregano: Traditional barbacoa flavor here. Use regular oregano or, if you are fortunate, Mexican oregano. Either works.
Cinnamon: The sweetness of aromatic cinnamon is a barbacoa essential ingredient. If you decide to use a cinnamon stick rather than ground, toast it with the chilies and cumin seeds. You may end up with a more intense cinnamon flavor. Something to consider if you go in this direction.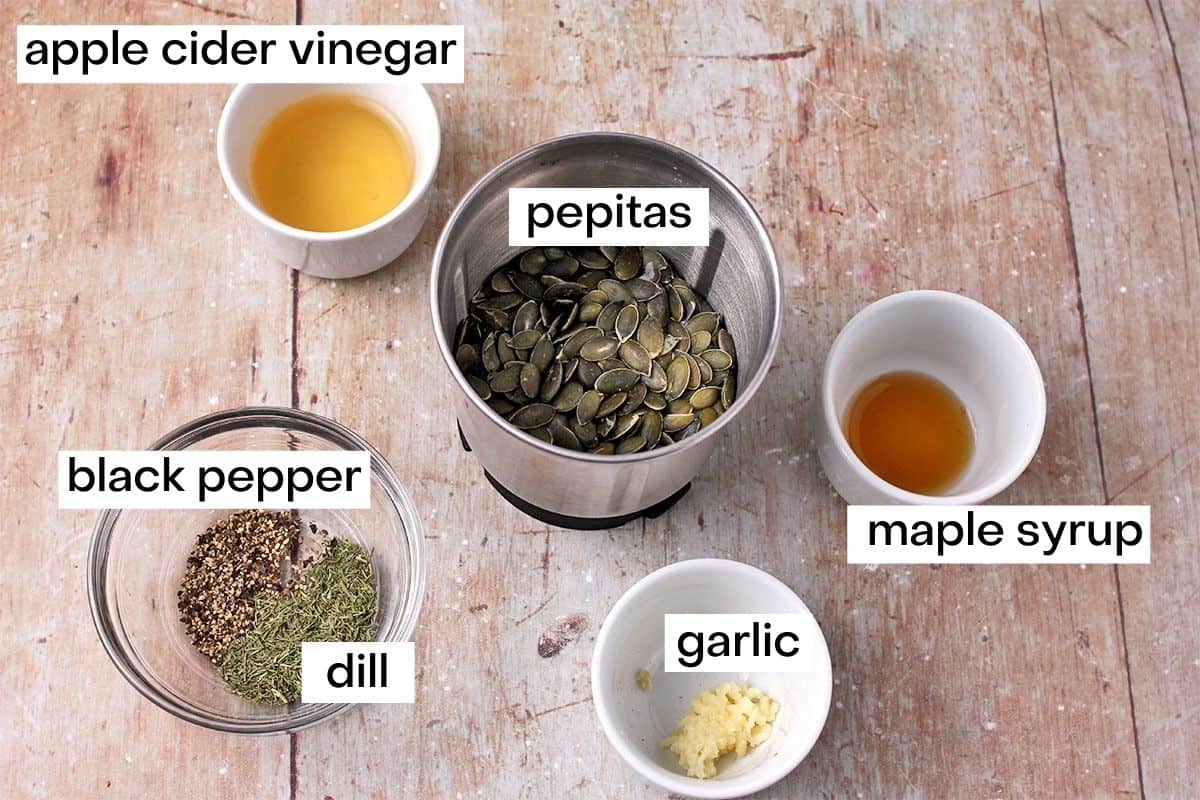 Pepita Dressing
Pepitas: Pepitas are a kind of pumpkin seed, but don't confuse them. Pepitas are small, green, shellless, and not from the inside of most Halloween pumpkins.
Garlic: Since you're peeling garlic, do another clove. If making the dressing in a blender, just toss the garlic in and let the equipment do the work. You may want to mince it if you don't use a blender.
Maple syrup: Again, a convenient liquid sweetener. Use can use the other options mentioned for barbacoa paste too.
Apple cider vinegar: You want an acid when building dressings. Pepitas have a strong flavor. If you need to substitute, use rice vinegar or white wine vinegar.
Dill: Specifically, dried dill. If you use fresh, you may want to add 2 teaspoons as dried dill has a more intense flavor.
Black pepper: Add enough black pepper to round out the flavor, not make it peppery hot. Although it is mellower, white pepper can also be used and may require a little extra.
🔪 Pro tips & notes
Notes on equipment: A high-speed blender is ideal for making barbacoa sauce. You can also use a smaller food processor or a large spice grinder.
If you don't have a high-speed blender, you may want to grind the chilies and cumin seeds before adding them to the rest of the ingredients.
The texture of barbacoa is like red curry paste rather than barbecue sauce. And like curry paste, you may see distinctive bits of cilantro or even chili. That's all good.
When you start covering the cauliflower with barbacoa paste, you might think there isn't enough paste. You aren't dipping here, and the spice will filter through the florets as they bake.
Cut the florets, so they are as even in size as possible. Size matters – it dictates how quickly the cauliflower bakes. It's tacos, so you want them smallish, easy to stuff into a taco, and bite-sized.
Always start with a preheated oven when roasting vegetables. This ensures that the middle will cook without the edges burning. Toss the cauliflower a few times as it bakes, so all sides get roasted.
Pepitas, like sunflower seeds, are easier to blend smooth if they are ground first. They are soak-resistant, so don't bother trying to soften them up.
When making the dressing, start with no water and scrape the sides of the blender. If it is too thick, blend in a tablespoon of water. If you need more water, add a little more. Blend the dressing after each addition. You want a sour cream consistency. Thin enough to dollop over tacos, but not pour all over the sides and onto the plate.
After mixing the pepitas, garlic, vinegar, and maple syrup, transfer it to a small bowl. Add the dill and black pepper and mix them in. This keeps the flavors from completely dominating. The dill and pepper will get stronger as they rehydrate, so be mindful as you are taste-testing.
💭 Common Questions
Can I make barbacoa cauliflower in the air fryer?
You can easily roast barbacoa cauliflower in the air fryer. The only drawback is that you may need 2 batches to cook all the cauliflower. Set the temperature to 300 F (150 C). After preheating, place the cauliflower in a single layer in the air fryer. Set the time for 10 minutes and shake the cauliflower after 5 minutes. You may need to adjust the timing depending on the size of the cauliflower florets and your individual air fryer.
Is barbacoa cauliflower spicy?
Although any dish with dried chilies is bound to be spicy, making it yourself means you can control the heat. Rather than use 3 or 4 dried chilies, simply reduce the amount. After making the barbacoa paste, blend in dried chili flakes or a pinch of cayenne pepper if you decide it isn't spicy enough.
Can I use barbacoa paste with other vegetables or ingredients?
Barbacoa paste is like a thick, Mexican-inspired barbecue paste that can be used to flavor a variety of vegan foods. Barbacoa can be used with tofu, broccoli, carrots, potatoes, or even chickpeas. A few tablespoons of barbacoa paste can also be added to rice or quinoa as a foundation for a spicy side or filler for tacos or pitas.
🍽 Serving & storage
Cauliflower gets cold rather quickly, so keep it covered and warm as you serve it and build tacos. Put everything on the table and let folks choose their own fixings as they go.
There are as many taco fixings as you have the imagination for. Stick to the traditional such as lettuce, tomatoes, onions, avocado, or black olives. If you decide to not make pepita dressing, then vegan cashew sour cream or sunflower seed sour cream are taco-topper hits.
Quick pickled onions add a little elegance to tacos. Thin slice onions and mix them with lime juice and a little coconut sugar, maple syrup, or date paste. Toss in a pinch of salt and let 'em sit while you make the rest of the meal.
Storage and reheating
Store leftover cauliflower in an airtight container for up to 3 days. I'm guilty of mixing some of the toppers like shredded lettuce, sliced tomatoes, and even onions in 1 small container if I only have a little. The pepita dressing will keep in the fridge in a container or jar for about 5 days.
It's best to reheat the cauliflower in the oven wrapped in foil to keep it from getting too brown. Steaming diminishes the barbacoa flavor. You can also use a microwave.
📖 Related recipes
Print
Recipe
Roasted Barbacoa Cauliflower Tacos
Spicy and flavorful roasted barbacoa cauliflower tacos with your favorite fixings and quick pepita dressing for a delicious vegan, oil-free meal.
Author: Denise
Prep Time:

20 minutes

Cook Time:

25 minutes

Total Time:

45 minutes

Yield:

6

1

x
Category:

Tacos

Method:

Roasting

Cuisine:

Mexican

Diet:

Vegan
Barbacoa cauliflower
1

medium head of cauliflower

3

-

4

dried red chilies or

2 teaspoons

of red chili flakes

2 teaspoons

cumin seeds

2

cloves garlic

3 tablespoons

tomato paste

¼

cup

cilantro

2 tablespoons

apple cider vinegar

1 tablespoon

maple syrup

2 teaspoons

oregano

1 ½ teaspoons

cinnamon
Pepita sauce
½

cup

pepitas (pumpkin seeds)

1

clove garlic

3 tablespoons

apple cider vinegar

1 teaspoon

maple syrup

1 teaspoon

dried dill

½ teaspoon

black pepper
Instructions
Toast chili and cumin seeds. Add the dried chilies and cumin seeds to a small, heavy-bottomed skillet. Toast for 1-2 minutes over medium heat. Stir the ingredients constantly to avoid scorching. Remove the skillet from the heat when you can smell the cumin and the chilies have a few darker spots. Transfer the ingredients to a blender or spice grinder.
Blend barbacoa paste. Transfer the barbacoa to a medium bowl. Add the chilies, cumin, garlic, tomato paste, cilantro, apple cider vinegar, maple syrup, oregano, and cinnamon to a blender. Blend until you have a smooth paste.
Preheat the oven and prepare a baking tray. Line a baking tray with parchment paper or a baking mat. Set the oven to 425 F (220 C).
Prep the cauliflower. Cut the cauliflower into small, bite-sized florets. Add the florets to the bowl with the barbacoa paste. Use a spoon or your hands to coat the cauliflower with barbacoa. Place the florets, separated, in a single layer onto the baking sheet.
Bake the cauliflower. Place the cauliflower in the center of the oven. Bake for 15 minutes and once they start getting dark, toss them, so they bake on the other side. Use a fork to pierce a floret to check that they are tender. Keep them warm on low until you are ready for tacos.
Make the pepita sauce. Use a spice grinder to grind the pepitas into a fine powder. Add the pepitas, garlic, vinegar, and maple syrup to a blender. Blend until you have a smooth dressing with the consistency of sour cream. Add water, a tablespoon at a time, until you have a consistency you like.
Finish the pepita sauce. Transfer the pepita dressing to a small bowl, then add the dill and black pepper.
Notes
Remove the seeds from the dried chilies to reduce the spiciness.
Cauliflower gets cold rather quickly. Be sure to keep it warm by covering it if you serve it at the table.
Steaming tends to dilute the flavor of barbacoa, so it is recommended that you reheat cauliflower in the oven or in the microwave.
Keywords: barbacoa cauliflower tacos, gluten-free, oil-free, roasted cauliflower, vegan