Tantalize your taste buds with the amazing flavor of fragrant and spicy Misir Wot, Ethiopian red lentils with Berbere spice blend, wholesome vegan ingredients, and no added oil.
Ethiopian lentils or Misir wot, also known as Mesir Wot, Mesir Wat, Misr, or Yemisir Wat, is a classic of Ethiopian cuisine in which a few wholesome vegan ingredients are transformed by warm spices to create complex flavors that are unique and seriously, unlike anything you've ever eaten.
Berbere is a distinctive, warming spice mix often used in Ethiopian recipes. If you aren't familiar with it, try my homemade Berbere blend to keep this recipe on repeat or for spicy Ethiopian green beans. 
Jump to:
Why You'll Love This Recipe
Quick-cooking split red lentils cut the total cooking time for prep-to-table in 45 minutes.
It's an easy recipe that's freezer-friendly and great for meal prep.
Serve this delicious recipe in bowls like red lentil dal or curry-style over rice, noodles, or quinoa.
Ingredients, Notes, and Substitutions
Red lentils. For the creamiest texture, use split red lentils. If you substitute with whole red, green, or even black lentils, allow 10-15 minutes of additional cooking time. One of the best options is yellow lentils (moong dal)
Onions. Stick to yellow onions with red as a second choice.
Garlic. Grab your garlic press. Peel and press (or mince) 6 cloves. If you want a quick remedy, use 2 tablespoons of the jarred kind.
Ginger. You'll get the best flavor from fresh minced ginger, with the jarred kind being the best substitute. If you only have ground ginger, use 1 teaspoon.
Tomatoes. Use 2 cups of chopped fresh tomatoes (2 large tomatoes) or 1 can of chopped tomatoes. 2 tablespoons of tomato paste and a cup of water can be used in a pinch.
Berbere spice mix. What garam masala is to Indian cooking or chili powder is to Tex Mex, berbere is to Ethiopian food. It's a unique spice blend that is spicy, sweet, and complex.
Please see the recipe card at the bottom of this post for the complete list of ingredients with measurements plus recipe instructions.
Step-by-Step Instructions
Step 1: Heat a pot or Dutch oven over medium heat. Then add the onions and cook them for 2-3 minutes to soften them. Stir in the garlic, ginger, and spices (except Bereber). Add ½ a cup of water to deglaze the pot. 
Step 2: Mix in the tomatoes and simmer them for 10 minutes. 
Step 3: Add the water, red lentils and Berbere. Use a spoon to sweep the bottom of the pot.
Step 4: Bring the ingredients to a simmer and cook for 15 minutes until the lentils are tender.
Pro Tips
Prep the ingredients and sort the spices before you begin cooking. This recipe only has a few steps, and once you start sautéing the onions, you don't want to linger while digging for spices.
Because we don't use olive oil for cooking the onions, it's essential that you first heat a large pot or Dutch oven to medium heat. If you add onions to a heated pot, it will reduce sticking.
Start with 1 tablespoon of Berbere. As the lentils cook, add more if needed. Depending on the specific mix you use, it can be very spicy. If you are using Berbere for the first time, start with a little and adjust as the dish cooks and the flavors combine.
Cook the lentils covered or uncovered. Stir them a few times, adding more water if needed. Whole red or black lentils will need longer to cook and will likely need more water.
Serving Suggestions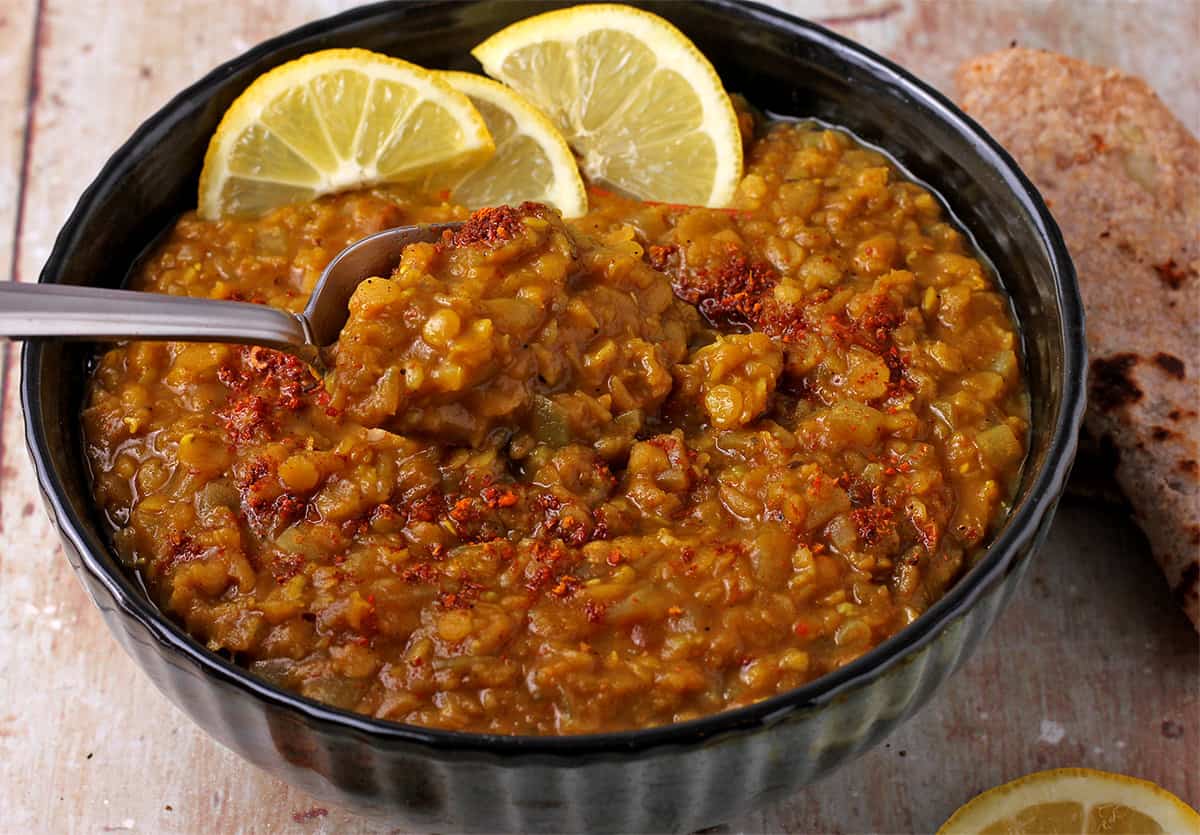 Ethiopian red lentil stew is best served hot with maybe a few slices of lemon as a garnish. Top it with chopped cilantro, diced red onion, or scallions. If you can't get enough spice, scatter a few crushed red chili flakes over the top.
Our favorite way to eat Misir Wot is in big bowls where we can enjoy the warming flavors without interruption. You can also serve it curry style over brown Basmati rice or try it with my sweet potato flatbread recipe or a batch of whole wheat potato tortillas. 
Frequently Asked Questions
Should you soak lentils before cooking them?
Lentils don't need to be soaked. You might save a few minutes of cooking time but lose precious nutrients by soaking them.
Where can I buy Berbere spice mix?
You might find Berbere in large grocery stores that cater to world cuisines. The ingredients to make your own Berbere spice mix are probably available, but your best bet to find a pre-made mix is at a specialty store that caters to North African cuisines.
What is the difference between split red lentils and whole ones?
Red lentils can be purchased whole or split. Generally, they have the skins removed, making them orangish in appearance. Split red lentils take less cooking time, resulting in a creamier texture; however, split and whole can be used interchangeably.
What can I substitute for red lentils?
The best substitute is yellow lentils (moong dal). They will take longer to cook and may require more liquid. You can use green lentils, but they will hold their shape and won't be as creamy or 'mushy' as red lentils.
Can I make Misir wot in the Instant Pot? 
You won't save much time making this in the Instant Pot because it needs to heat before the cooking cycle. However, the Instant Pot is an easy option. Use the saute mode (set to normal) and follow the recipe. Turn the Instant Pot off. Then add 3 ½ cups of water, the lentils, and Berbere. Stir the ingredients, carefully clearing the bottom of the pot. Cook on High Pressure for 5 minutes with 15 minutes of natural pressure release (NPR).
How long does Misir Wot last? 
Store leftover Misir Wot in an airtight container for 5 days or freeze it for 3 months. When you reheat it, add a little water so the lentils don't scorch. You can also use a microwave to reheat individual portions.
More Red Lentil Recipes
Do you have a question or recipe request or need a cooking tip? Leave a comment below or contact Denise. I'm here to help! If you want more healthy vegan recipes, please subscribe to my newsletter or follow me on Facebook or Pinterest for the latest updates.
If you make this recipe, please leave a ⭐⭐⭐⭐⭐ rating. It's much appreciated!
👩🏻‍🍳 Recipe
Spicy Misir Wot (Ethiopian Red Lentils with Berbere)
Spicy misir wot, Ethiopian red lentils with Berbere spice blend, is a fragrant and delicious recipe made with wholesome vegan ingredients.
Rate this Recipe:
Ingredients
1

large

onion

-

diced (about 2 cups)

6

cloves

garlic

-

minced

1

tablespoon

ginger

-

minced

1

teaspoon

turmeric

¼

teaspoon

ground cardamom

⅓

teaspoon

cinnamon

⅛

teaspoon

nutmeg

½

cup

water

2

medium

tomatoes

-

diced (about 2 cups)

2

cups

red lentils

-

rinsed and sorted (I prefer split lentils, but you can use whole)

4

cups

water
Instructions
Preheat a large pot over medium heat, then add the onions. Cook the onions until they start to become translucent and brown. If the onions begin to stick, add water a tablespoon at a time.

Add the garlic, ginger, turmeric, cardamom, cinnamon, and nutmeg. Stir to coat everything in the spices for about 30 seconds to a minute.

Immediately, add ½ cup of water to deglaze the pan.

Add the tomatoes and cook them for about 10 minutes until they break down.

Add 2 cups of lentils, 4 cups of water, and 2-3 tablespoons of the Berbere spice blend. Mix everything, cover the pot, and allow the lentils to simmer until they are tender (15-20 minutes). Add more water if the lentils are not tender after the liquid is absorbed.

Season with salt and pepper if desired. 
Notes
This recipe calls for split red lentils. They cook faster and have a creamier texture than whole red lentils. If you use whole lentils, allow an additional 10-15 minutes (or more) of cooking time. Monitor the water and add more if needed. Cook until the lentils are tender.
I highly recommend making your own Berbere spice blend. You'll need a spice grinder and a skillet for the whole spices. It makes enough for this recipe, plus several additional Ethiopian dishes.
To make this in the Instant Pot, use the sauté mode (set to normal) and follow the recipe, simmering the tomatoes for 5 minutes with the lid off. Turn the Instant Pot off. Then add 3 ½ cups of water, the lentils, and Berbere. Stir the ingredients, carefully clearing the bottom of the pot. Cook on High Pressure for 5 minutes with 15 minutes of natural pressure release (NPR).
Nutrition
Calories:
349
kcal
(17%)
Carbohydrates:
60
g
(20%)
Protein:
24
g
(48%)
Fat:
1
g
(2%)
Saturated Fat:
0.2
g
(1%)
Polyunsaturated Fat:
0.5
g
Monounsaturated Fat:
0.2
g
Sodium:
137
mg
(6%)
Potassium:
956
mg
(27%)
Fiber:
29
g
(121%)
Sugar:
4
g
(4%)
Vitamin A:
48
IU
(1%)
Vitamin C:
9
mg
(11%)
Calcium:
79
mg
(8%)
Iron:
8
mg
(44%)
Nutritional information is an estimation only.
Tried this recipe?
Rate it & leave a comment below