Easy white bean, basil, & sun-dried tomato warps are quick and veggie-packed for the perfect lunch or snack with minimal cooking and preparation.
Jump to:
⭐ Recipe highlights
White bean spread. White beans are the perfect blend with fresh basil and sun-dried tomatoes. It makes a delicious change from hummus and is equally easy to make. With no added oil, all the flavors of the ingredients shine through, making this an irresistible wrap spread or a quick dip.
Balsamic-mustard sauce. A 3-ingredient balsamic mustard sauce is the perfect dressing to toss in the layers of veggies. And speaking of veggies…
Veggies stacks. You can add just about any kind of vegetable or leafy green you have hanging around the refrigerator. Not to play favorites, but fresh spinach, carrots, red bell pepper, and zucchini sticks are perfect. Yes, raw zucchini – who knew?
📋 Ingredients
White beans – Use cannelloni, navy, great northern, or another soft white bean. You can also use chickpeas. Drain and rinse a can or use 1 ½ of homecooked beans.
Sun-dried tomatoes – Rehydrate your tomatoes in a bowl with boiling water if you use the dried kind. If using jarred sun-dried tomatoes or semi-dried tomatoes, aim for those not packed in oil. If all else fails, rinse them in hot water to remove as much excess oil as possible.
Fresh basil – White bean spread is the place for the peppery zest of fresh basil. If you use dried basil, try 2 teaspoons. The flavor of dried herbs gets stronger as it rehydrates.
Garlic – Mince a clove of garlic so that it gets distributed as you blend the white bean spread. Use ½ a teaspoon of garlic powder as a substitute if needed.
Balsamic vinegar – You'll use balsamic in the spread and then the sauce. Choose a good quality dressing-worthy balsamic.
Dijon mustard – You can use any mustard you like; however, Dijon is a natural with balsamic. You may need a little extra if you use regular yellow sandwich mustard. It all depends on your taste preference.
Maple syrup – Balsamic vinegar is sweet, so you may want to taste the dressing before adding the maple syrup. I find it balances the sharpness of the Dijon.
Wraps – Choose any whole grain or gluten-free wrap you like. Or make a batch of potato tortillas (because they are yummy!). This recipe will make 4 large or 6 smaller wraps as a guideline. This all depends on how much you pack in each one.
Veggies and greens – Use whatever veggies you like. Cutting ingredients like zucchini, cucumbers, or peppers is easier to roll if you julienne them (cut them into thin strips). Check out more veggie suggestions in the serving section of this post.
🌯 How to make the perfect wrap
If you use a spread, like our yummy white bean spread, hummus, or black bean dip, spread it over the entire wrap, leaving a little edge.
Lay the spinach or other greens and sliced onions in a line across the wrap, about 2 inches from one edge.
Dribble a few spoons of dressing over the leaves.
Add the rest of the veggies over the spinach and dressing.
Carefully roll the wrap. Use your hands to tuck the veggies, so the wrap is tight.
Pro Tips
Place the fillings in a line about 3 inches wide. Although the spread should cover the wrap, don't place the rest of the ingredients in the middle.
Add sauces in the middle, between the greens and vegetables. If you add a sauce on top, it can make rolling messy and lead to soggy wraps.
Keep the veggies flat and spread evenly. Large, rounded, or cubed pieces present wrapping challenges.
Try not to overload your wrap. Remember, you can always make another!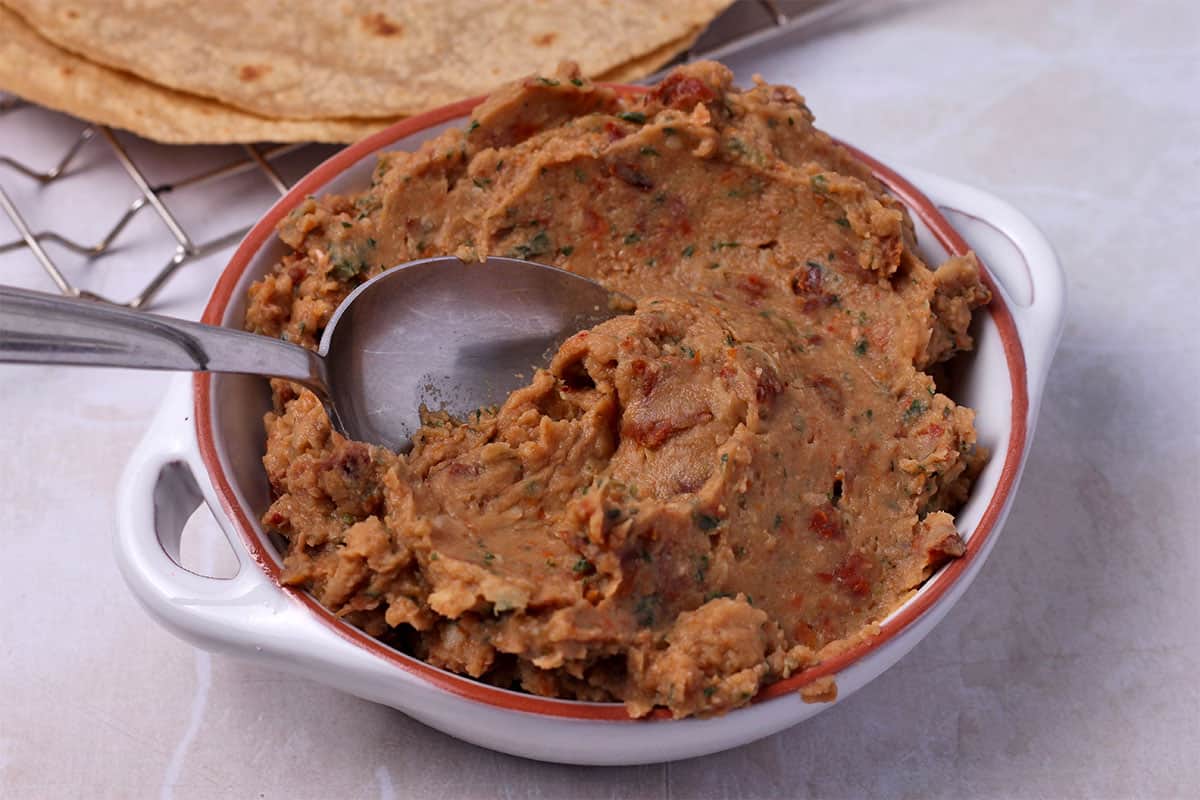 💭 Common Questions
Are sun-dried tomatoes healthy?
Sun-dried tomatoes offer surprising boosts in vitamins and nutrients. They are one of the best food sources of lycopene, an antioxidant linked to fighting certain cancers that are also prevalent in canned tomatoes. The dehydration process preserves the tomatoes while compressing their nutritional values.
Are white bean and sun-dried tomato wraps gluten-free?
All the ingredients for these wraps are gluten-free if the wraps (tortillas) used are not made from wheat flour or other gluten ingredients. Healthy and tasty gluten-free wraps are readily available in many grocery stores.
🥗 Best veggies (and extras) for wraps
Greens – Wraps are one of the best places to add nutritious leafy greens such as spinach leaves, red or green leaf lettuce, arugula (rocket), Romaine lettuce, or a leaf mix. You may need to shred or chop larger leaves, but small flat leave such as spinach can just be laid flat.  
Sliced veggies – There are so many options! Cut veggies with wrapping, keeping to thin matchsticks or small dice. Some veggies with a lot of moisture, such as tomatoes, can seep through wraps after they sit. Consider this if you are making wraps for later or wrapping them for travel.
Olives and other condiments – Black or green olives, vegan parmesan, or vegan bacon bits can add extra flavor if you have them on hand.
🍴 What to serve with white bean and sun-dried tomato wraps
On their own, these wraps make a satisfying light meal or snack. You can also cut them into quarters and serve them as an appetizer or to the potluck table.
Here are some side ideas:
Balsamic green bean & cucumber salad
🌡️ Storage
Place leftover white bean spread in an airtight container. It will keep in the refrigerator for 3 days. If you're making wraps to pack for lunches, wrap them in foil, parchment paper, or plastic
Store prepared veggies and white bean dip separately for the freshest wraps. The added dressing and moisture in the spread and vegetables can cause the wraps to get soggy.
📖 Related recipes
Print
👩🏻‍🍳 Recipe
Easy White Bean, Basil, & Sun-Dried Tomato Wraps
Easy white bean, basil, & sun-dried tomato warps are quick, veggie-packed healthy lunch or snack with minimal cooking and preparation. 
Author: Denise
Prep Time:

25 minutes

Cook Time:

0 minutes

Total Time:

25 minutes

Yield:

6

1

x
Category:

Wraps

Method:

Chop & Blend

Cuisine:

Italian

Diet:

Vegan
White bean & tomato spread
15

-ounce can of white beans (cannelloni, navy, or great northern beans)

1

clove garlic minced (

½ teaspoon

garlic powder)

½

cup

sun-dried tomatoes

1 tablespoon

balsamic vinegar

¼

cup

fresh basil leaves
Balsamic-mustard sauce
½

cup

balsamic vinegar

1 tablespoon

Dijon mustard

1 teaspoon

maple syrup
For the wraps
6

wraps or tortillas

2

cups

spinach leaves

1

cup

julienned or grated carrots

1

red pepper sliced into thin strips

½

medium zucchini, grated or cut into thin strips

1

small red onion, thinly sliced
Instructions
Soak the sun-dried tomatoes. Place ½ a cup of sun-dried tomatoes in a small bowl and cover them with boiling water. Allow them to soften for about 15 minutes.
Blend white bean spread. Drain and rinse the beans. Drain the sun-dried tomatoes and dice them. Add the bean, sun-dried tomatoes, basil, garlic, and balsamic vinegar to a food processor blender. Blend the ingredients until smooth.
Make the wraps. Lay a wrap flat. Spread about ⅓ of a cup of the bean mixture over the wrap, leaving the edges exposed. Add spinach leaves and onions in a line about 2 inches from one side of the wrap. Then add 2 tablespoons over the leaves. Pile on carrots, peppers, and zucchini.
Roll and repeat. Carefully roll the wrap, starting with the veggie side. Tuck the veggies as you go so you have a tight wrap. Continue the process to make the rest of the wraps. 
Notes
The nutritional information is based on 1 wrap using ⅓ a cup of white bean spread. Fat and calories will vary depending on the wrap, greens, and veggies you use.
Add the sauce after adding greens and onions (or other veggies), and then pile on more vegetables. This makes wrapping easier and keeps the wraps from getting soggy.
Look for sun-dried tomatoes that are dehydrated or are packed in water rather than oil.
Store the spread in an airtight container for 3 days. Prep the veggies and make the wraps as you go to keep them fresh. 
Keywords: white bean, basil, & sun-dried tomato wraps, white bean dip, sun-dried tomato wraps